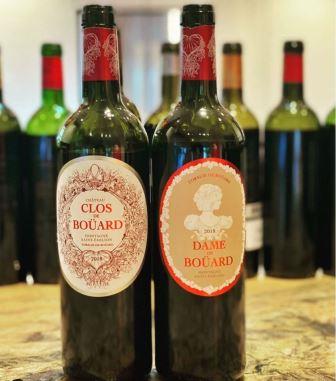 In 2018, the St. Emilion Satellite Appellations produced a plethora of seriously good wines. Fans of Right Bank Bordeaux should take serious notice of these regions and their wines. With terroir that is similar, if not better than much of what what you find in Saint Emilion Grand Cru vineyards.
This is an area perfect for wine lovers seeking rich, opulent, concentrated, deep wines that can be enjoyed young. Plus, these are quite affordable. And if you prefer secondary nuances and complexities, many can age for 10-15 years as well.
The Satellite Appellations consist of 4 appellations that abut St. Emilion: Lussac St. Emilion, Montagne St. Emilion, Puisseguin St. Emilion and St. Georges-St. Emilion. However, because Fronsac and Canon Fronsac share similar terroir, and they are just a stones throw from Saint Emilion, those appellations are also included in this article.
If you want to read tasting notes for other 2018 Bordeaux wines 2018 Complete Guide to All the Best Wines of the Vintage
As you can see from my notes and scores, I am a big fan of these wines which deserve more attention from wine lovers.
All of the following 2018 St. Emilion Satellite Appellation wines were tasted in my home office in non-blind conditions.
2018 – Bel-Air Jean Gabriel – Lussac-St. Émilion – The wine is medium-bodied, soft, sweet, forward and accessible, allowing the juicy cherries and licorice to show front and center. 88 Pts
2018 – Barbe Blanche – Lussac-St. Émilion – Medium-bodied, bright, crisp, tangy fruits with a hint of cocoa and herbal notes in the finish. Drink this on the young side. 86 Pts
2018 – Beausejour Cuvee Prestige – Fronsac – Licorice, cocoa, smoke and dark plums are found in this elegant, soft, fresh, fruity wine. The oak is a factor at the moment, but the fruit is sweet, ripe and juicy, so give it a year or two to come together. 89 Pts
2018 – Bernon Bécot – Puisseguin-St. Émilion – Your nose is greeted by black cherry, licorice and smoke which is the perfect warm-up for the sweet, ripe, soft red fruits that you find on the palate. This is going to be just great to drink on release. 88 Pts
2018 – Cap d'Or – St. Georges-St. Émilion – Round, sweet and fruity, the wine serves up its layers of ripe rich fruits along with a touch of stone, espresso and licorice making it more interesting. Already approachable, this is going to drink well in its youth. 90 Pts
2018 – Cap St. George – St. Georges-St. Émilion – Medium-bodied, round, soft, polished and ripe, with a sweet plum and cherry character, the wine is forward, and easy to drink, leaving with sweet plums and a hit of espresso. 89 Pts
2018 – Château Canon Pecresse – Canon-Fronsac – Medium bodied with a core of sweet, ripe, juicy cherries, espresso, licorice and coffee beans in the end note. Forward, lush and fresh, you can enjoy this on release, or with just 1 or 2 years of aging. 91 Pts
2018 – Château Toumalin – Canon-Fronsac – Lush, sweet, rich, round, supple, textured blast of black cherries, licorice and smoke with loads of sweet, ripe fruits and espresso in the end note. You can enjoy this on release, or with just 1 or 2 years of aging. 91 Pts
2018 – Clarisse Vieille Vignes – Puisseguin-St. Émilion – Luscious, rich, sweet, round, earthy, juicy red fruits, smoke, licorice and chocolate nuances are found in every delicious sniff, swirl and sip. This will be just fine to enjoy on release and for at least another decade after that. 91 Pts
2018 – Clos Bertineau – Montagne-St. Émilion – From 100% Merlot, the wine shows, flowers, chocolate and plums. Medium-bodied, forward and already a pleasure to taste, you can enjoy this soft-textured plummy wine on release. 88 Pts
2018 – Clos de Bouard – Montagne-St. Émilion – Deep ruby in color, you find the espresso, licorice, black plum and cherry nuances on the nose and palate. Round, lush, soft, silky and fresh, the fruit is ripe, sweet and earthy, with good length, refinement and a hint of espresso and cocoa on the backend. Coralie de Bouard is doing an outstanding job here. In just a few years time, she has turned this vineyard into one of the top vineyards in the appellation. Bravo! 93 Pts
2018 – Clos de Boüard Dame de Boüard – Montagne-St. Émilion – Forward, medium-bodied, soft, round, fruity and fresh, the wine is already offering its espresso, licorice, cherry and plum character. You can enjoy this on release while waiting for its big sister to develop. 90 Pts
2018 – Courlat – Lussac-St. Émilion – Medium-bodied, fresh and already very easy to like, this is about the sweetness in all the red plums on the nose and palate. This should drink well for the next 6-8 years or so. 88 Pts
2018 – Courlat Cuvée Jean Baptiste – Lussac-St. Émilion – Soft and silky, the wine is medium-bodied, fruity and fresh, allowing all the lush, ripe, chocolate covered plums to already show their personality. This is perhaps the best wine of the appellation. 90 Pts
2018 – Couronne Reserve – Montagne-St. Émilion – Forward, fruity, juicy and packed with dark red fruits, rocks, stones, licorice, espresso and cocoa, the wine is fruity, fresh, forward and ready almost to go. Give it a year or two to soften and allow the oak to better integrate. 90 Pts
2018 – Dalem – Fronsac – Much better in barrel than in bottle, you can tell this is going to be great just from the nose with all its red, black and blue fruits, flowers, licorice and wet earth nuances. Sexy, silky, vibrant and fresh, the opulent character hits all the right notes. The wine is concentrated, rich and deep, with freshness giving lift to the non-stop layers of perfectly ripe fruits. The silk and velvet finish just nails it. This is the finest vintage of Dalem produced yet! The wine is made from a blend of 90% Merlot and 10% Cabernet Franc. 94 Pts
2018 – de Carles – Fronsac – Chocolate covered cherries and licorice are at the core of this medium-bodied, easy-going, wine that is ready to drink on release. 89 Pts
2018 – de la Huste – Fronsac – Sweet, juicy, opulent, lush and loaded with voluptuous, dark red fruits with a nice shot of cocoa in the end note. This tastes as good as it feels and should provide pleasure for at least a decade or more. And the best part of this is, the wine sells for a song! What's not to like? 90 Pts
2018 – des Laurets Baron – Puisseguin-St. Émilion – Strong notes or 5 spice, black plum, espresso, thyme and spearmint create the nose. On the palate the wine is round, fruity and fruity, finishing with sweet cherries and coffee bean in the finish. 90 Pts
2018 – des Laurets Baron – Puisseguin-St. Émilion – Medium-bodied, fruity, soft, silky, cherry filled wine that is already delicious and perfect for early drinking pleasure. This will be just great on release. 88 Pts
2018 – Faizeau Selection Vieilles Vignes – Montagne-St. Émilion – Dark chocolate covered cherries, coffee bean and plum create the core of this lush, round, opulent, silky wine. Produced from 100% old vine Merlot, the finish, with its sexy, polished plums, dusty tannins and dark cocoa hits the spot. 92 Pts
2018 – Fontenil – Fronsac – The flowery nose, with its incense, smoke, licorice and wild cherries gets your initial attention. However, it is the waves of perfect ripe, silky, sexy, sweet red fruits with their freshness and purity on the palate and in the finish that steals the show. The is the best vintage ever produced at Fontenil. 94 Pts
2018 – Franck Despagne L'Envie – Montagne-St. Émilion – Medium-bodied, bright, fresh, juicy, soft, sweet, lively, dark red fruits with even darker espresso beans and cocoa are already a lot of fun to taste. 88 Pts
2018 – Gaby – Canon-Fronsac – Chocolate, espresso, wet earth and black cherry nuances pair perfectly with the round textured, lush, sweet, fruit filled finish. This opulent wine can be enjoyed young, or aged a few years for more complexity. 90 Pts
2018 – Guibot La Fourvieille – Puisseguin-St. Émilion – Medium-bodied, early drinking, fresh, juicy which focuses on bright red cherries and plums from start to finish. 88 Pts
2018 – Haut Carles – Fronsac – Dark in color, the wine is rich, lush, opulent and filled with sweet, dark red fruits, licorice, espresso, cocoa and flowers. Supple, fresh and vibrant with ripe tannins and a polished finish, this is going to be nice to enjoy early, yet will add complexity with some aging. 92 Pts
2018 – Herve-Laroque – Fronsac – Sweet, soft, round and fruity, with loads of cherry notes and dark cocoa on the palate and in the finish. This will be ready to enjoy on release. 88 Pts
2018 – La Bastienne – Montagne-St. Émilion – Juicy red fruits, soft textures, early drinkability and a finish loaded with chocolate covered red plums is what you find here. 88 Pts
2018 – La Croix Madeleine – Fronsac – Medium-bodied, fresh, bright, fruity and juicy and round textures and hints of olives and herbs in the fruity finish. You can enjoy this on release. 87 Pts
2018 – La Dauphine – Fronsac – Rich, ripe, silky and seductive, the fruits have a nice bite of freshness, giving lift and energy. The medium/full-bodied, fruit-filled wine finishes with a gorgeous blend of coffee bean, licorice, plums and dark cocoa. You can pop a cork on release or age it for a few years. 92 Pts
2018 – La Grande Clotte – Lussac-St. Émilion – Flowers, cherries and plums complete for your attention. Soft, silky and polished, medium-bodied and forward, with a touch of chocolate along with all the sweet, juicy fruits in the finish. 89 Pts
2018 – La Grande Clotte L'Envolée – Lussac-St. Émilion – Mineral-driven red fruits kick everything off. This smoky, fruit filled gem comes along with spearmint, forest leaf, caramel and spice. Soft, round and forward, this is already quite fun to drink. 90 Pts
2018 – La Papeterie, Château – Montagne-St. Émilion – Medium-bodied, soft, sweet, fresh and filled with ripe cherries and floral aromatics, this elegant, forward, easy drinking charmer is ready to enjoy on release. 87 Pts
2018 – La Riviere – Fronsac – Forward, round, silky, soft, fresh and fruity, the wine delivers its blend of chocolate covered cherry, espresso, smoke and licorice effortlessly. Medium-bodied with ample, dark cocoa and a hint of peppery plums in the finish, this is already a treat in the glass. 91 Pts
2018 – La Rose Perrière – Lussac-St. Émilion – Medium-bodied, cherry and red plum filled wine with crisp freshness and mandarin orange notes in the finish. 85 Pts
2018 – La Rousselle – Fronsac – Espresso, smoke, cherries, licorice, chocolate and layers of ripe pit fruits are all over the place here, on the showy nose, and on the richly textured, lush, chocolate covered cherry filled palate. It is ready to drink on release and it sells for a song, making it that much better. 91 Pts
2018 – La Vieille Cure – Fronsac – Deeply colored, the next thing you notice is all the layers of supple textured, ripe, elegant, sweet, silky fruits that start off great, and keep on going. Richly textured, with good concentration and length, this is one of the best values in all of Bordeaux pairing style, quality and a more than fair price. 93 Pts
2018 – L'Apogee de Montaiguillon Cuvee Prestige – St. Georges-St. Émilion – Espresso, smoke, flowers and cherries come across nicely in the nose. On the palate, the wine is round, soft, lush, sweet and fruity with loads of licorice and cherry in the finish. 90 Pts
2018 – Les-Trois-Croix – Fronsac – The sense of minerality is apparent with the initial sniff before finding flowers, red with black plums and cherries in the nose. Silky, smooth, fresh, elegant and with layers of sweet, soft, ripe fruits, chalk, licorice, pepper and a light touch of oak, the wine exudes energy, crushed rocks and red pit fruit from start to finish. 92 Pts
2018 – Lussac – Lussac-St. Émilion – Bright, crisp, medium-bodied, chewy, tangy, red berry filled wine with an orange citrus accent. Give it some air before consumption to help soften the wine. 85 Pts
2018 – Malengin Eve – Montagne-St. Émilion – Medium-bodied, fresh, bright, sweet and tart fruit filed wine with a distinctive savory, herb and olive finish. The wine is interesting as it is a limited production for the estate aged entirely in amphora. 87 Pts
2018 – Malvat – Fronsac – Medium-bodied, soft, fresh and fruity with a pleasant, red cherry and sweet plum character on the palate and in the finish. This will be best in its youth. 88 Pts
2018 – Messile-Aubert – Montagne-St. Émilion – With a nice touch of spring flowers, the wine is soft, forward, medium-bodied and filled with sweet, cherry and plum filled charm. 89 Pts
2018 – Montaiguillon – Montagne-St. Émilion – Chocolate covered red plums with licorice and cocoa begins in the nose carrying all the way through from start to finish. You can drink this medium-bodied, forward wine on release. 88 Pts
2018 – Moulin-Haut-Laroque – Fronsac – Flowers, crushed rock, licorice, espresso, forest floor and ripe red pit fruit aromas hit the mark. Supple and polished, with layers of silky textured red fruits and cocoa that work to deliver a long endnote, this is already such a treat to taste. And it sells for a song! 92 Pts
2018 – Puy Guilhem Canon Fronsac – Canon-Fronsac – Olives, herbs, cherries, espresso and red fruit combine to produce a mineral driven, fresh, lively, medium-bodied, red berry filled wine. 89 Pts
2018 – Puy Guilhem Fronsac – Fronsac – Lush, opulent, rich, ripe and with layers of dark, red fruits that keep on coming. The finish is long and mouth-filling with good intensity and velvety tannins. It's a new wine for me and I am looking forward to tasting it again. 91 Pts
2018 – Reclos de la Couronne – Montagne-St. Émilion – The blend of red and black plums with mint, licorice and espresso bean is just perfect for the round, juicy, mouthful of fruit and cocoa that comes your way with ease. You can enjoy this on release. 89 Pts
2018 – Rochers Cuvée Prestige – Montagne-St. Émilion – Deep in color, the wine is lush, round, supple and loaded with layers of sweet, ripe, dark red fruits, chocolate, licorice and toasty oak. This is perfect for those looking for a hedonistic wine experience. And this is one of those gems offering high-quality and a fair price. 92 Pts
2018 – Roudier – Montagne-St. Émilion – Medium-bodied, soft, fresh, bright plums and cherries appear with dusty tannins and bright red fruits in the finish. This is going to be best enjoyed in its youth. 87 Pts
2018 – Simon Blanchard Champ de la Fenetre – Montagne-St. Émilion – Floral, with soft, fresh, ripe, sweet cherries and red plums that are all over the place. Easy to like, and even easier to drink, which is just great as it allows you to dig into all the plums, cherries, licorice and chocolate the wine has to offer right now. 92 Pts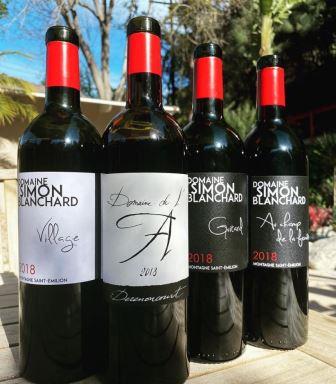 2018 – Simon Blanchard Guitard – Montagne-St. Émilion – Silky, elegant and fresh, with layers of gorgeous, ripe, sweet dark red fruits, this already tastes and feels just great. The wine is made from blending 52% old vine Merlot paired with 48% Cabernet Franc. 93 Pts
2018 – Simon Blanchard Village – Montagne-St. Émilion – Black raspberries, thyme and smoke are at the center of this medium-bodied, soft, forward, fruity, elegant, early drinking charmer. 90 Pts
2018 – St. Georges – St. Georges-St. Émilion – A light of touch of roasted red, pit fruits, licorice, cocoa al come together nicely in this forward, medium-bodied, fresh, easy to like charmer. 85 Pts
2018 – Teyssier Montagne – Montagne-St. Émilion – Round, lush, sweet and juicy, with loads of ripe, black cherries, black raspberries and dark cocoa on the nose, mouth and finish. Drink it over the following decade. 90 Pts
2018 – Tour Bayard – Montagne-St. Émilion – Flowers, black cherry, licorice and spicy dark cocoa are found on the nose and palate. The wine is silky, seductive and sweet, with a generous dose of ripe, fresh red fruits. This hedonistic, well-priced gem will be delicious on release. 91 Pts
2018 – Tour Bayard L'Angelot – Montagne-St. Émilion – Dark in color, the wine is earthy, spicy, rich, lusciously textured and character driven. Mouth coating, long, fresh, full-bodied and fully packed with peppery, deep red fruits, this is one of the cooler wines I tasted from 2018 due to its unique blend of 90% Malbec and 10% Merlot. Not much is made, so look out for it if you can find any. 93 Pts
2018 – Vieux-Chateau-Palon – Montagne-St. Émilion – Lusciously textured, plummy fruits, espresso, licorice and smoky nuances are already discernable. Polished, round, sweet, ripe, dark red fruits taste and feel great on the palate. The finish, with its espresso and cocoa accented cherries hits the spot. This is a delicious value play for those willing to skip the big wines and just want pleasure in the glass. 91 Pts
2018 – Villars – Fronsac – Much better in barrel than in bottle, the wine is lush, sensuous, rich and silky with layers of dark chocolate covered plums, licorice and cherries. There is ample fruit on the palate and in the long, plush finish. Give it a few years and it should fill out. 93 Pts
2018 – Vrai Canon Bouche – Canon-Fronsac – Licorice, chocolate, espresso and dark red fruits stand out and strut their stuff in this lush, opulent, polished, richly textured, black cherry filled wine. 91 Pts