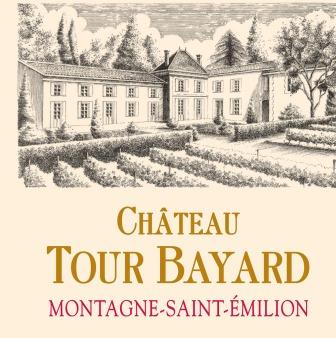 Learn everything about Chateau Tour Bayard Montagne St. Emilion with wine tasting notes and wine-with-food pairing tips. Learn all the best vintages, a history of the property, and information on the vineyards, winemaking, and wines. If you want to read about other important, Bordeaux Chateaux: Links to all Bordeaux Wine Producer Profiles
Chateau Tour Bayard, History, Overview
Chateau Tour Bayard was founded in 1955 by the Richard family. The property takes its name from its location, the Bayard the lieu-dit, and a large stone tower located on the estate.
Through marriage, the property was passed from the Richard family to the Milhade family. In the Right Bank, the Milhade family, headed by Xavier Milhade and his two children Marc Milhade and Elodie Milhade, manage their holdings which also include Chateau Boutisse in St. Emilion as well as vineyards in Bordeaux Superieur.
Chateau Tour Bayard Vineyards, Terroir, Grapes, Winemaking
The 15-hectare vineyard of Chateau Tour Bayard has a terroir of clay, limestone, and gravel. The vineyard is planted to 80% Merlot with the rest of the vines taken up by Cabernet Franc and a nice parcel of old vine Malbec. On average, the vines are old, as the vineyard is maintained at about 40 years of age. Though they have older parcels.
Vinification takes place in cement tanks. The wines are aged in a combination of cement vats, new, French oak barrels, and used oak barrels for 12 months before bottling. Their entire production is on average close to 5,000 cases of wine per vintage.
Chateau Tour Bayard produces two distinct wines. Most of the production is placed into their Grand Vin, which is a typical Right Bank blend of Merlot and Cabernet Franc. However, their Malbec is used for a special Cuvee, Tour Bayard L'Angelot, which is almost exclusively 100% old vine Malbec.
Chateau Tour Bayard L'Angelot is usually a blend of 95% Malbec and 5% Merlot, almost setting a record for Malbec in a Bordeaux wine today. The wine is named after the founder of the vineyard, Angelo Nicoletti. The wine is aged in 100% new, French oak barrels for up to 24 months before bottling. Not much wine is made. On average, the production hovers at around 200 cases per vintage.
The best vintages of Chateau Tour Bayard are: 2022, 2021, 2020, 2019, 2018, 2017, 2016, 2015, 2014, 2012, 2010 and 2009.
When to Drink Chateau Tour Bayard, Anticipated Maturity, Decanting Time
Chateau Tour Bayard is much better with at least 1-3 years of aging in good vintages. Young vintages can be decanted for 1 hour or so. This allows the wine to soften and open its perfume.
Older vintages might need very little decanting, just enough to remove the sediment. Clos de Bouard offers its best drinking and should reach peak maturity between 2-10 years of age after the vintage.
Serving Chateau Tour Bayard with Wine, Food, Pairing Tips
Chateau Tour Bayard is best served at 15.5 degrees Celsius, 60 degrees Fahrenheit. The cool, almost cellar temperature gives the wine more freshness and lift.
Chateau Tour Bayard is best paired with all types of classic meat dishes, veal, pork, beef, lamb, duck, game, roast chicken, roasted, braised, and grilled dishes. Chateau Tour Bayard is also good when matched with Asian dishes, and hearty fish courses like tuna, mushrooms, and pasta.
Château Tour Bayard Wine Tasting Notes
14 Vintages 39,020 Views Sort by Vintage-Rating
2022
Château Tour Bayard L'Angelot (Montagne-St. Émilion)

Deep, floral and fruity, the spicy, black plums are sweet, lush and round. There is an edge of salty, cocoa, and espresso on top of the dark cherries in the finish, giving the wine lift and character. Drink from 2025-2038. 91-93 Pts.

859 Views

Tasted

May 8, 2023

2022
Château Tour Bayard (Montagne-St. Émilion)

Flowers, plums and espresso beans form the character here. The medium-bodied wine is soft, polished, fresh and sweet, with a dark, fruity, plummy finish. Drink from 2025-2037. 90-92 Pts.

871 Views

Tasted

May 8, 2023

2021
Château Tour Bayard (Montagne-St. Émilion)

Soft, round and plummy, with a touch minerality that adds complexity on the palate, the wine ends with red plums on the backend. Drink from 2023-2028. 86-88

1,521 Views

Tasted

May 20, 2022

2020
Château Tour Bayard L'Angelot (Montagne-St. Émilion)

Meaty, chewy, rich and fleshy, the wine offers a big blast of dark, spicy fruits, espresso, cocoa, black plums and cherries with a salty edge in the finish. This is best thought of as rustically charming. Drink from 2025-2040.

929 Views

Tasted

Mar 21, 2023

Dark in color and fruit, the wine is ripe, lush and concentrated with a meaty, savory character. There is length, rocks, stones, assorted herbs, licorice, smoke and a rustic charm in the finish. Let this age for 6 years or so, and it will be a lot of fun to drink. As it is made from close to 100% Malbec old vines, it is a cool wine to bring to a blind tasting. 91-93 Pts

2,006 Views

Tasted

May 20, 2021

2020
Château Tour Bayard (Montagne-St. Émilion)

Soft, supple, creamy and sweet, with a touch of savory herbs on the back end, you also find plenty of black raspberries, olives, cherries and coffee bean to keep you busy. This is going to be easy to enjoy in its youth, yet it should age easily for 10-12 years as well. Drink from 2023-2037.

945 Views

Tasted

Mar 21, 2023

Black raspberries, flowers, licorice and espresso crowd the perfume. Medium-bodied, soft, fresh and fruity, with a ripe, black cherry, cocoa, licorice and blackberry character, this polished wine is going to be easy to enjoy in its youth, yet it should age for 12-15 years as well. 91-93 Pts

2,147 Views

Tasted

May 20, 2021

2019
Château Tour Bayard L'Angelot (Montagne-St. Émilion)

Blackberries, plums, cherries, cocoa, espresso and allspice notes create the perfume. Plush and polished with ample richness and silky tannins, and a dark cocoa infused, plummy finish. This is a fabulous wine with concentration and character that can be enjoyed in its youth or aged and it sells for a fair price. Drink from 2023-2034.

812 Views

Tasted

Mar 29, 2022

Dark in color, with equally dark fruits, and even darker chocolate all over the place, the lushly textured, round wine serves up a lot of fleshy juice. Lush, round, dark, juicy, ripe, sweet, fleshy cherries surrounded by licorice and chocolate in a forward style, and for a fair price! You can drink this young. 89-91 Pts

2,925 Views

Tasted

Jun 8, 2020

2019
Château Tour Bayard (Montagne-St. Émilion)

Licorice, flowers, spicy cherries and cocoa provide the nose and palate. Medium-bodied, fresh, soft, supple and sweet, the finish allows all those plums and chocolate to linger. Drink from 2023-2033.

1,607 Views

Tasted

Mar 29, 2022

Silky, lush, round and rich, with layers of ripe, deep, sweet red and black pit fruits and licorice that keeps on going. This hedonistic, well-priced gem will be delicious on release and offer pleasure for at least a decade. 89-91 Pts

2,568 Views

Tasted

Jun 8, 2020

2018
Château Tour Bayard L'Angelot (Montagne-St. Émilion)

Dark in color, the wine is earthy, spicy, rich, lusciously textured and character driven. Mouth coating, long, fresh, full-bodied and fully packed with peppery, deep red fruits, this is one of the cooler wines I tasted from 2018 due to its unique blend of 90% Malbec and 10% Merlot. Not much is made, so look out for it if you can find any.

1,031 Views

Tasted

Mar 9, 2021

Lush, round, dark, juicy, ripe, sweet, fleshy cherries surrounded by licorice and chocolate in a forward style, and for a fair price! You can drink this young. 89-91 Pts

3,122 Views

Tasted

Apr 19, 2019

2018
Château Tour Bayard (Montagne-St. Émilion)

Flowers, black cherry, licorice and spicy dark cocoa are found on the nose and palate. The wine is silky, seductive and sweet, with a generous dose of ripe, fresh red fruits. This hedonistic, well-priced gem will be delicious on release.

2,157 Views

Tasted

Mar 9, 2021

2016
Château Tour Bayard (Montagne-St. Émilion)

Rich, lush and juicy with dark plush, ripe, sweet, fleshy fruits. The finish keeps on going, which is a good things, as you really want to keep on enjoying the blend of 80% Merlot and 20% Cabernet Franc.

2,295 Views

Tasted

Sep 21, 2019

2016
Château Tour Bayard L'Angelot (Montagne-St. Émilion)

One of the very wines produced from 100% Malbec in Bordeaux, the wine is inky in color with purple accents. The wine is meaty, spicy, peppery, dark and dense. The wine really keeps on going on your palate and in the finish.

1,820 Views

Tasted

Sep 21, 2019

2015
Château Tour Bayard (Montagne-St. Émilion)

From a blend of 80% Merlot and 20% Cabernet Franc, the wine is forward, plush and polished, delivering a sweet, juicy, mouthful of black cherries, licorice and mocha in an easy to like, forward style.

3,845 Views

Tasted

Mar 12, 2018

Early drinking, ripe, plush, dark, red fruit, licorice and floral oriented wine, with ample, sweet, ripe, juicy, plums with hints of chocolate in the finish. The wine was made from blending 80% Merlot with 20% Cabernet Franc.

3,865 Views

Tasted

Dec 25, 2017

2014
Château Tour Bayard (Montagne-St. Émilion)

Medium-bodied, fully-mature, early drinker with round textures and a licorice and dark red plum character. Pleasant, but not much complexity. Subsequent vintages show a lot of improvement.

2,156 Views

Tasted

Jul 9, 2020

2010
Château Tour Bayard L'Angelot (Montagne-St. Émilion)

It is fun tasting older vintages of this 95% Malbec from Bordeaux. Mature, full-bodied, rich, spicy, robust, and cherry-filled, with spicy, peppery, herbal accents accompanying the dark red fruits, this is ready for its prime time window.

1,539 Views

Tasted

Aug 27, 2021