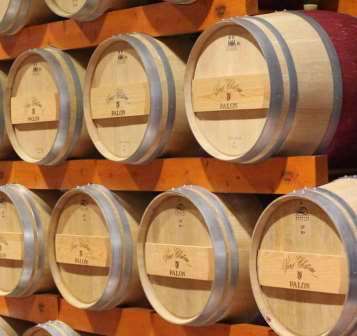 Learn everything about Vieux Chateau Palon Montagne St. Emilion with wine tasting notes and wine with food pairing tips. Learn the best vintages, the history of the property, information on their vineyards, and winemaking. If you want to read about other important, Bordeaux Chateaux: Links to all Bordeaux Wine Producer Profiles
Vieux Chateau Palon History, Overview
Vieux Chateau Palon is owned by Gregory Naulet. Gregory Naulet grew up in a family with a wine background as his father was the head of the Saint Emilion cooperative. Gregory Naulet purchased Vieux Chateau Palon in 1999.
In an effort to increase the quality and recognition of his estate, starting with the 2006 vintage, Gregory Naulet made the decision to bring in Hubert de Bouard of Chateau Angelus as their consultant to help with both the needed work in the vineyards and with their winemaking.
Vieux Chateau Palon Vineyards, Terroir, Grapes, Winemaking
The small, 5-hectare, Right Bank vineyard of Vieux Chateau Palon is planted to 75% Merlot and 25% Cabernet Franc, this is typical of the appellation. The terroir is quite good for the region, with its clay and limestone soils. The vineyard is perfectly situated on the plateau of Calon.
To produce the wine of Vieux Chateau Palon, the vinification takes place in small, temperature-controlled, stainless steel tanks that range in size from 60 hectoliters up to 80 hectoliters. Malolactic fermentation takes place in French oak barrels.
The wine of Vieux Chateau Palon is then aged for 12 to 15 months in a combination of 70% new, French oak barrels and one-year-old used oak barrels before bottling. On average, close to 2,000 cases of wine are produced of Vieux Chateau Palon in an average vintage.
The best vintages of Vieux Chateau Palon are: 2022, 2021, 2020, 2019, 2018, 2017, 2016, 2015, 2014, 2012, 2010, 2009 and 2005.
When to Drink Vieux Chateau Palon, Anticipated Maturity, Decanting Time
Vieux Chateau Palon is much better with at least 2-4 years of aging in good vintages. Young vintages can be decanted for 1 hour or so. This allows the wine to soften and open its perfume.
Older vintages might need very little decanting, just enough to remove the sediment. Vieux Chateau Palon offers its best drinking and should reach peak maturity between 3-8 years of age after the vintage.
Serving Vieux Chateau Palon with Wine, Food, Pairing Tips
Vieux Chateau Palon is best served at 15.5 degrees Celsius, 60 degrees Fahrenheit. The cool, almost cellar temperature gives the wine more freshness and lift.
Vieux Chateau Palon is best paired with all types of classic meat dishes, veal, pork, beef, lamb, duck, game, roast chicken, roasted, braised, and grilled dishes. Vieux Chateau Palon is also good when matched with Asian dishes, rich fish courses like tuna, mushrooms, and pasta.
With a plush, forward, fruity, round character, which is always fairly priced, Vieux Chateau Palon is a great example of a Bordeaux value wine.
Vieux Château Palon Wine Tasting Notes
12 Vintages 52,076 Views Sort by Vintage-Rating
2022
Vieux Château Palon (Montagne-St. Émilion)

Flowers and leafy herbs combine with sweet, ripe, red and black pit fruits to produce an elegant, soft, polished, medium-bodied, supple wine with sweetness, freshness, and good energy in the spice, accented, fruity finish. This should be delicious on release and provide pleasure for over a decade with ease. The wine blends 75% Merlot with 25% Cabernet Franc. Drink from 2025-2037. 91-93 Pts.

3,048 Views

Tasted

May 8, 2023

2021
Vieux Château Palon (Montagne-St. Émilion)

Medium-bodied, round, forward and focused on its chocolate-covered, espresso-infused black cherry and plum profile, this is going to be quite a pleasure to enjoy in its youth for all of its lush, ripe, sweet, chocolatey fruits. Drink from 2023-2030. 87-90

2,231 Views

Tasted

May 20, 2022

2020
Vieux Château Palon (Montagne-St. Émilion)

The oak is quite on top at the moment, you can sense it in the mouth and on the palate, plus, there is a touch of volatile acidity which will hopefully better integrate with a few years of age. Medium-bodied, fresh and silky, the red fruits are ripe, but the oak is fairly dominant, so give it a few years of age before pulling a cork. Drink from 2023-2038.

2,211 Views

Tasted

Mar 21, 2023

Spicy, stony and savory, the wine is lush, round and fleshy. Supple-textured and packed with ripe, deep red pit fruits, the wine leaves you with a silky, soft, polished, chocolate covered black cherry and espresso tinged finish. 90-92 Pts

3,031 Views

Tasted

May 20, 2021

2019
Vieux Château Palon (Montagne-St. Émilion)

Vanilla, smoke, espresso and dark cherries with a savory edge shine with little effort already. The wine is medium-bodied, plush and polished with chewy tannins and a blast of spicy coffee notes to accompany the fruits in the finish, this will be just great to taste on release. Drink from 2022-2034.

1,033 Views

Tasted

Mar 29, 2022

Floral, fruity, soft and silky, with elegant, but present tannins and a long, fleshy, black raspberry cherry and vanilla tinged finish. 89-91 Pts

3,873 Views

Tasted

Jun 8, 2020

2018
Vieux Château Palon (Montagne-St. Émilion)

Lusciously textured, plummy fruits, espresso, licorice and smoky nuances are already discernable. Polished, round, sweet, ripe, dark red fruits taste and feel great on the palate. The finish, with its espresso and cocoa accented cherries hits the spot. This is a delicious value play for those willing to skip the big wines and just want pleasure in the glass.

2,954 Views

Tasted

Mar 9, 2021

Rich, dense, plummy, fat and with depth of flavor, the wine is loaded to the brim with all the ripe, fleshy plums, licorice and cocoa you need. This is a delicious value play for those willing to skip the big wines and just want pleasure in the glass. 91-93 Pts

3,523 Views

Tasted

Apr 19, 2019

2017
Vieux Château Palon (Montagne-St. Émilion)

A notable depth of color, you'll find mineral driven, black raspberries, thyme, soft textures and sweet, salty red fruits in the finish. Medium bodied, juicy and chalky, a few years in the cellar will provide the necessary evolution.

2,538 Views

Tasted

Apr 26, 2018

2016
Vieux Château Palon (Montagne-St. Émilion)

Ripe, supple and fleshy, this is ripe, round, lush and easy to drink, due to all its ripe, black cherries, licorice and espresso. This is delicious to drink now, and will be even better with a few years of aging.

3,460 Views

Tasted

Sep 21, 2019

Fleshy and flashy, this supple, lushly textured, already delicious wine is loaded with licorice, black cherries and espresso. This should be open on release or with just a year or two of age.

2,428 Views

Tasted

Apr 29, 2017

2015
Vieux Château Palon (Montagne-St. Émilion)

Fleshy, supple, soft and polished, this has all the sweet, ripe cherries, licorice and lushly textured fruits you need. If you're looking for a reasonably, priced, early drinking beauty, this is the ticket!

3,812 Views

Tasted

May 21, 2018

Licorice, black cherries and espresso, plush textures and a sweet, round, dark berry finish in a forward style are the perfect recipe for what you to create a great example of a value priced, Bordeaux wine.

2,586 Views

Tasted

Apr 29, 2016

2014
Vieux Château Palon (Montagne-St. Émilion)

Medium bodied, forward, round, obvious style of wine with a black cherry and espresso nose and palate. This is not a wine for aging, I'd opt for drinking this on the young side.

2,415 Views

Tasted

Dec 18, 2017

2012
Vieux Château Palon (Montagne-St. Émilion)

Stony, black raspberries and licorice scents blend with a round textured , forward style and a soft, medium bodied, black cherry finish.

2,469 Views

Tasted

Jul 6, 2015

2010
Vieux Château Palon (Montagne-St. Émilion)

Already giving up its sweet black raspberry, cherry and earthy character, the wine is soft, medium bodied and fresh, and will best in its expressive youth.

5,667 Views

Tasted

Jul 3, 2015

2009
Vieux Château Palon (Montagne-St. Émilion)

2009 Vieux Chateau Palon opens with earth, berry, licorice, and spice aromas. This easy drinking wine has a berry filled finish. 84-87 Pts

4,797 Views

Tasted

Aug 26, 2010