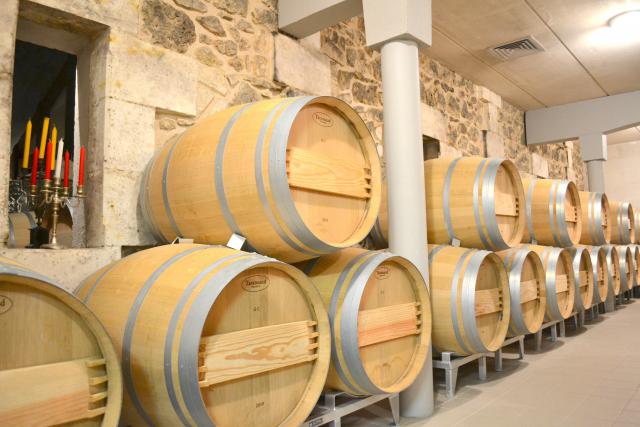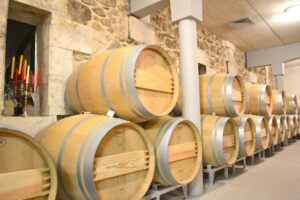 Learn everything about Chateau Moulin Haut Laroque Canon Fronsac with wine tasting notes, wine, and food pairing tips, best vintages, a history of the property, information on the vineyards, and winemaking. If you want to read about other important, Bordeaux Chateaux: Links to all Bordeaux Wine Producer Profiles
Chateau Moulin Haut Laroque History, Overview
The roots of the Herve family can be traced back to 1607. In that year, Jean-Marie Herve, a sailor from Brittany served the King of France. We are not sure when they bought their Bordeaux estate. However, records show they began bottling their own Bordeaux wine in 1890!
That date is interesting to note because, in those days, most wines were bottled and sold by negociants. That makes Chateau Moulin Haut Laroque probably the first property in Fronsac, as well as in all of Bordeaux to bottle and sell their own wine.
Chateau Moulin Haut Laroque is owned by the Herve family and managed by Jean-Noel Herve. In 1999, the cellars of Chateau Moulin Haut Laroque were completely updated and modernized as well as all fed using only gravity.
Chateau Moulin Haut Laroque Vineyards, Terroir, Grapes, Winemaking
The 16-hectare vineyard of Moulin Haut Laroque is planted to 65% Merlot, 20% Cabernet Franc, 10% Cabernet Sauvignon and 5% Malbec. The terroir is clay and limestone soils. You can look at the vineyard quite easily if you divide it into 2 parts.
They own vines on the plateau of Fronsac, not far from Haut Carles with heavy limestone deposits and they own other parcels on the slopes close to the chateau which has more clay.
The vineyard is planted to a vine density that ranges from 5,500 to 6,700 vines per hectare. Newer plantings are done at the higher levels of vine density.
There are old Cabernet Franc vines that are more than 70 years of age, which add a lot to the wine's character and concentration. They also have some of the oldest Malbec vines in Bordeaux, which are almost 80 years old!
To produce the wine of Chateau Moulin Haut Laroque, vinification takes place in small, temperature-controlled, stainless steel vats. Malolactic fermentation takes place in French oak barrels. All wine is moved entirely by gravity. The wine of Chateau Moulin Haut Laroque is then aged in an average of 35% new, French oak barrels for about 18 months before bottling.
The best vintages of Chateau Moulin Haut Laroque are: 2022, 2021, 2020, 2019, 2018, 2017, 2016, 2015, 2014, 2012, 2010, 2009 and 2005.
When to Drink Chateau Moulin Haut Laroque, Anticipated Maturity, Decanting Time
Chateau Moulin Haut Laroque is better with at least 2-3 years of aging in good vintages. Young vintages can be decanted for up to 1 hour, helping the wine soften to help develop the aromatic character.
Older vintages might need very little decanting, just enough to remove the sediment. Chateau Moulin Haut Laroque offers its best drinking and should reach peak maturity between 3-12 years of age after the vintage.
Serving Chateau Moulin Haut Laroque with Wine, Food, Pairing Tips
Chateau Moulin Haut Laroque is best served at 15.5 degrees Celsius, 60 degrees Fahrenheit. The cool, almost cellar temperature gives the wine more freshness and lift.
Chateau Moulin Haut Laroque is best paired with all types of classic meat dishes, veal, pork, beef, lamb, duck, game, roast chicken, roasted, braised, and grilled dishes. Chateau Moulin Haut Laroque is also good when matched with Asian dishes, rich fish courses like tuna, mushrooms, and pasta.
Located in the Canon Fronsac appellation, Chateau Moulin Haut Laroque is a value-priced Bordeaux wine that remains one of the best over performers in the Right Bank. Michel Rolland is the winemaking consultant.
To help ensure the wine is at the highest level of quality, the estate also produces a second wine, Chateau Herve Laroque. In addition, the owners of Chateau Moulin Haut Laroque also produce two other wines; Fronsac par Jean Noel Herve and Chateau Cardeneau.
Chateau Moulin Haut Laroque is a great example of a Bordeaux value wine that combines quality, style, and price.
http://moulinhautlaroque.pagesperso-orange.fr
Château Moulin Haut-Laroque Wine Tasting Notes
17 Vintages 77,590 Views Sort by Vintage-Rating
2022
Château Moulin Haut-Laroque (Fronsac)

Black cherries, dark plums, licorice, chocolate and espresso beans pack the nose and creamy, soft, forward, fruity palate. This should deliver pleasure for at least 10- 12 years. Drink from 2025-2037. 91-93 Pts.

902 Views

Tasted

May 8, 2023

2021
Château Moulin Haut-Laroque (Fronsac)

The roses, black raspberries, licorice and espresso work well here with the medium-bodied, fresh, bright, elegantly textured, crisp palate. Drink from 2023-2032. 89-91

1,518 Views

Tasted

May 20, 2022

2020
Château Moulin Haut-Laroque (Fronsac)

Glossy, lush, fresh and silky, the dark red pit fruits linger in the mid-palate and in the finish, which bring in chocolate, licorice and a chalk of salty chalk in the endnote. This should deliver pleasure for at least 12 years. Drink from 2023-2035.

838 Views

Tasted

Mar 21, 2023

The first thing you notice is the strong floral bouquet followed by incense, espresso bean, spice and an array of plums on the nose. Medium-bodied, soft, round, elegant and fresh, the wine finishes with silky textured black plums. This should deliver pleasure for at least 12-15 years. 91-93 Pts

1,965 Views

Tasted

May 20, 2021

2019
Château Moulin Haut-Laroque (Fronsac)

Medium-bodied, soft, silky, fresh, lively wine that starts off with floral scents before moving to its layers of sweet, ripe, pure red pit fruits. The finish is a treat as it keeps on going with all of its red fruits. Drink from 2023-2032.

3,195 Views

Tasted

Apr 10, 2022

Roses, cocoa and smoke with juicy, sweet, fresh plums, cherries and licorice, all wrapped up nicely in a medium-bodied, silky, forward package that's ready to go! 91-92 Pts

4,325 Views

Tasted

Jun 8, 2020

2018
Château Moulin Haut-Laroque (Fronsac)

Flowers, crushed rock, licorice, espresso, forest floor and ripe red pit fruit aromas hit the mark. Supple and polished, with layers of silky textured red fruits and cocoa that work to deliver a long endnote, this is already such a treat to taste. And it sells for a song!

1,945 Views

Tasted

Mar 9, 2021

Flowers, smoke, espresso and dark red berries with a touch of minerality come together in this medium-bodied, juicy, fresh, polished, fruity wine. 89-91 Pts

3,391 Views

Tasted

Apr 19, 2019

2017
Château Moulin Haut-Laroque (Fronsac)

Smoke, espresso, licorice and cherry notes on the nose move right through to the fresh, soft, round, sweet and fruity finish. You can enjoy this young but a few years will allow the oak to better integrate with the wine.

2,529 Views

Tasted

Apr 26, 2018

2016
Château Moulin Haut-Laroque (Fronsac)

Flowers, herbs, smoke, anise and black raspberries are all over the place here. The wine has body and ample fruit. The finish is silky, lusty and fruit filled.

3,131 Views

Tasted

Sep 21, 2019

Soft tannins, medium bodied, with juicy black raspberries, dark chocolate and espresso in the nose and on the palate.

2,944 Views

Tasted

Apr 29, 2017

2015
Château Moulin Haut-Laroque (Fronsac)

Really silky on the palate, with loads of fresh, sweet, ripe, cherries, espresso and licorice that should offer delicious tasting early.

3,994 Views

Tasted

Apr 29, 2016

2014
Château Moulin Haut-Laroque (Fronsac)

Coffee bean, earthy, red cherries, soft, round, polished textures all blending together to produce a ripe, easy to drink charmer. 88-89 Pts

3,551 Views

Tasted

May 1, 2015

2013
Château Moulin Haut-Laroque (Fronsac)

Spicy, with coffee bean, vanilla and plum in the nose, the wine shows some oak in its black and plum, round finish. 85-87 Pts

2,539 Views

Tasted

May 1, 2014

2012
Château Moulin Haut-Laroque (Fronsac)

Showing deep color, the wine is fresh, soft and round, with a black cherry filled personality.

3,419 Views

Tasted

May 15, 2015

This really put on weight and added complexity during the aging. The wine, produced from a blend of 65% Merlot, 20% Cabernet Franc, 10% Cabernet Sauvignon and 5% Malbec easily serves up an earthy espresso driven, cherry and licorice personality with a soft, smooth finish. Give it 2-3 years to continue filling out.

3,036 Views

Tasted

May 7, 2015

The wine delivers chocolate-covered cherries, fennel and fresh herbs. Medium-bodied, the wine ends with a light, red cherry finish. 87-89 Pts

3,933 Views

Tasted

Apr 26, 2013

2011
Château Moulin Haut-Laroque (Fronsac)

Pepper, oak and cassis with medium body and a fresh, spicy blackberry finish. 87-89 Pts

2,778 Views

Tasted

Apr 20, 2012

2010
Château Moulin Haut-Laroque (Fronsac)

This screaming value offers licorice, black and blue fruits, jam, coffee and earthy scents, ripe tannins and a polished, long, rich finish.

3,129 Views

Tasted

May 8, 2013

2009
Château Moulin Haut-Laroque (Fronsac)

Flashy, forward and already fun to drink, the wine pops with licorice, black cherries and earth. Deeply colored, lushly textured and open, this should be able to age, as well as offer pleasure in its youth. Savvy shoppers should be able to find this Bordeaux value wine for under $30.

4,866 Views

Tasted

Mar 8, 2013

2008
Château Moulin Haut-Laroque (Fronsac)

Licorice, sweet red and black fruit, spice and stone scents lead to a round, medium bodied wine that is already showing well. From a blend of 65% Merlot, 20% Cabernet Franc, 10% Cabernet Sauvignon and 5% Malbec, I'd drink this fun wine over the next 5-8 years.

4,811 Views

Tasted

Sep 12, 2011

2006
Château Moulin Haut-Laroque (Fronsac)

This is loaded with licorice, chocolate covered cherries, minerality, spice box and coffee bean. Round, ripe, sweet and delicious, this plush wine is already showing well and should give pleasure for at least another decade.

4,041 Views

Tasted

Oct 29, 2011

2005
Château Moulin Haut-Laroque (Fronsac)

Smoke, cherry, black raspberry and fennel, soft textures and a round, crowd pleasing finish. This is drinking great today.

5,921 Views

Tasted

Mar 12, 2012

This plush, ready drink, pleasure machine of a wine is filled with ripe, juicy black raspberries, licorice and cocoa. This is a sold value wine.

4,889 Views

Tasted

Aug 1, 2011