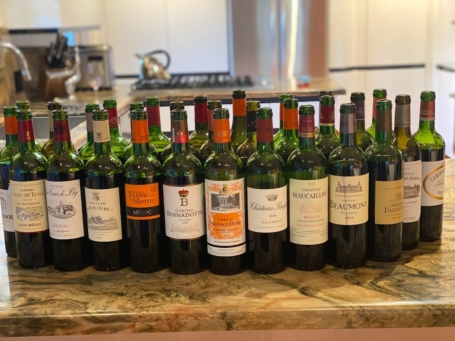 2018 Haut Medoc is a bargain hunters paradise. There are numerous good wines at fair prices to be found. Though, there are also lean, green wines as well. 2018 Haut Medoc is a vintage that buyers should look at, with both eyes open.
At their best, 2018 Haut Medoc wines are round, forward, fruity, concentrated and relatively forward, so most can be enjoyed young.
One of the advantages of tasting at home is being exposed to so many wines I would never have the chance to sample in Bordeaux. So, readers will see several Left Bank wines reviewed that perhaps are new to them as well. Many of those are worth seeking out as they offer character, style and good value.
If you want to read tasting notes for other 2018 Bordeaux wines 2018 Complete Guide to All the Best Wines of the Vintage
All of the following 2018 Haut Medoc wines were tasted in my home office in non-blind conditions.
2018 – Agassac – Cedar, earth, cigar box and espresso come along with ripe, red fruits on the nose. Round, forward and juicy, with a sweetness to the fruits in the finish, you can enjoy this on release. Or wait a bit for more development. 90 Pts
2018 – Beaumont – Peppery red fruits, cedar and tobacco leaf create the character for this medium-bodied, soft-textured, earthy wine that will be great for early drinking pleasure. 87 Pts
2018 – Belgrave – Clearly a contender for the best wine ever produced here, the wine is round, full-bodied, fresh and filled with currants, thyme, forest leaf and tobacco. The wine has depth of flavor and a big blast of sweet, chewy fruits on the palate and in the end note. You should age this for at least 5 years and enjoy it over the next 15-20 years with ease. 92 Pts
2018 – Belle-Vue – The melange of flowers, spice-box, cherries, wet earth and cocoa smells just great. On the palate, things get even better with all the sweet, fresh, energetic, juicy, ripe, soft, textured, red fruits, spice and herbs in the finish. One of the few Bordeaux produced using all 5 allowable grape varieties, the wine was made blending 48% Cabernet Sauvignon, 30% Merlot and 20% Petit Verdot, 1% Cabernet Franc and 1% Carmenere. 91 Pts
2018 – Le Benjamin de Marojallia – Light, tart, early drinking, cranberry and bright strawberry oriented wine that will be best in its first few years of life. 83 Pts
2018 – Bernadotte – A mild touch of toffee along with red fruits are easy to find on the nose and palate. Soft, medium-bodied and easy to like, with a cherry and spicy red currant finish, give this a few years to fill out and it could be even better. 88 Pts
2018 – Bibian – Loads of sweet, round, fresh, peppery, chewy, piquant red pit fruits here in a forward style. This is a solid example of what value priced, Haut Medoc wines are all about. 91 Pts
2018 – Cambon La Pelouse – Medium bodied, with loads of fresh, sweet, ripe red fruits, tobacco leaf and herbs. On the palate, the wine is earthy, fruity and with a strong tobacco and cedar component in the mid-palate and in the finish. The wine is made from a blend of 50% Merlot, 47% Cabernet Sauvignon and 3% Petit Verdot. 91 Pts
2018 – Camensac – Much better in the bottle than in the barrel, the wine is medium bodied, with a cedar, tobacco and red currant profile. Forward, soft, fresh, fruity and with a classic lean to its chewy, spicy red fruit finish. This is best vintage of Chateau de Camensac I have ever tasted. 90 Pts
2018 – Cantemerle – The mix of flowers, tobacco, and spicy red fruits on the nose deserves the attention it receives. On the palate, the wine is softly-textured, medium-bodied and forward, with a light, fresh, bright, red berry character that will drink relatively well on release. 90 Pts
2018 – Caronne Ste. Gemme – Better from the bottle than the barrel, the wine shows off its fresh, bright, juicy, red berry, earth and espresso hints easily. Medium-bodied, fresh, juicy red fruits with a hint of olives and blackberry seal the deal. 89 Pts
2018 – Charmail – Flowers, red fruits, licorice, smoke and tobacco notes create the core of the wine. On the palate, here you find layers of ripe, sweet, lush, juicy, red fruits with freshness, herbs and an energetic, lifted, fruit-filled finish. Charmail remains one of the most popular Haut Medoc wines for price and quality. 91 Pts
2018 – Cissac – Juicy, bright, crisp, sharp red fruits, green olives, cedar and forest leaf define this classically styled, medium-bodied wine. 87 Pts
2018 – Clement Pichon – Here you find herbs, tobacco, smoke and cocoa along with red and black currants. Medium bodied, with a touch of salty olives to accompany the ripe fruits and herbs in the finish. Give it a year or two of rest before opening a bottle. 88 Pts
2018 – Coufran – Better in bottle than in barrel, the wine is round and fruity, with nice chocolate overtones to its sweet plummy character that show on the nose and soft textured palate. 88 Pts
2018 – Croix du Trale – Dark, round, sweet, fresh fruits, soft textures, ripe tannins and a fruit filled finish, at a friendly price. What's not to like? A sold example of a value priced Bordeaux wine for non-label drinkers. 90 Pts
2018 – DHanteillan – With an opening note of black cherry, licorice and espresso, the wine is soft, round, fruity, lush and ready to go. 91 Pts
2018 – du Cartillon – Much better in bottle than in barrel, this has really added a lot of character during the aging process. Dark in color, with flowers, and black with red fruits, the wine is lush, round and loaded with sweet, juicy fruits. This is a perfect example of a well-priced Left Bank gem. 91 Pts
2018 – du Mont – Earth, cedar, tobacco and red currants pop up easily. Round, soft, forward and fresh, with a juicy, bright, red cherry finish. 90 Pts
2018 – Gironville – Smoke, flowers, licorice and spicy red fruits on the nose work perfectly with the elegant, fresh, polished, sweet, red fruit interior. The finish is soft, round and loaded with sweet red fruits. 90 Pts
2018 – La Tour Carnet – Licorice, espresso, chocolate, plums, black cherry and jam pop up with little effort. The wine is full-bodied, rich and fleshy with length and loads of ripe, dark red fruits in the lush finish. 93 Pts
2018 – Lamarque – Loads of fresh, ripe, juicy berries here. The wine offers a blast of fruit, cigar box, wet earth and peppery goodness. There is plenty or earthy red fruits in every sniff and sip. This has really added a lot since the aging process. 90 Pts
2018 – Lamothe Bergeron – Medium-bodied, the wine is round, forward, fresh and juicy. The red fruits are ripe, showing off a touch of licorice with the currants in the finish. Give it 2-4 years in the cellar before pulling a cork and enjoy it over the following 12 years or so. 89 Pts
2018 – Lanessan – With a nice depth of color, you find smoke, grilled meat, spice, currant and tobacco notes on the nose before moving to all the round, rich, supple textured red fruits and ripe, chewy tannins. Give it 5-7 years in the bottle before pulling a cork and you will have a much better wine. 92 Pts
2018 – Larose Perganson – Bright, crisp, fresh and juicy, the medium-bodied wine has lift and freshness in the cherry finish with a hint of cocoa on the backend. Give it 2-3 years and enjoy over the next decade or so after that. 90 Pts
2018 – Larose-Trintaudon – Medium-bodied, soft, forward, early drinking charmer with no hard edges, just plenty of ripe, sweet, red fruits from start to finish. You can drink this on release. 87 Pts
2018 – Larrivaux – Medium-bodied, fresh, juicy, sweet and fruity, with a deft touch of chocolate in the finish that rides along with all the sweet red berries quite nicely. And it sells for friendly price too! 91 Pts
2018 – Lestage-Simon – Fresh, juicy and fruity, with a spicy tint to its red currants and black pit fruits, the wine is forward, round, juicy and should show its best during its first 10-12 years of life. 90 Pts
2018 – Liversan – Bright, fresh, crisp, juicy, chewy, sweet red fruits, spice and tobacco galore, in a forward, early drinking style. 90 Pts
2018 – Madame de Beaucaillou – A new wine from Bruno Borie that offers early drinking charm with its floral, earthy, spicy, red pit fruit character. Soft, approachable, medium-bodied and easy to like, this is perfect for uncomplicated drinking in your neighborhood bistro. 90 Pts
2018 – Malescasse – Dark in color, fat, round, lush, concentrated, sweet and rich in texture, with a long blast of deep red and black fruits, licorice and chocolate in the mid-palate and finish. Long, plush and loaded with character, this is a steal for the price. 93 Pts
2018 – Malleret – Fresh, soft and juicy, the wine is medium-bodied, with loads of ripe fruit, earth and a touch of espresso in the mid-palate and in the finish. Drink this over the following 10-12 years. 90 Pts
2018 – Maucamps – Oak, red fruits and a touch of underbrush come to surface quickly in this forward, soft, early-drinking, medium-bodied wine. Enjoy it over on release and over the following 7-9 years. 87 Pts
2018 – Maurac – Cedar, pepper, tobacco leaf, cigar box and fleshy, chewy, spicy red currants are on the nose and fruit-filled, medium-bodied palate. This should drink well on release. 88 Pts
2018 – Moulin Rouge – Soft, bright, juicy fruits with hints of oak and thyme on the nose bring you to a medium-bodied, crisp, red berry oriented finish. 86 Pts
2018 – Paloumey – With a good depth of color, the wine is round, ripe and loaded with black cherries, currants, blackberries, dark cocoa and earth. Lively, sweet and with good length, this is enjoyable now, but it is going to be even better with a few years of age. 91 Pts
2018 – Peyrabon – Medium-bodied with tobacco leaf, herbs, olives and red berries on the nose as well as in the fresh, chewy, bright, ready to drink, medium-bodied palate. 88 Pts
2018 – Peyrat-Fourthon – Fresh, juicy, fruity and easy to like, medium-bodied, with loads of spicy, sweet red currants and an alluring, fruit filled finish, give it a few years in the cellar and it will offer an outstanding Left Bank value priced experience. 89 Pts
2018 – Peyredon Lagravette – Bright, fresh, sweet and juicy with loads of crisp, chewy currants on the nose and palate. This is one of those well-priced Cabernet Sauvignon based, Left Bank wines that savvy consumers should be all over as you find a lot of bang for buck. 90 Pts
2018 – Retout – Medium-bodied with an interesting nose of red cherry and orange peel, the wine is soft, chewy, spicy, fresh, medium-bodied, forward and delivers a hint of cocoa in the end note. This is going to be quite easy to enjoy on release. 88 Pts
2018 – Reysson – Sporting an exceptionally high percentage of Merlot for the Left Bank, this charming wine provides a round, supple, fruity, medium-bodied blast of dark, sweet red fruits and licorice with touches of oak and cocoa. Fresh, fruity and already fun to drink, you can enjoy this just about on release. 90 Pts
2018 – Saint Ahon – Tobacco, spice, cedar and ripe, sweet, fresh red currants in a forward, soft, easy to drink, medium-bodied style. Lots of early drinking charm for very-little money. 89 Pts
2018 – Saint-Paul – Cedar, tobacco, wet earth, spice, flowers and red currants already show their stuff in this bright, medium bodied, forward, easy to drink wine. 90 Pts
2018 – Senejac – Ripe, dark red fruit, cedar and tobacco leaf with a hint of bitter cocoa and spice are at the core of this wine. On the palate, the wine is round, fruity, soft and juicy with loads of ripe, sweet berries in the finish. This debut vintage for Jean-Michel Laporte at the property has turned out quite well. 91 Pts
2018 – Villegeorge – Medium/full-bodied, fresh, crisp and crunchy, with plenty of ripe, sweet, peppery, chewy Cabernet Sauvignon on the in every sip and swallow. Give it a few years in the cellar and it should offer a lot of pleasure for a very fair, consumer, friendly price. 90 Pts