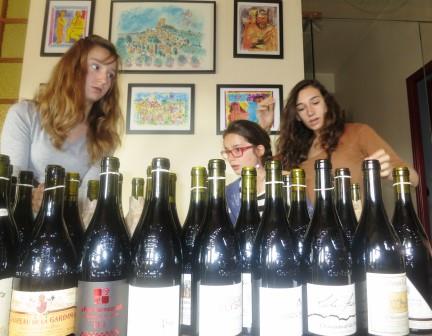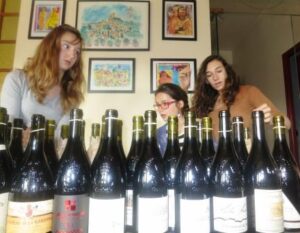 I'm not exactly late to the party. We published an article extolling the virtues of 2010 Chateauneuf du Pape back in March, 2012. However, that article was based on a small sample base. Until recently, I was not fully aware of how great 2010 Chateauneuf du Pape wines really are. That is no longer the case.
Following an extensive trip to Bordeaux, I managed to sneak in a few days in the Southern Rhone Valley with Philippe Cambie and Michel Blanc. Until I arrived in Chateauneuf du Pape in April, at best, I tasted a few dozen 2010 Chateauneuf du Pape wines. I really liked the vintage. After tasting over 100 different, 2010 Chateauneuf du Pape wines on this trip, I came away with a deeper understanding of the vintage, and more importantly, loving the wines!
What's not to love about 2010 Chateaneuf du Pape? 2010 Chateauneuf du Pape wines are incredibly ripe, rich, deep, complex, fresh and balanced with the structure to age and develop. They have a lot of character and style at both ends of the price spectrum. The special, high-end wines truly sing. And they should for what they sell for! But the number of delicious, 2010 Chateauneuf du Pape Tradition and Classique wines that are worth owning is mind-boggling! My report, which covers a lot of ground does not begin to scratch the surface, as the amount of sublime 2010 Chateauneuf du Pape wines has to set a record for a quality wines produced in a single vintage.
If you already love Chateauneuf du Pape, these are wines worth taking a serious look at. If you are new to wine, or the southern Rhone Valley, 2010 Chateauneuf du Pape is the perfect vintage to get your feet wet with!
2010 Domaine Albin Jacumin – Medium bodied and filled with light, fresh, peppery red berries, this is a wine to drink on the young side. 86 Pts
2010 Domaine de l'Arnesque Cuvee Capelane – Licorice, jammy fruits and assorted, spicy berries are found in this forward styled wine. 89 Pts
2010 Domaine La Barroche Signature – Exciting scents of garrigue, jammy berries, fig, licorice and black cherry get this going. It's even better on the palate with its fat layers of juicy fruit, fennel and dark cherries. The finish builds in the mouth. 92 Pts
2010 Domaine de Beaurenard – Supple, polished, soft, sweet, dark red berries with a forward, modern styled finish. Drink now, or wait a year or two. 90 Pts
2010 Domaine du Bosquet des Papes– Earthy, garrigue and black cherry scents complicated by hints of jam and fresh herbs. Create a rich, fleshy, supple wine that is drinking well now. 92 Pts
2010 Les Cailloux Tradition – Forward in style, with ample polished cherries, herbs and fennel, this kirsch filled wine is already delivering a lot of pleasure. 90 Pts
2010 Chateau Capucine – Oaky, modern style of Chateauneuf du Pape that will please some tasters a lot more the than others. 85 Pts
2010 Domaine La Celestiere Tradition – Sweet, ripe, rich and with good intensity, there is ample fresh, dark, red, ripe jammy berries and a polished, finish. 90 Pts
2010 Domaine Chante Perdrix – It's easy to like this fun, forward, fresh, ripe, spicy, plush, round wine. 89 Pts
2010 Domaine de la Charbonniere – This wine remains one of the best values in Chateauneuf du Pape and one whiff and sip reminded me why. Filled with black pepper, black raspberry, kirsch and jam, this soft, lush, deep wine ends with layers of spicy, black raspberries. 91 Pts
2010 Clos des Brusquieres – Spicy, open and forward, this delivers an elegant, fresh light style of Chateauneuf du Pape with a cherry finish. 88 Pts
2010 Clos St. Jean – A terrific, forward styled wine packed with sweet, round, peppery, jammy cherries, soft textures and garrigue. 91 Pts
2010 Domaine Comte de Lauze – Spicy, herb and red berries with a drying cherry finish. 84 Pts
2010 Domaine La Consonniere – Focused on red berries, this light, elegant style of Chateauneuf is ready to drink. 87 Pts
2010 Domaine de la Cote de L'Ange – Silky, smoky, red berries, earth, ripe, sweet plums and spice deliver a supple, spice filled, fresh finish. 91 Pts
2010 Domaine de Cristia – Silky, ripe, fat juicy berries, pepper, earth and herbs create a supple textured wine that delivers a pure, fresh, sweet, red and black, berry finish. 91 Pts
2010 Domaine Jean Deydier Les Clefs d'or – Peppery, with garrigue, fresh, light strawberry, with good freshness, this is already drinking well now. 90 Pts
2010 Chateau des Fines Roches – Spicy, medium bodied, easy going and dominated by red fruits, this is already drinking well. 87 Pts
2010 Chateau de La Font du Loup – The wine pops with anise, kirsch, spice and garrigue. Suave and supple, with character and personality, this comes from an estate that has moved to 100% organic farming techniques. Consulted by Philippe Cambie. 90 Pts
2010 Château Fortia – Strong barnyard aromas that reminded me more of Mr. Ed's stable than wine, it took a while to move past the animal scents to find black cherries and earth. The wine has depth, and some people are going to like it a lot more than I did, but the only way this was going to rock my boat, was if I was going to sea in an Ark. It's a shame because Fortia was one of the better Chateauneuf du Pape wines during the 1970's. 85 Pts
2010 Chateau de La Gardine – Soft red cherries dominate this structured, concentrated tannic wine. Give this a few more years to develop. 89 Pts
2010 Domaine du Grand Tinel – Spicy, black raspberries, silky, refined, textures and a forward, lush, pure, fruit filled finish are found in the wine. The Domaine is consulted by Philippe Cambie. 91 Pts
2010 Domaine Giraud Tradition – I do not know where I've been for the past few years, because I was not aware of the level of wine coming from Domaine Giraud. Consulted by Philippe Cambie, this is one of the hottest new estates in Chateauneuf du Pape. Not only is this absolutely delicious, it sells for more than a fair price for a wine of this quality. Packed with sweet fresh, jammy berries, cherry liqueur, gariggue and peppery, black raspberries, this beauty is already delivering the goods. 92 Pts
2010 Domaine Olivier Hillaire – This relatively new producer began making wine in about 2004. With fresh black cherries, earth, fresh herbs, leather and kirsch, the wine gets your attention. Full bodied, rich and lush, the wine finishes with ripe, jammy black raspberries. 92 Pts
2010 Domaine de La Janasse – The wine is earthy, expressive and filled with jammy, smoky berries, silky textures and layers of sweet, plump, ripe fruits. 92 Pts
2010 Chateau Jas de Bressy – Deep, dark, ripe, floral and spicy, the wine pops with kirsch, fennel and earthy sensations. 89 Pts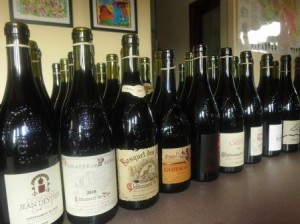 2010 Domaine Marcoux – Packed with fresh, ripe, sweet, jammy black raspberries, spice, kirsch and pepper notes, this lush, concentrated, rich, complex wine has a finish that truly leaves an impression. 92 Pts
2010 Mas de Boislauzon – This fabulous, rich, concentrated, earthy, black cherry and spice filled wine is a great value for its quality. The wine is tannic and demands a few years in the cellar to soften, but it's worth the wait for this stylish Chateauneuf du Pape. 92 Pts
2010 Mas de La Grange Blanche – Simple, easy going and best enjoyed over the next few years for its red berry charms. 86 Pts
2010 Domaine Patrice Magni – Jammy berries, fennel and spice box aromas couple with fresh, spicy red berries and a fresh, light, Burgundian finish are found in this wine. 88 Pts
2010 Domaine Mathieu – Spicy berries, kirsch, garrigue and lush textures are the hallmarks of this open wine. The finish ends with fresh, sweet, red cherries. 89 Pts
2010 – Domaine La Milliere Vieille Vignes – Soft and polished, the wine delivers ample fennel, herbs and red fruits, with a sweet, silky, spicy finish. 90 Pts
2010 Chateau Mongin – The wine is produced by students at a wine making school, so the quality varies from vintage to vintage, depending on the student and the year. Kirsch liqueur, fresh, sweet, round, fruits than end with a lively, red berry finish. 86 Pts
2010 Domaine de Monpertuis – Ripe aromatics with spicy, jammy berries, black cherry, pepper and fresh herbs, the wine combines freshness and clean fruits. Farmed using only organic vineyard techniques, the wine is consulted by Philippe Cambie. 89 Pts
2010 Domaine de la Mordoree La Reine des Bois – Sweet, smoky, licorice, garrigue, coffee and ripe, jammy berry scents are followed by a full bodied, lush, plush, fleshy wine with depth, concentration, length and character. There is a lot to like about this stylish Chateauneuf du Pape from Fabrice Delmore! 95 Pts
2010 Domaine de Nalys – Light, polished, spicy, and focused on red cherries with fresh strawberry, this is best enjoyed in its youth. 89 Pts
2010 Chateau La Nerthe – This delicious, ripe, rich wine is filled with roasted red berries, kirsch, spice and earthy sensations. 90 Pts
2010 Domaine du Pere Caboche – Showing light spicy, red berries, this medium bodied, charming wine ends with a cherry finish. 89 Pts
2010 Domaine de Pignan – Dark colored and fleshy, black raspberry jam, espresso and sweet, fresh cherries fill the supple textured finish. 91 Pts
2010 Domaine Le Plan Vermeersch GT-1 – Fleshy, polished and modern styled, this full bodied, intense, sexpot of a wine is rich and ripe and packed with layers of ripe, dark, red spicy fruits. 92 Pts
2010 Domaine Pontifical – Light on color and on the palate, with garrigue, barnyard, some red fruits and a touch of brett. 85 Pts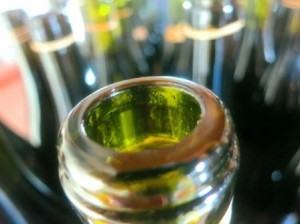 2010 Domaine Roche Audran – Slightly drying, with more stone, peppery and herbs than fruits. I'd drink this over the next few years. 86 Pts
2010 Domaine de la Ronciere – Light, sweet and fresh in style, the wine delivers sweet and tart red fruits. This is best enjoyed in its youth. 88 Pts
2010 Chateau de Ruth -Loaded with kirsch and an open, forward personality, this is perfect for short term drinking. 87 Pts
2010 Sabon Clos Mont Olivet – This super wine, and great value delivers flowers, kirsch, jam and garrigue. Supple textured and already delivering pleasure, this is a winner. 92 Pts
2010 Saint Cosme – Sporting a nose of kirsch, fennel and garrigue, this forward styled, plush wine is already drinking in the sweet spot. 91 Pts
2010 Domaine Saint Paul – Spicy ripe berries, fleshy textures and a sweet, jammy berry finish are found in this wine. 89 Pts
2010 Domaine des Senechaux – Silky, dense, lush textures, a beautiful purity of fruit with ripe, sweet, red and black fruits and long, spicy, mouth filling finish. Consulted by Philippe Cambie. 93 Pts
2010 Cuvee des Sommelieres – Peppery fruits, dark, ripe, red berries and a light, spicy finish. 85 Pts
2010 Domaine Pierre Usseglio – Ripe, fat, juicy fruits, great concentration of flavor with a fresh, peppery, jammy black raspberries, licorice, earth, kirsch and spice. This lush wine remains one of the top values in Chateauneuf du Pape. 92 Pts
2010 – Domaine Raymond Usseglio – Filled with garrigue, spicy black raspberries, ripe, sweet and delicious. 90 Pts
2010 Chateau de Vaudieu – Ripe, supple and already delicious, the wine is sweet, fat and filled with fresh, jammy berries and licorice. The wine was produced using 100% organic farming techniques and was consulted by Philippe Cambie. 91 Pts
2010 Cuvee du Vatican – Earthy, forest floor, kirsch, animal and smoked meat aromas get you interested in the wine. Soft, round and chewy, the wine ends with ripe, black cherries. This is a screaming value! 92 Pts
2010 Domaine de Villeneuve Les Vieilles Vignes – From yields of just 10 hectoliters per hectare, this rich, concentrated, garrigue filled fine delivers fresh, black cherries, liqueur, spice and fat, lush textures. Consulted by Philippe Cambie. 93 Pts
2010 Vieux Donjon – Blackberry, licorice, truffle and black raspberry scents emerge with little effort. In the mouth, the wine is lush, round and concentrated. With tannins and structure to age, give it a few years before popping a bottle. 93 Pts