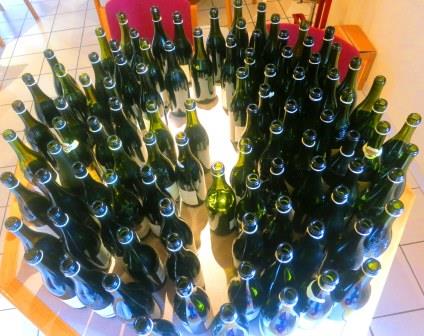 Make no mistake, 2010 Chateauneuf du Pape is a great vintage for the region! Is it best vintage for the Southern Rhone of all time? Perhaps that is a reasonable conclusion. Before arriving at that point, it's important to consider what goes into making a great vintage.
Having tasted more than 100 different 2010 Chateauneuf du Pape wines over 2 days leads me to conclude 2010 Chateauneuf du Pape could be that good. Why not? However, before arriving with that conclusion, there are important factors to think about.
Are the wines strong across the board? The answer to that question is absolutely! The wines are stunning across the entire spectrum of the vintage. The small wines possess depth and character. The 2010 Chateauneuf du Pape Tradition and Classique wines are uniformly wonderful to taste. They have style, character, ripe fruits and the ability to age. At the top end, some of these wines are off the charts! Each sniff, swirl and sip makes you want to taste the wine again and again. They are lush, sensuous, rich complex wines of pleasure that are seldom found in any vintage from any wine region. The desire to keep drinking, because each taste makes you want to know more about the wine, is the mark of all great wines. Add to that, perfectly ripe fruits, high levels of concentration, lush, rich textures and long, expansive finishes with the ability to age and evolve, and you have 2010 Chateauneuf du Pape!
The following wines were tasted with Philippe Cambie and Michel Blanc in Chateauneuf du Pape.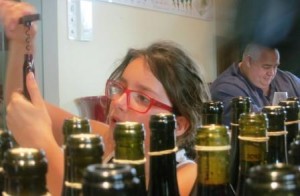 As you can see, the youngest future sommelier opens 2010 Chateauneuf du Pape while Philippe Cambie looks on approvingly.
2010 Domaine La Barroche Pure – From 100% old vine Grenache, the stunning wine is deep ruby in color. Packed with layers of rich, intense, fat, ripe, unctuous, fresh, sweet, ripe, jammy berries, spice and licorice. This is intense, mouth filling and long, yet never tiring to drink. 98 Pts
2010 Domaine de Beaurenard Boisrenard – Ripe, fleshy, polished and fresh, this modern styled Chateauneuf du Pape is filled with kirsch, jam, coffee bean and spice. Generally speaking, I do not like oak with my Grenache. But previous vintages have come together quite nicely with time. I expect that to happen with this as well. 93 Pts
2010 Domaine Berthet Rayne Fut de Chene – Fleshy, silky, elegant and filled with fresh kirsch and wild strawberries, the wine is rich and vibrant. 92 Pts
2010 Domaine Berthet Rayne Cadiac – Full bodied, concentrated, lush and intense, this is filled with spicy, ripe, berries, with the structure for aging. Give this delicious wine a few years before pulling a cork. 94 Pts
2010 Domaine du Bosquet des Papes Chante-Merle Vieilles Vignes – A wine of pure pleasure with its silky, elegant, powerful, mineral driven palate, the wine exudes fresh, dark red berries, jam and spice. Give it a few years in the bottle for further development. 95 Pts
2010 Bosquet des Papes A la Gloire de mon Grand-Père – Wet earth, with spice, black cherry liqueur and kirsch scents, deep color and a fresh, tannic, ripe cherry finish are found in this Chateauneuf du Pape. Give it a few years to develop. 93 Pts
2010 Les Cailloux Centenaire – Deep ruby in color, with garrigue, wild strawberry jam, kirsch and licorice, the wine is silky, luxurious, refined and ends with layers of sweet, red, spicy berries. 96 Pts
2010 La Celestiere Les Domaines – Still in barrel in May, 2013, the wine should be in bottle by the summer of 2013. Inky in color, with an intensity of raw material to match, the wine is intense, concentrated and powerful. Everything is in balance. This finish seems to go on and on. With all this going on, the wine remains fresh, clean and pure. 96 pts
2010 Domaine des 3 Cellier Marceau – With a floral, spice and jammy black raspberry the nose, the medium bodied wine ends up delivering sweet, round, spicy, kirsch notes in the finish. 89 Pts
2010 Domaine des 3 Cellier Privilege – Fennel, dark red berries, spice and earthy notes kick off the wine. Tannic, rustic and stylish, give it a few years to develop. 90 Pts
2010 Maison Chapoutier Barbe Rac – Filled with spicy berries, kirsch liqueur, lush, flamboyant black cherries and a round, polished, sweet finish. This stylish wine has a great track record for aging. 95 pts
2010 Maison Chapoutier Croix de Bois – Jammy, ripe and over ripe sweet fruits are in abundance. Medium bodied, elegant and polished, this poised wine is already drinking well. 93 Pts
2010 Domaine de la Charbonniere Les Hautes Brusquieres – Showing silky, fleshy, polished, pure cherries and a long, finish packed with a mélange of ripe, spicy, sweet, juicy, lush fruits. 94 Pts
2010 Domaine de la Charbonniere Vieilles Vignes – Concentrated with layers of deep, ripe, fleshy, ripe, intense cherries, pepper and spice, the wine is clean, fresh, long and impressive. 94 Pts
2010 Clos des Papes – Move on over 2007 and make room for the 2010. Until now, I was sure the best vintage of Clos des Papes was the sublime 2007. As good as that wine is, the 2010 is even better! This is intense, pure, rich, mouth coating and long, yet everything is in balance and harmony with its decadent layers of perfectly ripe, lush, opulent layers of fruit. There is so much depth and focus to this wine, it's close to off the charts! At close to 16% alcohol, there is no sensation of heat as it's buried under the avalanche of fruit. 98 Pts
2010 Clos St. Jean Vieille Vignes – Floral, spice, licorice and kirsch notes with scents of earth are all over the place. On the palate, the wine is filled with dense layers of silky, rich and peppery black and red cherries. 94 Pts
2010 Clos St. Jean Les Combe des Fous – Powerful, rich and intense, the nose gets you going with its earthy red berries, spice, jam and peppery aromas. On the palate, the wine is rich, fresh, concentrated lushly textured, finishing with layers of spicy, fresh red and black fruits. 96 Pts
2010 Clos St. Jean Deus Ex Machina – Deep, incredibly concentrated and almost overflowing with everything that is great about Chateauneuf, this massive, yet perfectly balanced wine fills your mouth with layer after layer of fresh, sweet, perfectly ripe fruits. The finish lasts for at least 40 seconds! 98 Pts
2010 Le Clos Saint Michel Cuvee Reservee – Fat, juicy, black raspberries, licorice, garrigue and lush textures are found in this open, forward wine. 93 Pts
2010 Le Clos Saint Michel Grand vin – Powerful, decadent, rich, fat and intense, the wine is palate coating with its layers of sweet, fleshy, jammy berries and intensity. 96 Pts
2010 Domaine de la Cote de l'Ange – Secret de l'Ange – With loads of fresh, spicy, peppery berries, jam, spice box, licorice and garrigue notes, this is full bodied and concentrated. The wine is deep, spicy, rich and mouth filling. With one of the highest portions of Mourvedre in Chateauneuf du Pape, this is a truly serious wine that needs to be tasted. 95 Pts
2010 Domaine de Cristia Renaissance – Ripe, alcoholic and almost too much to taste… Note I said almost with its jammy, licorice, chocolate and spicy character, the wine coats your palate, teeth and gums with layers of decadent fruit. There is a touch of heat in the massive finish. 96 Pts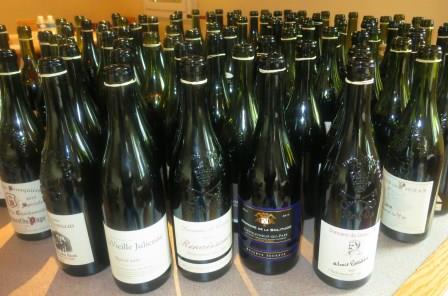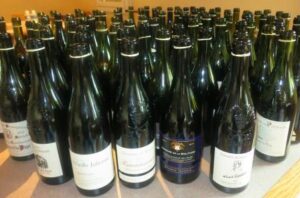 2010 Domaine La Fagotiere Le Rigodon – Medium bodied, focused on bright, red fruits with a slight drying sensation in the finish. 85 Pts
2010 Domaine de Fontavin David et Goliath – Incense, licorice and jammy berries, full bodied, fresh, and balanced, but perhaps a bit too much oak in this modern adaption of Chateauneuf du Pape which leaves it feeling a little bit dry in the finish. If it comes together with time, it will be a better wine, deserving a higher score. 90 Pts
2010 Domaine Font de Michelle Etienne Gonnet – The wine is fresh, ripe, rich, spicy and jammy, with layers of polished black raspberries, kirsch and garrigue. 94 Pts
2010 Chateau Fortia Cuvée du Baron – From a blend of 50% Syrah, 40% Grenache and 10% Mourvedre, this is one of the heaviest concentrations of Syrah in Chateauneuf du Pape. This concentrated wine offers sauvage aromas, soil, barnyard, plum and earth along with meat or beef blood. This traditionally styled wine ends with a long finish. 90 Pts
2010 Chateau de la Gardine Cuvée des Generations – Modern in style, which is a bit drying on the palate due to the wood, the wine still offers ample layers of sweet, ripe, jammy berries and spice, along with hints of vanilla and coffee. 90 Pts
2010 Domaine Giraud Les Gallimardes – From 90% old vine Grenache that is more than 100 years old, the wine screams with black raspberry jam, kirsch, black cherry liqueur, spice box and licorice notes. Elegantly textured, with layer after layer of dense, ripe berries, the wine ends with a lavish display of ripe fruits. 96 Pts
2010 Domaine Giraud Grenache de Pierre – Produced from 100% old, vine Grenache that dates back more than 100 years, the wine is deep in color. This is so rich, it seems like there is enough dry, extract in this one bottle for a magnum sized format. There is a beautiful purity to the fresh, sweet, ripe and over ripe black and red berries that coupled with intensity and elegant textures, leaves a real impression on the taster. This wine really fills your mouth and coats your palate. WOW! 98 Pts
Domaine du Grand Tinel Alexis Establet -From 100% old vine Grenache that are at least 100 years of age; from the word go, the aromatics pop with spice, licorice, garrigue and pungent, jammy black raspberries. The palate is coated with deep, silky cherries in the long finish. This Philippe Cambie consulted domaine is committed to 100% organic farming. 95 Pts
2010 Olivier Hillaire Les Petits Pieds d'Armand – This is stuffed with licorice, jammy blackberries and cherry. From 100% old vine Grenache, and when I say old, I mean vines over 100 years old, this concentrated, pure, kirsch, Provencal herb and peppery is lush and lusty. 95 Pts
2010 Chateau Husson Les Saumades – Fresh, lively, vibrant, tannic and demanding time, this spicy, red berry filled, rustic wine demands time before it is fun to drink. 89 Pts
2010 Paul Jaboulet Aîné Domaine de Terre Ferme – Blending 80% Grenache and 20% Mourvedre produced a powerful Chateauneuf du Pape with ample pepper, kirsch liqueur, old wood and plum scents. The fruit is lush, ripe an round, ending with a blast of wild strawberries, pepper and herbs. 92 Pts
2010 Domaine de la Janasse Chaupin – Tasting this wine is like biting in a massive basket of insanely ripe, black raspberries with spice and washing them down with kirsch liqueur. 97 Pts
2010 Domaine Jean Comte de Lauze Reserve de la Comtesse – Light, bright, and offering simple, red berries, garrigue, and a tart finish. 85 Pts
2010 Domaine Jean Deydier Les Clefs d'Or Les Craus Centenaires – From vines more than 100 years of age, the wine is deep in color, with fleshy textures, ripe and over ripe berries, earth and spice that delivers a juicy, fat, fresh, sweet finish. This sells for a more than fair price for a wine at this quality level. 94 Pts
2010 Domaine l'or de Line Cuvee Paule Courtil – Simple, easy, cherry filled wine that should be enjoyed over the next few years as it does not have the stuffing to age. 88 Pts
2010 Mas de Boislauzon Cuvée du Quet – Opaque in color, this intense wine is packed with smoke, coffee, earth, plum liqueur, molten black cherries and an array of spices. Dense, concentrated and tannic, this sensational, rich, powerful, palate coating, Chateauneuf du Pape will need a few years to come together. 98 Pts
2010 Mas de Boislauzon Le Tintot – From 100% Mourvedre, with vines that average at least 80 years of age, this inky, black wine is stunning! Licorice, blackberry liqueur, herbs, ripe black cherry and smoke aromas explode from the glass. Fat, sassy and packed with multiple layers of rich, ripe, dense sweet, pure fruit, this massive, intense wine fills your mouth and palate with flavor and velvet textures in the long, polished finish. 97 Pts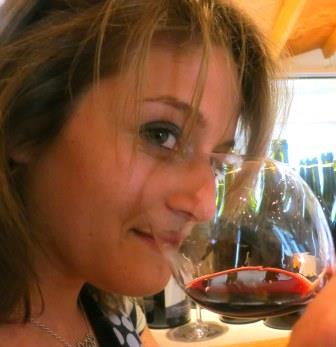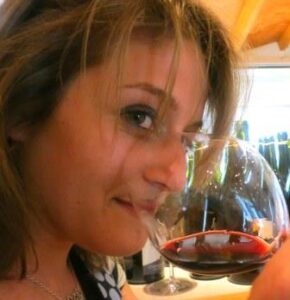 Without the help of the lovely Sandra Franco of the Federation of Chateauneuf du Pape, none of this would have been possible.
2010 Domaine Mathieu Anselme – This traditional styled wine focused on red berries, garrigue and freshness in the sweet and tart, red berry finish. 90 Pts
2010 Domaine de la Mereuille Les Baptaurels – Jammy, ripe, fresh and soft, this medium bodied, red berry filled wine is already drinking well. 89 Pts
2010 Domaine de Monpertuis Secret de Gabriel – Deep in color, with enough to fill two bottles of wine, this intense, powerful and balanced, with silky textures and layers of fresh, ripe, kirsch, flowers and herbs. Philippe Cambie acts as the consultant at this organically, farmed domaine. 94 Pts
2010 Domaine de Nalys Reserve – Spicy, soft, open and forward with an array of red and black fruits. This traditional wine has an untraditional blend as it's produced with perhaps the highest proportion of Syrah in Chateauneuf du Pape at close to 70% of the blend. 89 Pts
2010 Chateau La Nerthe Cuvee des Cadettes – With one of the higher percentages of Mourvedre as well as Syrah in Chateauneuf du Pape, this stylish wine explodes with licorice, dark berries with hints of blue fruits and coffee bean in the perfume. Powerful, rich and character filled, the wine is silky, sweet and lush. There is some oak, but that would come together with time. 95 Pts
2010 Domaine du Pere Caboche Vieilles Vignes Elisabeth Chambellan – Silky, soft, elegant and refined, the wine is polished, fresh, round and ripe, plus it's already delivering much of its charms. 92 Pts
2010 Domaine de Pignan Coralie et Floriane – In a very modern style, which is going to turn off some tasters, others are going to enjoy the peppery, black raspberries, jam and coffee notes. The flashy style ends with a fat, oaky, ripe, kirsch finish. 90 Pts
2010 Domaine de La Ronciere Louis Geoffrey – Powerful, long, ripe and filled with layers of sweet, fleshy berries and toasted oak, which is going turn off some tasters, due to its modern stylings. 90 Pts
2010 Sabon Clos du Mont Olivet Chateauneuf du Pape Papet – Silky, polished, sensuous, and delivering the essence of ripe, old vine Grenache, there is so much kirsch, licorice, jammy blackberries, spice and fresh herbs, it's hard to believe. As big as this is, the wine is also voluptuous, ostentatious, deep, incredibly rich and lush, leaving a lasting impression. 97 Pts
2010 Domaine Saint Paul – Filled with fresh herbs, pepper and soft textured, spicy berries, this elegant, refined Southern Rhone and finishes with sweet red berries. 90 Pts
2010 Chateau Sixtine – Earthy, sweet, fleshy, fresh, ripe, pure, black and red cherries, pepper, fennel, garrigue and spice open the wine. Rich, fleshy, sweet, round and intense, there is no sensation of heat in the long, 15.5% alcohol finish. This is the first vintage utilizing the new name for the wine of the Diffotny families estate. This wine remains one of the top values for high quality Southern Rhone in the market today! 95 Pts
2010 Domaine de la Solitude Barberini – Rich, fat jammy berries with lush textures end with a sweet, tasty, mouthful of juicy, ripe, black cherry liqueur. This modern styled wine is already showing great. 92 Pts
2010 Domaine de la Solitude Reserve Secrete – After the initial blast of vanilla and coffee in the nose, the wine moves to licorice, jammy berries, earth, herbs and spice. Silky, elegant and supple on the showy palate, this is an outstanding, modern styled Chateauneuf du Pape. 95 Pts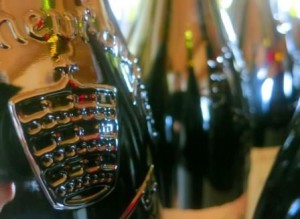 2010 Domaine Tour Saint Michel Feminessance – Powerful, structured, tannic and rich, this needs to before it's fun to drink. Forget about it for 3-5 years. 90 Pts
2010 Domaine Tour Saint Michel Cuvee du Lion – Lush, sexy berries, polished tannins and silky textures, make this rich wine a pleasure to taste. 93 Pts
2010 Domaine Pierre Usseglio Cuvee de Mon Aieul – You can see the level of concentration of fruit in the deep color, and sense it on the palate with the decadent levels of sublime pure, ripe, fresh berries, silky tannins and in the long, rich finish. 97 Pts
2010 Domaine Raymond Usseglio Cuvee Imperiale – Fresh, clean, focused and extremely concentrated with all the right stuff, this wine is filled with layers of fresh, ripe and over ripe, pure, sweet, luscious cherries that remain on your palate for close to 40 seconds! 97 Pts
2010 de la Vieille Julienne Les Hauts Lieux – With lush, sexy berries, licorice and spice, the wine ends with layers of juicy, fresh, sweet, jammy berries, earth and spice. 94 Pts
2010 Domaine de la Vieille Julienne Les Trois Sources – Sweet cherries, silky, lush textures, the structure to age and a fresh, pure, long red berry finish that builds and expands are found in this wine. However, it requires a few years of age before everything delivers all its ample goods. 96 Pts
2010 Domaine de la Vieille Julienne Reserve – Every now and then a wine leaves you speechless. This is that good! With complex aromatics, the wine offers charcoal, jam, pepper, spice and garrigue to get the ball rolling. The wine is pure, long and expansive, with an incredible intensity of flavor and vast array or perfect ripe and over ripe fruits. The finish builds for close to 50 seconds! There is no sensation of heat in the 16.4% alcohol finish. 100 Pts
2010 Le Vieux Donjon – Blackberry, licorice, truffle and black raspberry scents emerge with little effort. In the mouth, the wine is lush, round and concentrated. With tannins and structure to age, give it a few years before popping a bottle. 93 Pts