2000  Bordeaux Wine Reviews and Tasting Notes…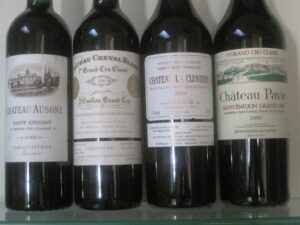 2000 Bordeaux Wine Right Bank wines … "The First Vintage of the Millennium".
2009 Bordeaux wine is still being offered as futures. 2010 is on the way.  Some people are already hailing 2009  a vintage of the century. Those comments are being made about 2005 as well.  With that in mind, earlier this year, along with Robert Parker and a few other people, (about 8 in all,) we took a look back at 2000 Bordeaux, the first vintage of the century, this century, as well as the debut vintage of the millennium.
2000 Bordeaux wine did not have an auspicious birth. Vineyards on both banks suffered from mildew. From May through July, the weather managed to cooperate from time to time, with alternating periods of heat and cool temperatures.  By mid-summer, while it was still early, no one expected a great vintage. Starting with August, the weather improved dramatically and September was perfect!  The harvest took place under sublime, warm and dry, conditions.  Pomerol, which always picks first, began harvesting Merlot on September 14. Pickers in the Left Bank concluded their harvest by early October. Things might have gotten off to a slow start, but by the time the grapes were picked and on their way to being fermented, growers, Bordeaux wine makers in the Right Bank, Medoc and Pessac Leognan, along with everyone else knew they had something special on their hands!
10 years after a vintage is a good time to start looking at how the wines are developing.  In March, 2010 I participated in a tasting of 2000 Bordeaux wine which offered a good look at how the wines were evolving.  The style of vintage is impressive.  The wines are ripe, round, balanced and concentrated with quality fruit and in most cases silky tannins.  The wines have the structure to age and evolve for decades.
In 2000, stellar wines were produced from both banks. Many petit chateaux also made fine wine.  Those are some of the key factors needed when declaring a vintage great.
While the top wines should continue improving for decades, it's advisable that consumers holding the smaller wines start drinking them while the fruit remains fresh. Some of the more tannic, Left Bank wines did not express the same degree of roundness and fruit noted in earlier tastings.  However, because those wines require another 10-20 more years to mature, it is a good possibility the wines will score even better than they did at this tasting.  Pomerol and St. Emilion both produced wines of stunning quality, richness and purity. Most of the top Right Bank wines are not mature; however, due to their high Merlot content, many Right Bank wines can be opened and enjoyed today.
These wines were not tasted blind and were tasted during a single morning session. Most of the bottles were double decanted two hours prior to the tasting. All wines were obtained at release and have been stored perfectly since that time. All notes, comments and scores were written while tasting the wines.
The wines were organized by region, from Left Bank to Right Bank, starting in the Northern Medoc with St. Estephe, going from north to south to Graves, before hitting Pomerol and concluding with St. Emilion.
Angelus offers aromatics of ripe, black fruits, fresh herbs, minerals, spice and fennel. Packed and stacked with perfectly ripe fruit, coupled with textures akin to liquid silk, this intense, deep, plush, opulent wine fills your palate with layers of plums and black fruit. 97 Pts
Ausone CORKED, both bottles!
 
Barde Haut with scents of black raspberry, licorice and oak is soft and elegant on the palate. This is already drinking well. 90 Pts
Beausejour Duffau-Lagreosse starts off with plums, minerality, herbs and truffle. Well made and without faults, there is no excitement or unique characteristic in the wine. 90 Pts
Bellevue is filled with fresh herbs, crushed stone, black raspberry and plum aromatics. Soft, supple, fresh and filled with perfectly ripe dark fruit, this is developing nicely. 95 Pts
Brane Cantenac opens with a red and black fruit filled perfume, complicated by notes of tobacco, forest and spice. Elegantly textured and medium bodied, most of the tannins have melted away. 90 Pts
Canon La Gaffeliere with its licorice, blackberry, dark cherry, spice and fresh herb aromas is pleasing to smell. The wine is round, opulent and lush with ample fruit to keep you interested. 93 Pts
Certan de May already developed secondary characteristics with its truffle, chocolate and plum aromatics. The wine was medium bodied and lightly textured. The tannins did not feel fully ripe. I'd drink this sooner than later. 89 Pts
Cheval Blanc offers a nose of black raspberry, flowers, herbs, plums, minerals, coconut, spice box is compelling. The wine marries intensity with balance, complexity, purity and an exotic style. The seamless finish of juicy, ripe plums and dark berries fills your mouth with pleasure and remains etched on your palate for close to sixty seconds!  100 Pts
Clos L'Eglise greets you with a chocolate, floral, black plum perfume. This fat, rich, round, mouth filling wine is intense and opulently textured. The finish ends with ripe, dark fruit flavors with a hint of chocolate covered licorice. 94 Pts
Clos de l'Oratoire is ready to drink. Ripe black raspberry, with hints of fennel, help define this charming wine. 90 Pts
Clos St. Martin is open for business. Silk, elegance and ripe fruit are the hallmarks of this wine. Dark berries, minerality and juicy plums are made better by the opulent, velvet laden textures that coat your palate. 94 Pts
La Clusiere is the real deal! Deep, intense layers of spicy, black fruit, plum, licorice and crushed stones jump from the glass. Incredible levels of concentrated dark ripe fruit stain your palate. Thick, rich, intense and balanced, this wine needs several years to open and reveal all its charms. Lucky buyers who picked this up for the original futures price scored! 98 Pts
La Conseillante jumped from the glass! This stunningly aromatic wine, with its mélange of juicy, ripe black plums, black raspberry, flowers, truffle, mocha and spice gets you interested. The silky, velvet laced mouth feel keeps you wanting more. This decadent treat is a bottle of pure, sexed up pleasure. I've seen this recently at reasonable prices. This is a wine to buy! 97 Pts
Croix de Labrie is a sexy little wine made for hedonists. Rich, velvety, plush waves of dark chocolate covered plums, licorice and minerals fill your palate. This 100% Merlot is drinking perfectly today. Owners should drink this wine young to capture its fruit and vitality. 94 Pts
La Croix St. Georges kicks off with an exotic perfume filled with orange peel, floral, plum, toast and vanilla aromas. The opulent wine offers a long black raspberry and licorice tinged, velvety finish. A few more years should help better integrate the oak in the wine. 93 Pts
L'Evangile is a refined style of Pomerol. Silky and concentrated, this rich, round wine is filled with plumy, blackberry, chocolate covered fruit. 95 Pts
Figeac with a red and black fruit, herb and licorice nose was light in the palate. The wine did not taste fully ripe and the tannins were drying in the mouth. 84 Pts
La Fleur de Gay offers a chocolate covered, blackberry and truffle nose. Between medium and full bodied, this soft textured wine finishes with an elegant, black raspberry and dark cherry profile. 91 Pts
La Gomerie floods your pleasure centers with mounds of black raspberry, licorice, minerals, mocha and spice. Soft, plush, elegant and opulent, this full bodied wine feels great as it fills your mouth with intense fresh black plum and blackberry flavors. Close to fully mature, this will probably drink best over the next decade. 95 Pts
Grand Mayne starts off with fresh herbs, juicy dark fruit, hints of licorice and chocolate. The wine is ripe, round and ready to drink. 90 Pts
Lafleur is as good as it gets! It's powerful, intense, opulent and filled with countless layers of decadent, perfectly ripe fruit. This was too good to spit! The complex perfume filled with truffle, chocolate covered fudge, minerals, earth and a cornucopia of ripe fruit was almost impossible to put down. The wine finishes with a kinky, exotic, (or is that erotic?) sensation that bathes your palate in waves of perfectly ripe and almost over ripe, dark cherries, plums and blackberries. The finish lasts over sixty seconds! 100 Pts
As an aside, 2 days earlier, we tasted 64 & 82 Lafleur at dinner. That same kinky, exotic cherry flavor and similar textures could be found in the older wines. IMO, 2000 is a better, more pure and cleaner wine. But I found it interesting that those characteristics were found in 64, 82 & 00.
Magrez Fombrauge is packed and stacked with incredible layers of intense, ripe and over ripe black fruits, spice, coffee, licorice, oak and vanilla. This wine needs at least another decade before its port like style becomes civilized. This wine is not for everyone. But for lovers of intensity that are willing to take a chance on a unique style of wine, it's worth picking up a few bottles. This could score several points higher when fully mature. 95 Pts 
Monbousquet opens with ripe black fruit, coffee, mocha, oak, licorice and spice scents. The wine is rich, full bodied and is already at the perfect spot to enjoy. This should be enjoyed over the next 5 years to capture its essence. 92 Pts
La Mondotte is stuffed to the gills with all the right stuff. Deep, dark and filled with perfectly ripe black fruit, minerality, floral and licorice tones. Still young, another decade will help this concentrated wine develop unique layers of complexity. 96 Pts
Pavie is intense in all the right places. Waves of ripe, black fruit with truffle, licorice and crushed rocks grab your attention. Powerful, rich, concentrated, opulent and lush, this hedonistic wine is almost too much of a good thing. I said almost too much. The wine is perfectly balanced and is brimming with freshness and purity. The wine finishes with a mouth full of perfectly ripe, chocolate covered black raspberry and the essence of ripe along with almost over ripe, juicy black plums. 99 Pts
Pavie Decesse is supple, rich, round, ripe, opulent and if that wasn't enough, pure silk. Fresh flowers, chocolate covered berries, anise and hints of blue fruit filled the glass. The decadent mouth feel was worth the price of admission. Still young, this elegant wine will only get better. 96 Pts
Pavie Macquin with its blackberry, dark cherry, fennel and mineral filled perfume was rich, round and full bodied. The wine needs at least another 5 years to develop and express all its character. 93 Pts
Petrus is a wine I seldom taste due to its scarcity and high price. I admit, while some of the mature bottles I've experienced have been amazing, I've never had a current vintage that blew me away. Most recently, I was privileged to taste the 90 and sadly, even though it was not blind, I was not impressed from that supposedly legendary wine. It earned 95 pts.
That all changed with this bottle! Remember, I had already tasted numerous 2000 Bordeaux by the time this was served. So for a wine to grab me, call me by name and ask me to go home with it, it had to be special.
Oh My God! (If I wanted brevity, I could have left it there, as that truly said it all.) This was the real deal. The non-stop perfume explosion reminded me of what Hendrix sounded like during his performance of "The Star Spangled Banner" at Woodstock!  This was thrilling. Chocolate, black raspberry, assorted fresh flowers, herbs, spices, truffles, earth, plums and black cherry could have been enjoyed from across the room. This powerful, concentrated, deep wine filled every nook and cranny of your taste receptors with endless waves of decadent, flawlessly ripe fruit. Purity, velvet, silk, balance and length are the hallmarks of this wine. If I never see it again, (Like Bogart and Bergman who will always have Paris) I will always remember tasting that amazing bottle! 100 Pts
Le Pin is one of the few wines I missed at the tasting.  But after Lafleur and Petrus, for some odd reason, I was perfectly fine. 
Quinault L'Enclos is not as fresh, rich, lush or interesting as it was a few years ago. I'd drink this enjoyable wine sooner than later. 87 Pts
Rol Valentin seems close to full maturity. This soft, light, sleek, red and black fruit filled wine is easy to drink. Eric Prisette, the European Soccer star and former owner recently sold the property to the Robin family who are related to the previous owners of Lafleur. This is a property to watch. 90 Pts
Tertre Roteboeuf opens up with crushed raspberry, plum, black cherry and licorice aromas. Sexy, soft, silky and intense, the wine fills your mouth with freshness and soft textures. 95 Pts
Reviews, scores, tasting notes and comments on the Medoc and Pessac Leognan will be published shortly.