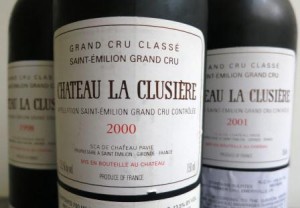 Learn everything about Chateau La Clusiere St. Emilion with wine tasting notes, wine and food pairings, best vintages, a history of the property, information on the vineyards, and winemaking. If you want to read about other important, Bordeaux Chateaux: Links to all Bordeaux Wine Producer Profiles
Chateau La Clusiere History, Overview
The estate of Chateau La Clusiere was purchased by Gerard Perse in 1997 from Jean-Paul Valette. If the Valette name sounds familiar, it's because they were also the owners of Chateau Pavie, which Gerard Perse purchased as well.
The Valette family continued to own Chateau Troplong Mondot for years after that. 1998 was the first vintage of Chateau La Clusiere that was fully under the control of the Perse family.
Chateau La Clusiere is a small 2.5 hectare Saint Emilion vineyard set between Pavie Decesse to the north and Pavie to the west and south, planted with 100% old vine, Merlot.
On average, the vines were close to 55 years of age, with many vines being much older than that! The density of planting was 5,500 vines per hectare. The terroir, similar to Chateau Pavie is clay-limestone soil composed of fine-textured brown earth on a layer of limestone with marine fossils.
Coming on the heels of the breath-taking 2000 Chateau La Clusiere, 2001 was the last vintage for this Right Bank property. After 2001, the Bordeaux wine vineyards of La Clusiere were officially merged into Chateau Pavie in 2002.
This was allowed to take place because of the similarity of terroirs which led I.N.A.O. in 2002 to authorize the integration (or, perhaps, reintegration) of La Clusiere.
At the same time, a small part of the Pavie Decesse vineyards were also merged into Chateau Pavie. This reduced the vineyard of Pavie Decesse from 9.5 hectares to its current 3.5-hectare size, while increasing the vineyards of Chateau Pavie in Saint Emilion.
Chateau Clusiere Vineyards, Terroir, Grapes, Winemakers
The vineyard of La Clusiere is planted to 100% old vine Merlot that was on average 50 years of age. The terroir is limestone and clay soils.
Yields were kept low at Chateau La Clusiere. On average, they were only 15 hectoliters per hectare. Malolactic fermentation takes place in barrels. The wine was aged in 100% new, French oak barrels for close to 24 months before bottling.
2000 Chateau La Clusiere is a candidate for legendary status. It's a true one-hit wonder. It's the only great wine produced by Chateau La Clusiere. The previous vintages of Chateau La Clusiere were fine, but they never hit the same level of quality.
This is easily discovered by any taster with a glass of the 2000 La Clusiere in front of them. Often, one-hit wonders become very popular in the marketplace, especially when so little wine was produced. In fact, the production of the 2000 Chateau La Clusiere was close to a whopping 350 cases for the entire world!
Serving and Decanting Chateau La Clusiere with Wine, Food, Pairing Tips
Chateau La Clusiere is best served at 15.5 degrees Celsius, 60 degrees Fahrenheit. The cool, almost cellar temperature gives the wine more freshness and lift. Young vintages can be decanted for 1 hour or so. This allows the wine to soften and open its perfume.
Older vintages might need very little decanting, just enough to remove the sediment. Chateau La Clusiere is best paired with all types of classic meat dishes, veal, pork, beef, lamb, duck, game, roast chicken, roasted, braised, and grilled dishes. Chateau La Clusiere is also good when matched with Asian dishes, hearty fish courses like tuna, mushrooms, and pasta.
2001 was the last vintage of Chateau La Clusiere produced.
Château La Clusière Wine Tasting Notes
4 Vintages 47,923 Views Sort by Vintage-Rating
2001
Château La Clusière (St. Émilion Grand Cru)
Not a wine I am likely to see often, this is at full maturity. Medium-bodied, supple, soft, spicy and fresh, the ripe sweet, red and black plums carry through on the nose through to the polished finish. No decanting is needed here, just pop, pour and enjoy.
3,036 Views
Tasted

Aug 4, 2021
My last bottle from the case was clearly the best. Supple, round, ripe and rich, the nose offers fresh sweet fruits, earth, smoke and stone, while the palate combines freshness and pure fruits. This was the final vintage as the vines were annexed into Pavie the following year.
3,759 Views
Tasted

Dec 25, 2015
Fully mature, soft, silky, rich and supple textured, the wine serves up fresh black raspberries, smoke and earthy characteristics. There is no reason to ge this any longer.
3,271 Views
Tasted

Nov 23, 2014
With its deep ruby in color, the wine looks younger than it is. Licorice, smoke, flowers, black raspberry, caramel, spearmint, cocoa and truffle notes can be detected. Fleshy, concentrated, silky, red and black fruits, fennel and stone are found in the finish. This stylish St. Emilion is drinking well today.
3,157 Views
Tasted

Feb 21, 2012
2000
Château La Clusière (St. Émilion Grand Cru)
If awards were handed out for the most concentrated wine of the vintage, this would probably win. Concentration alone is not enough. Here you also find multiple layers of fruits, rocks and limestone, complex aromatics, opulent, if not decadent textures and a polish to the tannins that is difficult to replicate. No longer produced. 2001 was the finial vintage, it's worth tracking down a bottle or two, just for the experience. Still young, I am not popping my bottles for at least another 3-5 more years.
4,070 Views
Tasted

Sep 7, 2017
Now, here's a wine you do not see every day. Keep in mind, there were only 350 cases made, and in fact, the wine is not even made any more, the final vintage was the 2001. Yet, if you can find a bottle, it's worth checking out, if you like incredibly rich wines, with the consistency of motor oil. Low in acidity, the minerality give it lift. Layers of inky dark berries, pure, sweet, opulent fruits, and plum liqueur, all with a palate staining presence, this is still an infant. Give it time to develop, or at least 4-5 hours in the decanter.
2,647 Views
Tasted

Sep 10, 2016
Deep, intense layers of spicy, black fruit, plum, licorice and crushed stones jump from the glass. Incredible levels of concentrated dark ripe fruit stain your palate. Thick, rich, intense and balanced, this wine needs several years to open and reveal all its charms. Lucky buyers who picked this up for the original futures price scored!
5,227 Views
Tasted

Mar 5, 2010
This Bordeaux takes decadence to new levels. Forget menage a trois, tasting this is like a menage on steroids! Pitch black in color. A nose that screams from the glass with levels of concentration I have never seen before ending in a finish combining sex in a bottle with an orgasm in the glass.... At this point, the wine is not going to stimulate intellectual conversation, but it is going to kick your senses into overdrive.
7,604 Views
Tasted

Nov 6, 2007
1999
Château La Clusière (St. Émilion Grand Cru)
Plum, bitter chocolate, raisin, black cherry and earthy scents pair well with the medium bodied, plush textures and ripe, boysenberry finish. This wine is fully mature and should be enjoyed before it hits its 20th birthday.
2,472 Views
Tasted

May 3, 2012
1998
Château La Clusière (St. Émilion Grand Cru)
The last bottle from the case was one of the best with its licorice, chocolate, black cherry, mineral and earthy personality. This soft, round St Emilion is fully mature and will probably not improve much from here. But there is no hurry to drink either.
3,958 Views
Tasted

Sep 20, 2012
Licorice, blackberry, charcoal, earth and cassis scents on the nose.. Full bodied, round and fully mature, this richly textured wine ends with soft, elegant layers of dark berries and spice. Time in the bottle has helped it develop additional nuances and complexities. This is the best showing yet for this wine.
4,312 Views
Tasted

Feb 15, 2011
Produced from 100% Merlot, this wine starts off with coffee, licorice, caramel, jammy black raspberry and smoke aromatics. Round and filled with ripe dark berry flavors, the wine finishes with cassis, ripe black cherry and espresso flavors. At this stage of maturity, there is a little too much wood.
2,797 Views
Tasted

Jul 16, 2010
Ripe black fruit and spices along with hints of toasty oak and soft textures are the hallmark of this vintage. But it lacks the excitement and concentration found in so many other wines from the vintage. The already legendary 2000 and the last vintage for the wine, 2001, are much more interesting. The wine is no longer produced, having been folded into Chateau Pavie after 2001.
1,613 Views
Tasted

Oct 12, 2008