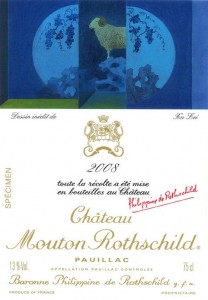 Since 1945, the Bordeaux wine producer, Chateau Mouton Rothschild has encouraged a different artist to create a new label for every vintage. Each year, the chateau has managed to keep the name of the artist secret until the property was ready to make their official announcement.  In 2008, the Mouton Rothschild wine label was designed by the noted Chinese artist, Xu Lei.
Lei was born in 1963. Currently, he  is the art director of the Today Art Museum in  Beijing.  Xu graduated from the Fine Arts Department of Nanjing Arts Institute in 1984. His first major exhibition took place in 1989 at the China art Museum in  Beijing.
Until it was confirmed earlier this morning, consumers and people in the trade had speculated on the strong possibility that Mouton Rothschild would use a Chinese artist to promote the sales of the brand in China.
The value of 2008 Chateau Lafite Rothschild rocketed when they announced they were including the Chinese symbol for the number 8 on their bottles.  It is assumed that  prices for 2008 Chateau Mouton Rothschild will also increase in the world market due to the strong demand from Chinese consumers and collectors.