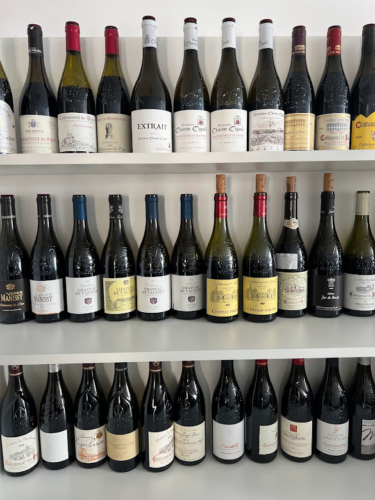 Last but, clearly, not least, this is the fourth and final article wine buying guide and vintage report for 2020 Chateauneuf du Pape. Because we tasted so many 2020 Chateauneuf wines, (Almost 250 wines) we separated our report into four articles; Part 1, A-C, Part 2, D-I, Part 3, J-M, and finally Pt 4 N-Z. You can also locate all of the wines tasted using either the Wine Tasting Note Search function, utilizing the Article Search tab or by clicking on any of the links below:
2020 Chateaunef Guide and Vintage Report, Part 1, Wines A-C
2020 Chateaunef Guide Part 2, Wines D-I
2020 Chateaunef Guide Part 3, Wines J-M
The following 2020 Chateauneuf du Pape wines were tasted in non-blind conditions in July in Chateauneuf du Pape.
2020 Panisse Le Mas – Flowers, herbs, and peppery spices, along with ripe kirsch notes shine on the nose. Medium-bodied with a strong herbal accent, the wine is fresh, juicy, and loaded with a peppery spice. Drink from 2022-2032. 91 Pts
2020 Patrice Magni Chateauneuf-du-Pape – Medium-bodied, soft, elegant, and fresh, the palate focus on its garrigue, and red cherry core of fruits. This will be easy to enjoy in its youth. Drink from 2022-2028. 88 Pts
2020 Patrice Magni Cuvée Le Pressoir – From a blend of 60% Grenache with 40% Mourvedre, the wine offers ripe, spicy black cherries, flowers, and herbs with a soft, sweet, creamy character, and a touch of peppery spice at the end. Drink from 2022-2032. 91 Pts
2020 Paul Autard Chateauneuf-du-Pape – Spice, and espresso share the stage with all the ripe, black cherries, licorice, and smoke on the palate. Clearly, a modern-styled Chateauneuf, the medium-bodied, fruity wine will be easy to like on release. Drink from 2022-2030. 90 Pts
2020 Paul Autard Cuvee Juline – Dark in color, the wine is loaded with incense, espresso, chocolate, spice, and smoke, along with loads of dark, ripe. red fruits. On the palate, the wine is rich, full-bodied, fleshy, and creamy with dark cherry, and cocoa-packed finish. Produced by blending 50% Grenache with 50% Syrah, the wine is aged in 100% new, French oak barrels for 19 months before bottling. Juline takes it name from the names of Jules Autard, and Pauline Autard, the children of the Autard family. Drink from 2023-2035. 92 Pts
2020 Paul Autard La Cote Ronde – From a blend of 50% Grenache, and 50% Syrah aged in 100% new, French oak barrels, this is a modern-styled Southern Rhone wine. But the dark red fruits, peppery spice, and chocolate are also front, and center. There is concentration, lush textures, and an opulent, albeit, oaky finish that will need a few years to integrate. Drink from 2024-2034. 92 Pts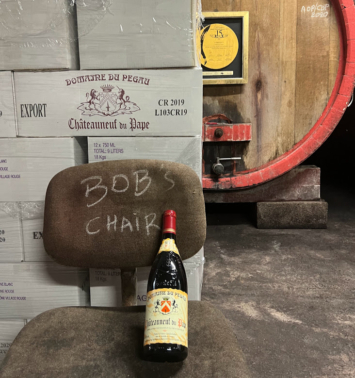 2020 Pegau Cuvee Ella – This is the first, and last vintage of Cuvee Ella as it was made to celebrate the granddaughter of Laurence. Deeply colored, the wine is rich, supple, elegant, fresh, long, and intense. The dark berries offer length, purity, and expansiveness with a seamless finish that keeps on going long after the wine has left your glass. The grapes come from 3 different vineyards including La Crau. The grapes are a whole bunch of vinified. There is not much made as the production is only 900 bottles. The wine blends 90% old vine Grenache with various other varieties. Drink from 2028-2050. 100 Pts
2020 Pegau Cuvee da Capo – The first vintage since 2016 is dark ruby in color. With a nose packed with spice, dark red fruits, thyme, espresso, and spice. This is the most powerful wine of the vintage, yet everything is in balance, and harmony with its seamless layers of deep dark red fruits, pepper, and black cherries. Bottling took place in December 2022. Drink from 2028-2050. 98 Pts
2020 Pegau Cuvee A Tempo – Flowers, spice, bright yellow tropical fruits, and minerality adorn the finish. On the palate, the wine is lush, fresh, and lively, with the perfect balance between all of its ripe fruits, freshness, oily textures ad acidities. Drink from 2022 – 2031. 94 Pts
2020 Pegau Reservee – Dark garnet in color, the wine opens with flowers, kirsch, herb de Provence, and cherries. Vibrant, spicy, and fresh, with loads of kirsch, and plums on the palate, and in the rich, yet elegant finish. Time in the cellar will help add depth, complexity, and softness to this wine, allowing it to the flesh, and exp, and. The wine is a blend of 80% Grenache and various other AOC-allowed grape varieties. Drink from 2026-2038. 95 Pts
2020 Peres de L'Eglise L'Heritage de Pallus – There is beauty, purity, and elegance here in this medium-bodied, forward, refined, kirsch-packed wine. There is good energy, length, and sweetness on the palate, and in the finish. The wine is produced from a parcel selection of 100% old vine Grenache. Drink from 2022 – 2033. 91 Pts
2020 Peres de L'Eglise Le Calice de Saint-Pierre – Flowers, black cherries, kirsch, and plums open the soft, vibrant, medium-bodied, kirsch-packed wine. This is already a joy to taste due to its vibrancy, elegant stylings, and its light touch of cocoa that comes in during the endnote. Drink from 2022 – 2033. 93 Pts
2020 Piedlong – From a blend that is 90% old vine Grenache, and 10% old vine Mourvedre, the medium-bodied wine is on the floral side with a strong essence of kirsch to round things out. The wine is elegant, soft, supple, and spicy with a chalky, mineral, pepper, and herb accent that adds to the wine's sweet, red fruits. 50% of the grapes are destemmed. Drink from 2022-2032. 90 Pts
2020 Pierre Henri Morel – Forward, round, lush, fruity, and yet chalky on the backend, the dark red berries, green olives, herbs, and peppery spices show nicely in the nose, and on the palate. You can enjoy this with pleasure on release. Drink from 2023-2033. 90 Pts
2020 Pierre Usseglio Chateauneuf-du-Pape – Cherry blossoms, licorice, spice, and kirsch notes are available with ease. Fresh, medium-bodied, and loaded with sweet, ripe, red fruits that express purity, and lift, with a peppery edge on the palate will be just great to taste on release, and for a decade after that. Drink from 2022-2030. 91 Pts
2020 Pierre Usseglio Cuvee de mon Aieul – Lush, fresh, and creamy, the fruit is ripe, vibrant, harmonious, and long, with good purity, and a peppery edge to the kirsch, and black raspberries on the palate, and in the finish. There is length, freshness, and complexity found here. The wine is made with 100% old vine Grenache. Drink from 2024-2036. 95 Pts
2020 Pierre Usseglio Reserve Des 2 Freres – One of the darkest-colored, and most complete wines of the vintage, the wine is equally dark on the palate. Rich, lush, and deep, with fabulous layers of richly-textured, glycerin-filled fruits. This is an incredible achievement for the vintage. The depth of flavor, length, and freshness does not quit, it just keeps right on going. The wine is made using 100% old vine Grenache. Drink from 2024-2040. 97 Pts
2020 de La Presidente Nonciature – The medium-bodied, forward wine is loaded with flowers, cherries, kirsch, herbs, and plums. Round, polished, soft, and fruity, this is going to be easy to like, and enjoy on release. The wine is made from 85% Grenache, and 15% Syrah. Drink from 2022 – 2031. 90 Pts
2020 Raymond Usseglio Chateauneuf-du-Pape – On the floral side of the style range with a palate loaded with chocolate, garrigue-tinged red fruits, spice, and cherries. Round, creamy, and fresh, the vibrancy in the finish with all the sweet, ripe, red fruits are already showing well. Drink from 2022-2032. 92 Pts
2020 Raymond Usseglio Cuvee Imperiale – Flowers, red, and black cherries, kirsch, and plums are all over the place here. On the palate, the wine is medium/full-bodied, earthy, and fresh. There is lift, depth of flavor, and a strong sensation of black pepper, crushed rocks, stones, and sweet, lively red fruits with a touch of chocolate in the finish. From vines close to 120 years of age, the old-vine intensity defines the wine. Drink from 2024-2040. 95 Pts
2020 Roger Perrin Chateauneuf-du-Pape – Cherries, thyme, spice, and incense on the nose show easily. The wine is medium-bodied, elegant, soft, and fresh with a Christmas spice accent to the kirsch on the palate, and in the finish. The wine was made by blending 65% Grenache, 20% Mourvedre, and 15% Syrah with the remainder coming from Cinsault, and Clairette. Drink from 2022-2030. 90 Pts
2020 Roger Perrin Reserve des Vieilles Vignes – Ruby in color, the nose opens with flowers and kirsch. On the palate, the wine exudes espresso, sweet kirsch, plums, and black cherries. The tannins are ripe, and creamy, providing a nice backdrop for all the sweet, ripe, berries, and peppery spice. Drink from 2022 – 2034. 92 Pts
2020 Roger Perrin de la Berthaude – A touch of smoke. cherries and red plums show in the nose. On the palate, the wine is fresh, polished, and creamy with silky tannins, and a chalky, herb-laced finish. The wine is made by blending 80% Grenache, 15% Syrah, and 5% Mourvedre. Drink from 2024 – 2034. 92 Pts
2020 Roger Sabon Cuvee Prestige – Smoke, tobacco leaf, flowers, and dark cherries are there in spades on the nose, and earthy, vibrant, fresh palate, that serves up nice chocolate, and pepper bite on the palate, and the end of the finish. The wine was made by blending 80% Grenache, 10% Syrah, and 10% Mourvedre. Drink from 2022-2032. 92 Pts
2020 Roger Sabon Le Secret des Sabon – Dark in color, the wine pops with licorice, black cherries, black plums, and flowers as soon as the wine hits your glass. On the palate, the richly-textured wine is lush, polished, deep, balanced, and long. There is intensity, purity, length, and depth of flavor with a creaminess to the tannins, along with chocolate, licorice, and black pepper in the endnote. This will age quite nicely. The wine is produced from 95% old vine Grenache with 5% coming from various, assorted, allowable grape varieties. This is one of the wines of the vintage. Drink from 2025-2040. 97 Pts
2020 Roger Sabon Les Olivets – Flowers, red plums, and cherry blossoms on the nose, the wine is medium-bodied, refined, earthy, salty, and vibrant with a core of chewy, red fruits, olives, and herbs on the palate. The wine blended 80% Grenache, 10% Syrah, and 10% Mourvedre. Drink from 2022-2030. 92 Pts
2020 Roger Sabon Réserve – Flowers, black cherries, black raspberries, and plums produce the nose. Soft, lush, and creamy on the palate, the wine has polish, vibrancy, and freshness from start to finish. The wine was produced by blending 80% Grenache, 10% Mourvedre, and 10% Syrah. Drink from 2023-2035. 93 Pts
2020 Saint Cosme Chateauneuf-du-Pape – Medium-bodied, fresh, and bright, with a core of soft-textured, polished, sweet red berries, licorice, spice, and underbrush that is ready-to-go for prime-time drinking. Drink from 2022-2029. 90 Pts
2020 Saint Laurent Chateauneuf-du-Pape – Medium-bodied, forward, and already approachable, the wine quickly focuses you on its core of peppery, garrigue-accented, red fruits, and piquant, Indian spices. The wine was made from a blend of mostly Grenache with some Syrah. Drink from 2022-2029. 88 Pts
2020 Saint Prefert Blanc – The final vintage under the Saint Prefert label. Future vintages will be sold as Familie Isabel Ferr, and. Here you find white peach, pineapple, c, candied lemon peel, and orange spice on the nose. Their freshness pops on the palate, giving energy, and lift to all the yellow fruits. The wine blends 60% Clairette with 40% Roussanne. You can enjoy this on release. This is the first vintage using glass vats to age a portion of the wine. 10% of the crop was aged in neutral glass vats which add a lot of freshness to the wine that is instantly noticeable. Drink from 2022 – 2029. 94 Pts
2020 Saint Siffrein Chateauneuf-du-Pape – Smoke, spice, flowers, coffee bean, and cherries are in the nose, and on the fresh, vibrant, fruit-filled, spicy palate. The wine was made by blending Grenache, Syrah, Mourvedre, and Cinsault. Give it a year or two in the cellar as there is potential for aging here. Drink from 2023-2034. 92 Pts
2020 Saumades Chateauneuf-du-Pape – Produced from 100% Grenache, the wine is floral, fresh, and focused on its core of sweet, ripe, kirsch. Medium-bodied, elegant, refined, sweet, and ready to go, you can enjoy all of its sweet, red berries with their touch of spice on release. Drink from 2022-2031. 90 Pts
2020 Senechaux Chateauneuf-du-Pape – Medium-bodied, elegant, fresh, and lively, with a core of ripe, kirsch, cherries, pepper, and chocolate, this is already a pleasure to taste. This is a really solid wine from the owners of Chateau Lynch Bages. The wine is made using mostly Grenache, with Syrah, Mourvedre, and various other allowable, grape varieties. Drink from 2022-2023. 92 Pts
2020 Simian Chateauneuf-du-Pape Les Grandes Grenachieres d'Hippolyte – There is a touch of VA that will excite some, and not others, you also find garrigue, plums, and licorice in the nose. Round, creamy, lush, and concentrated, the wine is much better on the palate, with its long, packed, and stacked, dark red fruit, chalk, salt, and a hint of cocoa on the backend. The wine was produced using close to 100% old vine Grenache. Drink from 2024-2038. 94 Pts
2020 Simian Le Traversier – Olive tapenade, herbs, peppery spices, and sweet, red cherries show with no effort in the nose. On the palate, the wine is soft, supple, and fresh, with lift, and creamy textures in the finish. The wine was made by blending 70% Grenache, 15% Syrah, 5% Mourvedre, 5% Cinsault, and 5% Counoise. Drink from 2023-2037. 92 Pts
2020 Sixtine Chateauneuf-du-Pape – Medium-bodied, soft, supple, silky already expressive, this is good to go, with its elegant, fruity character on release. The wine is usually a blend of 50% Grenache, 25% Syrah, and 25% Mourvedre. Drink from 2022-2030. 91 Pts
2020 Solitude – Blending 60% Grenache, 15% Syrah, 10% Mourvedre, 10% Cinsault, and 5% Counoise, the wine is medium-bodied, floral, and fresh with accents of espresso, wet earth, tobacco, and herbs. Refined, and fresh with a softness to the sweet, vibrant red berries, this will drink great on release. Drink from 2022 – 2028. 90 Pts
2020 Solitude (Lançon Pere et Fils) Cornelia Constanza – Medium-bodied, with a hint of oak that comes along with all of its dark red fruits, the wine is round, lush, and polished with a touch of cocoa on top of all the dark, sweet, red fruits on the nose, palate, and in the finish. The wine is produced from 100% old vine Grenache. Drink from 2023 – 2033. 92 Pts
2020 Solitude (Lançon Pere et Fils) Cuvee Barberini – Dark ruby in color, the wine shows a nice peppery edge to the kirsch, and black cherries on the nose, and palate. Round, lush, as well as tannic, and spicy, give it a year or two in the bottle, and it will be a much better wine. Made from a blend of 65% Grenache, 20% Mourvedre, and 15% Syrah. Drink from 2024 – 2035. 93 Pts
2020 Solitude (Lançon Pere et Fils) Vin de la Solitude – Incense, spice box, smoke, pepper, flowers, and red fruits create complex aromatics. The palate retains a touch of oak, along with an exotic texture, and spicy nuance to the fruit. It's a uniquely styled wine that will need a few years to develop, and integrate. It's not going to be easy to find as the production is limited to less than 1,000 bottles, and 100 magnums. The wine is made from a blend used at the estate in the 18th century, with an antique-shaped bottle to match: 24% Counoise, 22% Grenache, 22% Syrah, 20% Mourvedre, 19% Cinsault, 7% Clairette, 5% Bourboulenc, and assorted varietals. Drink from 2024 – 2035. 93 Pts
2020 St Antonin – Fresh, medium-bodied, energetic, and polished with a sweet jolt of kirsch, cherries, and leafy herbs, the wine is forward, elegant, and ready to go. The wine was produced from 100% Grenache. Drink from 2022-2030. 91 Pts
2020 St. Paul Châteauneuf-du-Pape L'Insolite – One of the few Chateauneuf du Pape wines produced using 100% Syrah is peppery, floral, earthy, on the red berry side of the style range with a medium-bodied, spicy, salty, crushed rock, olive, and dark, red berry profile. The peppery finish has length and density. This would be a fun entry in a blind tasting. Drink from 2024-2038. 91 Pts
2020 St. Paul Châteauneuf-du-Pape – Medium bodied, strawberry and cherry filled charmer with loads of sweet, red fruits on the palate and in the easy to like finish, cocoa and kirsch filled finish. This will be quite nice to open on release. Drink from 2022-2028. 89 Pts
2020 Tour-Saint-Michel Cuvee des Deux Soeurs – Fleshy, plush, and polished with its espresso, and chocolate-tinted dark red fruits on the nose, and palate. Give it just a bit of time in the cellar to better integrate, and it will be an even better wine. Drink from 2022-2032. 91 Pts
2020 Tour-Saint-Michel du Lion – Dark, deep, and bold, the wine is round, fleshy, and rich with layers of dark red berries, earth, chocolate, licorice, espresso, and spice. The wine is produced by blending 75% Grenache, 20% Syrah, and 5% Mourvedre. Drink from 2023-2035. 93 Pts
2020 Vaudieu Amiral G – Peur Bleue ruby in color, the spicy, medium-bodied, floral. energetic, refined, vibrant, and silky wine will be just great to enjoy early in its youth. The finish hangs with you due to its ripe, dark cherries, and plums with their olive-accented nuances. The wine is made from 100% old vine, Grenache planted in sandy soils not too far from Chateau Rayas. Drink from 2023-2034. 94 Pts
2020 Vaudieu Chateauneuf-du-Pape – The entry-level wine from Chateau de Vaudieu is light in color, soft, fresh, and focused on the sweetness, purity, and lift in the strawberry, herb, and chalky on the palate. You can enjoy this with pleasure on release. Drink from 2022-2029. 90 Pts
2020 Vaudieu LAvenue – Supple, fresh, silky, and refined, there is a sweet character to the lush, polished, dark plums, and kirsch on the nose, and palate. Forward, and already quite a treat to tate, this will be perfect on release. Made from 100% old vine Grenache in vines located not far from Rayas. Drink from 2023-2034. 94 Pts
2020 Vaudieu Val de Dieu – Medium-bodied, soft, silky, floral, and fresh, with a sweet, and vibrant character to all of the supple-textured, plums, kirsch, and earthy cherries on the palate, and in the finish. The wine always blends a large portion of old vine Grenache with a healthy dose of Syrah, and Mourvedre, which added a lot to the wine this year. Drink from 2023-2034. 93 Pts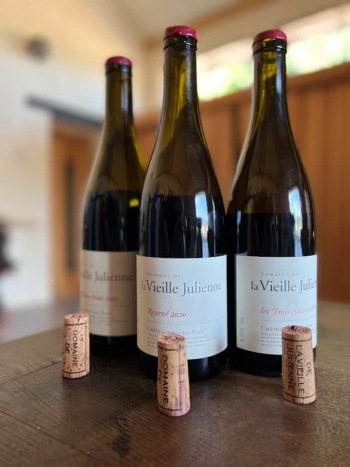 2020 Vieille Julienne Les Hauts Lieux – Flowers, black, red, and blue fruits, truffle, olives, spice, smoke, charcoal, and garrigue fill the nose. On the palate, the wine is rich, concentrated, and fresh as well, as full-bodied, long, and deep. The wine was produced from a blend of 70% Grenache, 25% Mourvedre, and just a bit of Cinsault, and Counouise to wrap up the blend. Drink from 2024 – 2039. 97 Pts
2020 Vieille Julienne Les Trois Sources – Black raspberries, flowers, garrigue, licorice, mint, and a background note of fig, and cocoa at the end of the nose. The wine is bright, fresh, and vibrant with a peppery edge on the kirsch, black raspberries, fig, and cocoa that you find on the palate. There is a brightness to the fruit that provides lift, and vibrancy in the finish that resonates. The wine was made from 60% Grenache, 10% Syrah, 10% Cinsault, and a myriad of various other allowable varieties. Drink from 2025-2038. 96 Pts
2020 Vieille Julienne Reserve – Almost opaque in color the wine is in contention for the most concentrated wine of the vintage with its multiple layers of dark, inky berries, black pepper, black plum liqueur, dark cherries, licorice, chocolate, and black pepper. The wine coats your palate with its layers of richness, and flesh. Full-bodied, concentrated, dense, and intense with a chewy finish that does not quit. The layers of black, blue, and dark red fruits are seemingly endless as they build, and expand. If you are lucky enough to score a bottle or two, give it some time in the bottle as the wine needs at least 5-8 years before it really starts to show all of its stuff. The wine is usually made from 90% Grenache, 5% Syrah, and 5% Counoise. If this seems like your thing, grab a few bottles as it becomes close to impossible to find as it matures. This is a clear contender for the wine of the vintage. Drink from 2026 – 2045. 98 Pts
2020 Vieux Donjon Chateauneuf-du-Pape – Plums, flowers, cherries, spice, and kirsch shine in the nose, and it gets even better as you dig into all the layers of supple-textured, creamy, ripe, plus, ripe, sweet, pure fruits on the palate, and in the finish. The wine blends mostly old vine Grenache with Mourvedre, Syrah, and Cinsault. Drink from 2023-2036. 94 Pts
2020 Vieux Telegraphe La Crau – Flowers, and cherries with a touch of spice form the core of the wine. On the palate. there is softness, and elegance that you feel instantly. The fruit is polished, silky, and elegant with a purity to the fruit on the mid-palate, and in the finish. Produced from a blend of 60% Grenache, 15% Syrah, 15% Mourvedre, and 5% Cinsault, along with other, assorted red, and white grape varieties. 60-70% of the harvest is destemmed. Drink from 2023-2037. 95 Pts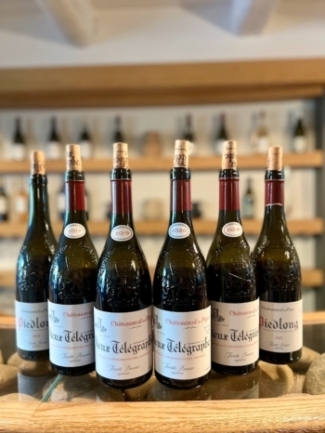 2020 Xavier Vignon Cuvee Anonyme – Powerful, full-bodied, and intense, with layers of mineral-driven, meaty, spicy, dark red fruits, herbs, and, chalk. With weight, power, and depth, you also find balance, sweetness, and lift. Drink from 2024-2038. 94 Pts
2020 Xavier Vignon Vin d'Experts – My first time with this Cuvee, the wine is deeply colored, with a dark, lush, round, flashy core of fruits, finishing with a creamy touch to the sweet, red berries. Drink from 2024-2037. 93 Pts
2020 Xavier Vignon XV – Produced from a blend of 50% Grenache, 45% Mourvedre, and 5% Syrah, the wine is rich, concentrated, deep, and lush with layers of meaty, peppery, red fruits, wet earth, and spice. The wine is powerful, hedonistic, and complex, thus it requires a year or two before it is ready to go. Drink from 2025 – 2038. 93 Pts