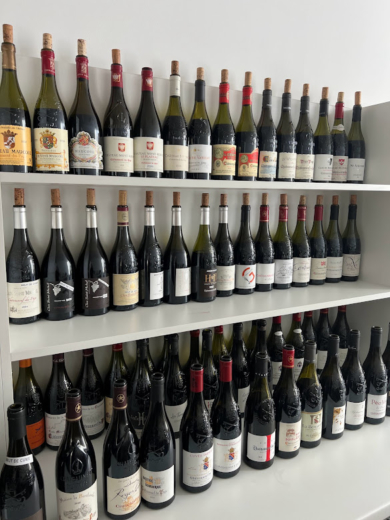 As you can tell, the 2020 Chateauneuf du Pape Report and Buying guide has too many great wines for just one article.
In total, we tasted close to 250 wines. With so many great wines, this report has been divided into 4 separate articles, Part 1, A-C, Part 2, D-I, Part 3, J-M, and finally Pt 4 N-Z. You can also locate all of the wines tasted, using either the Wine Tasting Note Search function or by utilizing the Article Search tab, or by clicking on any of the links below.
2020 Chateaunef Guide and Vintage Report, Part 1, Wines A-C
2020 Chateaunef Guide Part 3, Wines J-M
2020 Chateaunef Guide Part 4, Wines N-Z
The following 2020 Chateauneuf du Pape wines were tasted in non-blind conditions in July in Chateauneuf du Pape.
2020 Domaine Santa Duc La Crau Ouest – The flowers, garrigue, and peppery kirsch in the nose scream Grenache. There is ample flesh and richness on the palate with layers of black cherries, plums, spice, and cocoa on mid-palate and in the opulent, silky finish. Give it a couple of years to fill out and it could score even higher. The wine was made from 100% old vine Grenache from the La Crau lieu-dit and was aged in terra cotta, and Amphora jars. Drink from 2023-2036. 93 Pts
2020 Domaine Santa Duc Habemus Papam – Dark in color, the wine pops with its peppery plums, cherries, smoke, and spice on the nose. Lush, polished, and refined, the supple textured fruit and creamy tannins taste as good as they feel. The wine was made by blending close to 64% Grenache 25% Syrah, 10% Mourvedre, and 1% Counoise. Drink from 2023 – 2037. 94 Pts
2020 Domaine Santa Duc Le Pied de Baud – Green leafy herbs and flowers get the wine going before you get to all the olives and kirsch. Supple, rich, and polished with elegance and refinement to the layers of sweet, showy, red fruits on the palate, there is length, purity, and complexity in every sniff and sip. The wine was produced from mostly old vine Grenache, with Mourvedre and Cinsault. Drink from 2023-2038. 95 Pts
2020 Domaine Santa Duc Les Saintes Vierges – It is the purity in the kirsch and all those flowers on the nose that stands out initially. But the silky tannins, and elegance on the palate with all of its length and refinement steal the show. The wine blends close to 90% Grenache, with 9% Mourvedre and 1% Counoise. Drink from 2023-2037. 94 Pts
2020 Domaine de St. Paul Châteauneuf-du-Pape Cuvée Jumille – Medium-bodied, strawberry and a cherry-filled charmer with loads of sweet, red fruits on the palate and in the easy-to-like finish, cocoa, and kirsch-filled finish. This will be quite nice to open on release. Drink from 2022-2028. 89 Pts
2020 Domaine de la Presidente – Medium-bodied, soft, fruity, and fresh with a core of sweet, spiced kirsch on the nose and palate, you can enjoy this supple wine on release. The wine blends 80% Grenache, 10% Syrah, 5% Mourvedre, and 5% Cinsault. Drink from 2022 – 2030. 91 Pts
2020 Domaine du Christophe de Courten Reserve du Cygne – Lush, silky, polished, and fresh, there is a plushness to the peppery kirsch that starts on the mid-palate that carries all the way through to the finish. Drink from 2022 – 2032. 92 Pts
2020 Domaine du Christophe de Courten Reserve du Cygne Cuvée Spéciale – Soft, silky, elegant, and refined, the core of fruit here is focused on its layers of sweet, ripe, fresh, vibrant, pure kirsch that is there on the nose, mid-palate and in the finish. Drink from 2022-2032. 92 Pts
2020 Durieu Chateauneuf du Pape – Sweet cherries, herbs, and strawberries with freshness, refinement, and a forward approach make this a perfect candidate for loads of early drinking, and refined pleasure. Drink from 2022 – 2029. 91 Pts
2020 Durieu Cuvee Lucile Avril – Ripe, lush, round, and packed with crushed rocks, herbs, and spice, is already easy to taste. The majority of the blend is Grenache with a bit of Syrah and Mourvedre and is a selection from various parcels. Drink from 2022-2031. 91 Pts
2020 Durieu Lieu-dit Bois Lauzon – The wine takes its name from the lieu-dit where the grapes are planted and are rich, creamy, silky, and fresh. Produced from 100% old vine Grenache, here you find elegance, purity, balance, freshness and layers of sweet kirsch that don't want to quit. Drink from 2022 – 2033. 94 Pts
2020 Eddie Feraud – Garrigue, kirsch, strawberry, and black raspberries with a light touch of spice are what you find here on the soft, fresh, medium-bodied, easy-to-like palate. Elegant in style, forward, and already approachable, the wine is made from blending 85% Grenache, 10% Mourvedre, and an array of various AOC allowable grapes. Drink from 2022-2031. 90 Pts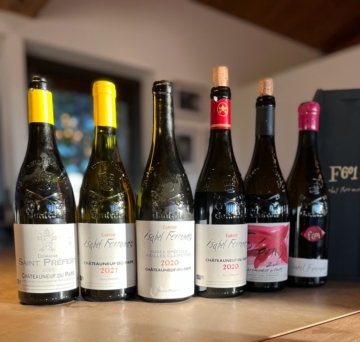 2020 Familie Isabel Ferrando – 2020 marks the debut of Familie Isabel Ferrando, which is a blend of all the estate's terroirs. 2019 was the final vintage of the single vineyards. The new wine is deep, and ruby in color. From there you find a spicy nose with notes of cloves, cinnamon, and nutmeg along with all the scents of dark red fruits. On the palate, the wine is ripe, dark, and plummy. You find licorice, ripe, dark fruits, chalky tannins, and an opulent, rich character on the palate. One of the deepest wines of the vintage, there is a beautiful sense of purity, symmetry, length, and a touch more of all that spice in the finish. This is so easy to drink now, but you will have a much better experience if you let it age for a few years. Drink from 2025-2045. 98 Pts
2020 Familie Isabel Ferrando F601 – Produced from old vine Cinsault planted in 1928, in the gravel and sand terroir of Saint Prefert. The first thing you notice is the bouquet of flowers with its strong violet, lilac, and rose fragrance. The wine is perfectly balanced, fresh, and harmonious with richness, purity, spice, and opulence. There is a purity to the fruit and a remarkable level of freshness in the layers of opulent, fruit. The wine holds your focus for close to 60 seconds while all the intense, dark fruit builds and expands. The wine is aged in used demi-muids for 18 months before bottling. This is a contender for wine of the vintage. However, finding it is the issue as the production is only 800 bottles a year. Drink from 2025-2050. 97 Pts
2020 Familie Isabelle Ferrando Cuvée Spéciale Vieilles Clariettes – The debut vintage for the newly renamed Cuvée Spéciale Vieilles Clariettes pops from the glass with its honeysuckle, white flowers, lemon peel, white peach, pear, and almond nose. On the palate, the wine balances its freshness and depth of fruit. Crisp, long, and clean with racy acidity to all the vibrant yellow citrus, this is going to offer pleasure young, yet age and evolve. Half of the wine was vinified in neutral glass vats which adds a lot of lift and vibrancy. After the vinification, only 30% of the wine was aged in the neutral tanks while the remainder of the wine was aged in used foudres. The wine is made from 100% Old vine Clairettes. Drink from 2023-2035. 97 Pts
2020 Famille Chaussy-Laget – Medium-bodied, fresh, elegant, soft, polished style of wine with a focus on its sweet, kirsch, red cherry, and strawberry core of fruits on the palate and in the finish. Drink from 2022-2030. 90 Pts
2020 de Ferrand Chateauneuf du Pape – Supple, soft, silky, polished, and fresh with a solid sense of purity to all of the sweet, ripe, spicy, vibrant kirsch and red plums on the palate. The wine blends 90% Grenache, 8% Syrah, and 2% Mourvedre. Drink from 2022-2033. 93 Pts
2020 Ferrando Colombis – Floral in character, the pops with flowers, the wine pops with roses, kirsch, mint-leaf, and black raspberry. Medium-bodied, elegant, fresh, bright, clean, and pure, the sweetness of the red fruits on the palate, with all the lift, energy, and a touch of pepper has length and vibrancy leaving you with a touch of peppery orange peel and green olives in the endnote. The wine is made from 100% old vine Grenache from vines planted in 3 terroirs, sand, limestone, and clay. The grapes are a whole bunch fermented. Drink from 2024-2037. 96 Pts
2020 Ferraton Pére & Fils Le Parvis – Medium-bodied, earthy, peppery, meaty, dark red berry and herb-tinted wine that is going to offer a solid tasting experience on release. Drink from 2022 – 2030. 90 Pts
2020 Fines Roches de Châteauneuf-du-Pape – Forward, medium-bodied, supple-textured, cherry and kirsch-filled wine for early drinking. In fact, this should be just great on release. Drink from 2022-2029. 90 Pts
2020 Font du Loup Chateauneuf-du-Pape – Flowers and peppery kirsch with hints of strawberry are on the nose. Forward, soft, and silky with a refreshing cherry, and mint note on the palate, and in the finish, this will be delicious on release. Drink from 2022-2030. 90 Pts
2020 Font du Loup Le Puy Rolland – Produced from 100% old vine Grenache, the wine is polished, soft, elegant, and refined, there is freshness and purity in the nose and mouth, leaving you with loads of sweet, ripe, pure kirsch from start to finish. Drink from 2022-2034. 92 Pts
2020 Font du Loup Legend – Light in color and fruit, this is a soft, fresh, refined and elegant wine that exchanges weight with purity and freshness in its focus. This will be delicious on release. Drink from 2022-2029. 90 Pts
2020 Fontavin Terre d'Ancetres – Black plums, flowers, spice, smoke, barbecue, and raw meat notes show in the perfume. The round, lush, peppery, rich palate is plush, polished, spicy, fruity, and fresh. The wine was produced by blending mostly old vine Grenache with Syrah and Mourvedre. Drink from 2023-2035. 93 Pts
2020 Fontavin Trilogies – Black raspberries, kirsch, and flowers on the nose with sweet, cherries, licorice, and ripe plums on the supple, soft, medium-bodied are already a pleasure to taste. The wine was produced by blending 80% Grenache, 15% Syrah, and 5% Mourvedre. Drink from 2022-2032. 92 Pts
2020 Fortia Cuvee du Baron – Flowers, strawberries, peppery black raspberries, and spics greet you in the initial sniff and sip. Medium-bodied, vibrant, chewy, and forward, this will be a gem to start drinking early in life. The wine is made from a blend of about 50% Grenache and a large portion of Syrah and Mourvedre. Drink from 2023-2033. 92 Pts
2020 Fortia Tradition – Light, energetic and elegant, the wine is fresh, spicy, and focused on its kirsch and herb-tinted, kirsch core of fruits. The wine is produced from a blend close to equal parts Grenache, and Mourvedre with about 10% Syrah. Drink from 2023-2031. 90 Pts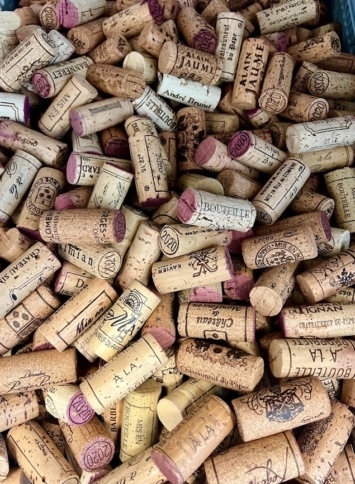 2020 Gardine Chateauneuf du Pape – Black raspberries, dark plums, and cherries fill the fruity profile here. The wine is soft, round, and polished with a forward, dark kirsch finish. Drink from 2022 – 2030. 90 Pts
2020 Gardine Cuvee de Generations – Vanilla, espresso, dark red fruits, and a nice, juicy, sweet, mouthful of ripe cherries in a forward, modern style are what you find here. Drink from 2023-2031. 91 Pts
2020 Gardine L'Immortelle – Dark, lush, full, polished red fruits are on display on the nose and fruit-filled palate. Drink from 2023-2033. 92 Pts
2020 Gardine Peur Bleue – One of the darker wines of the vintage displays an espresso, black cherry, and licorice profile. Lush, round, and supple, this is one of the better vintages of Peur Bleue, which never uses any SO2 used during bottling. Drink from 2023-2032. 92 Pts
2020 Giraud Chateauneuf du Pape – Flowers, herbs, and spices on the nose are what you find before diving into all the sweet, ripe, luscious, pure kirsch and cherries that hit all the right notes on your palate. The creamy, supple, fruit-filled finish already shows well. The wine was made from 100% Grenache. Drink from 2022-2033. 92 Pts
2020 Giraud Cuvee Les Grenaches de Pierre – One of the wines of the vintage, here you find black raspberries, spice box, flowers, and red fruits on the nose. Lusciously textured with silky fresh, pure kirsch that comes in layers and a long, refined, yet rich finish that offers depth and purity, and just a hint of chocolate-mint on the back end of the finish. This beautiful wine is produced from 100% old vine Grenache. Drink from 2023-2038. 96 Pts
2020 Giraud Les Gallimardes – Crushed rocks, olives, and flowers add complexities to the sweet red fruits and spice on the nose and on the medium-bodied palate. The wine offers freshness, earthy, herb-tinted, red berries, plums, black cherry, cocoa, and minerality with just a touch of peppery spice that comes in on the endnote. The wine was made by blending 90% Grenache with 10% Syrah. Drink from 2023-2034. 94 Pts
2020 Grand Tinel Alexis Establet – Flowers, black raspberries, mint leaf, and cherries are what you initially notice before getting to the elegant, silky, fresh, vibrant, pure kirsch on the palate. You can pop a cork on this as soon as it arrives, or age it for a bit. The wine is made from 100% old vine Grenache. Drink from 2022-2032. 93 Pts
2020 Grand Tinel Heres – With purity, energy, and refinement, the wine is focused on its expression of Grenache and all of its kirsch-filled core of sweetness, ripe, and freshness. The wine, produced from some of the estates' oldest Grenache vines is effortless to drink. The wine was made from 100% old vine Grenache. Drink from 2022-2036. 93 Pts
2020 Grand Tinel Chateauneuf-du-Pape – Earthy kirsch with a gentle touch of smoke in the nose leads the way to the ripe, plums, cherries, chocolate, and spicy kirsch on the mid-palate and in the finish. The wine blends 60% Grenache with 40% Syrah. Drink from 2022-2032. 92 Pts
2020 Grand Veneur Le Miocène – With a strong floral note, you also find loads of sweet, ripe, soft, polished, fresh, pure kirsch, black raspberries, and plums. Silky and fresh, this refined style hits everything just right. The wine is a blend of old vine Grenache, with Syrah and Mourvedre. Drink from 2022-2032. 92 Pts
2020 Grand Veneur Les Origines – With a nice depth of color, the richly textured wine blends sweet, ripe, earthy, dark red fruits with crushed rocks, stones, herbs, and spice, finishing with dark plums, licorice, pepper, and dark cocoa. The wine was made with a blend of 50% old vine Grenache, 30% Mourvedre, and 20% Syrah. Drink from 2023 – 2034. 94 Pts
2020 Guigal Châteauneuf-du-Pape Blanc – Honeydew melon and white flowers come to the form of the perfume easily. Round, rich, and balanced with freshness and yellow citrus, this should be delicious on release. Drink from 2023-2027. 92 Pts