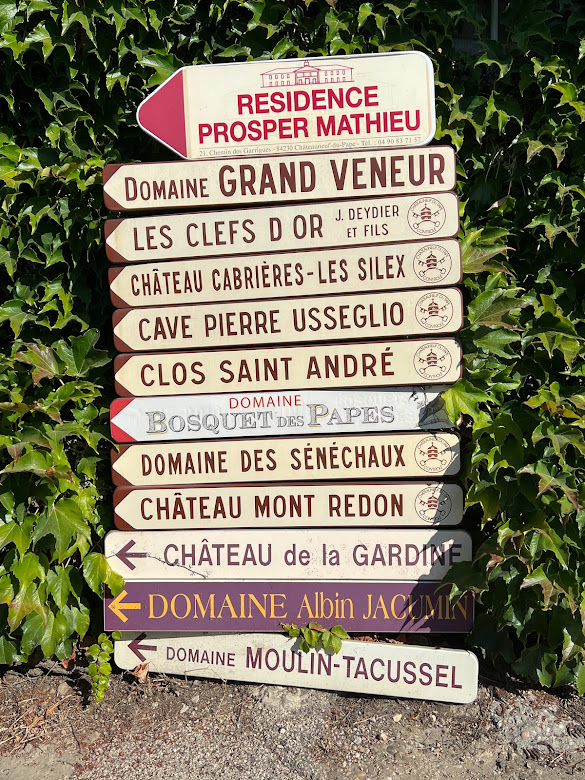 Continuing with our report on the best wines from the 2020 Chateauneuf du Pape vintage, this is Part 3. This vintage report and wine buying guide contains close to 250 wines. With so many great wines, as you can see, we have divided our article into 4 separate articles; Part 1, A-C, Part 2, D-I, Part 3, J-M and finally Part 4 N-Z. You can also locate all of the wines tasted, using either the Wine Tasting Note Search function or by utilizing the Article Search tab or by clicking on any of the links below:
2020 Chateaunef Guide and Vintage Report, Part 1, Wines A-C
2020 Chateaunef Guide Part 2, Wines D-I
2020 Chateaunef Guide Part 4, Wines N-Z
The following 2020 Chateauneuf du Pape wines were tasted in non-blind conditions in July in Chateauneuf du Pape.
2020 Janasse Chateauneuf du Pape – With a strong floral character, the wine quickly moves to its spices, kirsch, and green leafy notes. Polished, round, fresh, and sweet, the cherry, cocoa, and spicy palate finish already tastes and feels great. The wine blends 65% Grenache, 20% Syrah , and 5% Cinsault. Drink from 2022-2032. 92 Pts
2020 Janasse Cuvee Chaupin – Smoked kirsch, cherries, flowers, licorice, and cocoa create an interesting nose. The palate offers richness, espresso-tinged, dark cherries, and cocoa with vibrancy, earthiness, and energy with a touch of spice that kicks in on the backend. The wine is made using 100% old vine Grenache. Drink from 2023-2035. 96 Pts
2020 Janasse Vieilles Vignes – Dark in color, the wine exudes a hint of jam along with black cherries, flowers, and spicy plums in the nose. On the palate, the wine is lush, polished, balanced, and fresh merging its naturally powerful, full-bodied style with elegance, and polish. Clearly, this is one of the wines of the vintage. The wine is a blend of 85% Grenache, 10% Syrah, and 5% Mourvedre. Drink from 2023-2038. 97 Pts
2020 Jas de Bressy Chateauneuf-du-Pape – Medium-bodied, with a strong floral note that accompanies the soft, silky, polished, fresh wine. This is a very elegant expression that will be easy to enjoy on release. The wine blends mostly Grenache with Syrah and 5% Mourvedre. Drink from 2022-2029. 90 Pts
2020 Jean Royer Chateauneuf-du-Pape – Floral, fruity, fresh, and peppery, there is a nice sweetness to all the vibrant red fruits on the nose, palate, and a lusciously textured finish. The wine was made using 90% Grenache, 5% Syrah, and 5% Cinsault. Drink from 2022-2031. 91 Pts
2020 Jean Royer Cuvee Les Sables de la Crau – The top-of-the-line Cuvee from Jean Royer shows a strong floral essence that is perfect for all the sweet, ripe, fresh, red fruits that define the wine. Creamy, polished, lush, and pure, the wine was made from 100% old vine Grenache from vines located in the La Crau lieu-dit. With a bit of aging, this could score even higher. Drink from 2022-2035. 93 Pts
2020 Jean Royer Cuvee Prestige – Smoky red fruits, peppery spices, and herbs are on the nose, and in the medium-bodied, earthy, olive-tinted palate. There is good energy, lift, and freshness here along with a spicy kick in the endnote. The wine was made by blending 80% Grenache with 10% Mourvedre, and 10% Syrah. 91 Pts
2020 Jean-Pierre Boisson Domaine du Pere Caboche – Soft, silky, elegant, and fresh, the wine is clean, pure, refined, and loaded with sweet, vibrant, slightly, peppery kirsch, and strawberries. This is going to be a pleasure to enjoy on release. Drink from 2022-2030. 90 Pts
2020 Jean-Pierre Boisson Domaine du Pere Caboche Creation d'Emilie – Strawberries, flowers, and cherries show in the nose. On the palate, the medium-bodied wine is silky, refined, and fresh, delivering a core of supple-textured cherries, and light chocolate in the finish with ease. The wine is made a majority of Grenache with Syrah, and 5% Mourvedre planted in the La Crau lieu-dit. 91 Pts
2020 Jean-Pierre Boisson Domaine du Pere Caboche Vieille Vignes Elisabeth Chambellan – Leafy herbs, and cherries on the nose, and palate, which are, polished, medium-bodied, fresh, and fruity. The wine is made from 88% Grenache with Syrah and a smidgeon of Mourvedre to fill out the blend. Drink from 2022-2031. 91 Pts
2020 Juliette Avril – Olives, garrigue, and kirsch define the nose. The wine is medium-bodied, soft, forward, fresh, and ready to go with its early drinking, black raspberry, herb, and kirsch character. Drink from 2022-2030. 90 Pts
2020 Juliette Avril Cuvee Maxence – A strong note of garrigue is the first thing you find before moving to the black raspberries, leaf, and spicy notes. On the palate, the wine is herbaceous, as well as lifted, and energetic. Drink from 2022-2032. 91 Pts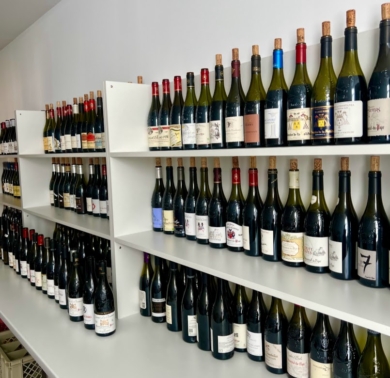 2020 LAbbe Dine – Fresh, earthy, medium-bodied, fruity, and loaded with plums, kirsch, and garrigue, the wine is going to be easy to enjoy on release, and it is also able to age for at least a decade. Drink from 2022-2031. 91 Pts
2020 LHarmas – Blending Grenache with Mourvedre produced a medium-bodied, spicy, herb-tinted, green olive-edged red berry wine with a rustic edge to the finish. Drink from 2022-2028. 87 Pts
2020 La Barroche – Black raspberries, wet earth, flowers, plums, herbs, and kirsch create the nose. On the palate, the wine is polished, fresh, and vibrant, and shows a distinctive mineral character. You can drink this on release, or wait a few years for more complexity. with a myriad of herbs creating the nose. On the palate, the wine is round, soft, sweet, polished, and fresh with an elegant, silky-textured, peppery finish. There is good length and purity here. Drink from 2023 – 2034. 92 Pts
2020 La Bastide Saint-Dominique Chateauneuf-du-Pape – Medium-bodied, soft-textured, fresh, cherries, and red plums with a peppery edge are here from start to finish. The wine blends 80% Grenache, 10% Syrah, 7% Mourvedre, and 5% Cinsault. Drink from 2022 – 2030. 91 Pts
2020 La Bastide Saint-Dominique La Reserve – Spicy red fruits, flowers, truffles, and kirsch are at the core of this mineral-driven, red fruit-filled, earthy, and herbaceous wine. Drink from 2022 – 2030. 90 Pts
2020 La Bastide Saint-Dominique Les Hesperides – Earthy, spicy, fresh, rich, and spicy, there is a smoky, mesquite accent to the red fruits. The wine is opulent, rich, and intense, with density, and supple, polished tannins that support the layers of dark, red ripe, earthy, spicy fruits. This is one of the richer wines of the vintage. It should age and evolve quite well. The wine was made with a blend of 50% Grenache, and 50% Mourvedre. Drink from 2025-2040. 95 Pts
2020 La Bastide Saint-Dominique Les Secrets de Pignan – Cherry liqueur, kirsch, licorice, spice, and flowers show with ease on the nose. On the palate, the wine is rich, plush, and creamy with a long, dark earthy, sweet, and spicy red berry-filled finish. The wine is always produced using 100% old vine Grenache. Drink from 2023-2037. 94 Pts
2020 La Grangette des Papes – Flowers, black raspberries, smoke, and cherries are what you initially notice. On the palate, the wine is soft, polished, fresh, medium-bodied, and focused on its core of ripe, sweet vibrant, pure kirsch, licorice, pepper, and chocolate. Drink from 2022 – 2032. 92 Pts
2020 La Nerthe Chateauneuf-du-Pape – Forward, medium-bodied, soft, elegant, and already charming, the sweetness, and purity along with lift, and energy create the perfect backdrop for the plums, licorice, smoke, cherries, and spice on the nose, and palate. Drink from 2023-2033. 91 Pts
2020 La Nerthe Cuvee des Cadettes – With a nice depth of color, the wine is plummy with strong floral accents, and touches of spice, espresso, and cherries. The wine leaves you with a creamy, espresso-tinted finish with a solid mouthful of ripe, red fruits. The wine is made from close to 50% old vine Grenache, with about equal parts of Syrah, and Mourvedre. Drink from 2023-2035. 93 Pts
2020 La Sousto Lucien Gabriel Barrot – Strong notes of garrigue, olives, and underbrush almost overtake the spicy red fruits on the medium-bodied, crisp palate here. The wine blends 80% Grenache, 10% Syrah, 8% Mourvedre, 1% Cinsault, and 1% Vaccarese. Drink from 2022- 2030. 88 Pts
2020 Lavau Chateauneuf-du-Pape – Forward, earthy, and herbal with a spicy core of pepper, herbal, red fruits with crispness, and a peppery bite with a touch of chocolate that comes in at the end of this, classically-styled finish. The wine was produced using 50% Grenache, 40% Syrah, and 10% Mourvedre. Drink from 2022-2030. 89 Pts
2020 Le Clos du Caillou Chateauneuf du Pape Tradition – The entry-level Chateauneuf du Pape from Le Clos du Caillou offers sweet, red fruits that have a nice vibrancy, and freshness on the nose, and medium-bodied, vibrant, crisp palate with a touch of dark cocoa in the finish. The wine was made using a blend of 85% Grenache, and 15% Syrah. Drink from 2022-2032. 92 Pts
2020 Le Clos du Caillou La Reserve – Smoke. spices, cherries, and flowers on the nose are only part of the show. It is the ripe, lush, supple-textured, sensuous, elegant red berries on the palate that own the day with their length, purity, and freshness. The wine is produced from a blend of 55% Grenache, and 45% Mourvedre. 98 Pts
2020 Le Clos du Caillou Les Quartz – Strawberries, kirsch, cherries, and flowers are unmistakable. The wine is fresh, racy, and vibrant with a streak of herbs, olives, and peppery spices that runs right through all the ripe, sweet, red fruits. The wine is made using 75% Grenache, and 25% Syrah. Drink from 2022-2034. 94 Pts
2020 Le Clos du Caillou Les Safres – Flowers, red fruits, and a touch of smoke open the perfume. On the palate, the wine is medium-bodied, fresh, and vibrant with more of that floral edge that adds to the sweet, kirsch, and cherries in the core of the wine. Drink from 2022-2034. 93 Pts
2020 Les Cailloux (Lucien et, Andre Brunel) Chateauneuf-du-Pape – Peppery black raspberries, kirsch with olives, and herbs coming in at the end of the nose. On the palate, the wine is fresh, spicy, elegant, and medium-bodied with a nice olive-tinted kirsch finish. The grapes are completely destemmed with a blend of mostly Grenache, with Mourvedre, Syrah, and Cinsault. This will be quite nice to enjoy on release. Drink from 2023 – 2034 92 Pts
2020 Le Jas des Papes – Medium-bodied, earthy, olive-tinted, thyme, and kirsch-filled wine that is ready for its prime-time drinking window. Drink from 2022-2029. 89 Pts
2020 Lucien Barrot et Fils La Sousto – Forward, fruity, and fresh, the wine is medium-bodied with a core of herbaceous, olive-tinted red fruits with a chalky presence in the finish for early drinking consumption. Drink from 2022-2028. 87 Pts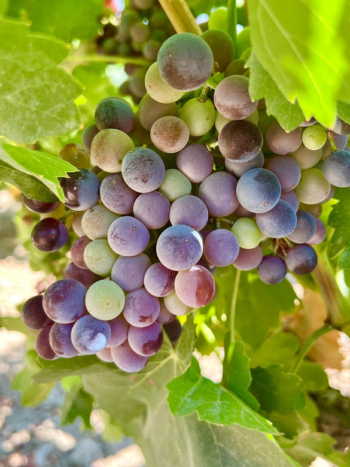 2020 Maison La Berthaude Vieilles Vignes – Camphor, thyme, earthy red fruits, and leafy herbs get everything off to a good start. On the palate, the wine is medium-bodied, fresh, creamy, and forward with ripe, dark cherries, and kirsch core of fruits, and a touch of chocolate on the mid-palate, and in the finish. The wine blends 60% old vine Grenache, 15% Mourvedre, 15% Syrah, and other assorted, allowable verities. Drink from 2022-2032. 91 Pts
2020 Maison la Berthaude Tradition – Flowers, cherries, and a touch of herbs are in the nose, and form the core of this forward, soft, medium-bodied, early-drinking wine. Drink from 2022 – 2028. 89 Pts
2020 Maison la Berthaude Vignes Centenaires – From 90% old vine Grenache vines that are over 100 years of age, with a small amount of Mourvedre, and Syrah, the wine offers elegance, intensity, richness, and refinement. The dark red cherries and kirsch are accompanied by peppery herbs, and chocolate on the palate, and in the finish. Drink from 2022-2035. 92 Pts
2020 Manissy Terres Blanches – Cherry griotte, herbs, flowers, and citrus open the wine. On the palate, the wine is forward, soft, polished, and salty, leaving you with a strong, olive, and peppery endnote. Chateau de Manissy is better known as one of the top producers of Rose' in Tavel. Drink from 2022 – 2031. 91 Pts
2020 Maravilhas Espirito – Produced from 100% Syrah, which is not common in Chateauneuf, the wine is peppery, earthy, mineral-driven, floral, and darkly fruited with a light touch of oak, the wine is medium-bodied, fresh, bright, and chewy on the palate. Drink from 2023-2035. 91 Pts
2020 Maravilhas Santo – Flowers, spice, and kirsch in the nose, along with a medium-bodied, fresh, bright, red kirsch palate with just a touch of cocoa in the end is going to be just great on release, and for close to a decade. From a blend of Grenache, and Syrah, drink from 2022-2032. 90 Pts
2020 Marcoux Chateauneuf du Pape – The kirsch, and cherries with their strawberry, and floral accents on the nose, and palate are working well here. Medium-bodied, soft, fresh, vibrant, forward, and elegant, shows a lot of purity on the palate, and in the finish. Drink from 2022-2032. 91 Pts
2020 Marcoux Vieilles Vignes – Purity, refinement, elegance, and freshness are the hallmarks of this wine. The kirsch comes through with a vibrancy, and peppery accent that is long, lifted, and fresh, leaving with the right touch of spice in the balanced, harmonious finish. The wine is made from a low-yielding 100-year-old vine Grenache. Drink from 2023-2037. 95 Pts
2020 Mas Saint Louis Chateauneuf du Pape – Medium-bodied, fresh, floral, and kirsch-oriented wine that is perfect for early, drinking consumption. The wine was made by blending 80% Grenache, 10% Syrah, 5% Cinsault, and 5% Syrah. Drink from 2022-2028. 88 Pts
2020 Mas Saint Louis Grande Reserve – Earthy red fruits, and flowers with a peppery, underbrush edge to the red berries on the nose, and medium-bodied palate. The wine was made by blending 80% Grenache with 20% Mourvedre. Drink from 2022-2032. 91 Pts
2020 Mas Saint-Louis Chateauneuf-du-Pape Les Arpents des Contrebandiers – Peppery red fruits with flowers, and black raspberries are on the nose. The wine is fresh, bright, medium-bodied, and soft with an herbal accent to the red fruits on the palate, and in the finish. This should be ready to go on release. The wine was made with 75% Grenache, and assorted, other allowable, grape varieties. Drink from 2022-2030. 91 Pts
2020 Mas de Boislauzon Chateauneuf-du-Pape – Meaty, peppery, dark cherries, herbs, and spices are on the nose. On the palate, the wine is forward, fresh, and supple with sweet, ripe, kirsch, strawberries, and a touch of spice on the palate, and in the finish. The wine was made by blending mostly Grenache with about 30% Mourvedre. Drink from 2022-2032. 92 Pts
2020 Maucoil Chateauneuf-du-Pape – Sweet, soft, supple-textured kirsch on the nose, and palate is already a treat to taste with its freshness, and creamy finish, Drink from 2022-2029. 90 Pts
2020 Maucoil Privilege – I really like the strong floral notes that accompany the sweet, ripe, soft, and silky, kirsch, and black cherry nuances. The supple, fruity finish, with the right hint of spice, and a touch of chocolate on the backend is ready to go on release. The wine was produced using a Grenache dominate blend that includes Syrah, Mourvedre, and several other assorted reds, and white grape varieties. Drink from 2022-2032. 92 Pts
2020 Maucoil l'Esprit de Maucoil – Spice, flowers, licorice, garrigue , and kirsch show with ease here. The wine is medium-bodied, soft, round, and fresh, with a refinement to the tannins, and a delicacy to the finish. This is going to be great to open on release. The wine was produced using a Grenache-dominated blend with Syrah, Mourvedre, and various other allowable grape varieties. Drink from 2022-2032. 92 Pts
2020 Mayard Clos du Calvaire – Flowers, herbs, and peppery kirsch notes pop in the nose. The wine is fresh, vibrant, and racy with a bright character in the finish. The wine blends mostly Grenache with Syrah, % Cinsault, and 5% Mourvedre. Drink from 2022-2029. 91 Pts
2020 Mayard La Crau de Ma Mère – Medium-bodied, soft, silky, fresh, and vibrant with a beautiful core of silky-textured wild, strawberries, and peppery cherries. The is fresh, vibrant, and pure from start to finish. The wine was made using 70% Grenache, 20% Mourvedre, and 10% Syrah. Drink 2023-2030. 92 Pts
2020 Mayard Pere Pape – Lush, fruity, silky, and polished with a base of ripe juicy, sweet kirsch, and black cherry with touches of cocoa, and pepper. Vibrant, and refined, with a polish to the tannins in the finish, this should show well on release, and age for at least a decade. The wine was made from a blend of 60% Grenache, 20% Syrah, 15% Cinsault, and 5% Mourvedre. Drink from 2022-2032. 91 Pts
2020 Mont Redon – Flowers and red fruits are what you initially notice. Medium-bodied, soft, and polished with a supple texture to the red fruits on the palate, there is a nice sweetness, and purity here, along with a dash of cocoa in the endnote that will be delicious to enjoy on release. The majority of the blend is old vine Grenache, and Syrah with a liberal dose of Mourvedre, and various other allowable grape varieties. Drink from 2022-2031. 91 Pts
2020 Mont Redon Le Plateau – Showing a nice depth of color, the wine instantly focuses on its flowers, black raspberries, earth, and peppery spice characteristics. Produced from a blend of about 60% Grenache, and 40% Mourvedre, this is one of the most successful wines of the vintage. There is a plushness, and polish here along with nice darkness to the fruits that resonates on the palate, and in the finish. Drink from 2023-2038. 95 Pts
2020 Mordoree Chateauneuf-du-Pape Cuvee de la Reine des Bois – Smoked roses, kirsch, spice, licorice, cocoa, cinnamon, and cloves are in the nose. Round, and supple on the palate with creamy, deep, red fruits, spice, and silky, polished tannins, I like this restrained style from Mordoree. The wine was produced from a blend of old vine 75% Grenache with Mourvedre, Syrah, Vaccarese, and Counoise. Drink from 2023-2035. 94 Pts
2020 Mourre-du-Tendre Vieilles Vignes – Medium-bodied with a quiet nose that requires a bit of coaxing to bring out the flowers, kirsch, and herb profile, the wine is soft, elegant, fresh, and lifted, with a nice mineral touch to the kirsch in the endnote. The wine was made by blending 90% old vine Grenache with 10% Mourvedre. Drink from 2022-2029. 90 Pts
2020 Mousset-Barrot Châteauneuf-du-Pape – Dark, round, and fleshy for the vintage, the wine is loaded with espresso, plums, and black cherries. Drink from 2022-2030. 89 Pts
2020 Nalys Blanc – Flowers, and orange rind, with a touch of spice on the nose, is what you find before getting to the lush, ripe, round, fresh parade of spicy fruits on the palate. Drink from 2022-2027. 94 Pts
2020 Nalys Grand Vin – Opulent, round, fresh, and fleshy, there is an intriguing touch of cocoa that rides along with the layers of cherries, plums, and black raspberries on the nose, and palate. Lush, round, and sweet on the palate, the wine leaves with layers of dark red berries with a note of spearmint, and a peppery edge in the finish. Drink from 2023 – 2034 93 Pts
2020 Nalys Saintes Pierres – Soft, and round, the medium-bodied wine is loaded with sweet, ripe, cherries, olives, and peppery spices, herbs on the nose, and palate. You can enjoy this on release, and over the next decade or longer. Drink from 2023-2031. 91 Pts
2020 Nalys Saintes Pierres Blanc – Honeysuckle, oyster shell, and a touch of tangerine on the nose lead you to the fruit-packed, round, easy-to-drink, fruity, bright, salty, white peach finish. Drink from 2023 – 2027. 92 Pts
2020 Olivier Hillaire Chteauneuf-du-Pape – Fresh, sweet, soft, elegant, cherries, and strawberries are all over the place here on the nose, and palate. The wine is soft, medium-bodied, fresh, and fully ready to go for early drinking pleasure. Drink from 2022-2028. 90 Pts
2020 Olivier Hillaire Les Petits Pieds d'Arm, and – Flowers, garrigue, smoke, licorice, herbs, kirsch, and cherries are a treat to smell. Silky, and fresh on the palate, there is a salty, oceanic touch to the red fruits and olives on the palate that is made even better by the refined textures in the finish. Produced from 100% old vine Grenache, the wine is a parcel selection of the estate's oldest vines planted in the La Crau lieu-dit. Drink from 2023-2036. 94 Pts
2020 Olivier Hillaire Les Terrasses – Produced from 100% old vine Grenache planted in rocky soils, the sniff offers sweet, black cherries, strawberries, flowers, kirsch, and roses. The wine is medium-bodied, elegant, fresh, supple, and refined, leaving you with a sense of purity in the kirsch on the mid-palate, and in the finish. Drink from 2022-2033. 92 Pts
2020 Olivier Ravoire Caparacon – Medium-bodied, elegant, forward, and peppery, the wine is all about its sweet, spicy kirsch that shows in the perfume, on the palate, and in the finish. The wine was produced using mostly old vine Grenache, with Mourvedre, and Syrah. Drink from 2023 – 2032 91 Pts