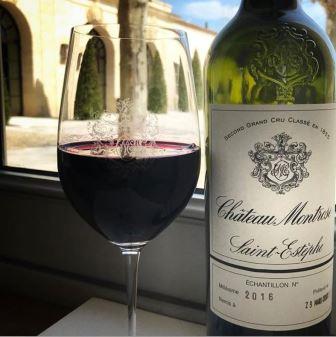 Tasting the 2016 St. Estephe wines is the only way to know what's in the bottle and glass. But how those wines are what they are, is an equally important part of the story. In my view, the wines from the northern Medoc are incredible. They are homogenous. They provide character, style, volume, depth, complexity, freshness and possess the ability to age and develop into something magical, with time in the cellar. How did this happen?
The Saint Estephe appellation is not always the most successful. While it can be argued that the region produced some of the best wines in 2014, in 2015, many of the wines were dilute. You have to go back to 2003 to find a vintage with this level of quality and consistency in Saint Estephe. But this year, 2016 St. Estephe ensured that the appellation roared back with a vengeance!
Located in the far north of Bordeaux, St. Estephe has a naturally cooler terroir, and thus harvests are later than what you encounter as you travel south. The soils are also cooler, due in part to the clay you find. For the 2016 Left Bank wines, especially in St. Estephe, these conditions were perfect for the grapes!
2016 Bordeaux will be remembered for its schizophrenic weather conditions. John Nash would have felt right at home. This first half of the year set records for the amount of water in the vineyards. With its gravel and clay terroir, vineyards in the Saint Estephe appellation were able to remove the excess moisture. Starting in June, Bordeaux came close to setting another record, for the extreme dry period that lasted until September 12. This is no problem for the soils in St Estephe, because they were adept at holding ample moisture, allowing the grapes to fully ripen. You can read details about the harvest and growing season: 2016 Bordeaux Harvest and Growing Season Report
Capped by the warm, sunny days and cool nights, and stress at the just the right moment for the Cabernet Sauvignon, and Merlot, along with the late summer rains was perfect! The long growing season, ended in mid-October for most of the estates. The gowers might be all smiles now, but they were more than nervous at several points during the season.
Tasting through the 2016 St. Estephe wines was a pleasure. Wines at every price point were sublime. With 2016, you do not need to buy the top 1855 Classified Growths, as here, the Cru Bourgeois wines are outstanding! To illustrate the depth here, the Second Wines are the best examples ever produced from all the estates we tasted at. That being said, as you will see, the top 2016 St. Estephe wines are destined for future legendary status. 3 of which could merit 100 Pts in the future after sufficient time in the bottle!
It is important to note that a good portion of how a wine rating is established, at last with me, is the style and character of the wine. That is what you put in your mouth. So, that part needs to matter. That is where 2016 Saint Estephe wines come through in spades. They taste and feel great! The wines are all inky, and deep in color. There is volume, length, complexity, silky tannins, freshness and ripe, sweet fruits. They are dark, juicy and offer structure, with energy. And this is at all price points.
2016 St. Estephe is our second report in a series of articles about the top 600 wines of the vintage. The goal is to publish a report focusing on each appellation on a daily basis. At least, that is what what were shooting for. You know that old story about the best laid plans. Tomorrow, we're continuing with our focus on the saints, so you can expect to see a detailed look at all the best 2016 St. Julien wines.
2016 Saint Estephe Tasting Notes, Ratings, Comments for all the best wines.
2016 Beau-Site – Fresh, black raspberries conspire to create a crowd-pleasing, forward-styled wine, assuredly great on release. 88 – 90 Pts
2016 Calon Segur – Incredibly dense with a beautiful sensation of forbidden fruit in the nose and on the mouth. There is weight, balance, freshness and complexity, imparting perfectly ripe, dark red, pit fruits and minerality is what this beauty does best. The wine was produced from 60% Cabernet Sauvignon, 20% Merlot, 18% Cabernet Franc and 2% Petit Verdot, reaching 14% alcohol with a pH of 3.75. The harvest took place from September 20 to October 25. 97 – 99 Pts
2016 Capbern – Blackberry, citrus, spice, earth and cassis provide the perfume for this potential first date. On the palate, the wine is fresh, vibrant, spicy, pure and yet another blast of citrus, which intrigues me. Fast forward to black fruits, chocolate and spice in the finish. 91 – 93 Pts
2016 Cos dEstournel – Deep purple at the edges of its inky hue, this wine shows smoke, (Yes, a Deep Purple wine that shows Smoke on the Water) with licorice, Asian spice boysenberry and blackberries at the front of the perfume. The wine is full-bodied, concentrated and palate staining (so don't spill it on the rug) but it also shows freshness, spice and lift. The fruits are sweet, ripe and ready to eat but that's just the beginning, stand by for late breaking licorice, spice and silky tannins. There is energy and lift that grabs a seat at the table this year. Produced from a blend of 76% Cabernet Sauvignon, 23% Merlot and 1% Cabernet Franc, this wine reached 13.07% alcohol with a pH of 3.66 and is now aging in 80% new, French oak barrels. The harvest took place from September 26 to October 15. 96 – 98 Pts
2016 Cos Labory – Medium bodied with loads of earth, spice box, blackberry and cassis, this wine is fresh, bright and shows character and sweetness as well as fruit in the finish. 89 – 91 Pts
2016 Haut-Beausejour – Medium bodied with dark red fruits, spice and herbs on the nose, this wine offers forward, sweet, juicy cherries, round fruits and softness in the texture. This opened-styled wine should be just about ready on release. 88 – 90 Pts
2016 Haut Marbuzet – Round, plush textures, dark, juicy, fat plums, blackberries and happy tannins climax in a smoky, oaky, tasty finish. Best wine here in years! 90 – 92 Pts
2016 Lafon Rochet – Sweet dark, blackberry, cassis, floral and forest scents lead you to a finesse-styled wine. Full bodied, polished, fresh and spicy with a nice shot of juicy cassis in the finish — it sounds like a great evening to me. This wine has a serious concentration of flavor and a party pack assortment of dark red fruits in the finish. Produced from a blend of 67% Cabernet Sauvignon, 25% Merlot, 6% Cabernet Franc and 2% Petit Verdot, the wine reached 13.6% alcohol. 93 – 95 Pts
2016 Le Boscq St. Estephe – The color of that burgundy lipstick from 1986, this wine isn't shy about showing off its soft, forward, ripe, sweet, dark red fruits, swanky textures and open style. This is the one your mother warned you about. You can drink her shortly after release and she will age well. Oenophile's choice. 90 – 92 Pts
2016 Le Crock – Spicy cassis with rich textures and cushy, polished, sumptuous tannins, this one gives you floral notes and curvy, salaciously juicy fruits with a hint of licorice in the finish. The wine was produced from 46% Merlot, 40% Cabernet Sauvignon, 8% Cabernet Franc and 3% Petit Verdot. 91 – 93 Pts
2016 Les-Ormes-de-Pez – Indonesian tobacco, finely crushed gravel, herbs and spices and black currants covered in crème de cassis, this year's wine is softer and livelier than in the past. Add ripe tannins and a fruity finish and promise yourself a second date. This medium-bodied wine was produced from 52% Merlot, 42% Cabernet Sauvignon, 8% Cabernet Franc and % Petit Verdot. 90 – 92 Pts
2016 Lilian Ladouys – Fresh, spicy cassis, licorice and blackberry have exploded all over the place in the best vintage yet for Lilian Ladouys. With textbook tannins, fresh fruit, length and lovability, the wine was made from a blend of 62% Merlot, 32% Cabernet Sauvignon and 6% Petit Verdot with 13.6% alcohol and a pH of 3.67. 92 – 94 Pts
2016 Le Marquis de Calon Segur – Smoky, dark red berries and spice create the perfume. On the palate, the wine has delectable dark fruits, supple textures, forward style and scrumptiousness to the fruits in the finish. 90 – 92 Pts
2016 Meyney – Almost opaque in color, this is a beauty! The wine is rich, concentrated and has depth of flavor with length. The fruit is unadulterated purity and unreal deliciousness; the finishes builds into a sensory experience of taste and feel. This is the best vintage of Meyney ever produced. 92 – 94 Pts
2016 Montrose – Inky black in color with incredible levels of density, the first thing you notice when the wine hits your palate is the salty, mineral-driven tannins. The purity of the fruit, concentration, richness and velour textures bring you to pleasure with spice, dark chocolate, licorice, blackberry and plum notes. The endnote resonates for at least 60 seconds! Completely satisfying in every way. In the old days you'd need a cigarette after tasting this wine! The best wine since the historic duo of 2009 and 2010, this is right at that level, or even better! Time alone, will be the final arbiter. The Grand Vin was produced from just 36% of the crop, blending 68% Cabernet Sauvignon, 25% Merlot and 7% Cabernet Franc. This wine reached 13.3% alcohol with a pH of 3.55. The harvest took place September 23 to October 14. 99 – 100 Pts
2016 La-Dame-deMontrose – Using 52% Cabernet Sauvignon, 35% Merlot, 11% Petit Verdot and 2% Cabernet Franc in the blend, there is a sapidity of fruit, lift and focus, along with concentration and length that makes it hard to believe this is a second wine. The finish gifts you with luscious dewy fruits for all your sensory receptors to enjoy. 92 – 94 Pts
2016 Les Pagodes de Cos – Fresh, sweet black raspberries and bright red fruits are the center of this crisp, spicy wine. Produced from blending 50% Cabernet Sauvignon, 46.5% Merlot, 5% Cabernet Franc and 3% Petit Verdot, the wine reached 13.02% alcohol and represents 55% of the harvest. 90 – 92 Pts
2016 Petit-Bocq – Dark red fruits are polished and blessed with length and voluptuous texture; this wine woos you with a finish of even deeper, earthier berries. A few years in the cellar will make this all the better — a smart value play from St. Estephe. 89 – 91 Pts
2016 de Pez – Dusky in color with equally dusky fruits on the nose and in the mouth, this wine has more softness than usual with round, silky berries, plum and licorice in the finish. 91 – 93 Pts
2016 Phelan Segur – Using 55% Cabernet Sauvignon and 45% Merlot, Phelan Segur produced a wine with plushness, ripe, dark red berries, silky tannins and length. The plummy fruits are soft, fresh and sweet with hints of espresso and licorice in the finish. The wine is 13.8% alcohol. The harvest took place from September 29 to October 21, making this the longest and the latest harvest in the history of the estate. 91 – 93 Pts
2016 Serilhan – A burnished, ruby color, this wine has easy to find smoke, tobacco and dark, mouthwatering fruit. There is good concentration and a freshness ignited by a swift kick of zing at the end. 89 – 91 Pts
2016 Tour des Termes – Dark in color, medium/full bodied with plush berries, sweet soil and tobacco notes, there is a freshness in the finish, which makes this wine even better in the end. 88 – 90 Pts
2016 Tronquoy Lalande – Tempting dark plum, blackberry and earth are available with little effort in this deeply colored, equally luxuriant wine. The fruit is bottomless, the tannins are smooth and there is a plushness, depth and purity to the fruit I have never seen before at Tronquoy Lalande. The finish has distinct intensity of flavor. Produced from a blend of 58% Merlot, 34% Cabernet Sauvignon, 6% Petit Verdot and 2% Cabernet Franc. The harvest took place from September 27 to October 15. Clearly, this is the best wine ever produced at this estate! 93 – 95 Pts
Please feel free to share your comments, or ask questions. If everything goes as expected, tomorrow, we will keep with our saints theme and you can expect to see a detailed report on the the very best 2016 Saint Julien wines.