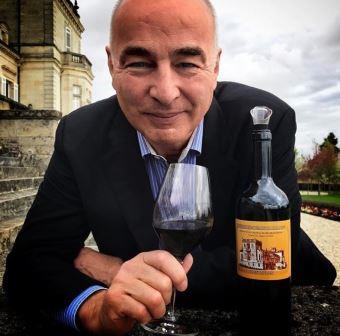 Located in the middle of a mé·nage à trois, St. Julien is sandwiched between the power, elegance and classic, tannic, stoicism of Pauillac to the north, and the feminine, floral refinement of Margaux to the south. Its unique geographical location, giving it access to the Gironde, as well as the gravel slopes and plateaus was exactly what was needed to produce such stunning 2016 St. Julien wines.
2016 St. Julien is a perfect vintage. Or if you think this is hyperbole, I can change that to almost perfect. Every vineyard in this appellation made prodigious wine. Some of the estates, due to the perfect storm of having a new cellar, extraordinary climatic conditions and the financial willingness to make the best wine possible produced the best wine in their long storied history! 2016 Saint Julien did not start out with much promise. The flowering in the Left Bank took place under good conditions. But the majority of the first half of the year will be remembered for being late, and for the continuing deluge of water that soaked the vineyards. Growers knew much had to work to work in their favor from this point forward, as wet, and late are not descriptors that bring smiles to their faces.
By late June, warm, sunny and dry were the new normal. The Indian summer conditions were almost too much. The summer set records for the lack of rain. Young vines were in danger of dying. Plants were close to stopping their growth cycle and many people were worried about this becoming a difficult vintage. But the cool nights, which is where the much needed freshness came from helped and the rains that fell September 12 and 13 showed that Bacchus must love Bordeaux, because they saved the vintage! The harvest took place at a leisurely pace under outstanding conditions. The rest as they say is history. For details on the growing season and harvest report: 2016 Bordeaux Harvest and Growing Season Report
2016 St. Julien wines have it all going on. They are in such a beautiful style with their richness, ripe, velvet, textured tannins, concentration, freshness and elegance. There are no hard edges here, just delicious tasting wines made from perfectly ripe grapes. Lower in alcohol than the more recently fabled 2009 and 2010 vintages, plus depth and a wealth of raw material, if you're a fan of these wines, this is a vintage to consider laying down. While most of the Saint Julien is classified, every chateau made truly great wine. This covers not just the Second Growths, but the Third Growths, Fourth Growths and the few Cru Bourgeois vineyards as well as you can see from my comments below.
This is third in a series of reports that cover the best 600 wines from the 2016 Bordeaux vintage. It remains my goal to endeavour publishing a new article per day, covering all the different appellations. Tomorrow we'll cover the Margaux appellation.
2016 Saint Julien Tasting Notes, Ratings, Comments for all the best wines.
2016 Beychevelle – A blue-black deep red, nearly opaque, this the sexiest wine ever created at Beychevelle. The nose moves with cassis, tobacco, cigar box, flowers, boysenberry and dark chocolate. The fruit has unbelievable length, purity, density and silk sheets for tannins — grand style and character here. This is the first vintage produced in their gleaming, brand new, state-of-the-art cellars. Made from blending 47% Cabernet Sauvignon, 47% Merlot, 5% Petit Verdot and 1% Cabernet Franc, the wine reached 13.5% alcohol with a pH of 3.62. The Grand Vin represents just 60% of the harvest, which took place from October 3 to October 15, the latest harvest in the history of Beychevelle. 96 – 98 Pts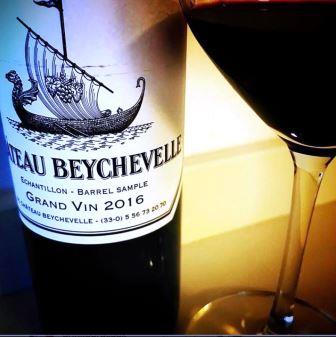 2016 Amiral de Beychevelle – A message in a bottle with salty, oceanic aromatics, followed by a treasure trove of dark red fruits. Medium body, forward and approachable with a soft, refined, fruity finish, this will be delicious on release. Drink this while waiting for the sublime Grand Vin to develop. In my view, this second wine is better than Beychevelle in the 70s and in a good portion of the 80s as well! 89 – 91 Pts
2016 Branaire Ducru – Spicy boysenberry and sweet cassis with licorice and a kiss of oak on the nose, this wine displays elegance and a natural goodness of fruit. Oddly it gives the impression of fading in the mouth but it's all an illusion as the essence rushes back in and lingers. Produced from a blend of 64% Cabernet Sauvignon, 27% Merlot, 6% Petit Verdot and 3% Cabernet Franc, the wine reached 13.49% alcohol with a pH of 3.59. Harvesting took place from September 28 to October 19, which is the latest as well as the longest harvest in the history of Branaire Ducru. 93 – 95 Pts
2016 Clos du Marquis – Granddad's tobacco-scented sweater caught in a volcanic eruption of plum and syrupy black currants is the first thing you'll sense before you align with the gentle, ready tannins and the boatloads of thirst-quenching cassis. This wine has excellent character and ample fresh fruit in the finish. From a blend of 73% Cabernet Sauvignon, 24% Merlot and 3% Cabernet Franc, the wine reached 13.55% alcohol and will be aged in 50% new French oak barrels. 91 – 93 Pts
2016 Croix de Beaucaillou – Satiny, slick, ready fruits loosen your taste buds, displaying a wine with lift, length and character. The plums are perfect and the finish has lasting charm. From a blend of 64% Cabernet Sauvignon, 33% Merlot and 3% Petit Verdot, the wine reached 13.44% alcohol and is aging in 60% new French oak barrels. 91 – 93 Pts
2016 Ducru Beaucaillou – Opaque with shiny, purple highlights, this creation is brimming with flowers, licorice, dark berries, boysenberry, black cherry, smoke, espresso and a spot of wet earth on the nose. With velvet textures, density of fruit and a finish that remains with you for close to 60 seconds, this is a seldom-encountered purity of fruit, which is pulling ahead in the competition for the best Ducru Beaucaillou ever! Produced from 85% Cabernet Sauvignon and 15% Merlot, the wine reached 13.63% alcohol with a pH of 3.71 and is aging in 100% new French oak barrels. The Merlot was harvested from September 26 to September 30 and the Cabernet Sauvignon from October 7 to October 14. Yields were only 30 hectoliters per hectare. 98 – 100 Pts
2016 du Glana – One of the few remaining non-classified growths in the St. Julien appellation, this wine serves up fresh, abundant cassis, tobacco and cedar. Medium body with soft textures and a berry-filled finish, the wine needs a few years to develop more complexity. 87 – 89 Pts
2016 Gloria – Exotic tobacco, anisette and fresh-picked currants on the nose. On the palate, the wine is an eager virgin in a silk wrapper, well coiffed and refreshingly fresh. The fruit is clean and pure and the perfume lingers in your brain. This is clearly the best wine ever from Gloria. The wine was made from a blend of 60% Cabernet Sauvignon, 30% Merlot, 7% Cabernet Franc and 3% Petit Verdot. 93 – 95 Pts
2016 Gruaud Larose – Cassis, tobacco and espresso with a good hit of cedar to arouse the olfactory system. A fresh, red berry side of the style range, there is a softness to the tannins that brings out the best in the crunchy currants and blackberry fruits in the finish. This will require time in the bottle to come around. Good girls don't come easy. I mean good things take time. 91 – 93 Pts
2016 Lagrange – A Truman Capote In Cold Blood kind of red, Zoe Saldana rolling the tobacco leaf, a bowl of dark red fruits with a few perfect stems of crunchy black currants. There is a freshness to the fruit and ripeness to the tannins that make this vintage a celebrity. The wine has crunch and zest and the finish offers a nice bite of tang and temptation. The wine was made from blending 70% Cabernet Sauvignon, 24% Merlot, 6% Petit Verdot. 92 – 94 Pts
2016 Lalande-Borie – Smoky plum and chocolate aromatics make it fun to go nose to nose with this wine. Juicy, round, polished fruits and sweetness, silky tannins and an open personality make this a delicious wine to drink on release or age for a bit. Soft textures and a blast of chocolate with loads of plum and cherry in the endnote make this a fine Bordeaux value wine. 90 – 92 Pts
2016 Langoa Barton – Bursts of tangy little currants, a cedar wood fire sends out smoke plumes of cassis scented tobacco into a damp forest, leading you to a polished, fresh, bright, crisp and crunchy blast of red berries. The finish offers length and lift in a classic style. From a blend of 55% Cabernet Sauvignon, 37% Merlot and 8% Cabernet Franc, the wine reached 13% alcohol. The harvest took place from September 20 to October 13. 91 – 93 Pts
2016 Leoville Barton – A nose of blackberry, licorice, earth and smoky tobacco is easy to notice. Darkly colored, Full bodied, rich, fresh, long and sweet, there is a reflection coming off the ample tannins and lift that accentuates the densely textured, fruit-filled finish. This wine leaves a great impression. Produced from blending 86% Cabernet Sauvignon and 14% Merlot, the wine reached 13% alcohol. The harvest took place September 29 to October 13. 94 – 96 Pts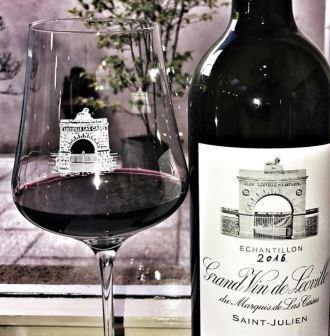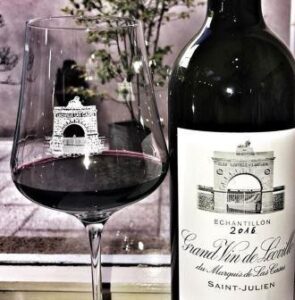 2016 Leoville Las Cases – This powerful elixir has peppery cassis, tobacco, cedar, blackberry and forest scents that cannot be avoided. Powerful, concentrated, mouth filling and very tannic, this could be a modern-day version of what the 1986 Bordeaux was supposed to be. The wine is elongated, regal and driven, stern yet refined. With this much tannin and structure, I'm sure at least 20 years in the cellar are needed before this really starts to shine. Produced from a blend 75% Cabernet Sauvignon, 14% Merlot and 6% Cabernet Franc, the wine reached 13.6% alcohol with a pH of 3.66. The harvest took place from September 30 to October 16. 97 – 99 Pts
2016 Leoville Poyferre – Sophisticated and drizzled with opulence, these sexy, supple fruits and creamy tannins feel as good as they taste. This wine is endless in depth with a penetrating bullet of pure, silken fruit in the finish. Blending 60% Cabernet Sauvignon, 33% Merlot, 5% Cabernet Franc and 2% Petit Verdot, the wine reached 13.6% alcohol with a pH of 3.66. The harvest took place October 5 to October 20, the Grand Vin representing 56% of the harvest. 96 – 98 Pts
2016 Moulin-Riche – Medium bodied, super soft, forward, sweet, open with polished tannins and laden with clean, spicy red fruits, this wine was produced from blending, 63% Cabernet Sauvignon, 26% Merlot and 11% Petit Verdot. 89 – 91 Pts
2016 Pavillon de Léoville Poyferré – From a blend of 64% Cabernet Sauvignon, 17% Merlot, 11% Petit Verdot and 0.8% Cabernet Franc, the wine is medium bodied, forward, elegant and user friendly with sweet cherries and hints of black licorice in the finish. 87 – 89 Pts
2016 Le Petit Lion de Marquis de Las Cases – Using 54% Cabernet Sauvignon and 38% Merlot with 8% Cabernet Franc, this is almost a reversal of the blend created for 2015. Floral and cassis aromas, good depth of color with juicy, sweet, fresh with slightly strict Cabernet Sauvignon notes easily accessible. Classic in style, this will be even better with a few years of age. The wine is 13.4% alcohol. 90 – 92 Pts
2016 La Petite Marquis – A medium bodied, fresh, crisp, classic expression of Cabernet Sauvignon with a fresh finish of berries and cocoa, this wine gives us an entry-level sampling of the wines of Leoville Las Cases. You can drink this on release or age it a year or two. Only the second time this wine has been produced, Jean Hubert Delon considers Clos du Marquis a 'unique' wine, not a second wine, as it comes from its own specific terroir. Regardless of how you look at it, adding a second wine — or a 'unique' wine — only improves the top wine, which is the goal. 87 – 89 Pts
2016 Saint-Pierre – Dark, inky ruby in color, this wine is full bodied, concentrated, deep, long and focused. The fruit is precise, fresh and poised. The wine was produced from 73% Cabernet Sauvignon, 21% Merlot and 6% Cabernet Franc. 93 – 95 Pts
2016 Talbot – Medium bodied with sweet black plums and a licorice, espresso personality, this one is already approachable with round textures and an oaky, juicy, dark fruit finish. The wine was made from a blend of 55% Cabernet Sauvignon, 39% Merlot and 6% Petit Verdot. 91 – 93 Pts
If you have any questions, or comments, please feel free to post. And remember to link to us too! Tomorrow, we are set to cover the Margaux appellation.