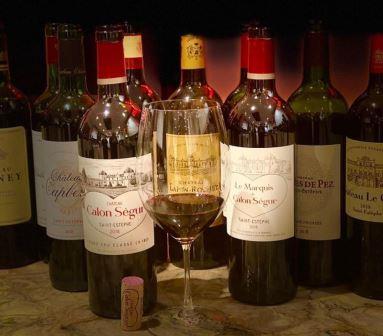 2018 St. Estephe produced great wines, from top to bottom. Just about every wine I tasted showed fabulous character from the Second Growths, to the Cru Bourgeoise to the smaller, lesser known wines.
All the wines show good, dark color, rich, opulent fruits and supple tannins. 2018 Saint Estephe is relatively forward as well so even the best wines are probably going to start showing well with just a decade of age, while the smaller wines will be enjoyable much younger than that.
How did all this happen? Cos d'Estournel Technical Director Dominique Arangoits explained it like this. "The 2018 vintage is the result of a long, wet period, followed by very dry, warm weather that lasted until the harvest. These climatic events and the often low yields helped build powerful but also very fresh wines." If you want to read details on the 2018 Bordeaux vintage 2018 Harvest Report
2018 Saint Estephe wines can be alcoholic with some hitting 14.5% alcohol, but there was no sensation of heat or jammy qualities. Instead, you have beautiful, supple characteristics with freshness and concentration that comes from low yields in the vineyard.
Herve Berland of Chateau Montrose commented on the low yields saying: "The exceptional climatic conditions – very hot and dry summer – were perfect our terroir. Here, the clay subsoil completed and the proximity to the river maintain sufficient moisture in the vineyard. When asked where he would rank the vintage, Herve was quite clear: "2018 is without any doubt for us, an outstanding vintage, very much in line, although with small yields. The vintage is at the level with some of the previous famous ones like 2009, 2003 or 1990."
Having tasted more wine than usual from the appellation, I concur with Herve on this point.
If you want to read tasting notes for other 2018 Bordeaux wines 2018 Complete Guide to All the Best Wines of the Vintage
The following 2018 St. Estephe wines were tasted non-blind in my home office in early 2021.
2018 Beau-Site – The ripeness in the fruits is apparent on the nose with its dark red pit fruit, currant, blackberry and spice filled notes. Earthy, fresh, sweet, round and fruity, with an inkling of dark chocolate in the end note, this has a lot generosity along with the right softness in the tannins. This is the best Beau-Site produced yet. Give it a few years in the cellar and it is going to be even better as it fills out, softens and loses its baby fat. 90 Pts
2018 Bernard Magrez – The sweet, ripe red fruits has a nice polish to them. Round, juicy and bright, the finish has nice staying power with plenty of fruit and a dose of cocoa in every sip. The wine blends 70% Merlot with 30% Cabernet Sauvignon. 91 Pts
2018 Calon Segur – Deeply colored, everything here is intense starting with the perfume. The nose rocks with its espresso, boysenberry, blackberry, spice, tobacco leaf, thyme and cocoa. Full-bodied, powerful, dense and intense, the wine lingers for over 50 seconds on your palate, which is a good thing, because you want to hold on to all those, creamy, opulent, voluptuous, ripe, sweet, pure fruits for as long as possible. The wine was produced from 65% Cabernet Sauvignon, 17% Merlot, 15% Cabernet Franc and 3% Petit Verdot, 14.9% ABV, with no touch of heat. 98 Pts
2018 Capbern – Forest floor, tobacco leaf, wet earth, coffee bean, smoke, thyme and red currants open the wine. Medium-bodied, juicy, forward, bright and fresh, with a nice tangy note in the red currant finish, this is one of the better values in Left Bank Bordeaux today. 92 Pts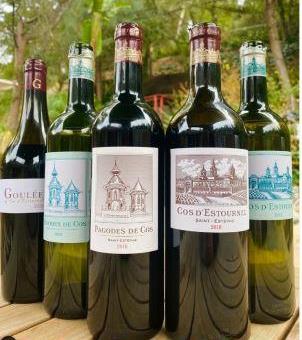 2018 Cos dEstournel – Just a stunning bottle of wine, everything is rocking here. Deep and dark in color, the nose pops with flowers, licorice, 5 spice, currants, blackberries, orange rind, smoke and cigar wrapper. Full-bodied, elegant, long, deep, rich and pure, the vibrancy in the fruit keeps the seemingly-endless, expansive finish on the tip of your palate. Blended from 74% Cabernet Sauvignon, 23% Merlot, 2% Cabernet Franc and 1% Petit Verdot, the wine comes in at 14.5%. Much less wine was made this year as yields were only 30 hectoliters per hectare. 98 Pts
2018 Les Pagodes de Cos – Spicy red fruits, smoke, licorice, black plums and wet earth come to the perfume with ease. Silky, fresh, soft and sweet on the palate, the wine is just great. The red berry finish lingers along with spice-box and a hint of mint. This second wine could easily be a Grand Cru Classe' if another classification were to take place. Drink this young while waiting for the Grand Vin to develop. 94 Pts
2018 – Cos d'Estournel Blanc-Bordeaux – Fresh squeezed grapefruit, lemon peel, flowers, crushed rock and a sprinkle of vanilla smell just great. The wine is rich, creamy, fresh, juicy and crisp, with a blast of sweet lemon, vanilla, lime and green apple all blending perfectly together on your palate. 95 Pts
2018 Les Pagodes de Cos Blanc – Forward, fresh, fruity with sweet yellow citrus, orange rind and the perfect touch of honey to sweeten up the lush, juicy finish. This is fully ready to go. 91 Pts
2018 Cos Labory – Medium bodied, fresh, bright, lifted red fruits, spice and earth pop up in the nose easily. The wine has energy, elegance and loads of red currants, red plums and herbs on the palate. The finish delivers more of those gorgeous red, sweet, chewy fruits. This is a big step up from previous vintages. I am liking it a lot! 92 Pts
2018 de Come – Medium-bodied, with cedar, tobacco leaf and red berries all wrapped nicely in a chewy, medium-bodied, leafy, tobacco and currant finish. 89 Pts
2018 de Pez – Wet earth, spice box, tobacco, cedar and currants create the nose. On the palate, the wine is round, lush and fresh. Soft, with ample sweet, dark red fruits and a peppery kick in the back end, give this 4-6 years in the cellar before it is fully ready to go. The wine blends 49% Cabernet Sauvignon, 49% Merlot, 1% Cabernet Franc and 1% Petit Verdot. 93 Pts
2018 Haut Marbuzet – Flowers, espresso, smoke, tobacco leaf, barbecue and black cherries create the aromatic qualities. The wine is rich, round, supple and fruity, with hints of vanilla overtones that ride along perfectly with all the ripe, red berries. This is the best vintage of Haut Marbuzet I have tasted in years. 92 Pts
2018 Haut-Beausejour – Cherries, tobacco, espresso and sweet red fruits from start to finish are found here. Soft, silky, medium-bodied, fresh and charming, this is ready to go. 90 Pts
2018 La Croix St. Estephe – Medium-bodied, firm, fresh, bright, red berry oriented wine with tobacco, cedar, leaf and piquant currants on the nose and classic palate. 89 Pts
2018 La Haye – Medium-bodied, accessible, early-drinking, soft, fruity, red pit fruit filled charmer with a minty character in gentle, open finish. 90 Pts
2018 Laffitte-Carcasset – A good jolt of bright, fresh, sweet red currants, cedar and tobacco leaf create the core of this chewy, full-bodied, fruit filled wine. Perhaps not the most complex wine out there, but it is hard to find a better Cabernet Sauvignon based, character-filled wine for the money. 91 Pts
2018 Lafon Rochet – Espresso, flowers, cocoa, tobacco leaf, wet earth and red pit fruit aromas are all over the place. The wine is rich, round, juicy and loaded with sweet, lifted red fruits. The tannins are soft, the freshness provides the right amount of lift and you find intriguing notes of spice and spearmint in the finish. Give it a just a few years to soften and develop additional nuances and enjoy it over the following 2 decades or more. The wine was made from blending 64% Cabernet Sauvignon, 26% Merlot, 6% Petit Verdot and 4% Cabernet Franc. 94 Pts
2018 Le Boscq St. Estephe – Full-bodied, with layers of sweet, ripe, dark red fruits, round tannins, cedar, spice, coffee bean and earth all come together nicely. Rich, fruity and packed with ample, spicy, dark red berries and a supple textured finish. Give this at least 5 years in the cellar before pulling a cork. 92 Pts
2018 Le Crock – Chewy, fresh, bright, sweet, earthy red pit fruits and tobacco leaf show with little effort on the nose. On the palate the wine is round, juicy, sweet and fruit and a nice spicy endnote that delivers blackberry and currants. Give this just a year or two and enjoy it over the next 12-15 years. Value seekers should be all over this one. 92 Pts
2018 Le Marquis de Calon Segur – Much better in bottle than in barrel, it is hard to believe this is a second wine. The spice, smoke, tobacco leaf and red fruit nose pops with ease. But it is the palate that steals the show with all its supple, lush, fresh, juicy, vibrant, pure red fruits. The wine blends 53% Merlot and 47% Cabernet Sauvignon is Classified Growth in quality. 93 Pts
2018 Lilian Ladouys – Full-bodied, spicy, smoky and floral with layers of tobacco and black currants. Full-bodied, round, lush and loaded with sweet, juicy red and black fruits, give it time to come around, at least 6 years or so. The wine was produced using 59% Cabernet Sauvignon, 37% Merlot and 4% Petit Verdot. 93 Pts
2018 Martin – Medium-bodied, straight -forward, some, easy going, red berry filled wine that will be easy to enjoy on release. 86 Pts
2018 Meyney – Smoke, espresso, spice box, black cherry, tobacco and blackberries create the perfume. Round, rich, lush, supple textured red fruits taste and feel great on the palate and in the finish. This is so good now and it is only going to get better from here as it should offer up to 2 decades of pleasure. Fans of Meyney should be all over this. The wine was made from blending 42% Cabernet Sauvignon, 40% Merlot and 18% Petit Verdot. 94 Pts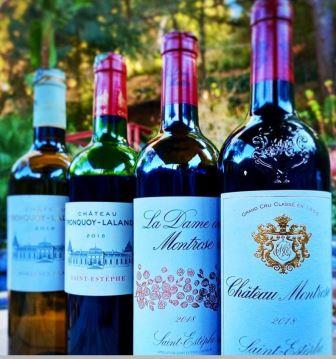 2018 Montrosee – Inky in color, the wine is opaque. On the nose, spice box, smoke, espresso, roasted black and red fruits, flowers and 5 spice come through. On the palate the wine is intense, full-bodied, rich, dense, opulent, sweet, fresh, long and concentrated. The depth of flavor is impressive. Black and red fruits build and expand. The tannins are ripe, round and refined. With a depth of flavor, a flamboyant character and a non stop finish, this is a rockstar in the making. The wine was made from blending 72% Cabernet Sauvignon, 20% Merlot, 6% Cabernet Franc and 2% Petit Verdot, 14.5% ABV. 99 Pts
2018 Montrose La-Dame-de-Montrose – Bearing a resemblance, albeit smaller in stature, this is going to drink great on release, though it will improve with some age. Medium/full-bodied with sweet, ripe red fruits and spice, the wine is juicy, fresh, sweet, round and ripe. This is quite classy, especially when you consider it is only a second wine. Enjoy this while waiting for the Grand Vin to develop. 93 Pts
2018 Ormes-de-Pez – Peppery red fruits, tobacco leaf, cedar and red currants get your attention. From there the mediu8m-bodied waves of ripe, juicy, crisp berries on the palate with their spicy overtone seals the deal. Give this classically styled wine 4-5 years in the cellar and enjoy it over the following 2 decades. 91 Pts
2018 Petit-Bocq – With a peppery accent to the red fruited nose, the wine is medium/full-bodied, round, and with a gorgeous sweetness to the red fruits, hints of herbs, tobacco leaf, cigar box and cedar in the finish. Give it 3-5 years in the cellar and enjoy it over the following 15 or more years with ease. 92 Pts
2018 Phelan Segur – Let's start off by saying this is the best vintage of Phelan Segur ever produced. The wine is ripe, lush, supple and juicy. There is volume, length and character galore to all the layers of sweet, rich, ripe, black and red fruits. There is lift, complexity and staying power in the finish. 94 Pts
2018 Tour des Termes – Dark in color, the leafy, spicy, tobacco edge to the red fruits comes through nicely. Medium/full bodied you find fresh red fruits on the mid-palate and in the crisp, juicy, bright finish. 90 Pts
2018 Tour Saint-Fort – Spice-box, wet earth, tobacco and red fruits come forward on the nose and palate, which delivers a nice jolt of medium-bodied, juicy, chewy, red fruit. 88 Pts
2018 Tronquoy Lalande – Showing good color with cigar box, dark chocolate, black cherry and smoked plums at its core, the wine is rich, ripe, round and fruity with a gorgeous earthy character that is already shining. This is a superb vintage for Tronquoy Lalande. The wine blends 51% Merlot, 44% Cabernet Sauvignon, 3% Petit Verdot and 2% Cabernet Franc, 14.5% ABV. 93 Pts
2018 Tronquoy-Lalande Blanc St. Estephe – Ripe, fresh, sweet lemons, flowers and fresh cut grass aromas waft from the glass. The creamy, bright, yellow citrus filled wine, with its hints of green apple and dab of honey is fully ready to enjoy on release. 92 Pts