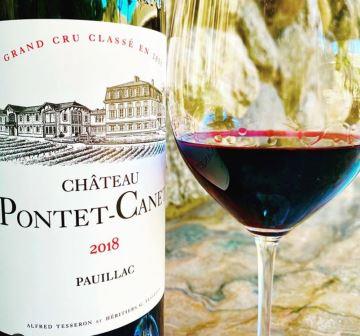 2018 Pauillac is a contender for the appellation of the vintage. The wines are flat-out extraordinary! Universally, they are deeply colored, concentrated, supple, firm, full-bodied and occasionally, ostentatious. But even with all their flair, they retain their firm, regal, Pauillac nature.
With many wines, 2018 Pauillac is a better version of 2009. It is also in the same mold as 2015 as well.
To get an idea about what to expect, imagine a better version of 2009, with all its best attributes, except with more freshness, silkier tannins and a bit more concentration. Of course not all 2018 Pauillac wines were created equal.
Jean-Rene Matignon of Chateau Pichon Baron explained the hallmarks of 2018 Pauillac, "In 2018, the character of the vintage comes through the extreme richness of the grapes as well as the precision, concentration and the accuracy of the maturity."
In short, the growing season started out extremely wet. The vineyards experienced rain almost daily until the middle of July. This rain created the rapid onset of mildew that attacked some vineyards more than others.
Chateau Pontet Canet suffered extreme crop loses, (as much as 80% of the crop was lost) due to the horrendous outbreak of mildew that was more severe due to their commitment to biodynamic farming. Alfred Tesseron said that even with their heavy losses, they are continuing to farm biodynamically.
Alfred Tesseron stated; "Despite substantial losses and a particularly testing vintage, we decided in good conscience to hold our course. There was a high price to pay. But we remained true to our values and the principles of biodynamics, which is a simple approach to winegrowing based on the natural equilibrium of the vine."
By the time summer set in, beginning in the middle of July, everything turned around and Bordeaux experienced hot, sunny, dry conditions that carried all the way through harvest time. The best wines were able to handle the water stress from the dry, summer months. The vineyards with old vines, access to water, deep gravel soils that allowed from the roots to reach water, or vineyards with more clay in the soil performed best. If you want to read details on the 2018 Bordeaux vintage 2018 Harvest Report
Nicolas Glumineau of Chateau Pichon Lalande summed 2018 Pauillac quite nicely saying "The weather conditions and our winemaking skills improving since 2016, allowed us to make the first Vintage of a promising trilogy 18-19-20."
Many vignerons agreed including Jean Charles Cazes of Chateau Lynch Bages and Chateau Haut Batailley who said that conditions at both vineyards were ideal helping to produce low yields and high quality wine. "We experienced mixed weather conditions with a mild, wet winter and spring. The summer was however, hot and dry. That created ideal conditions for grape ripening, which was made even better due to the perfect harvesting weather conditions."
2018 Pauillac wines at their best share commonalities, including concentration from low yields, small berries, and healthy maturity in the skins, seeds, stems and skins, so the wines are all dark, deep, long and intense. The wines can be alcoholic, but there is no heat, or overripe sensations. Do not let the numbers on a label dissuade you. These wines are stunning examples of Pauillac at its best!
If you want to read tasting notes for other 2018 Bordeaux wines 2018 Complete Guide to All the Best Wines of the Vintage
The following 2018 Pauillac wines were tasted in non-blind conditions at my home office in early 2021.
2018 – Batailley – Chewy, crisp, fresh and lively in character, the wine is packed with herbs, tobacco leaf, dark currants, espresso and cedar. More savory than sweet, with a noticeable, classic crunchy character on the palate, the finish really lingers. Nearly forward in style, this is a charming Pauillac that will age for at least 2-3 decades with little effort. 94 Pts
2018 – Clerc Milon – This is clearly a new level of quality for Clerc Milon. The wine opens with a touch of smoke, crushed rock, violets, crème de cassis and spice. Elegant, soft, refined and fresh, the fruit feels just great on your palate with the perfect amount of vibrancy, giving you lift and more than ample fruit offering you length. From a blend of 60% Cabernet Sauvignon, 27% Merlot, 9% Cabernet Franc, 3% Petit Verdot and 1% old vine Carmenere, the wine is 14.15%. Clearly, this is the best vintage ever produced at Clerc Milon. 95 Pts
2018 – Clerc Milon Pastourelle de Clerc Milon – Forward, elegant, soft and already quite approachable, this delicious wine is fully ready to go with all its sweet, fresh, ripe red fruits, tobacco, forest leaf and floral notes. This is perfect for ordering in a restaurant as it does not require decanting. 90 Pts
2018 – dArmailhac – The darkest vintage of d'Armailhac I have ever seen, from the first swirl and sniff, you know it's a new level for this chateau. On the nose you find smoke, tobacco leaf, blackberries, plums, wet earth and thyme. On the palate, the wine is lush, round and deep with layers of sweet, dark, ripe fruits, soft, round tannins, herbs, pepper, dark chocolate, spice and a blast of black and dark red fruits in the finish. Give this a decade in the cellar and it will really start strutting its stuff. The wine is a blend of 55% Cabernet Sauvignon, 30% Merlot, 10% Cabernet Franc and 5% Petit Verdot. 94 Pts
2018 – Duhart-Milon – Deep garnet in color, the wine offers spice, smoke, currants, tobacco leaf and cedar on the nose. With more depth than usual, the wine is round, lush, sweet and fresh, with lusciously textured red fruits in the silky finish. Give it about 5 years in the cellar as this will drink well early. Clearly this is a new era for Duhart Milon. The wine blends 65% Cabernet Sauvignon and 35% Merlot, 14.5% ABV. 95 Pts
2018 – Fonbadet – Flowers, smoke, licorice, thyme, tobacco and red fruits are readily available. Full-bodied, with layers of ripe, juicy, sweet cassis, cigar wrapper and cedar, round tannins and a juicy finish. 92 Pts
2018 – Grand Puy Ducasse – Dark in color, the wine is paced with ripe black currants, espresso, smoke, tobacco, vanilla and blackberry. On the palate the wine is sweet, fresh, juicy, crisp and chewy, with a blast of black and red fruits, herbs and cocoa in the finish. This is a wine to lay down for at least 7-8 years to insure an even better experience. The wine is made from blending 52% Cabernet Sauvignon with 48% Merlot. 93 Pts
2018 – Haut Bages Liberal – Medium/full-bodied, bright, lifted layers of sweet, juicy red currants pop up on the nose along with tobacco, cedar, cigar box and a light hint of oak. There is a brightness to the fruit in the mouth, chewy tannins and a crispness to the red berries that carries through from start to finish. 93 Pts
2018 – Haut Bages Liberal La Chapelle de – Pretty core of red fruits in a forward, easy to like open, accessible style that could be enjoyed for lunch is a simple cafe. 87 Pts
2018 – Haut Batailley – Dark, big and bold, with layers of crisp Cabernet Sauvignon character, you also find bitter chocolate, espresso, cigar wrapper and herbs. Full-bodied, tannic and concentrated, the wine is rich, juicy, chewy and long. The finish serves up ample waves of sweet and tart red berries, cocoa, peppery spice and herbs. The wine was made from blending 59% Cabernet Sauvignon and 41% Merlot, 14.3% ABV 94 Pts
2018 – Haut-Bages Monpelou – Crisp, chewy, ripe, juicy, with tobacco leaf, cedar and red currants on the nose and classically styled palate. This is probably the finest Haut-Bages Monpelou ever produced. 90 Pts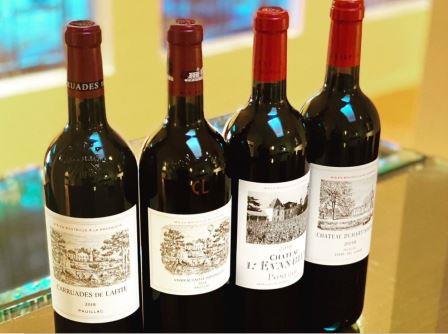 2018 – Lafite Rothschild – Compelling in every sense of the word, you know you're in for something special just from the depth of color. From there you experience a cornucopia of aromatics meshing tobacco leaf, cigar box, cedar chest, red currants, cherries, red plums, 5 spice, flowers and earthy scents. Rich yet incredibly refined, the wine offers incredibly silky textures, a beautiful purity to the fruit and a seamless finish that exceeds 60 seconds. Produced from a blend of 91% Cabernet Sauvignon, 8.5% Merlot and .5% Petit Verdot,13.3% ABV. 99 Pts
2018 – Lafite Rothschild Carruades de Lafite – Even with all the Merlot in the blend, there is a clear family resemblance with this baby Lafite. Soft, elegant and refined, texturally the wine is pure silk. There is good energy and purity to the fruit with loads of sweet, fresh, ripe cherries and kirsch in the finish. The wine was made from blending 56.5% Cabernet Sauvignon, 38% Merlot and 5.5% Cabernet Franc. 93 Pts
2018 – Lynch Bages – Deep and dark in color, the wine exudes crème de cassis, blackberry, black cherry liqueur, BBQ smoke, Cuban cigars and a background note of roses. On the palate, you find richness, round, juicy, multi-layered essences of rocks, stones, earth and lusciously textured, ripe, succulent fruits. The wine liberally coats your palate with layer after layer of sweet berries that hang with you for at least 50 seconds. With a decade of aging this will clearly be one of the top vintages of Lynch Bages ever produced! And considering their crack record, that is really saying something. The wine blends 72% Cabernet Sauvignon, 19% Merlot, 6% Cabernet Franc and 3% Petit Verdot, 14.1 ABV. 97 Pts
2018 – Lynch-Moussas – Herbs, tobacco leaf, currants, cedar and spice aromas are the right place to start. On the palate, the fruit is fresh, lively and vibrant, with a chewy, crisp, tangy, juicy character that holds true to the finish. The wine blends 72% Cabernet Sauvignon and 28% Merlot. 92 Pts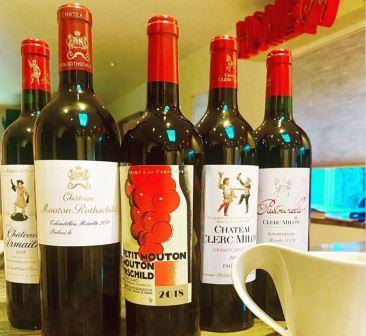 2018 – Mouton Rothschild – Dark red ink in color, the wine exudes Asian spice, espresso, smoke, cigar box, walnuts, cocoa, blackberry and red currant aromas. If you can pull yourself away from seeking additional nuances in the perfume, the wine hits your palate with waves of sensuous, decadent, velvety, dark red fruits and spice that clock in at over 60 seconds. Think of 2018 as a better version of 2009, with more concentration, silkier tannins, additional levels of purity and opulence. Even with all this voluptuousness, the wine is energetic and intense. The blend comes from 86% Cabernet Sauvignon, 12% Merlot and 2% Cabernet Franc, 13.8% alcohol. 100 Pts
2018 – Mouton Rothschild Petit Mouton de Mouton Rothschild – Is Le Petit Mouton the best second wine from Bordeaux today? After tasting the 2018, it is a distinct possibility. Dark in color, the nose jumps with 5 spice, currants, smoke, blackberries and light oak aromas. Silky, lush and polished with layers of sweet, ripe, fresh, round red fruits that build and linger. Disarmingly easy to taste, this has the ability to age for at least two decades. Blended using 56% Cabernet Sauvignon, 40% Merlot and 4% Cabernet Franc, reaching 14% alcohol, part of the reason the wine feels so rich that for the first time, the wine was aged in 100% new, French oak barrels, instead of closer to 50%. 95 Pts
2018 – Pauillac – Lush, fruity, round, and juicy with layers of sweet cassis, tobacco, cedar, espresso and smoke are all over the place. The wine has good concentrated, depth of flavor, soft tannins and a juicy finish. 93 Pts
2018 – Pedesclaux – The savory nose comes alive with mint, cigar box, tobacco leaf, espresso, cedar, crème de cassis and blackberries. The wine is medium-full-bodied, soft, fresh, chewy, vibrant with a kick of dark cocoa, espresso, earth, spice and currants in the finish. The wine blends 64% Cabernet Sauvignon, 27% Merlot, 5% Cabernet Franc and 4% Petit Verdot. Clearly, they continue upping their game at Pedesclaux. 93 Pts
2018 – Pibran – A solid candidate for the best vintage of Pibran ever produced, the ripeness of the vintage really shines here. This is all about the medium-bodied, round, soft, juicy, red cherries and cassis on the palate that is already so easy to enjoy, even at this young stage. Though, a bit of patience will add even more to this well-priced, charm-filled Pauillac. 91 Pts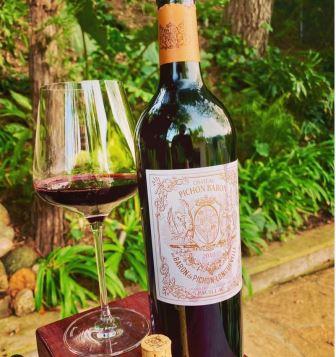 2018 – Pichon Longueville Baron – Incredibly dark in color, the wine pops with Cuban cigar, cedar, herbs, tobacco leaf, red and black currants, forest floor and peppery spice box aromas. This could be the most concentrated, powerful vintage of Pichon Baron ever produced. The wine is very concentrated, full and deep. Yet, with all this depth of flavor, everything remains perfectly balanced. The tannins are ripe. Full-bodied and lush on the palate, with layers of sweet, ripe, dark red fruits in the finish, the wine really sticks with you. Jean-Rene Matignon feels this is his best vintage. I am not sure I agree. But if it is not, it is damn close to it! The wine blends 78% Cabernet Sauvignon and 22% Merlot. Due to its immense power, this is the only vintage of Pichon Baron aged in 100% new oak, however, the oak is already fully integrated into the wine. 98 Pts
2018 – Pichon Baron Les Griffons de Pichon Baron – Cigar box, dark red and black fruits, hints of bitter chocolate and tobacco leaf fill the perfume. On the palate, the wine is full-bodied with depth and richness, finishing with round textures, soft, ripe tannins, loads of sweet, ripe, dark red fruits, freshness and another nice bite of Cabernet in the endnote. 93 Pts
2018 – Pichon Baron Les Tourelles de Longueville – This is definitely a mini version of the Grand Vin. With 2018, you find a forward blast of sweet, ripe, juicy currants, freshness, herbs and tobacco leaf on the nose and on the silky palate. Already easy and enjoyable to drink, the sweetness of the fruits in the elegantly textured finish makes you want to take sip after sip. This is an outstanding second wine that bears tasting. 92 Pts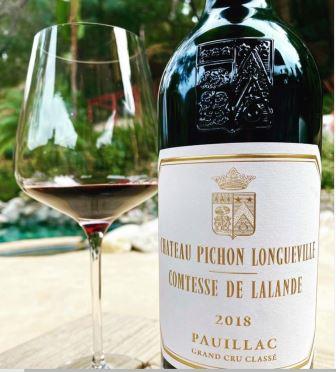 2018 – Pichon Lalande – With a remarkable depth of color, the wine opens from the glass with touches of espresso, smoke, tobacco, flowers, spice and an array of red and black fruits. Full-bodied, richly textured, opulent, velvety and silken, the wine is off the charts with its decadent sex-appeal. This is a modern day version of the legendary 1982 that will easily age for 3-4 decades without fear. Give it at least 10 years in the cellar before pulling a cork. Bravo to the team of Nicolas Glumineau for producing this incredible wine! 99 Pts
2018 – Pichon Comtesse Reserve – Medium-bodied, elegant, refined, soft and silky, the wine shows off its sleek red fruits the moment it leaves the glass and graces your palate. Purity and elegance, in a forward style, this is a gorgeous, well-priced Pauillac that can be enjoyed for at least a decade or more, while waiting for the Grand Vin to develop. 93 Pts
2018 – Pontet Canet – Completely opaque, with a dark, purple sheen, the wine pops with blackberry, crème de cassis, smoke, graphite, licorice, spice and just a tinge of vanilla in the background. Viscous, concentrated, fresh, round, lush and layered with crushed stones and fresh squeezed blackberries, the creamy, plush finish lingers, enticing you to take another sip. This sublime vintage of Pontet Canet needs at least 12 years or more in the cellar and it should deliver the goods for at least another 2-3 decades after that. Not much of this gem is going to be available as yields were close to 25% of their normal production due to extremely difficult climatic conditions. 98 Pts
2018 – Tour Sieujean – Cassis and cranberry are at core of this medium-bodied, crunchy, crisp, bright, chewy, classically styled wine. 88 Pts