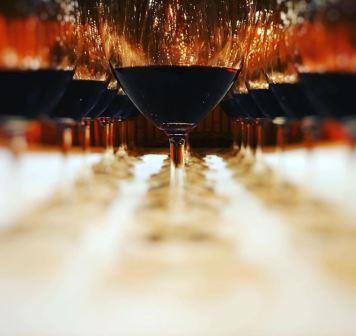 2016 Bordeaux Report with tasting notes, ratings and reviews for the top 600 wines of the vintage along with a summary of our harvest report and a buying guide
2016 Bordeaux will be tasted, rated and discussed for decades. It will be natural to compare 2016 Bordeaux with the 2 previous vintages. There are wines in 2014 that are better than 2016 Bordeaux. There are chateau that made better wine in 2015 than in 2016 as well.
There are also 2016 Bordeaux wines that compete in quality with the best wines from 2010, 2009 and 2005. But none of that can take away from the obvious high level of quality found in the 2016 Bordeaux vintage. The sheer amount of potential 100 Pt. wines in this vintage is astounding!
I tasted 18 wines that might hit the exalted, triple digit mark once they are bottled. And with bottle age, there could be more contenders for perfection. But there is more to 2016 Bordeaux than that. Dozens of small producers made delicious wine that will sell for in the $20-$40 range. Those wines are made in large quantities and they should be easy to find on release.
In April, as I do every year, over a 3 week period, I tasted over 600 different barrel samples. All of my 2016 Bordeaux tasting notes were based on wines tasted at either chateaux, negociants, consultants or scattered trade tastings
To find out which are the best 2016 Bordeaux wines, you can read my tasting notes, with when possible, information on the blends, alcohol levels and other details by clicking on any of the following links, which are organized by appellations traveling from north to south, to resemble the approximate order the wines were tasted in. You can also use the search functions to look up individual wines as well.
2016 Bordeaux Tasting Notes, Ratings, Reviews and Scores for the 600 best wines of the vintage.
2016 Saint Estephe Wine Guide The 2016 vintage is frankly, perfect, or at least as close to perfect as you are going to get in the Northern Medoc. The wines are rich, intense, ripe, fresh, powerful, yet elegant.
They are long in the mouth and will age for decades. You have a few estates here that produced the best wines in the history of the chateau too! Yes, 2014 produced some very good wine, and at a fair price, but the level of quality in 2016 blows those wines away. You will see more of this as the wines age and evolve.
2016 Pauillac Wine Guide The Cabernet Sauvignon reached levels of quality that just a decade ago might not have been possible.
2016 Pauillac wines are off the charts! The wines have everything you could want in a Bordeaux. They are character driven, ripe, fresh, sweet, long and complex. The fruit tastes as good as it feels! Everyone in Pauillac produced great wine!
2016 Saint Julien Wine Guide Once again, with the 2016 vintage, the wines of St. Julien are stellar. Not as deep or as regal as Pauillac, but here, you find the balance between power and elegance that you want from St. Julien.
A few estates turned out the best wines ever made at their estate! These are exciting wines. However, there is competition from 2015, as some properties made better wine the year before, and they are priced a little bit less too.
2016 Margaux Wine Guide With very few exceptions, 2015 is a better vintage for the Margaux appellation.
2015 was perfect here and that is not possible two years in a row. But 2016 Margaux are still show stoppers! The wines have more structure, precision ad perhaps purity, but they will not show the same, opulent character as they did in the previous vintage.
2016 Pessac Leognan and Graves Wine Guide 2016 Pessac Leognan and Graves is a bit of a mixed bag. There are vineyards that knocked it out of the park with 2016, while others struggled with the drought conditions.
By a hair, perhaps 2015 is a better vintage across the board. But there are high points with 2016 that are impossible to beat. That is for the red wines. For the white wines, 2015 and 2014 are both better vintages than what you find with 2016 Pessac Leognan.
2016 Haut Medoc, Listrac, Moulis and Medoc Wine Guide This report covers a massive area with a wide, diverese range of terroirs. Suffice to say, the wines here are mixed, with some properties, especially in the far north making very good wine.
The vineyards located in the southern part of the Medoc were as a general rule, not quite as successful. That being said, there are some very good wines that sell at extremely, consumer friendly prices from the Medoc, Haut Medoc, Moulis and LIstrac appellations in 2016. 2015 is also quite strong here, and 2014 is not far behind and both those vintages sell for in most cases, less money than the 2016.
2016 Saint Emilion Wine Guide There are several wines in St. Emilion that rival, and in some cases even excel over 2015.
But generally speaking, and we all know how little generalities mean, most 2015 Saint Emilion wines are just a bit better. They are richer, more opulent and exptic, with higher alcohol levels, but I love them! Back to those generalities for a moment, there are also estates in St. Emilion that made the best wines ever produced at their respective chateau!
2016 Pomerol Wine Guide Personally, there are very few 2016 Pomerol wines that were not better in 2015. 2015 is a picture perfect, Pomerol vintage. The wines are pure bottled decadence. With 2016 Pomerol, the wines are lower in alcohol. They lack the pure decadence found in 2016 and instead are more precise, and structured, which will allow them to age better as well.
2016 Value Bordeaux Wine, Petit Chateau Guide Great vintages are not just about the expensive wines. A top quality vintage also produces wine at all price levels. 2016 Bordeaux did just that!
There are numerous value wines this year from the Cru Bourgeois of the Left Bank to the numerous Right Bank satellite regions, the Cotes de Bordeaux, Cotes de Castillon, Fronsac and other value priced regions These wines are delicious, show well young and will offer great drinking for years, if not decades, depending on the vintage.
2016 White Bordeaux Wine Guide 2016 White Bordeaux wine from Pessac Leognan, Graves, AOC Bordeaux and other appellations are covered here. While lacking some of the freshness found in recent, high-quality vintages, there is still a lot to like here as the wines offer concentration, ripe fruits and good sweetness. But 2015 and 2014 was more successful in both previous vintages.
2016 Sauternes and Barsac Wine Guide Similar to what took palce with the dry, white Bordeaux wines, 2016 is bested by 2015 and 2014. The sweet white Bordeaux wines are good, but they lack the same level of acidity and botrytis found in those years.
2016 Bordeaux is, as you have, or will read, an outstanding vintage. It is going to go down as one of the better vintages in history. But it does not have the same level consistency and depth you taste in 2009 Bordeaux wines.
There are some appellations over others that Bacchus clearly favored. The Left Bank, especially in the northern Medoc excelled. The Cabernet Sauvignon dominated wines are surreal. But, there are also numerous Right Bank vineyards that also made great wine. Merlot and Cabernet Franc were both successful, depending on the terroir, and its ability to retain water during the dry summer months.
Most 2016 Bordeaux wines share common character traits. All the wines show an incredible depth of color. The wines are inky, dark, and often opaque, with rich purple accents. Aromatically, they are complex, fresh and display a lot of sweet fruits.
There is a precision to the wines and a purity to the fruit. Because the wines are lower in alcohol than 2010 and 2009, they are never jammy. They remain fresh. But it is important to note that many 2016 Bordeaux wines are tannic and will not be fun to drink in their youth. They will demand time in the cellar. That is short version for the red wines.
2016 white Bordeaux wine is not as successful. The wines are made from sweet, ripe fruits. They are aromatic, but there is s lack of acidity in many wines this year. The sweet wines of Sauternes and Barsac are good, but not great. The wines are just a bit less interesting than you want, due to the lack of freshness.
So, how is that 2016 Bordeaux campaign going anyway? You have strikes, strikeouts, hits, misses and a few home runs. Today, consumers are gun shy about buying wine 2 years in advance, without a reasonable opportunity to profit from their risk. They are aware that few wines since the 2010 vintage have moved up in price since they were offered as futures.
They also know that several wines are available for less money than they were first priced at. The opportunity to purchase back vintages for the same or less money is also an appealing alternative. Chateau that normally sell the majority of their on offering have held back percentages of their stock. Plus, 2016 was a strange campaign, lacking the order found in most years. You had a few estates out early, not waiting for any critics scores.
The devastating frost of 2017, which really slammed St. Emilion and Pomerol, as well as properties in the Medoc and Sauternes brought everything to a grinding halt. 2017 Bordeaux Frost Report If that wasn't enough, instead of waiting for the campaign to climax, you had releases from the First Growths, in the middle of the campaign. There were days with a few releases and other days when it felt like an onslaught of wines coming at you. And then there are the prices to consider.
I understand the pricing from both sides of the table. However, first and foremost, I am a consumer, just like you. I like buying wine, cellaring it and waiting for that magic moment when I pop that cork. But I also want to be a savvy wine buyer.
The chateau are in business and want to sell for as much as the market will bear. Consumers want to spend as little money as possible. The quality is there with 2016 Bordeaux. The wines are really fabulous. But for many brands, the need for the marketplace to buy these wines as a future is not there.
The prices asked for most wines are in my opinion, reasonable, for wines at that level of quality. But why spend your money two years in advance? To paraphrase that Shakespeare guy, that is the question. Plus, regardless of how many writers, tasters, critics, bloggers etc., there are, without Robert Parker, it is very difficult to generate that level of excitement to buy early. Futures as a business model in today's world are becoming a thing of the past.
Chateau that priced their wines close to their 2015 level, which left room for the consumer to feel good about spending their money, sold through. Estates that took 15%, 20% or higher price hikes were not successful for most releases, even with better scores.
In part, the wealth of information available to consumers, letting them know everything about the wine, the price it sold for in previous vintages and pricing for back vintages at the push of a button. Consumers are better educated today. Still, the game is, make a better wine, charge more money.
The chateaux that managed to produce wines above their previous level of quality were able to charge more. And those wines are worth it. But there is a glass ceiling for the ability to increase prices into the double digit territory. Yes, it is a difficult time for wine merchants to sell En Primeur.
As you probably know by now, 2016 Bordeaux was a nice surprise to the growers and vignerons. Due to the record setting amount of rain that drenched Bordeaux until June, people were not expecting this to be a good, let alone great vintage, but things turned around by the start of the summer.
From that point on, Bordeaux was warm, sunny and extremely dry. In fact, the drought conditions were so bad, everyone was sitting on pins and needles thinking the vines were becoming too stressed. But the late September rains hit at the perfect moment, saving the day. The remainder of the growing season and harvest took place under picture perfect conditions.
If you are interested in reading a detailed summary about what took place during the growing season and harvest that helped shape the 2016 Bordeaux vintage, please see: Complete 2015 Bordeaux Growing Season and Harvest Report