If Pomerol at its best produces hedonistic wines,  2009 Pomerol decadence is the right descriptor.  The wines are luscious, opulent and at the top levels, decadent. But there is ample freshness to give them lift, structure to age, concentration and a purity of fruit that is only found in the world's best wines.  The wines are high in alcohol. Many exceed 14% and some are over 15%. But there is no sensation heat.
Many of the wines are expensive. No, make that very expensive. But the quality, coupled with a uniqueness of style is there. If Caligula was a wine lover, his cellar would be stocked with 2009 Pomerol.  The wines are that crazy.
.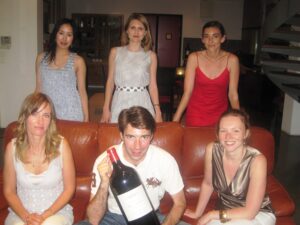 2009 Clos du Clocher is medium bodied and opens with dark plums, black cherry and bitter chocolate.  This should show well young. 88-90 Pts
2009 Clos L'Eglise, from vineyards located next to the chateau on the break in Pomerol plateau, the terroir consists of argile clay, with gravel and iron deposits. With a pungent nose filled with fresh blackberry, plum liqueur, violets, espresso, chocolate fudge and dark cherry aromas, the wine is a pleasure to sniff.  With intensity of flavors, this opulently textured Bordeaux wine coats your palate, ending in waves of flamboyantly textured, chocolate covered juicy plums.  96-98 Pts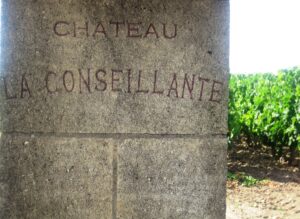 2009 La Conseillante from 81% Merlot, 19% Cabernet Franc, with its ruby color is never the deepest colored Pomerol.  In the nose, floral, spice, fennel, oak and ripe, plums and dark berries.  There is intense freshness in the mouth, accompanied by a long pure, sweet black cherry and licorice flavored finish. This Bordeaux wine comes in at 14.2% alcohol, but there is not sensation of heat.  96/97 Pts 
2009 La Croix St. Georges produced from 80% Merlot and 20% Cabernet Franc is aged in 60% new, cigar shaped, oak  This shows earth, licorice, floral, oak and black raspberry aromas. Full bodied, with ripe black fruit and some oak in the finish.    89-92 Pts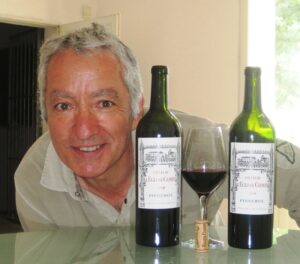 2009 L'Eglise Clinet is inky, black with hints of purple.  With pungent aromatics of flowers, blackberry liqueur, oak, earth, coffee and spice, this Bordeaux wine fills your mouth with incredible levels of concentration and intensity. Flashy, flamboyant and fat, this serious wine ends with ample freshness, licorice, chocolate, boysenberry and coco.  97-100 Pts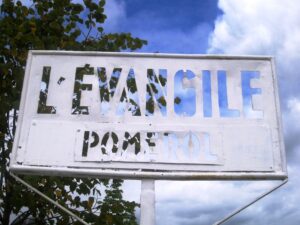 2009 L'Evangile clocks in at 14.6% alcohol!  But there is no sensation of heat found in this 95% Merlot, 5% Cabernet Franc based wine.  Inky in color, the wine opens with scents of a fresh flower market, plum liqueur, chocolate and pure, blackberry jam.  On the palate, this is dense, rich, concentrated, fleshy and powerful.  This opulently styled Bordeaux wine from Pomerol ends with pure, fresh, chocolate covered black raspberries. Jean-Pascal Vazart prefers the 2009 over other recent vintages.  When asked to compare the styles of 05 & 09, Vazart called the 05 strict.  96-98 Pts
2009 La Fleur de Bouard expresses oak, dark berries, spice and hints of plum, topped with chocolate.  Full bodied, powerful and rich, this should offer pleasure early. 89-91 Pts
2009 La Fleur de Bouard Cuvee Gaspard is normally known as Plus.  But to celebrate the first grandchild of the de Bouards, the wine was named after Gaspard, the son of Coralie de Bouard who had the good fortune to be born in 2009.  This dark as night colored wine shows floral, black raspberry, licorice, espresso and dark chocolate aromatics.  Fleshy and full bodied in character, with silky tannins and round textures, this Bordeaux wine ends with licorice, black plum and mocha flavors. 94-96 Pts
2009 La Fleur Petrus pops from the glass with fresh ripe black and red berries, licorice, spice, mocha and chocolate. Full bodied, rich and silky with velvety tannins, this sensuous wine ends with a long, fresh finish filled with layers of fresh, black berry, dark cherry and spice flavors. While more powerful and concentrated than the 05, everything is in balance and harmony. 94-97
2009 Le Gay is deep ruby in color. Tobacco, truffles, forest floor, blackberry, boysenberry and oak in the nose. Full bodied and concentrated, silky and round, this ripe dark berry flavored wine is outstanding, but for me the reference point of the modern era remains the 2005. 93-95
2009 La Grave offers chocolate, earthy and berry aromas. Elegantly styled with dark plum and coco flavors are found in this lighter style of Pomerol. 88-90 Pts
2009 Hosanna opens with an inky purple hue. Smoke, black and blue fruit,
earth, fudge and kirsch. Powerful, full bodied and concentrated with layers of silky fruit, this decadently styled Bordeaux wine from Pomerol fills mouth, coats your teeth and palate with fresh, dense, ripe berries, chocolate and spice. The long, finish lasts close to :60 seconds. 97-98 Pts 
2009 Lafleur was produced from 47% Merlot and 53% Cabernet Franc. At 14%, this could be the highest level of alcohol recorded by the property, yet, there is no sensation of heat. With an opaque color, the wine blasts from your glass with blackberry, blueberry and kirsch, complicated by earth, spice, soil, clay, floral and minerality notes with a little truffle thrown in for good measure. In the mouth, this concentrated, velvet textured Bordeaux wine fills every nook and cranny of your palate with fresh, pure dark berries. Like all great vintages of Lafleur, this will take at least two decades before it opens up. 96-98 Pts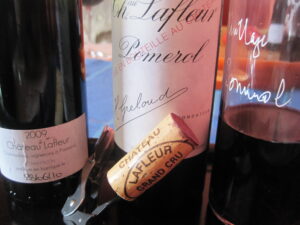 2009 Latour a' Pomerol offers a dark, ruby hue. The perfume is filled with chocolate, fresh dark berries and floral scents. With ripe tannins and opulent textures, the wine finishes with fresh, ripe dark raspberries, sweet chocolate and black cherry. 92-94 Pts
2009 Montviel is the second vintage for this property using micro-vinification. The wine kicks off with jammy berries, licorice and espresso. Round textures, but some dryness intrudes in the finish. 87/89 Pts
2009 Nenin with spicy blackberry and chocolate flavors is a powerful, structured style of Pomerol.  The dark berry, kirsch and coco finish displays a lot of brawn for Pomerol 89-91 Pts
2009 Petit Village opens with fresh, dark, plums, herbs and a touch of oak.  This round textured, medium bodied wine needs a bit more stuffing. 87-89 Pts
2009 Petrus is deep ruby with purple tints at the rim of the glass. Spice, ripe plums, blackberry and blueberries with cinnamon, clay, mint, mocha and kirsch make up the complex perfume. The wine is rich, concentrated, intense and packed with surreal levels of glycerin. This viscous, thrilling Bordeaux wine is a treat that ends with a seamless finish of spicy, intense purity, jammy cherries and chocolate. 98-100 Pts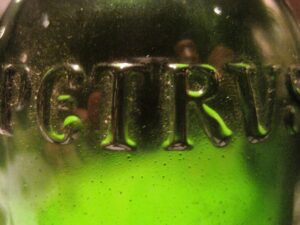 2009 Le Pin offers coconut, dark berries, black cherry and hints of citrus flowers accompanied by spice notes in the perfume.  Velvety textured, and richly concentrated, this exotic wine finishes with a blast of fresh plums. Le Pin,which is  known almost as much for their humble chateau as they are for their wine, is building a new cellar.  The small, ramshackle building is already in the process of being replaced. 95-97 Pts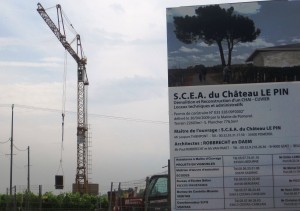 2009 La Pointe is filled with black raspberry jam with notes of cassis and coffee.  This chateau has shown marked improvements since Hubert de Bouard began consulting the property. 88-90 Pts
2009 Providence starts with ripe, jammy berries, chocolate and spicy scents. Full bodied and richly textured, this vintage lacks the excitement, complexity and length of the 05. This Bordeaux wine finishes with finishes with elegant, dark cherry and black raspberry flavors. 93-95 Pts
2009 Trotanoy sports a dark ruby color. Spice, jammy dark berries, black raspberry, truffle, plum liqueur, Valhrona chocolate, fresh flowers and licorice. This wine is packed and stacked with endless layers of silky, velvet drenched fruit. The texture offers incredible sensations of opulence, richness and cashmere. This very concentrated wine coats your palate with endless layers of perfectly ripe, intense, decadent layers of fruit, freshness, chocolate and spice. The seamless finish lasts more than sixty seconds! This amazing Bordeaux wine should be forced to carry a warning label stating. "Open when in need of extreme hedonistic pleasure"!
This is a remarkable Trotanoy. The wine offers a more complete tasting experience than the two finest modern vintages; the off charts 2008 as well as the sublime 1998. As good as those vintages are, stating this wine is makes a strong statement! 98-100 Pts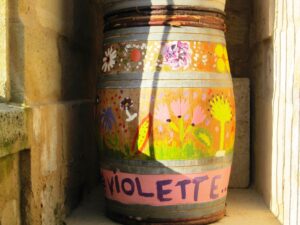 2009 La Violette starts off with chocolate, floral, boysenberry, plums, coffee and spice. This concentrated wine displays ample layers of decadent fruit, ripe, silky tannins. The wine finishes with spicy, rich, plush, sweet dark berries, licorice, fudge and spice. 94-96 Pts
2009 Vieux Chateau Certan from a blend of 84% Merlot, 8% Cabernet Sauvignon and 8% Cabernet Franc is deep, dark, ruby in color. The wine displays ripe fresh berries, flowers, chocolate, licorice and plum liqueur. This concentrated wine is packed with elegant, powerful, sweet round fruit, velvety textures and ends with a long, pure, decadently textured finish of chocolate covered plums and black cherries. It was not only one of the finest Pomerol's from 2009 I tasted, it was one of the top wines of the vintage! 97-99 Pts
During the tasting,  (Which was done by flashlight because the electricity was off, due to efforts of adding fiber optic cable to the area) Alexandre Thienpont stated without hesitation, "2009 is the best Vieux Chateau Certan of the modern era"!  He added, "The wine is similar in style to the famous 1950 and is the most concentrated vintage for the chateau since 1950 as well".  He concluded by saying, "2009 is a perfect vintage for him". It is known that some vintages at the property favor Cabernet Franc, while others are better for Merlot. 2009 is a Merlot year. This might not please all the traditionalists who prefer the large percentage of Cabernet Franc usually found in the wine.  But I loved it and purchased a case after tasting it. Regardless of a note or score, the highest compliment any taster can pay to a chateau after tasting a wine is buy it for their own cellar.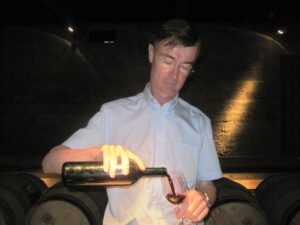 '
2009 Vray Croix de Gay is filled with fresh, ripe plums, dark chocolate and spices with soft, elegant textures. The only drawback was the slight dryness found in the finish.  88-90 Pts . 88-90 Pts
Notes on  St Emilion and other Right Bank wines will be published shortly.