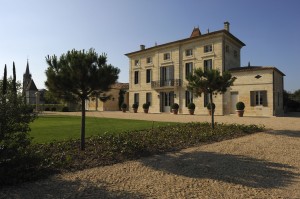 Learn everything about Providence Pomerol with wine tasting notes, and wine with food pairing tips. Learn the best vintages, a history of the property, information on the vineyards, and winemaking. If you want to read about other important, Bordeaux Chateaux: Links to all Bordeaux Wine Producer Profiles
Providence History, Overview
Providence is located in the heart of Pomerol, on the plateau. The estate has a long history in Pomerol with records dating back to at least the late 1800s. At one point in time, the wine was sold under the name of Chateau Trochaud. There are mentions of the wine under the name of La Providence as far back as 1929.
However, the modern era begins when Providence was acquired by Ets. Jean-Pierre Moueix from the Dupony family. Prior to buying all the shares of what was then known as Chateau La Providence, Christian Moueix began working with the Dupony family as far back as 2002, when he purchased his initial stake in Chateau La Providence. At the time, the wine went under the name of Chateau La Providence.
That changed with the 2005 vintage. From that vintage forward, the wine became simply known as Providence. The following year, in 2006, partial replanting of the vineyards took place. Providence started sporting a new label and logo with the 2008 vintage as well.
Things changed after the 2012 vintage, which became the estate's final vintage. From that date forward, the vines were added to Chateau La Fleur Petrus starting with the difficult 2013 vintage. From 2012 onward, the estate of Providence ceased to exist. The winery is now used to produce the wine of Chateau Hosanna, which is another Pomerol vineyard owned by Ets. Moueix.
Providence Vineyards, Terroir, Grapes, Overview
The 2.9 hectare Pomerol vineyard of Providence is planted to 90% Merlot and 10% Cabernet Franc. The terroir is clay with gravel soil. On average, the vines are close to 30 years of age. The vines of Providence are located not far from another now famous, Ets. Moueix estate, Chateau Hosanna.
Partial replanting of the vineyards took place after the initial purchase in 2006. For the harvest, two laser sorting tables have been in use since 2009. The winery uses thermoregulated concrete vats and some stainless tanks, no bleedings, malolactic in tank.
Providence is aged in barrels in between 33% and 50% new, French oak barrels for an average of about 18 months. Providence is racked 3-4 times per year and is fined using egg whites in the second winter. Production of Providence is about 1,200 cases of Bordeaux wine per year.
Providence is one of the few wines owned by Ets. Moueix with a second wine, Les Chemins de La Providence. Because production is low, the terroir is good and the quality is high, Providence was an expensive wine. However, Providence is no longer producing wine. The last vintage was made in 2012.
The best vintages of Chateau Providence 2012, 2010 and 2009.
When to Drink Providence, Anticipated Maturity, Decanting Time
Providence is a powerful wine that benefits from 1-2 hours of decanting, when young. This allows the wine to soften and open its perfume.
Older vintages might need very little decanting, just enough to remove the sediment. Providence is usually better with at least 6-8 years of bottle age. Of course, that can vary slightly, depending on the vintage character. Providence offers its best drinking and should reach peak maturity between 8-22 years of age after the vintage.
Serving Providence with the Best Wine, Food, Pairing Tips
Providence is best served at 15.5 degrees Celsius, 60 degrees Fahrenheit. The cool, almost cellar temperature gives the wine more freshness and lift.
Providence is best served with all types of classic meat dishes, veal, pork, beef, lamb, duck, game, roast chicken, roasted, braised, stewed, and grilled dishes. Providence is also good when served with Asian dishes, hearty seafood, or richly textured fish like tuna, mushrooms, pasta, and cheese.
Château La Providence Wine Tasting Notes
7 Vintages 54,307 Views Sort by Vintage-Rating
2012
Château La Providence (Pomerol)
With spicy black raspberries, vanilla and earthy notes, there is a nice concentration of fruit and freshness, but this vintage lacks personality. 90-92 Pts
5,957 Views
Tasted

Apr 26, 2013
2011
Château La Providence (Pomerol)
Earth, black cherry liqueur, forest floor, wood and floral scents open to a fresh, round, supple, ripe Pomerol filled with plush textures, ripe red berries and a long fruit-filled finish. 92-93 Pts
5,079 Views
Tasted

Apr 21, 2012
2010
Château La Providence (Pomerol)
Earth, tobacco, forest and plum scents open to a structured, tannic, fresh, powerful Pomerol wine that focuses on freshness and purity of fruit. Give it at least 5-7 years before popping a cork.
6,581 Views
Tasted

Aug 8, 2013
Providence Truffle, 5 spice, jammy black raspberry, licorice and cocoa powder aromas open to a , refined, elegant, polished Pomerol. Black cherry, chocolate, licorice and raspberry find their way to the finish which builds in intensity. 93-95 Pts
6,108 Views
Tasted

Apr 21, 2011
2009
Château La Providence (Pomerol)
The reticent aromas need coaxing before showing their earthy, floral, cigar box and plum character. On the palate, the wine is structured to age, finishing with a mouthful of fresh, black cherries.
7,135 Views
Tasted

Aug 12, 2013
2009 Providence starts with scents of jammy berries, chocolate, and spice. Full bodied and richly textured, this vintage lacks the excitement, complexity, and length of the 2005. The wine finishes with elegant dark cherry and black raspberry flavors. 93-95 Pts
7,032 Views
Tasted

Jul 27, 2010
2008
Château La Providence (Pomerol)
08 Château Providence was almost opaque. Smelling the wine reminded me of walking into a florist shop and finding chocolate dripped all over the floor, while simultaneously munching on dark, spicy berries to curb your hunger. A sexy, ripe, and lush wine with a seemingly endless, decadent finish.96-98 Pts
6,834 Views
Tasted

Jul 30, 2009
2006
Château La Providence (Pomerol)
Even though this is made from 100% Merlot, there is a firm, stoic quality to the wine. More interesting in the nose, with its truffle, black and red plum, espresso, thyme and cherry nose, than on the still masculine palate, time could help with this wine, but it will always be on the strict side of the style range for Pomerol.
3,536 Views
Tasted

Apr 25, 2016
2005
Château La Providence (Pomerol)
Already showing secondary notes of truffle, black cherry, smoke, espresso, earth and tobacco, the wine is full bodied, with a polish to the tannins, ending with a splash of earthy plum and licorice. This can age and improve for at least another 5-7 years, or more.
6,045 Views
Tasted

Apr 25, 2016