For hundreds more wine tasting notes from 2011 Bordeaux wine: 2011 Bordeaux Wine Barrel Tasting Notes
This is my first look at the wines from the 2011 Bordeaux vintage based on early 2011 Bordeaux Barrel Tasting Notes. I'm leaving for Bordeaux next week to taste several hundred of the top Bordeaux wines from both ends of the spectrum. Aside from all the top estates, as always, I'll also taste as many of small, value Bordeaux wines as possible. If you want to read detailed reports from close to 50 Bordeaux vintners on what took place during the growing season and harvest: 2011 Bordeaux Harvest Reports, News, Interviews and Photographs
While it's always fun and interesting to taste a new vintage, following on the heels of the now, legendary 2009 Bordeaux vintage and the 2010 Bordeaux vintage which is about to be bottled, coupled with very high prices, interest in 2011 will not be strong.  That's putting it mildly. That is unless Bordeaux as a region takes a massive step back in prices. To spark worldwide interest, reductions of 40% or in some cases 50% will be needed to get the ball rolling for this futures campaign.  Even with massive price reductions, interest in futures for this vintage will be at best, tepid.  With enough of a discount, consumers could end up buying the wines when they are released in bottle and hit the stores. Perhaps I'm being to easy on the lack of potential consumer demand for 2011 Bordeaux.  Robert Parker tweeted the following today; "Absolutely no interest in this vintage, if my instincts are correct".  I'm not quite sure Bob is correct.  But prices will need severe discounting to create a campaign and to help the wines sell through when they are in bottle.
.
2011 Bordeaux wine is going to be looked at as a year of selection. Due to the unusual weather patterns that offered many vintners a reverse, growing season with a warm spring and cool summer, many properties had trouble achieving phenolic ripeness. The wineries that were able to declassify the amount of fruit needed to produce the best wines possible have made fine wine. That type of sorting and the willingness to reduce yields takes money and fortitude. Not every property has that combination.
.
Alain Raynaud brought several members of his Le Cercle de Rive Droite to Los Angeles for a tasting and first look at the wines from the Right Bank of Bordeaux. This tasting allows an early view of the wines from the 2011 vintage. While this is very early in the evolution of the wine, and much can happen over the next several weeks, months and years, experienced tasters gain an idea on character and style of the 2011 Bordeaux vintage from these tastings.
.
A myriad of wineries from all over the Right Bank of Bordeaux participate. St. Emilion, Pomerol, Fronsac, Cotes de Castillon and other satellite appellations are represented. Style, character, degrees of ripeness and freshness varied from producer to producer. This is not a complete look at the vintage. It's an early glimpse at some of the wines from Bordeaux's Right Bank appellations based on 2011 Bordeaux Barrel Tasting .
.
2011 Balthus – This special 100% Merlot wine from the owner of Reignac was made from small yields of 27 hectolieters per hectare. At close to 14.5% alcohol, the wine offers fennel, floral, black cherry, spice and espresso bean scents. Soft and round, this black cherry dominated wine should drink well early. 89 – 91 Pts
.
2011 Barde Haut – Light ruby in color, with earth, floral, anise and black cherry scents, this fresh, medium bodied St. Emilion ends with bright, black raspberries. From a blend of 90% Merlot and 10% Cabernet Franc, the wine reached 13.5% alcohol. 89-91 Pts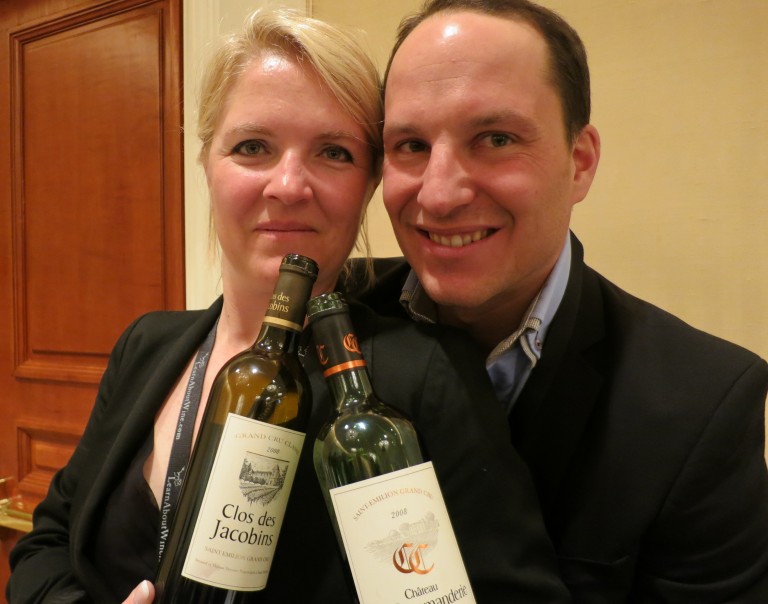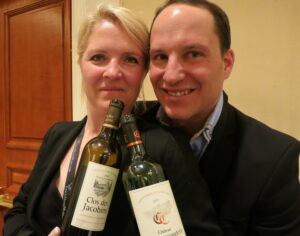 2011 Clos des Jacobins – From a blend of 75% Merlot, 23% Cabernet Franc and the rest made up of Cabernet Sauvignon, the wine opens up with black licorice, dark cherry, oak, chocolate and wet earth scents. Medium bodied, round and fresh, at 13.5% alcohol, the wine ends with coffee, licorice and black cherry. 89-92 Pts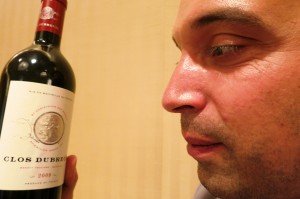 2011 Clos Dubreuil – Blending 85% Merlot and 15% Cabernet Franc produced a wine with coffee, vanilla, smoke, black and blue fruit with minerality in the aromatics. Aged in 100% new oak, this plush, tannic wine ends with a fresh, blackberry, oak and red plum finish. 90-92 Pts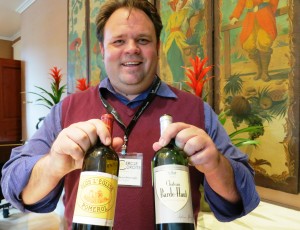 2011 Clos L'Eglise, the only Pomerol at the tasting, the wine opened with chocolate, floral, oak and boysenberry aromas. From an assemblage of 85% Merlot and 15% Cabernet Franc, at 14.2% alcohol, this tasty, flashy wine ended with fresh, cocoa and black raspberry. 90-93 Pts
.
2011 La Commanderie – Earth, stone, blackberry and raspberry aromas lead to a medium bodied, bright wine with a red berry dominated personality. 86-88 Pts
.
2011 Dalem – Fennel, earth, plums and oak scents, medium bodied, fresh, bright red and black plums are found in the finish. 87-89 Pts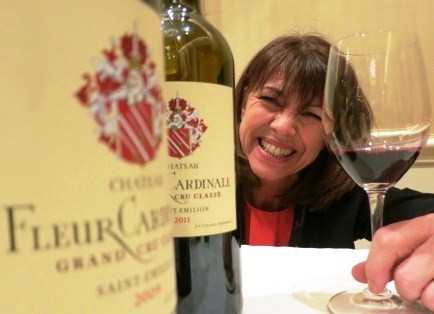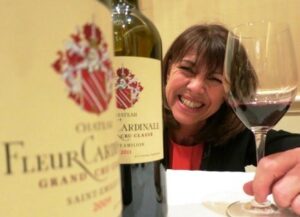 2011 Fleur Cardinale – Packed with black licorice, floral, stone, blackberry and chocolate, this blend of 70% Merlot, 20% Cabernet Franc and 10% Cabernet Sauvignon produced a lush, round, St. Emilion that ended with chocolate covered black cherries. This is a very successful wine for the vintage. 90-93 Pts
.
2011 Fombrauge – Coffee, licorice, smoke, black raspberry and truffle scents lead to a soft, medium bodied wine ending with a cocoa covered black cherry finish. 88-91 Pts
.
2011 Gaby – Oak, smoke, red and black fruits with hints of fennel, the medium bodied wine offers soft textures and should be enjoyable on release. The chateau has been increasing the percentage of Cabernet Franc to the blend which adds depth and structure. 86-88 Pts
.
2011 Grand Corbin Manuel – Spice, licorice and red berry scents, medium bodied and a fresh, bright, red berry finish. 85-88 Pts
.
2011 Haut Carles – Coffee, black pepper, dark red berries, medium bodied and a spicy, red fruit finish are found on this well-priced wine. 86-89 Pts
.
2011 Magrez Fombrauge – 70% Merlot and 30% Cabernet Franc created a wine with stone, licorice, blackberry, chocolate covered cherry and coffee notes. Flashy and fleshy, the wine finishes with a round, tannic, fresh, plum, coffee and cocoa filled finish. 91-94 Pts
.
2011 Moulin Haut Laroque – Pepper, oak, cassis, medium bodied with a fresh, spicy, blackberry finish. 87-89 Pts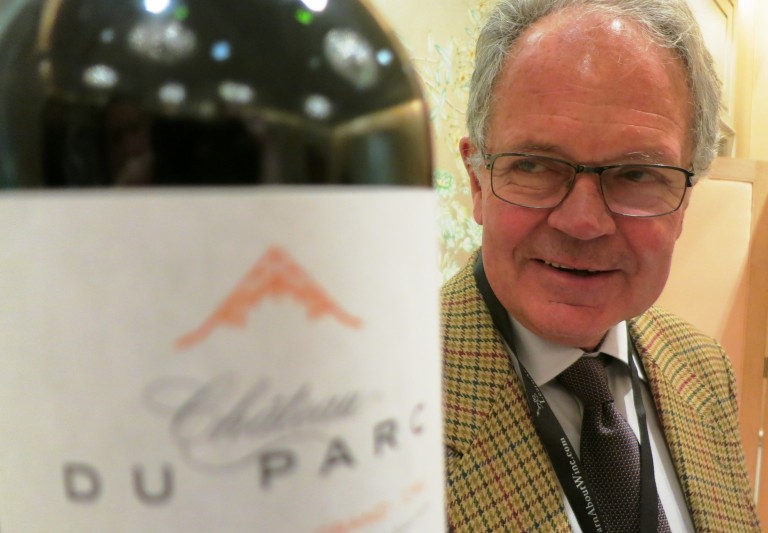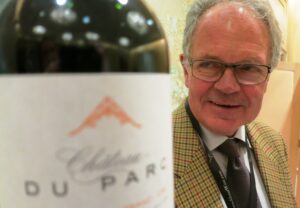 2011 du Parc – The true debut vintage for Alain Raynaud for this St. Emilion estate, which Raynaud purchased in 2010. Made from a blend of 80% Merlot and 20% Cabernet Franc, with vines averaging 25 years of age, the wine opens with black pepper, earth, espresso, blackberry, red plum and blueberry aromas, this soft textured, medium bodied wine should offer pleasure early. The wine reached 13.5% alcohol. 88-90 Pts
.
2011 Pressac – Oak, stone, coffee and black raspberry scents, medium body and a red berry jam finish are found in this wine. 87-89 Pts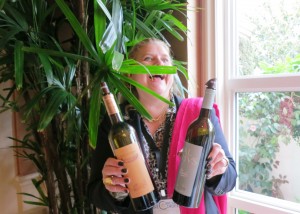 2011 Reignac – From a blend of 70% Merlot, 25% Cabernet Franc and 5% Cabernet Sauvignon, the wine is deep in color, Tannins and slightly firm for this producer, the wine offers licorice, jammy black raspberry, coffee and pepper. 14% alcohol. 88 – 90 Pts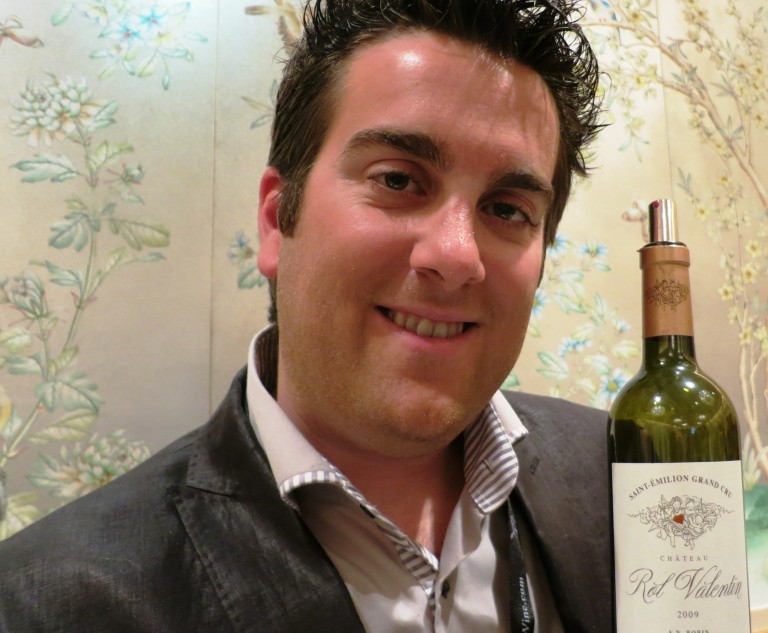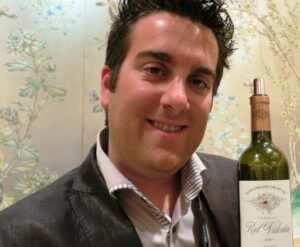 2011 Rol Valentin – Deep ruby in color, with truffle, licorice, dark cherry, spice and coffee scents, this medium bodied, charming St. Emilion offers a finish filled with bright, fresh, black raspberries and vanilla. 88-90 Pts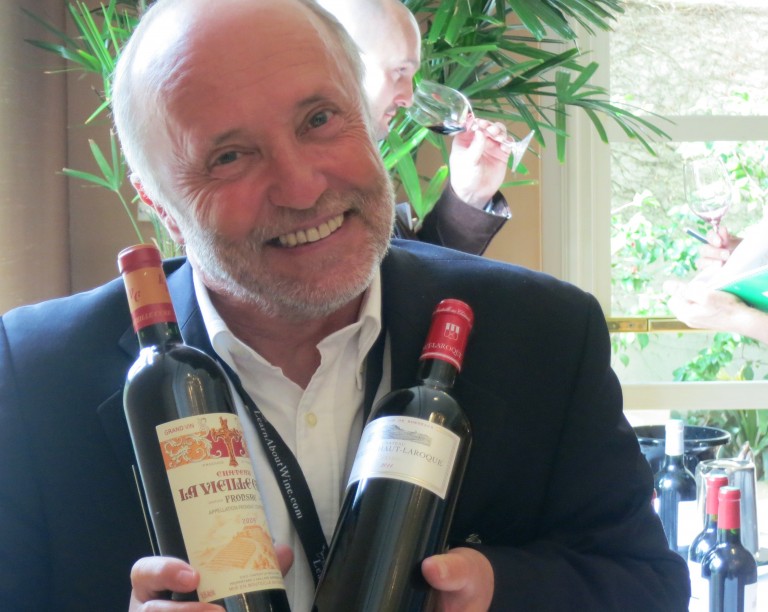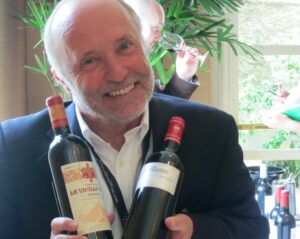 2011 Vieille Cure – Licorice, coffee bean, vanilla, black cherry and earth scents open to a fleshy, flashy, medium bodied, fresh Bordeaux wine that ends with chocolate covered cherries. From an assemblage of 75% Merlot, 20% Cabernet Franc and 5% Cabernet Sauvignon, the wine reached 14% alcohol. 89-91