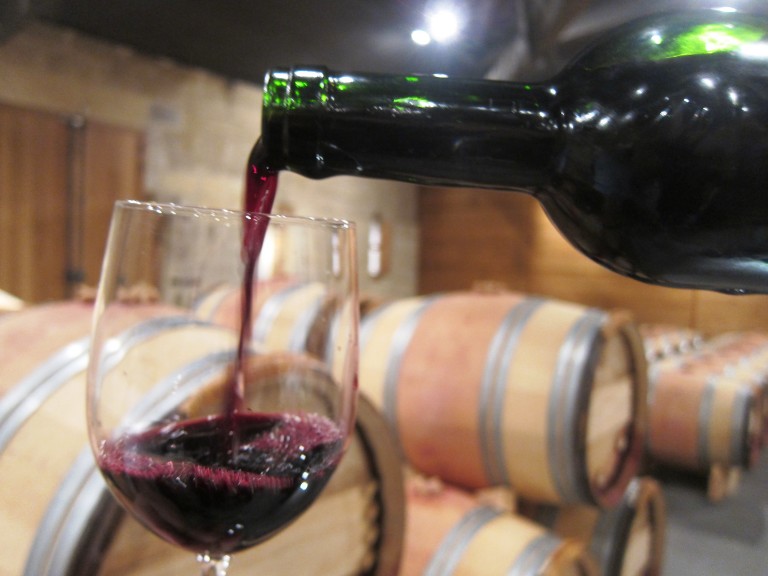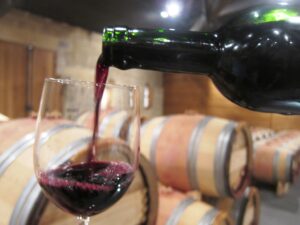 2010 Pomerol Bordeaux Wine Guide  with Reviews,  Tastings Notes and ratings for in barrel tasting of the 2010 Bordeaux vintage.
2010 Bon Pasteur This is the home estate of Michel Rolland.  The Bordeaux wine opens with black cherry, coffee, black raspberry and 5 spice aromas which lead the way to a round, soft, sweet, licorice, mocha and black cherry filled Pomerol wine. 91-93 Pts
2010 Bourgneuf  Floral, earth and plum aromas couple with a  medium bodied  Bordeaux wine that ends in a soft textured, black cherry  finish that will drink well early.  88-90 Pts
2010 Certan de May Tuffles, flowers, blackberry and plum aromas meld with supple textures and round tannins that end in a soft, chocolate, black cherry Pomerol finish 91-93 Pts
2010 La Clemence Plums, flowers, chocolate, licorice and ripe, sweet jammy boysenberry scents pair well with chocolate covered plums, fennel and rich, opulent textures in this lush Bordeaux wine. 91-93 Pts
2010 Clinet  owner, Ronan Laborde, used what he called a classic Pomerol blend of 85% Merlot, 12% Cabernet Sauvignon and 3% Cabernet Franc. At 14.6 % alcohol, than they achieved in 2009. Effective yields are also lower than in 2009. In fact, they are close to 25% less, which means there will be a lot less wine in the marketplace from this outstanding vintage.  Opaque in color, explosive, floral, plum, black fruit, jammy berry, oak, chocolate and black raspberry scents create a beguiling perfume. This complex, spicy Bordeaux wine coats your palate with layers of pure, sweet, ripe plums. This is a hedonistic, sensuous style of Pomerol that blends intensity with pleasure and chocolate covered ripe fruit. 95-97 Pts.
2010 L'Enclos Simple easy going, correctly made Pomerol without fault or distinction. 87-89 Pts
2010 Clos L'Eglise, From 80% Merlot 20% Cabernet Franc 14.5% alcohol deep purple color, mocha, chocolate, flowers, black raspberry, vanilla and truffle scents.  Mouth filling, lush and opulent, this Bordeaux wine ends with a long, deep, jammy blackberry and licorice sensation.   93-95 Pts
2010 La Conseillante  La Conseillante  Produced from an assemblage of 80% Merlot and 20% Cabernet Franc, (which is the same as the vineyard plantings,) the wine is slightly higher in alcohol than what they achieved in 2009 at 14.5% . Due to the high levels of acidity from 3.69  pH, there is no sensation of heat.  Floral, chocolate, truffle and black raspberry liqueur aromas exude from the glass. Dark and powerful, a unique character for La Conseillante, the Bordeauxd wine is rich, intens and filled with plum liqueur, chocolate and black cherry. The wine combines freshness, silky textures and a sense of refined elegance, with the volume turned up. Jean- Michel Laporte feels 2010 is in the same style as 2005. 95-96 Pts
2010 Duo With 95% Merlot and the rest Cabernet Franc, the  Bordeaux wine is round, plummy easy to drink and will show well on release 88-89 Pts
2010 La Croix St. Georges produced from 95% Merlot and 5% Cabernet Franc is aged in 100% new oak of which 50% is a unique cigar shaped, oak barrel.  The Bordeaux wine reached 14.5% alcohol. On the nose, oak, flowers, cherry blossom, mocha and coca powder.  Full bodied, concentrated and flashy in texture, the wine ends with fresh, a black cherry and chocolate finish.  91-93 Pts
2010 L'Eglise Clinet 90% Merlot and 10% Cabernet Franc was used for the assemblage in 2010 which reached 14.6% alcohol and a pH of 3.62. Those figures equal what took place in the 2009 vintage.  The Pomerol wine will be aged in 70% new oak.
Fresh picked flowers, spice box, black raspberry, earth, clay and chocolate scents pop from the glass. In texture, the wine is suave, luscious and powerful. The finish is filled with sweet ripe, plums and chocolate that builds in the mouth ending with a long, fresh, pure, intense blackberry liqueur sensation.  The only drawback in 2010 according to the owner Denis Durantou is, they produced 20% less Bordeaux wine, making this Pomerol even harder to find than usual.   96-98 Pts
2010 Petite Eglise from 100% Merlot offers jammy berries, licorice and chocolate covered plums with a medium body that ends with chocolate plum finish 88-90 Pts
2010 L'Enclos 95% Merlot 5% Cabernet Franc chocolate, black fruit – green dry finish  87-89
2010 L'Evangile  With only 31 hecoliters per hectare, yields were low in 2010. From an assemblage of 88% Merlot and 12% Cabernet Franc, Jean-Pascal Vazart confirmed the wine reached a record high for the property at 14.7% alcohol with a pH of 3.75.   This unique combination of high alcohol and acidity allows the Bordeaux wine to feel fresh on your palate. Deep in color, fresh flowers, chocolate, black and red plums, black cherry and truffle make a complex perfume. Rich, concentrated, plush with freshness, the wine finishes with creamy chocolate covered dark berries, licorice and plum liqueur.  This Bordeaux wine could increase in score as it evolves. 94-95 Pts
2010 Feytit Clinet Dense in color, chocolate covered black fruit, blueberry,  plum and truffles make up the perfume. Dense, rich, fat, suave and polished, this rich Bordeaux wine offers length, persistence, balance and purity of  Pomerol flavor. 92-95 Pts
2010  La Fleur Petrus Fresh picked flowers, Valhrona chocolate and boysenberry liqueur perfume entices your palate to experience layers of  refined, silk and velvet plums and black cherries. Luscious, ripe, rich, pure, sweet and long, the  Bordeaux wine ends with a chocolate coated, fresh black raspberry liqueur finish 94-96
2010 Le Gay. In 2010, with the help of the new managing director, Jerome Ducasse, (who replaced Jean-Christophe Meyrou,) the estate produced a wine from blend of 80% Merlot and 20% Cabernet Franc. Scents of oak, flowers, jammy black raspberries and chocolate are coupled with a concentrated, juicy black and red plum finish. 92-94 Pts 
2010 Gazin Black raspberry, floral and bitter chocolate aromas pair well with the soft, rich, long plum, licorice and chocolate finish. 91-93 Pts
2010La Grave a Pomerol La Grave Trigant de Boisset chocolate, spice, floral and blackberry aromas, medium/full bodied, elegant, supple, cassis and cherry finish.  Deeper and more refined than usual, this is the best  La Grave Trigant de Boisset Pomerol I recall tasting 90-91 Pts
2010 Hosanna Deep ruby in color, this Bordeaux wine is filled with chocolate, boysenberry, floral and truffle scents. Full bodied, rich and silky in texture, the Pomerol wine ends with a luscious chocolate covered cherry and spice finish 95-96 Pts 
2010 Lafleur  set a record for this legendary Pomerol Bordeaux wine when they blended 62% Cabernet Franc 38% Merlot, 14% alcohol, same as 2009 this is the highest concentration of Cabernet Franc ever used at Lafleur. For those that like to compare, in 2009, the  Bordeaux wine was produced from 53% Cabernet Franc and 47% Merlot.
The owner, Jacques Guinaudeau said, "They used more Cabernet Franc at Chateau Lafleur in 2010 to remain a Bordeaux wine, as it offers better balance." He added, "At Lafleur, we focus on ripeness and the textures of tannins, We strive  to achieve elegance, balance and purity." That's three good things in my book.
2010 Lafleur  A cornucopia of fragrances pop from the glass, cherry blossoms, sweet black raspberry, earth, truffle, forest floor, leaves and plum liqueur are found in abundance.  Intense and concentrated, the wine pairs power and purity ending with a long, fresh, ripe sweet red and black fruit finish. With its unique texture, this is the essence of Pomerol. 97-99 Pts
2010 Pensees de Lafleur is produced from 65% Merlot and 35% Cabernet Franc. Pensees de Lafleur comes from a selection of terroir, not young vines.  Aside from a shorter maceration time, the  Bordeaux wine is produced with the same care that is received by Lafleur. The wine shows truffle, black cherry liqueur and minerality that couples with soft textures ending with black cherries 90-92 Pts
2010 Lafleur Gazin The property takes its name from its strategic location, next to Lafleur and Gazin and not from Petrus. Earth, chocolate, and spicy plum flavors are found in this medium bodied Bordeaux wine that ends with a fresh, blackberry, cocoa powder and cherry finish. 88-90 Pts
2010 Latour a' Pomerol Truffle, forest floor, chocolate and cherry aromas open to a supple, medium/full bodied, soft textured  Bordeaux wine that ends with a black cherry, licorice finish 89-91 Pts
2010 Montviel Medium bodied with plum, black raspberry and cherry notes, this Bordeaux wine will drink well shortly after release.  86-89 Pts
2010 Le Moulin This Pomerol opens coffee, blackberry and plum scented wine offers a medium/full bodied that finishes with coffee and dark berry sensations. 89-91 Pts
2010 Nenin – From a blend of 82% Merlot and 18% Cabernet Franc, the Bordeaux wine reached 13.9% alcohol. Ruby colored with floral, chocolate and plum scents, for a Pomerol this has a stern personality. Boysenberry, coca and plum are found in the finish. 89-91 Pts
2010 Petit Village  Produced from 73% Merlot, 18% Cabernet Sauvignon and 9% Cabernet Franc, this medium bodied, soft textured Pomerol offers light cherry, plum, coca powder and licorice. 89-91 Pts
2010 Petrus From 100% Merlot, the wine reached 14.5% alcohol, the same level achieved in 2009. In a discussion with Olivier Berrouet, he said "In 2010, the key to making great Bordeaux wine was avoiding over extraction due to the combination of high alcohol coupled with high acidity levels."  Berrouet added, "To avoid even higher levels of alcohol, they reduced green harvesting and like many top properties, they only allowed for daily pump overs.  The previous Petrus winemaker and father of Olivier Berrouet, Jean Claude Berrouet was also at the tasting. When asked, Jean Claude said he was worried about how well the current vintages of Bordeaux wine would age.
I have no doubt about how Bordeaux wine like this will age.  Remember, 1947 Cheval Blanc was over 15%. The few lucky wine lovers that have been able to taste '47 Cheval today can attest to how well that Bordeaux wine has aged.
2010 Petrus  – This deep ruby tinted wine opens with complex aromatics of flowers, black raspberry, jammy plums and chocolate. Powerful, structured, intense, deep, structured and, mouth coating with densely packed ripe, racy plums.  Elegance, sensuality and refined power ending with a complex finish that remains on your palate for close to one full minute that morphs from dark spicy fruit to red berries. Petrus fanatics will be forced to pay even more money for the 2010 Bordeaux wine as the estate produced 10% less Pomerol wine in this vintage they did in 2009. The  Bordeaux wine will be aged in 50% new oak for 18-20 months, 97-100 Pts
2010 Le Pin fills the room with pungent scents of oak, spice, exotic citrus oils, smoke, plums, fennel and fresh flowers.  The Bordeaux wine drenches your palate with silky, velvet laced textures and waves of rich, ripe, sweet, pure extract of plum liqueur, Maraschino cherries and orange rind. The long, seamless, intense finish is pure decadence. 97-99 Pts
Le Pin is one of the most interesting Pomerol wines to taste.  Aside from amazing high prices, its main problem is, the wine lacks consistency.  It doesn't always perform as one would expect. Yet, when it is on, Le Pin is a wine without peer.  2010 Le Pin is set to be one of the best Le Pin's ever produced!
2010 Plince  Medium bodied, soft and light textured, the offers spicy red plums and feminine textures. 86-88 Pts
2010 La Pointe From an assemblage of 85% Merlot and 15% Cabernet Franc Soft entry,  stony, plummy,  structured Pomerol this chateau gets a little better each year thanks to efforts of Hubert de Bouard began consulting the property. 87-89Pts
2010 Providence Truffle, 5 spice, jammy black raspberry, licorice and cocoa powder aromas open to a refined, elegant, polished Pomerol. Black cherry, ch0colate, licorice and raspberry find their way to the finish which builds in intensity. 93-95 Pts
2010 Sacre Coeur makes it debut in 2010. This small .6 hectare estate owned by Jean-Philippe Janoueix sits on sandy clay soils.  Janoueix plans to focus on organic farming for this Pomerol wine.  Produced from 100% Merlot, the wine reached 14.4% alcohol and will be aged in 100% new oak. Oak, floral, earth and raspberry notes are found in the perfume. Medium bodied, with round textures, the wine finishes with chocolate, spicy plum, jam and blackberry. 89-91 Pts
2010 Trotanoy Deep ruby in color, flowers, truffle, Asian spice and earthy scented. Opulent, rich, supple, and luxurious, the refined black and red fruit  Bordeaux wine is very strong. But it seems restrained, like a race horse being held back from entering into a full gallop. This is not at the level of the other worldly 2008 or 2009. Those vintages remain the modern day reference points for Trotanoy. 95-97 Pts
Vieux Chateau Certan  The chateau produces  Bordeaux wine in vintages that favor Cabernet Franc, Merlot and Cabernet Franc, or Merlot. 2010 as well as 2009 are vintages where the Merlot clearly excelled and became the preponderance of the blend.  The assemblage in this vintage is 86%Merlot, 8% Cab Franc 6% Cab Sauvignon. This is even more dominated by Merlot than the 2009, which came in at 84% Merlot, 8% Cabernet Sauvignon and 8% Cabernet Franc.  Shaped by low yields and high alcohol, the Bordeaux wine clocked in at 14.5% alcohol. The IPT levels are equally high at 90. As a point of reference, this level of IPT recorded in 2010 is the same as the chateau recorded in their press wine a decade ago.
 Alexandre Thienpont, the lanky, soft spoken, bespectacled and witty owner of the property compared the two most recent vintages with previous Bordeaux legends from the property.  He said, "2010 is close to 1950, while 2009 resembles 1948." When asked why neither vintage reminded him of 1947, he slyly replied, "The 47 was even more potent!" He added, "The 1948 was the silkier wine of the pair." If God could grant me one wine wish, it might be to find out for myself I casually mentioned.  Theinpont smiled.  I questioned him if they had any old bottles left. He shook his head from left to right, indicating no.  He concluded with, his family liked to drink far too much. We both laughed and began tasting his newest Pomerol vintage.
Having spent a good amount of time with Thienpont over the years I know he prefers vintages favoring either Cabernet Franc, or Cabernet Franc and Merlot blends.  Yet, he made me keenly aware 2009 and 2010 are reference years for the property. I questioned him about the dichotomy.  He tackled the issue saying that while he realizes the Bordeaux wines of 2009 and 2010 are extraordinary, for a meal, he still prefers vintages like 2001. His answer was as complicated as Vieux Chateau Certan. I'm going to discuss this with him when we have the opportunity for lunch over a few bottles the next time I am in Bordeaux.
2010 Vieux Chateau Certan  resembles dark, purple ink.  Exotic liqueur aromas, plums, truffle, flowers, chocolate and spice aromas are found with little effort. The mouth filling wine paints your palate with sexy, ripe, liquid silk sensations. Spice, rich black licorice, pure plum and blackberry flavors coat your taste receptors. The long, seamless, intense, pure finish was too good to spit. When Alexandre was not looking, I put the Bordeaux wine where it belonged, twice!  Sadly, this will not be cheap. However, if you're seeking a historic Pomerol legend in the making, this is the Bordeaux wine to buy. 99-100 Pts
2010 La Violette   From 100% old Merlot vines located on the Pomerol plateau, the Bordeaux wine pops with scents of violets, chocolate, black raspberry jam, licorice and truffle. In the mouth, lush black plum, dark cherry and earthy flavors are discovered in the finish. 92-94 Pts
2010 Vray Croix de Gay The property increased the percentage of Cabernet Franc in the wine to 25% from 10% starting with the 2010 vintage. The remainder of this Pomerol is Merlot. Showing deep color, floral, chocolate, jammy black raspberry and earthy scents open to a medium/full bodied Bordeaux wine that's filled with round, supple blackberry and ripe plums. 89-91 Pts
2010 Lalande de Pomerol
2010 La Chenade lalande de Pomerol 80% Merlot 20% Cabernet Franc combine to make a medium bodied, lighter, Pomerol styled wine. 85-87 Pts
2010 De Chambrun Lalande de Pomerol 94% Merlot and 6% Cabernet Franc are combined to produce a wine filled with licorice and plum, aromas. Suave, plush and easy  to like, the Bordeaux wine ends with a  chocolate covered plum finish.  This is a crowd pleasing Pomerol  styled wine. 87-89 Pts
2010 De Chambrun Le Bourg  Lalande de Pomerol – Owned by Silvo Denzo, who counts Faugeres amongst his holdings produces this Bordeaux wine from a .7 hectare parcel of 35 year old vines planted to 70% Merlot and 30% Cabernet Franc. Yields were impressively low at 19 hls/ha. The wine will be aged in 100% new oak. Deep purple colored with plum, licorice, floral and truffle aromas, the Bordeaux wine offers rich textures, round, sweet, plum and chocolate flavors and a long black and red fruit finish. 90-93 Pts
2010 Les Cruzelles  From a blend of 90% Merlot 10% Cabernet Franc, Denis Durantou produced a wine from Lalande de Pomerol that could compete with several much more expensive Pomerol wines. Jammy berries, licorice, plums and chocolate covered raspberries open to a soft textured, charming, elegant, plummy wine that should drink well early. 89-91 Pts
2010 La Graviere Lalande de Pomerol Easy to understand, medium bodied, berry and cherry flavored, Bordeaux wine. 85-87   Pts
2010 Haut Musset Lalande de Pomerol simple earth coco  black cherry buy it drink 84-87 Pts
2010 La Fleur de Bouard La Fleur de Bouard 80% Merlot, 15% Cabernet Franc, 5% Cabernet  Sauvignon combine to produce a wine that opens with scents of coca powder, fresh ripe black raspberry and chocolate.  The round, supple textured  Bordeaux wine ends with black cherry, plum and bitter chocolate. 9o-92 Pts
2010 La Fleur de Bouard Le Plus is produced from 100% Merlot, from the oldest vines in their vineyards.  The vines are situated in a single 4 hectare bock. The small, 250 cases production is aged in 100% new oak for 33 months.  Oak, chocolate, black raspberry jam, flowers and spice aromas open to a rich, thick, long, chocolate, black cherry, jammy plum and bittersweet chocolate finish in this exciting Bordeaux wine. 92-94 Pts