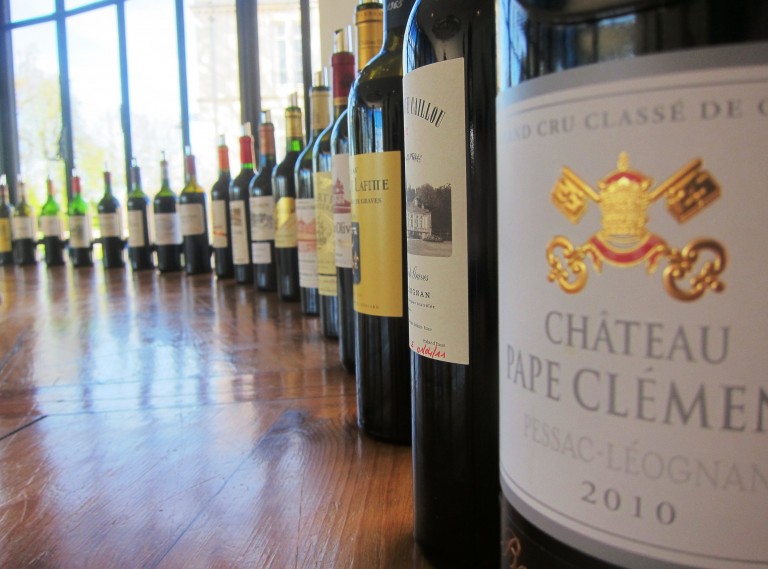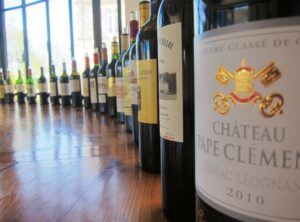 Bordeaux 2010 wine  Graves/Pessac Leognan 2010 Pessac Leognan Bordeaux Wine Guide, Reviews Tasting Notes and ratings for wines tasted in barrel.
2010 Bouscaut  – Smoke, earth, burnt wood and blackberry scents , this medium  bodied  Pessac Leognan wine ends with an earthy, four square finish. 87-89 Pts
2010 Branon Using a blend of 50% Merlot, 25% Cabernet Franc and 25% Cabernet Sauvignon, this 500 case Bordeaux wine reached 14% alcohol.  Scents of coffee bean, truffle, tobacco and jammy blackberry meld with a big, sweet, ripe, long, smoky, jammy berry, mocha infused, sultry textured finish. 93-96 Pts
2010 Brown is produced from 60% Cabernet Sauvignon, 35% Merlot and 5% Petit Verdot.  Ripe, jammy berries, cassis, earth and spice lead to a round, supple, lush style of Pessac Leognan wine. Stephane Derenoncourt is starting to turn thisBordeaux wine property around.  89-91 Pts
2010 Domaine de Chevalier  Rouge From an assemblage of 63% Cabernet Sauvignon, 30% Merlot, 5% Petit Verdot and 2% Cabernet Franc, this Bordeaux wine shows a deep ruby color. With little effort, complex aromas of smoke, truffle, cassis, black cherry, earth and oak scents are easy to find. The Bordeaux wine is rich, concentrated and offers dark, earthy, black fruit that ends with a long, pure, blackberry and cassis filled finish. 93-95 Pts
2010 Domaine de Chevalier Blanc An explosion of lemon, guava, grapefruit, lime and fresh picked flowers poured over wet rocks make up the perfume. Thick, rich and incredibly concentrated, this dense, intense, Bordeaux Blanc  has the perfect amount of acidity to feel bright and fresh. This was the only Pessac Leognan wine tasting that was too good to spit. I put some of it right where it belonged!  97-98Pts
2010 Clos Marsalette  Produced from a blend of 50% Cabernet Sauvignon, 45% Merlot and 5% Cabernet Franc with the help of Stephan von Neipperg will be aged in 50% new oak. Smoke, cassis, anise, earth and forest floor on the nose, with a medium body, round tannins and a dark berry, licorice and cassis finish. 89-91 Pts
2010 de France light, smoky black cherries, simple wine. 86-88 Pts
2010 de Fieuzal Produced with assistance of Hubert de Bouard of Angelus, who consults with the bordeaux wine property, the opens with oak, cassis, smoke and spicy scents. Supple on the palate, this Pessac Leognan wine ends with a sweet, licorice and blackberry filled finish.   90-92 Pts
2010 La Garde Utilizing 62% Merlot, 33% Cabernet Sauvignon, 3% Cabernet Franc and 2% Petit Verdot, with a perfume of smoky blackberries and soil, this medium bodied Bordeaux wine offers round textures and finishes with a cassis and a hint of chocolate. This Pessac Leognan wine should offer pleasure early. 87-89 Pts
2010 Haut Bailly From 62% Cabernet Sauvignon, 36% Merlot and 2% Cabernet Franc, a blend similar to what they used in 2009, the 2010 vintage is the product of low yields. For a comparison, 2009 was 46 hectoliters per hectare. In 2010, due to the draught and problems with the Merlot flowering, yields were reduced to 37 hectares per hectoliter.  Low yields and weather allowed the  Pessac Leognan wine to reach 13.9 % alcohol, which is slightly higher than the 13.75 the property enjoyed in 2009. 
Inky purple in color, with pungent aromas of smoke, licorice, truffle, spice, ash, tobacco and blackberry liqueur, the wine is concentrated, deep, rich and opulent in texture. With palate staining fruit, layers of ripe, velvety tannins and a long, pure, cassis and blackberry finish, this Bordeaux wine offers strong competition for the 2009. Veronique Sanders thinks the 2010 is a better wine.  I am not sure I agree.  But I do know, it's going to be a lot of comparing 2010 with 2009, 2008, 2006 and 2005 over the next few decades. 95-97 Pts
2010 La Parde Haut Bailly – Chocolate, cassis and tobacco aromas, soft textures and a sweet boysenberry finish are what consumers can look forward to with this easy to like Pessac Leognan wine. The Bordeaux wine is a blend of equal parts Merlot and Cabernet Sauvignon with 20% Cabernet Franc. According to Veronique Sanders, part of the reason for this wines success is that it includes both young Merlot vats that reached 15.5% alcohol. Yet there is no heat in the finish.  87 – 89 Pts
Tasted three times, I raised my score from 94-97 Pts to 95-97 Pts.
2010 Haut Bergey Blending 65% Cabernet Sauvignon with 35% Merlot produced a wine filled with licorice, smoke, oak and cassis. This suave, round, soft textured Bordeaux wine ends with earthy, blackberry and coffee. 91-93 Pts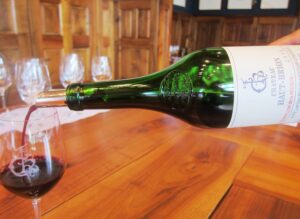 2010 Haut-Brion  From a blend of 57% Cabernet Sauvignon, 23% Merlot and 20% Cabernet Franc, this unique blend is made from one of the highest concentrations of Cabernet Sauvignon in the history of the property. In 2010, the Pessac Leognan wine reached 14.6% alcohol with a pH of 3.63. This combination allows for more ripeness as well as greater freshness.  The effective yields are lower in 2010. Only 42% of the crop was included in the Grand Vin. For those that like statistics, 2009 Haut Brion is slightly lower in alcohol at 14.2 % alcohol with a pH of 3.9.
2010 Chateau Haut Brion is deep ruby with a purple rim that shines in the glass.  The Bordeaux wine is filled with smoke, earth, hot stones, spice, blackberry, cassis and hints of licorice. Full bodied and concentrated with multiple layers of spicy, fresh, rich dark fruit and cassis flavors that fill your palate, this elegant, regal wine builds in the mouth.  From the first touch on your palate, it's difficult to imagine the incredible length found in this wine.  I timed the finish twice to make sure I had not lost track of the time.  I shook my watch to ensure it was running correctly. This incredible Bordeaux wine remains on your palate for close to 80 seconds!  Balanced, harmonious and regal, this will be an amazing wine to experience at maturity.  98-100 Pts
2010 Le Clarence de Haut Brion With 52% Merlot 36% Cabernet Sauvignon, 2% Petit Verdot in the blend,  the wine opens with smoke, oak, boysenberry, cassis and earthy tones.   Soft cassis, flavors and a long finish make this a strong effort which is surprisingly fresh and ample for a second wine.  91-93 Pts
2010 Haut Brion Blanc – With its green tinted, straw color, waves of sweet, refined, lemon, pineapple, grapefruit rind and citrus oil coats and lingers in your mouth.  The Pessac Leognan wine is made better with the perfect amount of ripeness and acidity, giving the wine sweet fresh fruit and lift. 97-98 Pts
2010 La Clarte de Haut Brion is the new second wine from Haut Brion Blanc and La Mission Haut Brion Blanc. Blending  83% Semillon with 17% Sauvignon Blanc, this straw colored wine offers scents of lemon wax, honey dew, tropical fruit and lime zest that  opens to a sweet, zesty citrus filled blast of flavor. 91-93 Pts
2010 La Louviere – Smoke, blackberry and fresh herb aromas pair with round textures that conclude with a licorice, black cherry and earthy Bordeaux wine that should drink well early and offer a lot of bang for the buck. 90-92 Pts
2010 Larrivet –Haut Brion – Medium full bodied with soft textures and a sweet, spicy berry filled finish. 89-91 Pts
2010 Latour Martillac – Deeply colored, smoky, blackberry and woodsy aromas, this full bodied Bordeaux wine feels tannic, clumsy and dry 86-89 Pts
2010 Liber Pater – Produced from a blend of 60% Cabernet Sauvignon and 35% Merlot, 3% Petit Verdot and 2% Cabernet Franc, from vines planted on deep gravelly soils, this will be aged in 100% new oak. Deep ruby with purple accents in color, the wine is filled with stone, black and blue fruit, jam, coffee and licorice scents. Fat, lush and richly textured, this opulent Bordeaux wine finishes with chocolate covered sweet berries and licorice.  Production is limited to 1,500 bottles. 92-94 Pts, 
2010 Malartic Lagraviere Blasting off with licorice, oak, jammy blackberries and truffle, this concentrated, deep, full bodied, lush  Bordeaux wine is filled with anise and blackberry. 92-94 Pts
2010 La Mission Haut Brion, is produced from a blend of 62% Cabernet Sauvignon, 37% Merlot and a dollop of Cabernet Franc. The Bordeaux wine reached 15.1% natural alcohol with pH levels of 3.67. This picture is very different than what we saw in 2009 which was made from equal parts Merlot and cabernet Sauvignon and 6% Cabernet Franc. 2010 is slightly higher in alcohol as the 2009 reached 14.7. Tasters who go by the numbers might have problems with the Bordeaux wine, but there was no sensation of heat. Everything was in balance.
This is a contender for the highest concentration of Cabernet Sauvignon in the history of La Mission Haut Brion. This is due to a combination of the perfect levels of ripeness reached in the Cabernet Sauvignon and the draught plagued Merlot which had problems ripening correctly.  
2010 La Mission Haut Brion explodes with earth, minerals, cassis, burning embers, truffle and blackberry scents. This opens to a dense, concentrated, full bodied, tannic wine. This powerful La Mission Haut Brion is packed with mocha, cassis, blackberry and spice.  Stylistically, this is a big, masculine style of Pessac Leognan that will require serious cellar time. 95-98 Pts.
2010 La Mission Haut Brion Blanc blends 81% Semillon and 19% Sauvignon Blanc to produce a perfume of honey, fresh picked flowers, grilled nuts and citrus that gets your mouth ready for a big dose of fresh, buttery lemon, banana, grapefruit and guava flavors wiith zesty acidity and freshness that lingers. 94-97 Pts
2010 La Chapelle de La Mission Haut Brion produced from 47% Cabernet Sauvignon, 27% Merlot and 26% Cabernet Franc is filled with smoke, tar, blackberry and tobacco scents.  Full bodied, with layers of chocolate covered blackberries that end with a blast of fresh, juicy cassis. 91-93 Pts
2010 Olivier delivers fresh cassis, tobacco and blackberry aromas. Medium bodied, this finesse styled Bordeaux wine ends with an earthy, cassis and fresh herb finish. 88-90 Pts
2010 Pape Clement  – Black in color, smoke, truffle, burning wood, jammy blackberry, earth and hot stone aromas are found with ease. This concentrated, powerful wine is filled with sweet, ripe, boysenberry, cassis and licorice.  Polished, supple and opulent in texture, the Bordeaux wine ends with a long pure fresh, blackberry liqueur sensation. 94-97 Pts
Produced from gravel, sand and clay terroir and planted to the highest proportion of Cabernet Franc in the Graves, 60% Cabernet Franc and 40% Cabernet Sauvignon, the Pessac Leognan wine is produced with the efforts of Stephane Derenoncourt.
2010 Smith Haut Lafitte  64% Cabernet Sauvignon, 30% Merlot and 5% Cabernet Franc and a dollop of Petit Verdot formed the assemblage. Deeply colored and filled with smoke, cassis, jam and licorice coated dark berry aromas, this rich, juicy, concentrated Bordeaux wine ends with a long opulent, fat, sweet, jammy black fruit and vanilla finish. 94-95 Pts
2010 Le Thil  – With smoke, spicy berries and fennel scents, round textures and a sweet, chocolate, blackberry filled finish, this remains one of the top values in Bordeaux wine for the 2010 vintage. 90-92 Pts