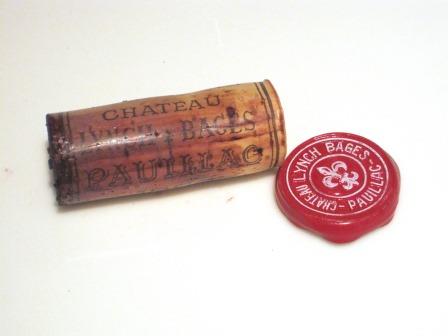 1989 Bordeaux is a very useful vintage allowing us to look backwards and to the future at the same time. On the twentieth anniversary of the vintage, it's the perfect time to look at the vintage and review the quality and character of the wines.1989 Bordeaux will be remembered for many things.
The fall of the Berlin wall, the massacre in Tiananmen Square, the snow that fell in the Sahara desert for the first time. Then, too, "Batman" was the highest grossing film of the year, Phil Collins scored the year's most popular song with "Another Day in Paradise" and Bordeaux wine experienced one of the best vintages of the century!
1989 Bordeaux remains a unique Bordeaux wine vintage. It is one of the earliest harvests in history. You need to go back to 1893 to find a year where the picking of merlot and cabernet commenced in August. The vintage got off to an auspicious start with a wet spring. But things changed in May when everything heated up perfectly. The weather was so hot that, up until that date, only 1947 recorded hotter temperatures. And there was a lot of wine, too. It was a large harvest.
1989 Bordeaux produced several stellar wines, but with the notable exception of Chateau Haut Brion, it is a year where the top Bordeaux wine was not made by the First Growths. 1989 also marked a return to greatness with several now very sought after wines.
For example, Chateau Angelus, Chateau Montrose, Chateau Pichon Baron, Tertre Roteboeuf, and Chateau Troplong Mondot all produced their best wine in decades. 20 years later, many of the best wines are mature and offer compelling tasting experiences. Only a few wines demand additional cellaring.
If you want to read about the best Bordeaux value wines from 1989 Bordeaux and from other vintages, Bordeaux Wine Buying Guide Find the Best Bordeaux for the money to buy today (Vintages 1959 to today)
If you are interested in reading detailed weather reports on the growing season and the harvest, Bordeaux Year to Year Detailed Vintage and Harvest Reports Guide 1900 to Today.
2009 Bordeaux has many owners and wine makers comparing it with 1989 Bordeaux saying, weather patterns were in many ways quite similar.  1989 Bordeaux was the first in a series of years that was picked riper and showed an increase in alcohol levels, according to several comments from chateau owners.
The big difference between 1989 and 2009 is, today everyone knows much more about their terroir and has a better understanding of wine making techniques. Even more important, today chateau are employing much stricter selection in the cellars and the vineyards. Today, much more new oak is being employed as well.  With the exception of the First Growths, many top Chateau did not use any new oak in 1989 Bordeaux.
The following 1989 Bordeaux wines were not tasted blind. The majority of the bottles were tasted in June, 2009, in Bordeaux at the respective chateaux from bottles that were never moved. The rest of the bottles, purchased on release, came from my cold cellar.
89 Chateau D'Armailhac displays a spicy, cedar nose. Medium bodied with a short blackberry finish that already has some dry sensations. Since this wine is past full maturity, it should be drunk up. 86 Pts
89 Chateau Angelus is a sexy, spicy, rich, opulent, and hedonistic wine. Spicy blackberries with hints of coffee please your nose, while your palate fully enjoys being drenched in all that luscious, concentrated fruit. Now is a great time to be popping this wine. 96 Pts
89 Chateau Beau-Sejou Becot kicked off with a spicy nose filled with blackberry, truffle and cherry.  This medium bodied wine is fully mature.  The '89 lacks the same level of depth and ripeness found in current vintages. 89 Pts
89 Chateau Branaire Ducru is light in color. Tobacco, cassis, spice, and coffee aromatics are a pleasure to sniff. Light and elegant in style. The silky mouth feel ends with a blackberry filled finish. This wine is fully mature and gives no reason for owners to wait any longer. Branaire Ducru is another property that is producing markedly better wines today than previously. 90 Pts
89 Chateau Branaire Ducru Cuvee Evelyne, named after the owner's wife, is 100% Merlot, an experimental wine. One barrel, 25 cases produced. This was the second vintage for the owner, Patrick Maroteaux, who began picking the Merlot on August 31. The wine was made using 100% new oak, while the regular wine saw 60% new oak. The wine showed coffee, black fruit, mocha, and plum aromatics. The wine finished with a velvety, blackberry and chocolate sensation. Not as complete or complex as the fully blended wine, it was a pleasure to taste. 88 Pts
89 Chateau Brane Cantenac  is light in color. Aromatics of truffle, earth, cassis, spice, and cedar are a pleasure to sniff. Medium bodied and elegantly textured, this fully mature wine ends in a short, cherry/cassis note. 87 Pts
89 Chateau Canon is deep ruby in color. The enjoyable nose expresses spice, herbs, truffles, and licorice, along with hints of plum.  Very sexy in the mouth, this tasty treat spills ripe, black cherries all over your mouth in the long, enjoyable finish. 93 Pts
89 Chateau Canon La Gaffeliere kicks off with truffle, spice, stewed black fruit, tar, and 5 spice aromatics.  The wine, fully mature, ends with a mélange of red and black fruits in a soft, velvety style on the palate. Owners should drink this sooner than later, since the wine is slowly going to drop its fruit. 90 Pts 
89 Chateau Cheval Blanc, considering the vintage and the great success enjoyed by many properties from the Right Bank, is slightly disappointing. Light in color, with flowers, herbs, cherries and smoke aromas. Elegant and silky, and filled with finesse, but, unfortunately, also quite light.  The finish was short in the mid palate as well. If this were a quarter of the price, I'd be thrilled; yet, for Cheval Blanc, all I can say is that it's no 1990.  90 Pts
89 Chateau Clinet was poured from an unusual shaped bottle. The previous owner produced about 1,000 of these special, Veronique shaped, taller bottles as an experiment. The wine is exactly the same, but it was great seeing this unique bottle on the table. From 100% Merlot, this wine has it all. The complex nose of black cherry, spice, figs, and flowers is exciting to sniff. Full bodied with endless depth of concentrated ripe, decadent fruit, this powerful wine delivers layer upon layer of hedonism. Close to fully mature, this Clinet is a thrilling wine to taste. It finishes with an explosion of ripe plums, cherries, chocolate, and an exotic peach note. 98 Pts
89 Chateau Clos de Sarpe was produced in a way completely different from the one the Chateau employs today. The `89 saw no oak and was subject to little selection.  The wine was aged entirely in tank.  Light licorice tones and earth notes are in the perfume. In the mouth, little enough fruit remains: it's probably been drying out for the past several years.  The wines today are much better than this one, and, unlike this example, will age for decades. 75 Pts
89 Chateau La Dominique offered a great nose from the start. Purchased for the princely sum of $15, it's definitely paid dividends.  Black fruit, plums, and fresh herbs.  Medium bodied, but mouth filling.  Plush, elegant mouth feel.  Now fully mature. 91 Pts
89 Chateau Cantemerle with aromas of blackberry, currant, and oak, and with floral scents. Medium bodied. Soft and light on the palate. It's at the end of its life. Nice, but not very interesting. A luncheon claret. The 83 is a better wine. 89 Pts
89 Chateau Chasse Spleen was one the best surprises of my 89 tastings. At age 20, this wine nonetheless tasted several years younger tan that. Filled with layers of deep, ripe black fruit, herbs, earth, and tobacco scents, this full bodied wine has come together nicely. Still young, this wine will offer pleasure for at least another 20 more years. The wine will fool a lot of people in a blind tasting. 92 Pts
89 Chateau Clerc Milon offers black fruit, licorice, camphor and coffee notes on the nose. Full bodied with a nice finish of licorice tinged cassis. This wine is fully mature and should be enjoyed sooner than later. The fruit has already started fading. 89 Pts
89 Chateau Clos du Marquis sports an earthy, black fruit, and chocolate nose. The wine ends with a short, simple, black fruit finish. 85 Pts
89 Chateau La Conseillante was the rock star of the night. I remember multiple cases of this wine, when I first starting collecting in the mid 90′s, for about $40 a bottle. I bought a lot. Every time I taste it, I wish I had purchased more. The perfume explodes with complex notes of blackberry, black cherry, plum liqueur, truffles, and Oriental spices with chocolate. The fireworks start in the aromatics, but on the palate is where this sexy beast really struts its stuff. Truly a wine for hedonists. Pure silk, velvet, and satin. Incredibly lush and opulent. The wine doesn't have a single hard edge. The beautiful finish fills your palate with ripe raspberries, plums, and blackberries that you wish would last forever. The amazing thing about the wine is that it showed great the day it was bottled. 98 Pts
Other bottles of 89 La Conseillante did not show as well. Some seem to have reached maturity at a faster pace and have lost some of their decadent charm. If you have more than a few in your cellar, it's a good time to pop a bottle and check in on it.
89 Chateau Cos d'Estournel is ruby colored with bricking around the edges. The wine is very spicy, with scents of cinnamon, truffles, earth, cassis, and minerals. The wine is traditionally styled, giving it an austere quality. The fruit is not as rich as it was and is slowly starting to fade. Drink soon. 89 Pts
89 Chateau L'Eglise Clinet was light tea/ruby in color. Truffle, spice, sweet dried flowers, burnt sugar, and marzipan filled out the aromatics. Slightly light on the palate, ending with plum and blackberry flavors with a hint of cherry. Fully mature. 91 Pts
89 Chateau L'Evangile opens with spicy, chocolate tinged plums and earthy notes. The palate enjoys a warm, opulent array of flavors and velvet like textures. Dark cherry, plum, blackberry spice and mocha tones fill your mouth with pleasure. Fully mature, I'd drink it over the next few years as it might slowly start losing its fruit at this point. 92 Pts
89 Chateau Le Gay still shows deep color. Black fruit and plum aromas with dense, dark fruit on the palate. A traditionally styled Pomerol lacking the charm and elegance usually found in the region. The wine is austere in texture and still tannic. 88 Pts
89 Chateau Giscours is past its prime. Tobacco, barnyard aromas, and stewed fruit make up the perfume. Austere on the palate. Drink up. 83 Pts
89 Chateau Grand Puy Lacoste is light around the edges. Cedar, earth and cassis make up the perfume. This wine is slightly austere in personality and will offer more appeal to tasters seeking old-school Bordeaux. This finishes with notes of red and black fruits. 89 Pts
89 Chateau Haut Bailly is filled with sweet, roasted fruit, tobacco, tar, wild strawberry, and fennel. Medium bodied, this elegantly styled wine feels very plush and silky in the mouth. Nice length and purity. Since it's fully mature, consumers should plan on drinking their bottles over the next 5-10 years. 92 Pts
89 Chateau Haut Brion is a definite candidate for wine of the vintage as well as a strong contender for wine of the decade. And then some! I tasted 5 different bottles recently. My note is for the best bottle. Other bottles were more mature and not as expressive the one I note here. Sadly, one bottle was corked. The best bottles of this legendary wine can bring tears to the eyes of even the most jaded tasters. Deeply colored with a cornucopia of aromatics including smoke, tar, herbs, cassis, blackberry, truffle, Cuban cigar, and fennel. The layers of deep ripe fruit that fill your mouth seem endless. Very concentrated, rich, deep, and opulent, this tremendous wine ends with a seamless, black fruit finish that lasts over a minute. Still young, this wine will evolve for decades. This is Haut Brion at its best. At full maturity it may end up better than previous legends like 1961 or 1945. 100 Pts
89 Chateau La Lagune was another surprise. Still going strong, this black cherry, blackberry, tobacco and floral scented wine was a treat to experience. Very elegant in style, medium bodied with ample ripe, black and red fruit in the finish awarded a lot of pleasure at 20 years of age. 90 Pts
89 Chateau Lascombes is light in color. Earth, steel, spice, tobacco, and olives are easy to find in the perfume. The wine finishes with a light, strawberry note. Medium bodied, this wine reached full maturity at least a few years ago. Lascombes is another outstanding property that is currently making much better wine today than it did in `89. 84 Pts
89 Chateau Latour had a perfume of blackberry, cassis, mocha, truffle, spice, rhubarb, and earth. Light in weight for a Latour from a top vintage, this wine is fully mature and should be enjoyed sooner, rather than later. 90 Pts
89 Chateau Leoville Barton is ruby colored. Spice, cassis, tobacco and cherries on the nose. The wine finishes with roasted black and red fruit. This is an elegant style of wine for the Chateau. All the tannin is resolved, and the wine is ready for prime time drinking. Owner Lillian Barton thinks the 89 and 90 are the same level of quality, but feels the 90 needs more time before it is mature. 89 Pts
89 Chateau Leoville Las Cases offers a complex nose of tobacco, truffle, spicy cassis, and cedar. Full bodied and mouth filling, this well balanced wine ends with spice filled blackberry and black cherry fruit and hints of chocolate. 92 Pts
89 Chateau  Leoville Poyferre was a positive surprise I had little experience with, prior to this tasting. The complex perfume sports ample notes of earth, truffle, mocha, coffee, and anise. The elegantly styled wine offers your palate ample pleasure. This wine is fully mature. 90 Pts
89 Chateau Lynch Bages made its best showing yet. The deep ruby color was assisted by a beautiful nose of cassis, mint, tobacco, and chocolate. Big, fat, concentrated and well balanced. Tannins are firm, but they have integrated well into the wine. Very broad shouldered. Still young, at 20 years of age, it's much closer to maturity than previous bottles I've tasted. The long, lusty, fruit filled finish had a lot of persistence and was a pleasure to taste. Well stored bottles have at least another 20 or more years of evolution in their future. 95 Pts
89 Chateau Margaux showed an advanced ruby color with lightening around the edges. Tobacco, spice, black cherry, blackberry, and truffles with hints of floral notes made up the complex perfume. The wine displays a soft texture, but it lacks the concentration found in the top years. The wine finishes with notes of ripe black fruit and plums. This is a finesse style of Margaux. Paul Pontillier feels the wine is the same level of quality as the 90 Margaux. But I do not agree. 92 Pts
89 Chateau La Mission Haut Brion remains deeply colored at age 20. Cassis, tobacco, chocolate, plums, smoke, and licorice with dark berry aromatics are all over the place. Full bodied with intense levels of concentration, this is one of those rare thrill a sip wines. Dense, opulent, rich, and fat, this wine tastes great, pouring over every inch, every nook and cranny, of your mouth. The seamless finish goes on and on with an endless array of palate pleasing, sensations. Still young, it will get better over the next several decades. What a treat! 99 Pts
89 Chateau Montrose, tasted a few days ago, was stunning. Deep ruby with hints of brick in the hue. Cassis, cedar, earth, mineral, truffle, and licorice scents are made even more complex by an intriguing note of Asian spice. The wine is dense and concentrated. The mid palate is where it truly shines. The rich, corpulent, multi-layered mouth feel ends with a blast of spicy, black cherry and black berry that lasts at least 40 seconds. After the wine had been decanted about an hour, I scored it 96 Pts. But after a few more hours of air, the wine developed additional nuances, and an elegance married to a power that was stunning. I ended up scoring it two points higher. Even if the 89 Montrose drinks great today, I suspect the wine will easily improve for another 20-30 years. 98 Pts
89 Chateau Mouton Rothschild shows a ruby nose with light edges. Coffee, licorice, cedar, cassis, tar, and molasses fill your nose with pleasure. This full bodied wine has nice weight and density as well as good texture. But the black fruit filled finish falls short, especially for a First Growth in a strong vintage. This wine will continue drinking well for at least another decade. 91 Pts
89 Chateau Palmer explodes from the glass with aromatics of violets, berries, cassis, tobacco, spice, and truffle. This full bodied wine is pure silk and velvet on your palate. With great concentration of fruit and flavors and an exotic mouth feel, this wine is still youthful. It will continue improving for at least another 2 decades. The wine ends with a blast of ripe boysenberry, mocha, and plum sensations in a sensuous style. 96 Pts
89 Chateau Pavie was already brick colored. The perfume of tobacco, spice, earth, and truffle was a pleasure to smell. But the wine was simple, lacking the same level of depth, excitement, and intensity found in the wines made at the property today. This bottle was served to me blind by Jean-Luc Thunevin.  After tasting the wine and expressing my thoughts, Jean-Luc called 89 Pavie, "a wine of terroir". I asked if that was good or bad in this case.  With his impish grin, he slyly smiled and said "both'.  88 Pts
89 Chateau Pichon Longueville Baron — now we're talking! And I love what it has to say. The deep ruby color looks great in the glass. Cedar, cassis, tobacco, truffles, and spice get your senses going. Deeply concentrated and full bodied with layer upon layer of rich, ripe cabernet and blackberry that glides over your palate. This wine perfectly combines power with elegance. Still young at 20, as good as it is, it's going to get even better over the next several years. 96 Pts
89 Chateau Pichon Lalande has it all going on. This elegant, suave elixir is close to fully mature. Black fruit, earth, herbs, spices, tobacco, and chocolate kick the perfume off. The palate is treated to lush, opulent, ripe waves of flavor. Everything is in balance. The clean, rich, fruit filled finish is a treat to experience. I plan on finishing most of my bottles over the next decade. 95 Pts
89 Chateau Pontet Canet starts off with tobacco, stewed fruit, and tea notes. The fruit is not fully ripe and the finish has drying sensations. The wines being produced today at the chateau do not resemble this wine, for they are sublime. 83 Pts
89 Chateau Poujeaux offers tobacco, spice, and cigar ash notes in the perfume. Light bodied and with a short, cherry filled finish, this wine needs to be opened in the near future. With the Culvieres as the new owners (the same family who owns Clos Fourtet in St. Emilion), I expect Poujeaux will begin producing much better wines than this one. 82 Pts
89 Chateau Rauzan-Segla displays tobacco, herbs, earth, and cassis in the nose. The wine, which still has some tannin to resolve, has good body and lot fruit, but it needs time to come around and soften up. This is a more traditional style of Margaux. 90 Pts
89 Chateau Talbot remains deeply colored. Typical Cordier funk nose with a touch of barnyard, cassis, and black fruit, along with a hint of rhubarb. Decent texture, but not much elegance or excitement. 85 Pts
89 Chateau Tertre Roteboeuf  offers a spicy raspberry, earthy, herbal, plumy, black cherry nose. Rich, complex, and multi layered, this unique expression of St. Emilion has reached maturity. The wine ends with a big mouth of chocolate covered strawberry flavor and velvet textures. 94 Pts

89 Chateau Tertre Roteboeuf  has shown a lot of bottle variation. A bottle opened in Los Angeles showed a lot of tart, over the hills qualities, while a bottle tasted in DC was even better than the one tasted for this note. This particular bottle was tasted at the Chateau in June.  The best bottles offer a great tasting experience, but I've had other bottles that were similar to the one opened in Los Angeles.
89 Chateau Troplong Mondot was stunning. Rich, fat, sexy, decadent fruit fills every reach of your palate. Incredibly concentrated, with multiple layers of opulent, smoky, ripe black fruit, plums, and minerals. This already stunning wine, while ready to drink today, will further improve with additional cellar time. 96 Pts