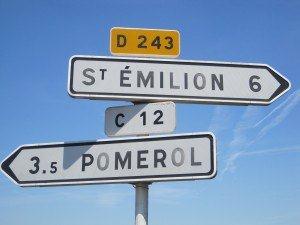 The following 2008 Pomerol, St. Emilion Right Bank, Bordeaux wines were tasted in Bordeaux July, 2010.
2008 Pomerol in bottle tasting notes.
2008 La Conseillante opens with blackberry, oak, black cherry coca, cherry and floral aromas.  The wine displays ample freshness with a finish that starts with black cherry and ends with fresh, ripe plums.  La Conseillante is never about power, it's a Bordeaux wine of grace with elegance, two characteristics this wine has in abundance. 93 Pts
2008 L'Eglise Clinet  continues to improve every time I taste this wine. With complex aromatics filled with spice box, blackberry, oak, chocolate, plums and fresh flowers, this silky, velvet textured, rich, round Bordeaux wine ends with a mouthful of deep dark fruits and chocolate.  96 Pts
2008 Le Gay is filled with truffles, Asian spice fresh plums and oak in the nose.  On the palate the wine is rich and intense with layers of ripe black cherries, chocolate, licorice and blackberry.  96 Pts
2008 Lafleur has added considerable aromatic complexity over the past several months.  Fresh blackberry, Asian spice plum, oak, truffle and licorice scents are easy to find.  This full bodied, intense, tannic, fresh Bordeaux wine expresses a lot of purity.  97 Pts
2008 Montviel is a medium bodied Pomerol that is best enjoyed in its youth for its soft textures, chocolate, black raspberry and spice character.  89 Pts
2008 La Violette explodes from the glass with aromas of an entire field of fresh violets in full bloom. Add spice, plums, blue and blackberries, espresso and coca and you an idea of what this elixir of a perfume offers.  In the mouth, the wine feels opulent, sexy, plush and long. The intense finish lasts over 45 seconds.  This is an exotic, sexy style of Pomerol for hedonists. 98 Pts
2008 St. Emilion in bottle tasting notes.
2008 Ausone smells like you just stepped into a rock quarry that is in full production.  This intense sensation of minerality is enhanced with scents of fresh, ripe, blackberry, coffee, oak, spice and violets.  Full bodied and intense, this opulent, concentrated, deep, suave polished wine is long, fresh, intense and pure. It really fills your mouth and palate, ending with a finish that lasts close to sixty seconds!  98 Pts
2008 Barde Haut starts with a perfume of licorice, black raspberry, mint and strawberry. Full bodied and filled with ripe fruit, the wine ends with a long, sweet, chocolate, black cherry and black raspberry finish. 91 pts
2008 Beau-Sejour Becot introduces itself with spice filled aromatics complicated with licorice, blackberry, oak, and earthy scents.  Plush and full bodied, the wine ends with a mouthful of deep, fresh blackberry.  93 Pts
2008 Canon offers a mineral driven perfume that is complicated with black fruit, plums, anise, coca and plums.  With ample round tannins and elegant textures this wine is built to age. The finish ends with black raspberry and fresh dark cherry flavors. 93 Pts
2008 Canon La Gaffeliere from 50% Merlot, 45% Cabernet Franc and 5% Cabernet Sauvignon is filled with black fruit, fresh cut herbs, plums and anise. Soft round textures and a long, black fruit filled finish are the hallmarks of this Bordeaux wine.  92 Pts
2008 Cheval Blanc produced from a blend of 50% Merlot and 50% Cabernet Franc is another 2008 that improved over the past year. The intense perfume is filled with fresh herbs, cassis, plums, black cherries, exotic spice and spring flowers.  Very classy and stylish, this elegant, sophisticated, balanced, rich and velvet textured, Bordeaux wine offers freshness, purity and an evocative combination of red and black fruits.  97 Pts
2008 Clos Fourtet starts with a complex licorice filled nose coupled with chocolate, black raspberry jam, and concentrated, ripe plums.  Combining freshness and lush textures, this potent wine ends with a mouthful of spicy blackberries and anise. 94 Pts
2008 Clos St. Martin opens with an enticing perfume of dark berries, mint, minerality, licorice, cherry blossoms and sweet oak.  The texture feels like polished silk and velvet. This sensual Bordeaux wine ends with a long sensation of fresh, ripe blackberries. Only 480 cases were produced.  94 Pts
2008 La Gomerie with its silky textures and floral, licorice, plum, oak and spice aromatics is a winner. The wine is refined opulence and ends with a clean, fresh, black velvet finish. 93 Pts
2008  Grandes Murailles  is filled with roasted black cherry, spice, fennel and earthy scents.  This concentrated wine ends with soft, textures, silky tannins and flavors of fresh strawberry and black plums. 92 Pts
2008 La Mondotte expresses intense minerality, jammy black fruit, floral, licorice and floral aromas.  Powerful and intense, this minerality based, St. Emilion wine ends with dark cherry black fruit and blueberry.  95 Pts
2008 Troplong Mondot is the first vintage to officially celebrate their new, and well deserved upgrade in the St. Emilion wine classification to Premier Grand Cru on the label.  This deeply colored wine has a complex perfume of black licorice, bitter dark chocolate, boysenberry, blueberry and juicy fresh plums.  The wine fills your palate with luscious, opulent, dark fruit and hints of anise. 95 Pts
Satellite Regions
2008 D'Aiguilhe offers a perfume of licorice, oak, minerals, blackberry and coffee scents. Full bodied and concentrated, this ripe and round textured wine was bottled in June.  91 Pts
2008 Joanin Becot is stuffed with blackberry, oak, spice, smoke and licorice aromatics. Soft, round and already approachable, this black cherry tinged Right Bank wine should drink well young. 91 Pts
We'll probably be able to publish reviews of the 2008 in bottle Bordeaux wine vintage later today.  I'm working on it!