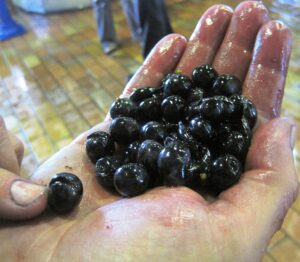 Chateau Fleur Cardinal has been on a roll since it was purchased by Florence and Dominique Decoster.  With 9 vintages under their belt, it's been a learning process.  While it's too early to know how 2010 will compare with what I think is their finest vintage, the outstanding 2005, we spoke to the Decoster's for their view on what is taking place with the 2010 Fleur Cardinale Harvest.
Does 2010 remind you of any previous vintage?  "In a sense, 2005 and 2009, due to their exceptional maturity, concentration and aromas."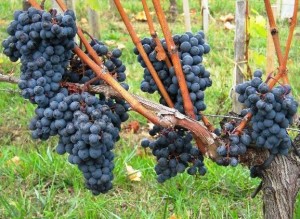 2010 was a late Bordeaux wine harvest for you. When did you finish picking? "We finished November 5 with the Cabernets." How does that compare with 2008, your latest harvest on record? "For 2008, we started harvesting Merlot on October 15 and finished with the Cabernet, November 13th."
Many producers had problems with the ripening of the Merlot in 2010.  What took place at your property? With us, the Merlot didn't suffer. The vineyard struggled a little during this hot, dry summer but we were not hurt too badly from dehydration."
With that in mind, what are your potential alcohol and pH levels? "We are on average expecting to be at 14.5% alcohol. Our pH levels at 3.5 with total acidity running at 3.1 which is normal for us."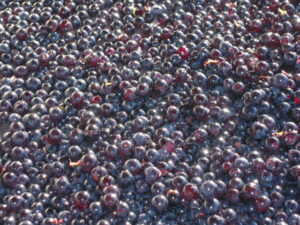 For this harvest you purchased a new Densimetric sorting machine. What made you decide to engage this technology?   "Due to a lack of uniformity in the maturity of the grapes due to a long flowering and cold spring, we chose to utilize the densimetric sorting machine. This helped remove the less than ripe fruit."
Will you be producing Secret in 2010? "Yes."
2010 Bordeaux wine harvest at La Couspaude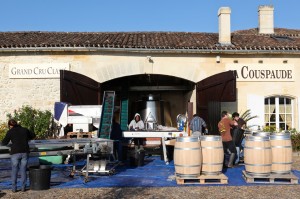 At Chateau La Couspade , they started their harvest late as well. According to Vanessa Aubert, they began picking their Merlot October 12. The following week October 19, they started working on their Cabernet Franc.
At La Couspaude, with the 2010 vintage they are trying something new for their vinification techniques. Vanessa Aubert says, "We will place the berries direct in new French oak barrels. This will allow us to make the alcoholic fermentation in barrel. We started to experiment with this technique last year with some of our 2009.