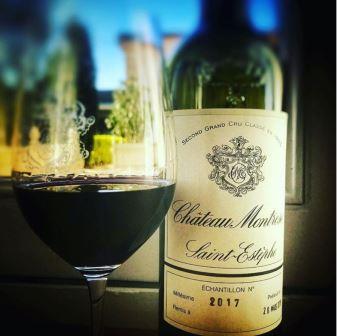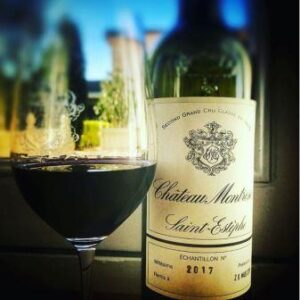 2017 Saint Estephe can be referred to as a mixed bag. There are some very good wines from the top estates, especially those located closest to the Gironde.
But other vineyards in St. Estephe had a more difficult time with the vintage, due to the frost and growing season. For a detailed look at the weather and harvest that shaped the 2017 Bordeaux growing season 2017 Bordeaux Vintage and Harvest Report
The vineyards with the best terroir, located on the gravel slopes within sight of the Gironde estuary produced outstanding Cabernet Sauvignon wines. They have style, character and charm.
Fortunately for consumers, it is not only the big 3 that scored high with 2017. Some of the smaller, lesser known vineyards were also successful this year! 2017 St. Estephe is not as consistent as 2014, the vintages most likely competitor.
But at its peak, 2017 Saint Estephe wines are at least as good, or even better than 2014, although not the same in style in character.
2017 Bordeaux follows the pattern of the frost. In the Medoc, the best wines are found in the northern part of Bordeaux, running from St. Estephe to St. Julien. As you travel further south, as you will see based on my tasting notes, the vintage becomes more problematic for various chateau.
During this years trip to Bordeaux I managed to taste more than 500 wines from the 2017 vintage. All those tasting notes and scores will be on the site by Friday, April 28.
2017 Saint Estephe tasting notes and reviews. All the wines listed in this report were tasted in Bordeaux between March 22 and April 12 in non blind conditions.
2017 Beau-Site – Forward and already easy to drink this wine is all about polished tannins and ripe, red fruits sifted in herbs and cedar with ruby-colored berries and cocoa in the finish. 86 – 87 Pts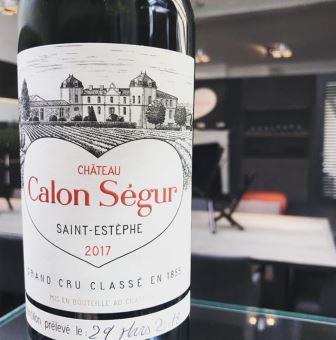 2017 Calon Segur – Spicy, sweet, fresh, earthy, red fruits, soft tannins and a sassy attitude create this wine's demeanor. There is density with strong, chewy tannins. The finish is polished, rich and energetic, delivering a blackberry Asian zing, licorice and a dark cocoa endnote. It will take time — at least a decade — before this nonconformist is civilized. The wine was produced from 76% Cabernet Sauvignon, 13% Merlot, 9% Cabernet Franc and 2% Petit Verdot, reaching 13.2% alcohol with a pH of 3.70. The harvest took place September 15 to September 29. 94 – 96 Pts
2017 Le Marquis de Calon Segur – Sweet, polished, soft and forward, the fruits have gentle textures, the tannins are ready and there is a lush, expressive appeal to the finish. 89 – 91 Pts
2017 Capbern – Alert, titillating, ripe and floral on the nose with a unique blend of earthy raspberries and cassis. Moving to the palate, the wine is medium bodied, the fruit is bright, sweet, crisp, crunchy and spicy. The blend was made from 55% Cabernet Sauvignon, 39% Merlot and 3% Petit Verdot. 90 – 92 Pts
2017 Cos dEstournel – Quite dark in color, the wine is full bodied, concentrated, lushly textured and offers a serious depth of flavor. Power and elegance make a perfect pairing here. The glycerin filled finish coats your palate, leaving you with a mélange of dark fruits that keep going for almost 50 seconds. The wine was made from blending 66% Cabernet Sauvignon, 32% Merlot, 1% Petit Verdot and 1% Cabernet Franc, reaching 13% alcohol with a pH of 3.7. The harvest took place September 12 to September 30 and the Grand Vin was made from only 40% of the harvest. 96 – 98 Pts
2017 Les Pagodes de Cos – With loads of dark, red berries and spice box notes, the wine is round and the texture has softness and flesh. 90 – 92 Pts
2017 Cos dEstournel Blanc – Youthful and crisp with a spark of honeysuckle, orange, grapefruit, vanilla and lemon on the nose. On the palate this wine is drenched in brightness and very refreshing. 93 Pts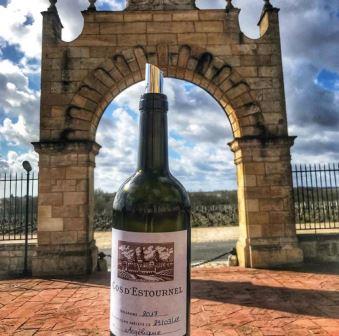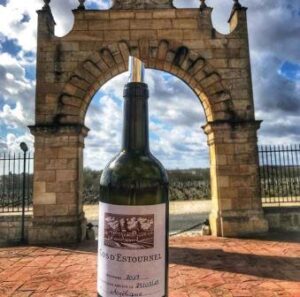 2017 Cos Labory – A medium bodied, forward, classic styled wine with an easy going, fresh, red berry character that will drink well with just a few years of age. 88 – 90 Pts
2017 Haut-Beausejour – Medium-bodied, hot and sweet, this wine is forward with a distinct olive, thyme and red berry character in the finish. 87 – 89 Pts
2017 Haut Marbuzet – Espresso, earth, tobacco haze and blackberries on the nose, this is medium bodied, bright, fresh and soft. You may enjoy this wine early, as the tannins and fruits are extremely tender. 88 – 90 Pts
2017 Lafon Rochet – Dark, spicy and soft textured, there is fresh blackberry and cassis with accents of licorice and espresso. The wine is medium bodied and bright, leaving you with an earthy, red berry finish. 90 – 92 Pts
2017 Le Boscq St. Estephe – Ethereal maroon in hue, the wine is resonant with fleshy, vibrant fruit. The tannins are soft and only a few years are needed to bring out even more complexity. 88 – 90 Pts
2017 Le Crock – Spicy black cherries kick in quickly. This wine is medium bodied, fresh, sweet and finishes with herbs, bright fruit and a soft, polished touch. The wine was produced from 52% Cabernet Sauvignon, 34% Merlot, 8% Petit Verdot and 6% Cabernet Franc. 89 – 91 Pts
2017 Les-Ormes-de-Pez – Spicy and grounded with fertile soil and the reddest of fruit, here you'll find cedar, tobacco and blackberries. Timelessly crisp, fresh and lively with herbs, olive and pepper on the palate and in the finish. 89 – 91 Pts
2017 Lilian Ladouys – Licorice, black raspberries, tobacco, smoky cherries, spice and cedar characteristics come out in this medium/full bodied, dusty textured, forward wine which ends in a soft, red berry finish. Made from blending of 50% Merlot, 43% Cabernet Sauvignon and 7% Petit Verdot, the wine reached 13.2% alcohol. 89 – 91 Pts
2017 Magrez La Peyre – The debut vintage for this new wine from Bernard Magrez kicks off with oak, dark red fruits, smoke and spice. From a blend of 70% Merlot and 30% Cabernet Sauvignon, the wine is sweet, supple and forward presenting an easy to like, spicy, black cherry character. 88 – 90 Pts
2017 Meyney – Soft textured, medium bodied, sweet, ripe and polished, there is a gentle, fruity quality that carries through from the attack to the already open finish. 89 – 91 Pts
2017 Montrose – Deep and shiny in color, tobacco leaf, cedar wood, pencil shavings and dark fruits appear with no effort at all. Full bodied, lively, vibrant and juicy fruits, this wine is long and intrepid with a strong tannic backbone. The tannins are perfectly polished and there is an established purity of fruit and a structure to age for decades. Like all the top vintages of Montrose, you will need to allow it time in the cellar, at least 10 to15 years, which in the world of Montrose is almost forward. The wine was made from blending 76% Cabernet Sauvignon, 20% Montrose, 3% Cabernet Franc and 1% Petit Verdot, reaching 13.5% alcohol with a pH of 3.65. The Grand Vin was made from 37% of the harvest, which took place September 12 to September 29. 97 – 99 Pts
2017 La-Dame-deMontrose – Cedar and tobacco leaf on the front end, this is all about juicy, bright, crisp cassis. There is suitable spice and a hint of green olive with soft tannins and even more fruit on the back end. This should drink well with just one to three years of age. 90 – 92 Pts
2017 Petit-Bocq – Light in color and in fruit, this early drinking, medium-bodied wine is on the bright, red fruit side. There are soft tannins along with crisp cherry and cranberry notes in the finish. 85 – 87 Pts
2017 de Pez – Medium bodied with a polish to the fruits, the wine is delicate with a waft of cedar, tobacco leaf and a cassis finish – enjoy this wine while it is young. 89 – 91 Pts
2017 Phelan Segur – Ready, succulent, dark red fruits and spice are what you find initially. On the palate, the wine has baby soft tannins, ripe, deep red fruits and gentle tones of licorice, espresso, spice and earth. 90 – 92 Pts
2017 Tronquoy Lalande – Bitter chocolate, thyme and dark, red fruits in the nose bring you to a round, soft, sweet, fruity sensation. The wine is open with bright tannins and a sweetness of fruit in the finish. Produced from a blend of 55% Merlot, 37% Cabernet Sauvignon, 6% Petit Verdot and 2% Cabernet Franc, the harvest took place from September 7 to October 3. 91 – 93 Pts
Next up is a complete report on 2017 Pauillac, covering the 33 best wines of the appellation.