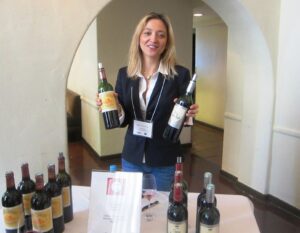 Young wines mature at a rapid pace.   It will be interesting to monitor how the vintage is developing as the wines will show much better when I return in the summer, than they will during the April tastings.  With that in mind, why do they hold the tastings in April?  That's a topic for another day. While that will probably never change, it's an interesting discssion worth having over a nice Bordeaux wine, or two.
.
.
2010 Patris  – From close to 90% merlot, this small 9 hectare, St. Emilion vineyard produced a wine with notes of tobacco, black raspberry and earthy aromas.  Medium/full bodied, the wine finishes with a nice black cherry sensation. 87-89 Pts
.
Campanile in Los Angeles provided a nice cheese platter with an assortment of tray passes for the invited tasters.  It was a tough job, but someone had to do  it.