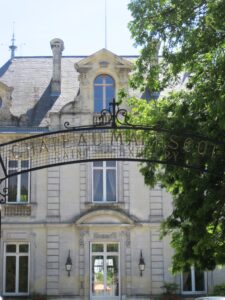 Chateau Malescot St. Exupery Margaux, Bordeaux wine producer profile, with a history of the property, plus information on their wine making techniques and their terroir, along with wine tasting reviews and links
Chateau Malescot St. Exupery has a long history in the Bordeaux wine region. The property can be traced all the way back to 1616. However, things have changes over the 400 years years. And the last decade has been an amazing time for fortunes of Malescot St. Exupery.
Run, do not walk and taste this wine! Jean-Luc Zuger is on fire at this Margaux winery. The wines being made at the property today are stunning! Perhaps because they have only been on a hot streak for a few years, for a Bordeaux wine of this quality, they remain failry priced. This wine is no shrinking violet. It is thick, rich, pure and aromatic. The tannins are soft and the plush texture is pure elegance. 2009 is a stunning wine and is even better than the sublime 2005! For a wine of this quality, it remains fairly priced.