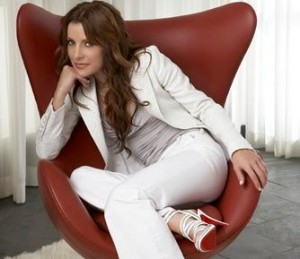 Wine & The Single Girl: Split Decision
I was recently given a half bottle of Bordeaux by a suitor. He received an A+ in the gift-giving department. It was a bottle of 1966 Chateau Lafite Rothschild . Sadly, he  failed in a different, but  equally important area. I have yet to open the bottle.  I am saving it for a special occasion – a night when I have depleted all other splits from my personal inventory. 
As a single girl, I move through the half bottles in my wine fridge quicker than the full bottles, rarely wanting to consume an entire bottle when home alone, which tragically happens all to often. When going out, we single women often dine alone or with a girlfriend. Either way, the volume of wine consumed (unless going through a break up and/or having a nervous breakdown) is usually limited to a glass and a half each due to the weight/alcohol/sloppy-drunk ratio. 
I was recently at Lucques in West Hollywood with a girlfriend who doesn't drink wine. I know. How does she even rank as a friend? The 2007 Kamen Estate Cabernet, a well-balanced, fruit-forward biodynamic wine from the Southern Mayacamas region of California would have paired wonderfully with the short ribs and horseradish mashed potatoes I was eying on the menu, but the last thing I wanted was to drink an entire bottle on my own. The second to last thing I wanted was to leave half a bottle of wine on the table. Having previously ordered a split of this luscious Cabernet at Jean-Georges in New York, I scanned Lucques' list for half bottles. I was shocked to discover that they didn't have a single split on the menu. Left with limited by-the-glass choices, I settled on a 2008 Lang & Reed Napa Cabernet Franc, a Chinon styled wine, fresh, fruity with dried cherry, tobacco and sage notes. It was that or a Richard Perry Cabernet. Either would leave me longing for the seamlessly integrated black fruit and soft, supple tannins of my first choice.
I always prefer to order a split of something amazing than a glass of anything good.  Most serious food restaurants have a nice half bottle selection. In San Francisco, I enjoyed a split of 2008 Kongsgaard Chardonnay with horseradish crusted salmon medallion with dilled cucumbers and mustard sauce followed by a split of '05 Araujo Eisele Vineyard Syrah for its rich spicy fruit and black licorice notes to accompany my hearty winter meal of roasted pork belly and tenderloin with brussel sprouts, bacon, parsnip purée and maple-cider glaze. This complex yet elegant wine was inky black in the glass, opened up quickly, and proved to be the perfect pairing to my meal. I got two great splits for the price of one full bottle and was happy as a casino clam. Gary Danko has an extensive list of half bottles appealing to the single woman – though the rich food is not so appealing to the single woman's waistline.
When it comes to food calories versus wine calories, wine wins out every time with this single girl.
 Many winemakers shy away from splits as they feel the wine ages more rapidly in the small bottles and shows differently than in the standard 750ml bottles. I see the ability to have a more aged wine from a younger vintage as a benefit, not a drawback. And, unless presented side-by-side, my palate is not refined enough to distinguish those little aging nuances. I always have a selection of splits at home, so I don't have to pop an expensive bottle just to have a glass. I have come across some wonderful, great values from  Chateauneuf du Pape in splits at local wine stores.  Of note are the 2006 Vieux Donjon and the 2006 Pierre Usseglio.
There is no reason to limit oneself to by-the-glass wines when so many half bottles are available. If it were my decision, I would always order splits. Sadly, it's the wine directors' decision whether or not they are available to us single girls of discerning taste.
NOTE: For the purpose of this article, I use the term split and half-bottle interchangeably as 99% of the general public refer to half bottles as splits. For those women who think size matters, the article When Size Matters published in www.thewinecellarinsider.com will shed light on the subject – at least in regard to wine bottles.