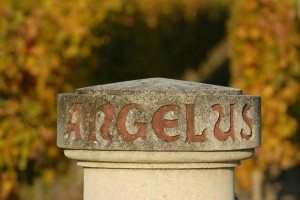 Written by Martin Zwick   www.berlinkitchen.com
I had the great honour to meet former general director Gildas d'Ollone of Ch. Pichon Comtesse de Lalande and co-owner Jean Bernard-Grenié of Ch. Angélus in Berlin. The wine-dinner was organized by the wine-journalist Panos Kakaviatos/DECANTER.  It was such a splendid event………. 
Château Pichon Comtesse de Lalande and Château Angélus are of two different styles, but both appeal to me. While Pichon Lalande shows classic elegance and grace from the Left Bank, Angélus is more the modern Right Bank style with its richnes and opulence.
 Of course we started with a glass of champagne and I had some discussion with guests about Angélus. Some people mentioned the important role of Michel Rolland as a consultant, the high ratings by Mr. Parker and the appearance in a Bond movie.
But more importantly was the arrival of  Hubert de Boüard de Laforest in 1976 who studied under Émile Peynaud at the Faculté d'Oenologie in
Bordeaux
.   He quickly realised that there was considerable room for improvement in all areas at Angélus.  "In the chai he started with the introduction of new equipment, stainless steel to replace the vinification vessels which were concrete, and new barrels for the subsequent maturation of the wines. Following Hubert taking full control in 1985, Angélus has also seen the arrival of climate-controlled cellars and a new
tasting
room. And perhaps more notably, some of his experiences in Burgundy have been incorporated into the winemaking at Angélus, such as the rapid move of the wine into barrel, where malolactic occurs, and the importance of lees in the élevage of red wines.
These changes may sound relatively minor, but when one considers that Hubert de Boüard's father never utilised barrel maturation at all, the wine going from concrete tank into bottle, this was a major shift in direction (and a huge financial investment) for Angélus. And  in the vineyard there was increased selection and a new approach, a move towards managing the estate plot-by-plot rather than as a single entity. Fertilisation is organic rather than chemical, there is grass covering between the rows of vines, and there is much focus on preserving the health of the soil, ensuring that it remains richly endowed with a diverse array of microbial life.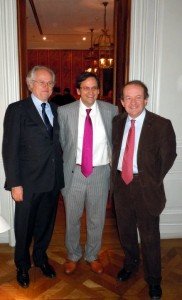 Flight #1 
2001 Ch. Angélus
60%
Merlot
and 40% Cabernet
franc
. Nicely developped already and clearly at its prime drinking window. Classic Angélus……full-bodied with a sweet&ripe Merlot driven fruit and
truffle, leather&tobacco with a hint of port. In addition your palate will be coated in velvet. I love this sexy hedonistic style. Interestingly 2 friends discovered some hint of brett incl. animalstic touch. Not me. Here in Europe a steal for 100 Euro. The vintage 2001 is clearly an underrated vintage!   94pts.
.
2002 Ch. Pichon Lalande Solid start with refinement&freshness and purity. Lovely silky tannins and a flavor profile of cassis and graphit. Very elegant! Please wait a few more years, your patience will be rewarded. 92pts.
.
1998 Ch. Angélus This wine brings back good memories, as I had a fantastic bottle a few years ago with Panos Kakaviatos and the CNN journalist Chris Burns at the Hotel Adlon.  Again, a sexy beast with its rich flavors of black chocolate, black fruits, coffee but despite its opulence it shows a remarkable elegance.  Notes of freshness in the finish which reminds us on the presence of the Cabernet franc with its subtlety.  According to Jeff Leve this is the best wine produced by the Chateau between 1990 and 2000. 95pts.
.
1996 Ch. Pichon Lalande Pure ELEGANCE. Not to love this wine is impossible……..
As my friend Panos perfectly stated "this wine marries grace with character". Typical for this vintage clearly more
Cabernet Sauvignon
-driven than usual (75%). Flavors of graphit, cassis, blackberry, chocolate, mokka and a neverending finish. Such seductive! It seems to be on its early plateau perhaps on a soft slope upwards. Maybe the best Pichon Lalande since 1982.  96pts.
.
1995 Ch. Angélus Typical `95, strong tannins, acidity and everything quite tight. Powerful finish.  Nice, but I prefer other vintages from Angélus. 93pts.
.
1995 Ch. Pichon Lalande WOW, gorgeous structure and finesse. Cassis, graphit, mint, licorice and an impressive balance with silky texture. Finesse beats Power!  95pts.
1989 Ch. Angélus WOTN….breathtaking. This wine matches perfectly richness with balance, length and complexity. Full-bodied, ripe&round tannins, plum, chocolate box and velvet. Everything is on the right place.  97pts.
.
1988 Ch. Pichon Lalande Showed a nice harmony&finesse and drinking pleasure but was clearly in the shadow of Angélus in this flight.  93pts.
.
2005 Ch. Angélus No doubt, despite its youth this wine will be as good as the ´89.  Massive with its concentrated fruit and a hint of port.  A sleeping monster! 97-98pts.
.
2005  Ch. Pichon Lalande Honestly, I don´t share the view of Mr. Parker who gave 86pts. for this wine.  Very elegant with polished tannins and a fine fruit. Lovely freshness and finesse. On the other hand it is fair to say that the performance is disapppointing for such an exceptional vintage.  91-92pts.