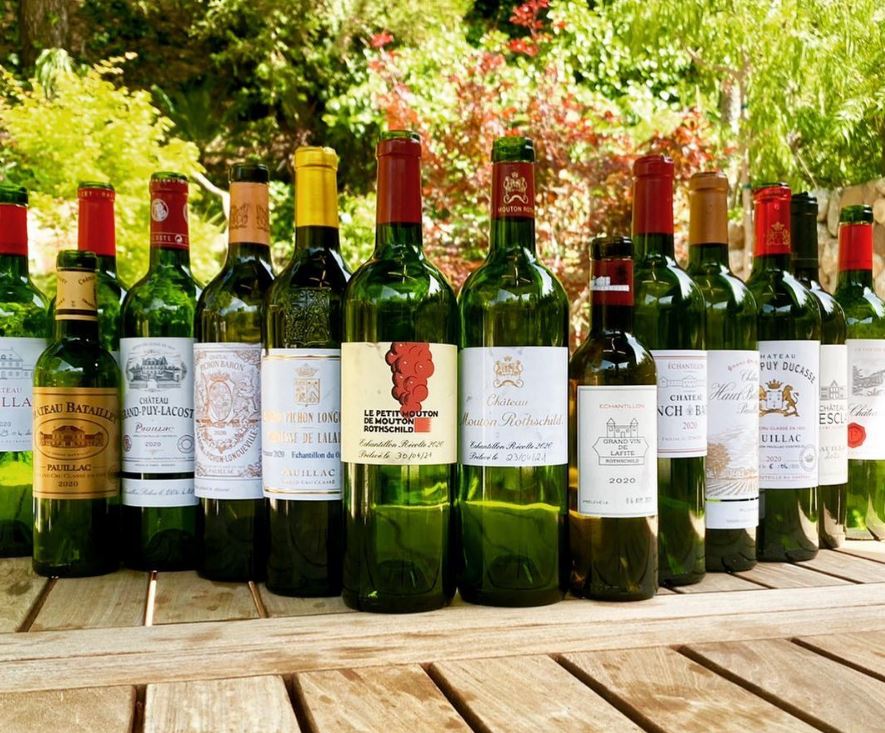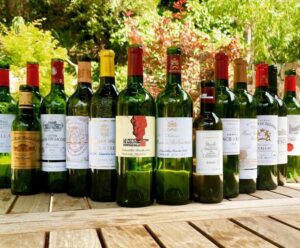 2020 Pauillac is a very good vintage. Though it will not be seen as the best year from the 2018, 2019, and 2020 trio. That does not mean the 2020 Pauillac wines are not outstanding. They are very good. But for various reasons, as you will see below, 2018 and 2019 were more successful, complete vintages.
The growing season for 2020 Pauillac was in large part the result of the hot, sunny, and extremely dry summer remembers Jean-Charles Cazes of Chateau Lynch-Bages.
"The vintage in Pauillac was characterized by relatively high temperatures in the growing season with very little rain between mid-June and mid-August. That ensured top concentrated cabernet with low yields. Perfect ripeness with moderate alcohol content."
In the drought conditions found in 2020 Pauillac, the harvest brought grapes that were small, concentrated, juicy and sweet. In the most favored vineyards, the skins, seeds and even the stems ripened. The berries have thick skins, high levels of tannins and the skins were dark. But that is not the case everywhere. In fact, the size of berries varied not just from vineyard to vineyard, but parcel to parcel, and in the individual grapes as well recalls Jean-Rene Matignon of Chateau Pichon-Baron.
"The size of the berry was different in terroir to terroir and in the grapes as well. From Merlot to Cabernet Sauvignon. Something else, the number of seeds was higher than usual, as well."
As we mentioned, the summer drought shaped much of the vintage's character. But that is just a quick summary. To understand how 2020 Pauillac developed its personality and style, you need to look at the climatic conditions for the entire growing season.
The winter months were mild. Conditions remained mild in Bordeaux through February. In fact, a few days in February were quite warm, reaching up to 23 Celsius, 74 Fahrenheit. Things changed considerably in early March with periods of torrential rains.
Temperatures heated up by the middle of March, and bud break began taking place. But the bud break was not homogeneous. It varied, and it did not happen rapidly, taking over two weeks or more, depending on the terroir and conditions.
April brought hot weather, accelerating the growing season. April 2020 was hot enough to have recorded the 3rd highest temperatures in 50 years. April was not only hot, but it was also wet, with downpours taking place from April 17 to April 20.
May was warm and wet. May 2020 entered the record books as the 4th warmest month in eight decades! At its peak, temperatures rose to 30 Celsius, 86 Fahrenheit, hastening the pace of the vintage. Flowering took place 10 days faster than usual, making 2020 Bordeaux an early vintage.
June was cool and rainy, with less than average hours of sunshine, slowing down the growth cycle. At this point, some growers had issues with mildew.
The summer proved to be hot, sunny, and dry. July was marked by drought conditions, which continued through to August. Here is where the differences in terroir came into place. Water retentive clay and limestone soils were able to nourish the vines. Vineyards with dry, warm gravelly soils suffered from vines that stopped their growth cycle. Young vines as you would expect suffered the most.
Following the heatwave that hit in the middle August the combination of cool nights and the much-needed rain from August 9 to August 14, falling shortly after véraison, unblocked the vines that needed moisture.
However, the rain did not fall evenly across Bordeaux which factored into the 2020 Bordeaux vintage's quality. Depending on the vineyard, rains in the northern Medoc and Pauillac received as much as 110 mm (4.3). The August rains were incredibly beneficial. They were able to reenergize the vines, reigniting the growing season, and prevent severe water stress. Though, it may have been too much water for some vineyards.
September started out as hot, sunny, and dry, with cool nights, allowing the red wine grapes to continue their maturation. These good conditions lasted until September 20, when the weather cooled down. It was as if fall weather conditions started to kick in with temperatures in the daytime dropping to almost 12 Celsius, (54 Fahrenheit!) in the northern Medoc. The unseasonably cool temperatures continued through the harvest period.
Picking began for young Merlot vines in the early part of September, which is quite early. For the most part, Cabernet Sauvignon was picked after the Merlot. But that was not always the case. Many Left Bank vineyards were picking Cabernet while Merlot was still being harvested starting in early to mid-September.
Finding the exact day to pick proved to be one of the keys to the vintage, according to Nicolas Glumineau, Chateau Pichon-Lalande.
"At the very moment of the harvest, we took a lot of care to keep the state of the freshness in the Merlot. That was important to express their floral and fruity complexity."
While the Cabernets in many vineyards did not achieve full ripeness, the berries were intense and concentrated with massive amounts of tannins and anthocyanins. This allowed for high-quality wines with great color, aromatics, and refinement, but without the levels of concentration and intensity found in 2018. That being said, the 2020 Bordeaux vintage should age quite well.
2020 Pauillac required a soft touch in the cellars during the extraction process recalls Eric Kohler of Chateau Lafite-Rothschild.
"With 2020 we immediately understood the high richness and extraction of the 2020 vintage. Thus we used soft vinifications. Also, the very rapid alcoholic fermentation of the vintage required us to pump over more often, but for shorter periods of time."
For a detailed report on the 2020 Bordeaux growing season and harvest
2020 Pauillac at their best is deeply colored, aromatic and readily displays strong floral notes as well as savory profiles, depending on the terroir. The fruits range from deep red to black. Levels of concentration vary depending on the vineyard and appellation. But overall, the wines offer a depth of flavor and purity. The tannins are soft, the wines provide richness, silky textures and length. Jean-Emmanuel Danjoy of Chateau Mouton-Rothschild was surprised at the quality of 2020 Pauillac, after the challenging growing season.
"What we find extraordinary is that in this roller coaster of a year, 2020 Pauillac turned out with so much harmony and balance."
In most cases, the wines will be relatively precocious. However, you also find some rusticity to the tannins with some wines as well as savory, herbal and leafy green notes. Perhaps 2020 Pauillac is a modern-day classic vintage that will appeal to tasters from both sides of the style spectrum.
With lower levels of alcohol than you find in 2019 and 2018 in many wines, classic Bordeaux lovers will rejoice, and consumers looking for hedonistic thrills will also find wines to cellar. Emeline Borie of Grand-Puy-Lacoste agrees with the term "classic" for 2020 Bordeaux.
"It's a vintage more "classic" in terms of structure. 2020 has more of the signature of GPL with a real Cabernet Sauvignon flavor!"
The following 2020 Pauillac wines were all tasted in my home office in non-blind conditions.
2020 dArmailhac – Juicy, spicy, supple and fresh, the wine is medium-bodied, refined, soft and polished, finishing with ripe, red and black currants, savory herbs, tobacco leaf and hints of spicy pepper on the backend. The wine blends 59% Cabernet Sauvignon, 30% Merlot, 8% Cabernet Franc and 3% Petit Verdot, 13.3% ABV. alcohol. 92-94 Pts
2020 Batailley – Deep in color, the wine opens quickly with aromas of tobacco leaf, spicy currants, cedar, flowers, cigar box and blackberries. Full-bodied, round, concentrated and with ripe, polished, creamy tannins, the wine finishes with spicy, red berries, savory herbs and a refreshing spearmint note. Give this at least 8 years in the cellar and enjoy it over the following 2-3 decades. 93-95 Pts
2020 Batailley Lions de – Medium-bodied, fresh, forward, sweet and fruity with an easy to like cassis filled character, this will be nice to enjoy on release while waiting for the Grand Vin to develop. 87-89 Pts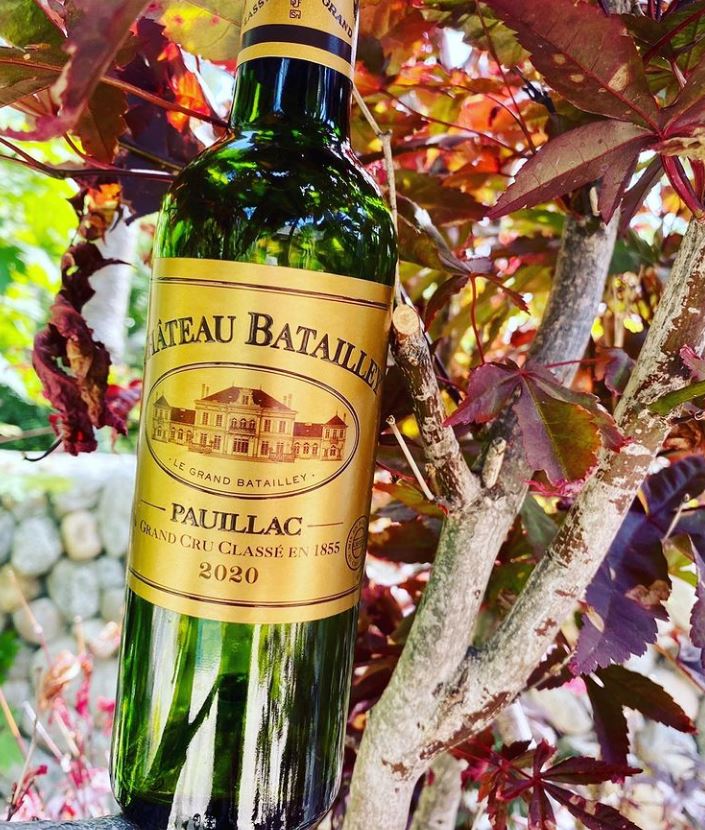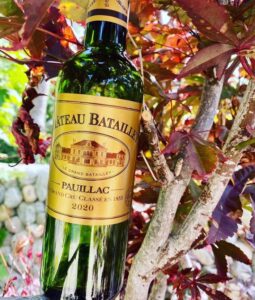 2020 Clerc Milon – With a floral, spicy, tobacco leaf, currant and chocolate-filled perfume, the wine is elegant, fresh, supple and silky. There is a beautiful sweetness to the currants, cherries and plums in the mouth. The sensation of the Merlot comes through the blend more than usual as you find a touch of dark chocolate gently coating your palate in the finish, adding length, texture and complexity. This is so good now. But it is going to be even better with 7-9 years of age. The wine blends 53% Cabernet Sauvignon, 37% Merlot, 8% Cabernet Franc, 2% Petit Verdot, 13.3% ABV. 94-96 Pts
2020 Clerc Milon Pastourelle de Clerc Milon – Spicy, forward and fresh, this medium-bodied charmer serves up sweet cassis with hints of savory herbs in an approachable, soft textured style that is perfect for casual bistros and cafes. 89-91 Pts
2020 Croizet-Bages – Tobacco, cedar, flowers, mint and creme de cassis come to the forefront with little effort. Medium/full-bodied, with a generous dose of chewy currants, herbs and cigar wrapper, there is serious Pauillac character here. This is the best vintage of Croizet-Bages I recall tasting. Priced correctly, this is worth taking a look at. 90-92 Pts
2020 Duhart-Milon – Earthy in nature, the wine lifts off with its cigar wrapper, forest leaf, tobacco, peppery spice and sweet red currant profile. Medium-bodied, elegant, silky and fresh, with beautiful symmetry and balance, along with freshness, length and purity in the fruits, this is a top vintage for Duhart Milon. The wine is a blend of 72% Cabernet Sauvignon and 28% Merlot. This is the first vintage made in the new cellars, which for the first time allow for parcel-by-parcel vinification. 93-95 Pts
2020 Fonbadet – Juicy, crisp and fresh with firm tannins, medium-body and loads of sweet crémé de cassis, flowers, tobacco and coffee bean notes for you to enjoy. The wine is complex, and bright, with a lingering, red currant finish. Give it 5 years of age or more if can you can wait and enjoy it over the next 15-20 years with ease. 91-93 Pts
2020 Grand Puy Ducasse – Dark in color with a nose that quickly displays its cedar, tobacco leaf, thyme, smoke and black currant character, the wine is full-bodied and fleshy with salty tannins and a finish loaded with savory creme de cassis and a touch of chocolate. The wine is rich, supple, long, fresh and delivers a serious depth of flavor and character. This is a top vintage for Grand Puy Ducasse that will age for 3 decades with ease. 92-94 Pts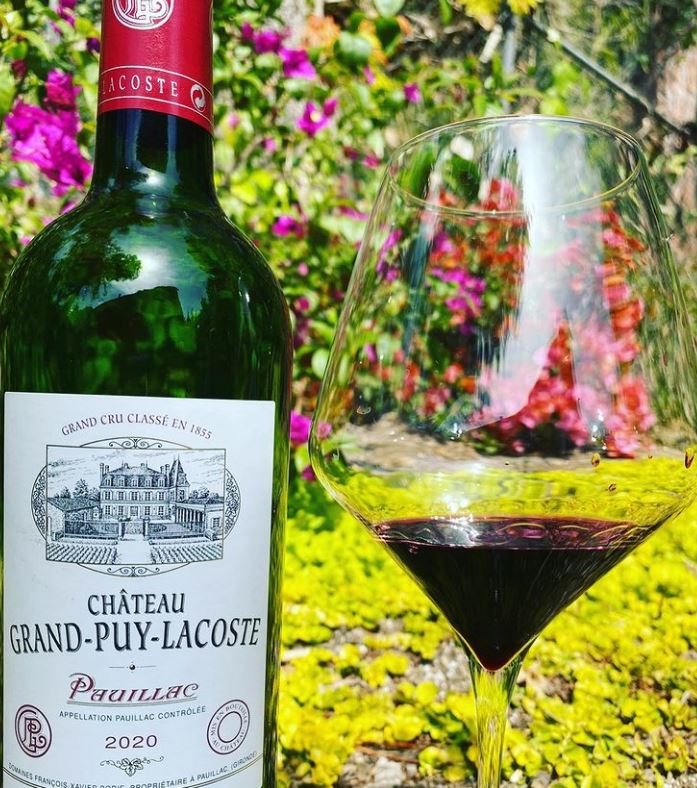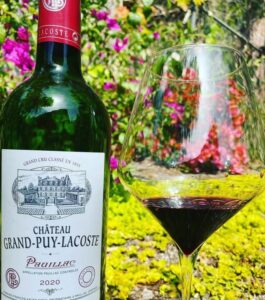 2020 Grand Puy Lacoste – Dark garnet in hue, the wine comes alive with its aromatic display of peppery, savory cassis, cigar box, forest floor and herbs. Concentrated, ripe, round and with richness and flesh, the big, juicy gulp of chewy cassis in the endnote is exactly what I was looking for. Wait 8-9 years and enjoy it over the next 2-3 decades after that. 94-96 Pts
2020 Haut Batailley – Richly colored, right off the bat you find tobacco, cedar, savory herbs, earth and spicy red currants on the nose and mid-palate. Full-bodied, concentrated and with a big blast of sweet, juicy cassis that carries through to the finish, this is a soft textured, fruit-filled, elegantly styled Pauillac that should provide a lot of pleasure before it hits its 10th birthday. The wine blends 62% Cabernet Sauvignon with 38% Merlot. 93-95 Pts
2020 Haut-Bages Monpelou – Savory, bright red currants with accents of underbrush, spice, cassis and cedar dominate the wine. Medium-bodied, crisp and savory, the finish is firm, fruity and already easy to drink. 89-91 Pts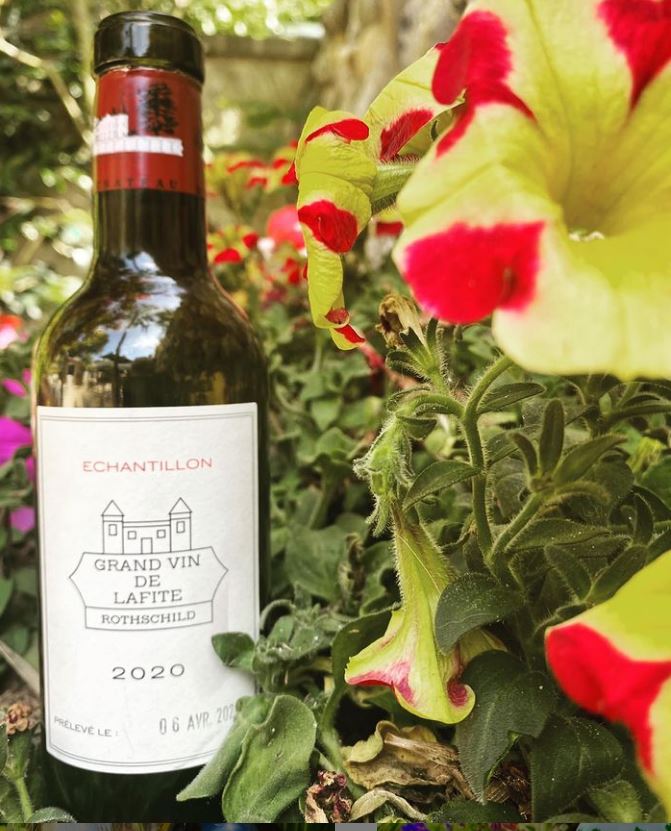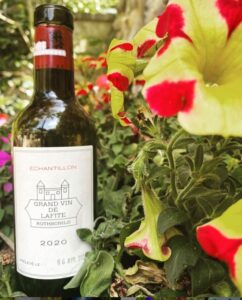 2020 Lafite Rothschild – The compelling nose, with its showy notes of lead pencil, tobacco leaf, cedar, cigar box, currants, spice and wet forest leaf comes through easily. The palate is pure silk in texture. Seamlessly moving from the beginning, middle and end, the wine is fresh, bright, long and intense. The purity in the fruit, paired with its energy and lift lingers for more than 50 seconds. Refined, elegant, complex and compelling, if you have the patience to wait for 15-20 years before opening a bottle, this is going to be one of the great vintages for Lafite Rothschild. The wine is a blend of 92% Cabernet Sauvignon, 7% Merlot and 1% Petit Verdot 12.8% ABV. The harvest took place September 14 – October 4. With yields of 37 hectoliters per hectare, the Grand Vin represents 45% of the harvest. 97-99 Pts
2020 Carruades de Lafite – Flowers, cedar, tobacco, spice, exuberant black raspberries, kirsch and plums open the perfume. Medium-bodied, elegant, fresh and lifted on the nose and palate, this is good example of a baby Lafite in its youth. The finish is all about its silky elegance and purity of fruit. The wine is a blend of 52% Cabernet Sauvignon, 42% Merlot, 3% Cabernet Franc and 3% Petit Verdot. 93-95 Pts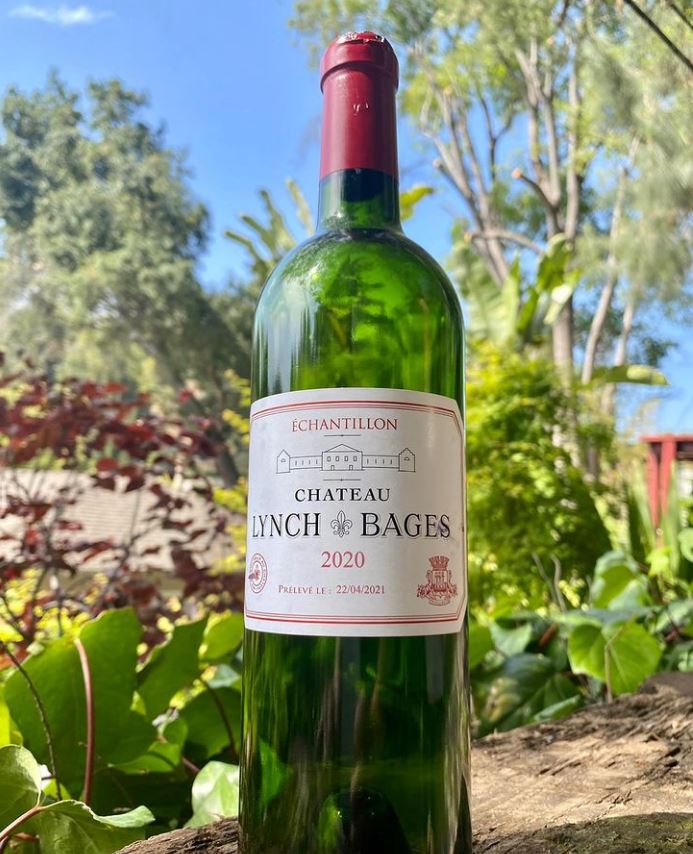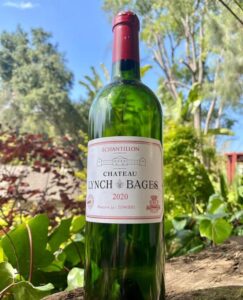 2020 Lynch Bages – The first vintage made in their brand new, state-of-the-art cellars is deep garnet in color. The wine rapidly opens with notes of Cuban cigars, cedar, creme de cassis, flowers and forest leaf aromas. On the palate, the wine is full-bodied, soft, round and fresh. The elegant tannins allow the wine to gently unfurl, revealing its sweet red currants, kirsch liqueur and creamy-textured, rich finish. This refined styled vintage of Lynch Bages blends 60% Cabernet Sauvignon, 31% Merlot, 5% Petit Verdot and 4% Cabernet Franc, 13.4% ABV. The yields were only 33 hectoliters per hectare. 95-97 Pts
2020 Lynch-Moussas – Tobacco leaf, cedar, spice, cigar box and red berries are just great on the nose. Medium/full-bodied, refined, crisp and juicy, with round tannins, concentration, and a firm, fresh, bite of Cabernet Sauvignon and tobacco leaf on the palate that stays with you through the savory finish. Give this 7-8 years in the cellar and enjoy it over the following 2 decades with pleasure. 92-94 Pts
2020 Les Hauts de Lynch-Moussas – Flowers and red currants with a touch of spice are on the nose. Medium-bodied, bright, fresh, crisp and crunchy with a sweet, creme de cassis character on the palate and in the finish makes this easy to enjoy while waiting for the Grand Vin to mature. 87-89 Pts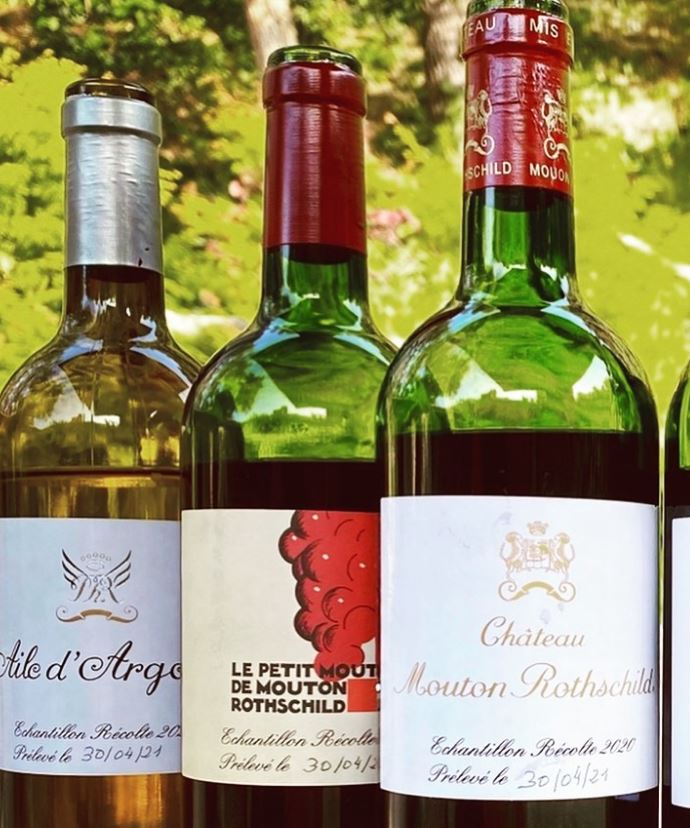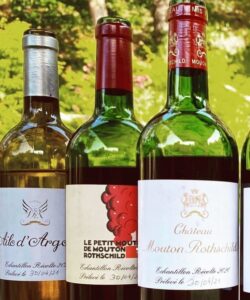 2020 Mouton Rothschild – Dark, almost opaque in color, the wine opens with a cornucopia of scents; spice-box, dark Cuban cigar wrapper, flowers, creme de cassis, blackberry espresso, mint and a drop of dark chocolate. Concentrated, full-bodied, deep, long, intense and complex, texturally, the wine is opulent, plush and velvety. But there is also more than ample lift keeping everything upbeat. The seamless finish is perfectly balanced, with all its layers of polished, sensuous, silky fruits in the right place for over 60 seconds! The wine blends 84% Cabernet Sauvignon,13% Merlot, 2% Cabernet Franc and 1% Petit Verdot, 13.1% ABV, pH 3.8. Yields were low at 32 hectoliters per hectare with only 49% of the harvest going into the Grand Vin, so not much wine was made. The harvest took place September 7-September 24. The first vintage with Jean-Emmanuel Danjoy calling the shots is a tremendous success! This is a contender for wine of the vintage. 98-100 Pts
2020 Petit Mouton de Mouton Rothschild – Elegant, sophisticated, long, clean and expansive, this is showing just great due to all its layers of perfectly ripe, red fruits, silky tannins, length and freshness. There is a real verve here, with concentration, sweetness, lift and complexity allowing the wine to age and evolve. The finish leaves you with more of those sweet, ripe, juicy berries. Today the second wine of Mouton Rothschild is superior to every vintage of Mouton produced in the 70s and in most of the 80s! The wine blends 72% Cabernet Sauvignon, 24% Merlot and 4% Cabernet Franc, 13.1% ABV. 94-96 Pts
2020 Mouton Rothschild Aile D'Argent Blanc – Squeeze fresh lemons over rocks and you get the picture. The wine is bright, zesty, crisp and juicy. With creamy textures, lift and length, the wine offers purity and compelling freshness. 95 Pts
2020 Pauillac – Cigar box, tobacco leaf, espresso bean, black currants, smoke and savory herbs create the nose. On the palate, the wine is round, lush and polished, with loads of ripe tannins, blackberries and cherries. The tannins are soft and polished, and the finish resonates with its core of sweet, ripe fruits. 93-95 Pts
2020 Pedesclaux – Dark garnet in color, the wine is all about its creme de cassis, flowers, blackberries, cigar wrapper, smoke and green forest leaf aromatics. Vibrant and silky with freshness to the fruits bringing you lift and definition. The wine finishes with a touch of cocoa, tobacco and ripe, sweet, juicy, savory currants that linger. This is clearly an estate on the rise. Give this at least 7 years of aging before pulling a cork. The wine is a blend of 56% Cabernet Sauvignon, 34% Merlot, 5% Cabernet Franc and 5% Petit Verdot. 92-94 Pts
2020 Pedesclaux Fleur de Pedesclaux – Perfect for ordering in a cafe or bistro, the wine is juicy, fruity and fresh with sweet, ripe currants, red plums and cranberries. The wine is round, soft and ready to go on release. 89-91 Pts
2020 Pibran – Medium-bodied, fresh, bright and already delivering a soft, crisp core of sweet cherries, currants, cedar, herbs and pepper on the nose and palate. Give this energetic, spicy, classic Pauillac just a few years of age, and all its sweetness, spice and tobacco will be in full bloom. 90-92 Pts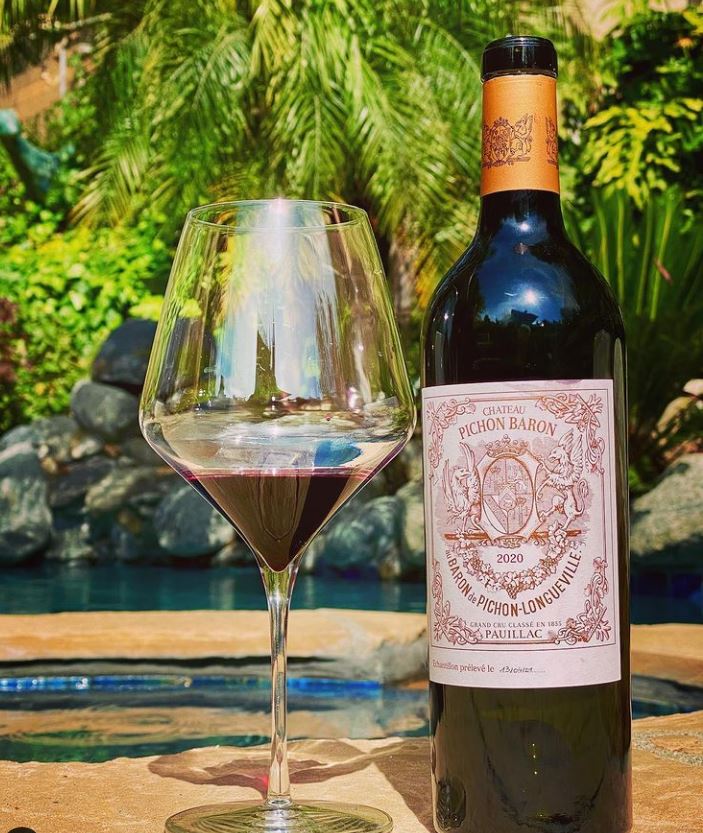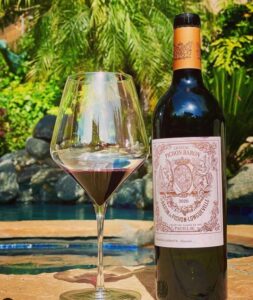 2020 Pichon Baron – Richly colored with purple around the edges the wine struts its creme de cassis, tobacco, cigar box, earthy, forest floor and peppery spice nose with ease. On the palate, the wine is round, polished, sweet, fresh, ripe, long and elegant. This is a refined, classic, potentially forward vintage of Pichon Baron that should start showing quite well with just a decade of aging. The wine was made from blending 76% Cabernet Sauvignon and 24% Merlot, 13.6% ABV. Yields were only 33 hectoliters per hectare. 97-99 Pts
2020 Les Griffons de Pichon Baron – This is a Richly textured, round, lush, fruit-filled, medium/full-bodied, earthy expression of Pauillac. You find tobacco, cedar chest, forest floor, flowers, blackberry, oak and vanilla along with red and black currants. The wine is sweet, juicy, lifted and forward. It's round in the mouth with ripe, polished tannins and a creamy finish. This will be best with 3-5 years of age. Les Griffons de Pichon Baron is produced from a vat selection made before the final blending. 91-93 Pts
2020 Les Tourelles de Longueville – Cedar, tobacco, forest leaf, spearmint and red currants form the perfume. On the palate, the wine is medium-bodied, elegant, soft, sweet, fresh and loaded with ripe, clean red fruits. The mid-palate and finish serve up sweet, creme de cassis in every sniff and sip. Les Tourelles de Longueville is always produced from a parcel selection created to offer a baby Pichon Baron experience. 89-91 Pts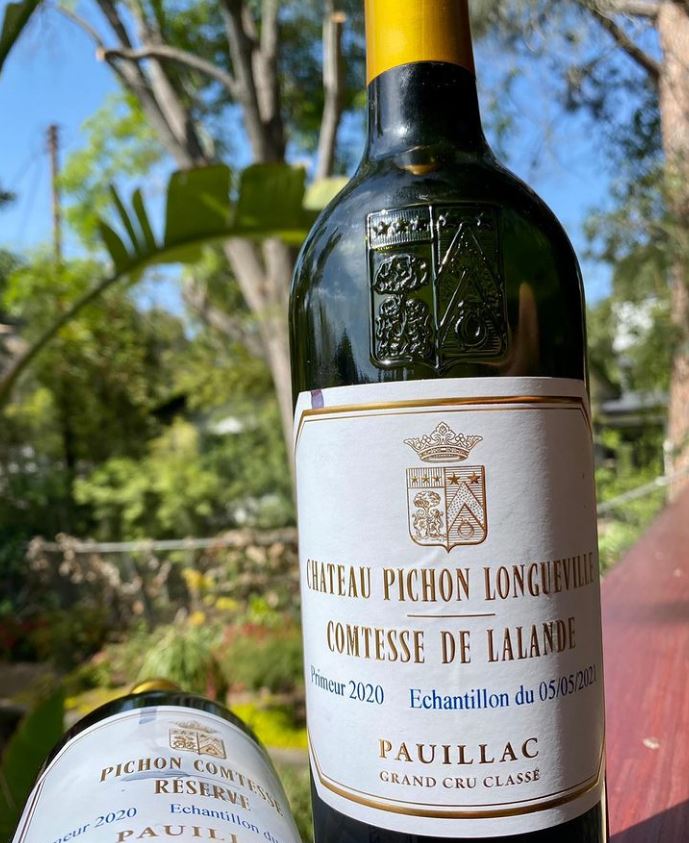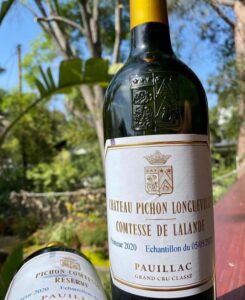 2020 Pichon Lalande – Deep, dark and almost opaque in hue, the perfume is intoxicating with its spice box, dark Cuban cigars, violets, lilacs, oak, savory herbs, roasted plums, currants and cigar box aromas. On the palate, the wine is pure silk and velvet with layer after layer of supple textured fruits. Silky, sexy and sensuous, there is richness, depth of flavor, length and purity here that is a treat to feel and taste. The wine blends 77% Cabernet Sauvignon, 17% Merlot and 6% Cabernet Franc, 13.6% ABV 3.82 pH. Picking took place September 9 – September 30. Yields were low, 30 hectoliters per hectare, 60% of the harvest was placed into the Grand Vin. 97-99 Pts
2020 Pichon Lalande Comtesse Réserve – Spicy, floral and fresh, with a peppery tint to the red berries, the fruit is creamy, soft and polished. The core of ripe, elegant, silky, red fruits ends with a cool, savory, spicy touch. As the quality here continues jumping in class every year, this is becoming a true Pauillac brand, instead of a second wine. This was made from blending 47% Cabernet Sauvignon, 43% Merlot and 10% Petit Verdot. 92-94 Pts
2020 Tour Sieujean – Tobacco leaf, cedar, spice and peppery cassis work well together here on the nose and on the medium-bodied, savory, chewy, earthy, currant, mint and olive filled palate. Give this 3-5 years in the cellar and enjoy it over the next 12-15 years. 90-91 Pts
The next article on 2020 Bordeaux focuses on the best wines from St. Julien from 2020.