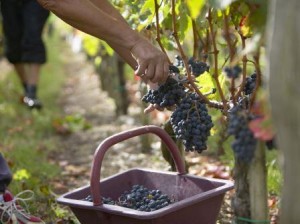 There are more holidays for wine and food than you might think. Looking at the list, it certainly seems like if something exists, there is a holiday to celebrate its existence. At least to me, some things are certainly more interesting and relevant than others. When they create a holiday celebrating holidays, let me know. Of course, you know what they say about glass houses and all that sort of stuff, right?
Being a wine lover and a fan of all things Cabernet Sauvignon, if you're on the same page with me for that, you are in luck. August 29, 2013 marks the day to celebrate this extraordinary grape and the wines it produces as that day has been set aside for the International Cabernet Sauvignon day.
International Cabernet Sauvignon Day is for wine lovers all over the world to celebrate the great wines made from Cabernet Sauvignon, August 30, 2012 was deemed National Cabernet Sauvignon Day!  The celebration could take in all things Cabernet, which might include Cabernet Franc. But for 2013, we're focusing solely on Cabernet Sauvignon this year. This is the fourth year celebrating International Cabernet Sauvignon day, which is why we are changing things up a bit. Also, make sure you mark the date on your calendar for International Merlot day, which is coming up November 7. To celebrate these days, it's easy. Not that any of us need a reason like International Cabernet Sauvignon day to open a bottle of wine, I know I don't. Before grabbing a bottle of wine to celebrate International Cabernet Sauvignon Day, let's look at the grape, the wine styles it produces and what qualities are needed in Cabernet Sauvignon. To gain an understanding of what a wine maker seeks in the vineyards, we asked Jean Emmanuel Danjoy from Chateau Clerc Milon what characteristics they most desire when picking.
Jean Emmanuel Danjoy – Clerc Milon "We look for complete phenolic ripeness when harvesting it. Ideally, that means melting skins with no tannic astringency, good color extraction and brown seeds. Luckily, that level of ripeness can be achieved in our climate with potential alcohol below 13.5% and with good acidity. Those qualities are important because Cabernet Sauvignon is the backbone of our wines."
Cabernet Sauvignon comes in all shapes and sizes and produces an incredible array of wines, and wine styles. If you want to read about wines we've tasted from Cabernet Sauvignon, please see our Wine Tasting Notes. If you're reading this article with a glass of wine in your hand, that's even better!
Cabernet Sauvignon is planted all over the world in a myriad of climates. While it's perfectly reasonable to argue the following point, my personal view is, Cabernet Sauvignon achieves the best result from Bordeaux, especially in the Meodc as well as in Pessac Leognan and in the Napa Valley. Cabernet Sauvignon is used to produce much of the world's most expensive wine as well as countless bottles of ordinary, supermarket wine. Jean Charles Cazes of Chateau Lynch Bages in Pauillac offers his take on what he finds in his Cabernet Sauvignon based wines.
Jean Charles Cazes – Lynch Bages "The greatest Cabernet Sauvignon wines are characterized by their capacity to age, combining a powerful structure with elegance and finesse. The Cabernet Sauvignon grown on our terroir at Lynch Bages often in their youth express black currants fruit, flowery violet aromas and a hint of minerality, for example graphite and shaved lead pencil. It tends to develop with a few years a more complex bouquet of spicy notes, or even cigar box aromas. The finish has to be smooth, polished and very long!"
Clearly, Cabernet Sauvignon is the world's most famous red wine grape. It might seem like it has been around forever, but that is not the case. Cabernet Sauvignon is not that old. It was created during the 17th century when French wine growers crossed Cabernet Franc and Sauvignon Blanc to come up with a brand new grape that offered new tastes, flavors and textures. Perhaps more importantly, the grapes thick skins made it easier to grow. By the 18th century, Cabernet Sauvignon had become widely popular, especially in the Left Bank of Bordeaux.
The thick skins on the Cabernet Sauvignon grape are one of the grapes key attributes, according to Didier Cuvelier, the owner of Chateau Leoville Poyferre in St. Julien.
Didier Cuvelier – Leoville Poyferre "When we are harvesting, we are searching for phenolic maturity. Since the skin of Cabernet Sauvignon is very rich in tannins, perfect phenolic maturity is essential to reach the high concentrated and smooth tannins we are looking for at Leoville Poyferre."

Cabernet Sauvignon began to achieve renown for its success in the gravel based soils of Pauillac, the home of three of the five First Growth chateaux. Chateau Mouton Rothschild, then known as Chateau Brane Mouton and Chateau d'Armailhac were two of the first proponents to fully appreciate the virtue Caberent Sauvignon. Today, Cabernet Sauvignon is the dominant grape in the Medoc. Cabernet Sauvignon is also the most important grape in Pessac Leognan, although it has competition with Merlot. One of the key properties for Cabernet Sauvignon is the ability to produce age worthy wines according to Patrick Maroteaux at Chateau Branaire Ducru in St. Julien.
Patrick Maroteaux – Branaire Ducru "The qualities we are looking for when picking Cabernet Sauvignon are grapes that can produce wine with the structure, elegance and the aromatic richness that are necessary for the development of our wines in the long term."
The actual discovery of the true origin of Cabernet Sauvignon is moderately recent. In 1996, a team of scientists led by Carole Meredith, the owner of Lagier Meredith, (a Rhone varietal producer from California) used plant DNA material to determine the fruits origin. It is thought that the variety was created by an accidental crossing that took place sometime in the 17th century between Cabernet Franc and Sauvignon Blanc.
Cabernet Sauvignon grows in a myriad of different soils and terroir, it thrives in the poor, deep gravel soils and warm, sunny, dry temperatures. Cabernet Sauvignon requires more time on the vine than Merlot. Cabernet Sauvignon is not just famous for its success in Bordeaux, today, it is the dominant grape in the Napa Valley. But that is actually quite a recent phenomena that is barely 40 years old. Prior to the massive Cabernet Sauvignon plantings that began to take place in Napa and in other northern California areas, much of the vineyards were focused on Zinfandel, Italian varietals and field blends. Cabernet Sauvignon is always blended with other grapes in Bordeaux, but that is not the case in California. In fact, today there are countless wineries making 100% Cabernet Sauvignon in the Golden State.
Dominus, one of the quintessential wineries in the Napa Valley produces wines with a blend similar to what you might find in the Left Bank of Bordeaux. Aside from the fact that it works, it's also understandable due to the fact that Dominus is owned by Christian Moueix, whose family owns chateaux like Trotanoy and of course Petrus. As Dominus is getting ready to begin picking their 2013 Cabernet Sauvignon the first week of September. Tod Mostero, the wine maker for Dominus explains what they look for at Dominus with their Cabernet Sauvignon in the vineyard.
"Tod Mostero – Dominus "We seek harmony, tantamount to the freshness of a rosebud as it opens. If you pick before or after, you have lost it. Cabernet Sauvignon, at its pinnacle, expresses purity, balance and complexity transcending its varietal character."
Dominus, due to its unique, supple, balanced style is not only popular with American's, it's enjoyed by many people in Bordeaux as well. Jean Charles Cazes of Lynch Bages recalls tasting an older vintage.
Jean Charles Cazes – Lynch Bages "I can remember a great bottle of Dominus stolen from my the cellar of my father, Jean Michel Cazes. I think it was a 1994 Dominus. I served it blind to some friends and it was very misleading! Many thought it was Bordeaux. I was very impressed by the finesse and drinkability."
As we mentioned previously, in Bordeaux, Cabernet Sauvignon is always used as part of the blend. It can be over 90% of the blend in some vintages at select estates in the Left Bank. At other properties, it might be as low as 50%, or even a little less. At Chateau Palmer in Margaux, they use one of the higher percentages of Merlot in their blend in the Medoc. Yet, without the addition of Cabernet Sauvignon according to Thomas Duroux, the director of Chateau Palmer, the wine would not have the same finesse.
Thomas Duroux – Chateau Palmer "Here at Chateau Palmer, the Cabernet Sauvignon grape is the main element we use to build the finesse in our wines. That why it is so important to get it right. In a vintage like 2012, the Cabernet Sauvignon grape is also needed to bring to bring freshness to the final blend."
In vintages like 2012, it was not always possible to achieve the desired level of ripeness to the fruit.
At Chateau Pichon Baron in Pauillac, the director Jean Rene Matignon explains what he looks for in Cabernet Sauvignon.
Jean Rene Matignon – Pichon Baron "We are seeking a good balance between tannins and acidity. In Bordeaux. there is no over ripeness problems with Cabernet Sauvignon. The challenge is to wait until as long as possible for the good tannins so we can preserve the tonicity and minerality in the wines character. The trick is to avoid flatness and dilution."
In the Right Bank, not much Cabernet Sauvignon is grown. Some properties use up to 25%, for example Chateau Figeac, on its gravel soils in St. Emilion has almost one third of their vines devoted to Cabernet Sauvignon. Chateau Troplong Mondot has slowly increased the amount of Cabernet Sauvignon in their vineyards over the past two decades. Chateau Pavie is experimenting with some plots of Cabernet Sauvignon as well. But across the board, not many Right Bank Bordeaux estates use that much of the variety in their blends.
For wines dominated by Cabernet Sauvignon, Henri Lurton of Chateau Brane Cantenac enjoys many different wines and styles, but his preference is for Bordeaux, especially with bottle age.
Henri Lurton – Brane Cantenac "Even if I love some Italian or California Cabernet's, Bordeaux is the place for me. If I can't be a bit of a chauvinist with Margaux, I'll choose Pauillac. If I have to name a wine, I'll say Chateau Latour. If you really need a vintage, I'll say 1959!"
Philippe Melka who owns his own, eponymous winery, and is an equally well-known as a consultant working with numerous estates in the Napa Vallet agrees with Henri Lurton.
Philippe Melka – Melka Wines "Chateau Lafite Rothschild is the benchmark for Cabernet Sauvignon. There is a sense of seriousness, coupled with the grace and sophistication in the wine."
In California, many wineries produce wine from 100% Cabernet Sauvignon, although blends are common as well. Cabernet Sauvignon based wines are the most expensive wines produced in California, with prices for Screaming Eagle hitting well over $1,000 per bottle! Harlan Estate is not far from that price point either.
Aaron Pott, the owner of Pott Wine, located in the Napa Valley on Mt. Veeder is equally well-known for the wines he makes, the wineries he consults, for example Seven Stones, Blackbird, Fisher Vineyards and Quixote along with his extensive experience at tasting a wide range of wines. Especially older vintages of Bordeaux and California wine.
What are some of the best Cabernet Sauvignon based wines Aaron Potts recalls tasting?
Aaron Pott "Cabernet Sauvignon has few peers in its age-ability. Some of the great Cabernet Sauvignon wines I have tasted over the year range from older vintages of Chateau Latour like 1947, 1949 and 1961 to older Mayacamas made in 1970 and 1974. Also from California the 1969 Chapellet and more recently, 1991 Ridge Monte Bello."
At its best, Cabernet Sauvignon produces wines with deep, dark colors that offer complex scents and concentrated flavors ranging from blackberries, creme de cassis, black cherries, boysenberry, blueberry and chocolate when young, to fragrances of tobacco, truffle, cedar wood, earth, lead pencil and leather when mature. When the berries are not ripe, distinct aromas of green peppers or olives can be found. The wines can be rich and concentrated, as well as tannic. Cabernet Sauvignon based wines have the ability to age for decades when grown in good soils and allowed ample time to ripen.
Each producer seeks something different in the character, flavor and style of Cabernet Sauvignon based wines. Emeline Borie of Chateau Grand Puy Lacoste, the popular Fifth Growth estate in Bordeaux looks for elegance in the taste of the wine.
Emeline Borie Grand Puy Lacoste – "For us, we look for aromas that include crème de cassis, which is like black currants. When the wine is still young and primary, it needs to be fruity, full bodied, elegant and have a touch of spiciness. Cabernet Sauvignon is mature, the fruit in the wine should become more elegant and velvety, while retaining the black currant character."
The actual Cabernet Sauvignon berries are small. They have dark colored, thick skins and can, under the correct conditions, become intensely, concentrated with flavor. It is the ability to offer concentrated flavors, refined textures and complex aromatics, along with high levels of tannin allowing the wine to age and evolve that make this an ideal grape for producing wine.
With all this talk about Cabernet Sauvignon, what are you opening to celebrate International Cabernet Sauvignon Day?