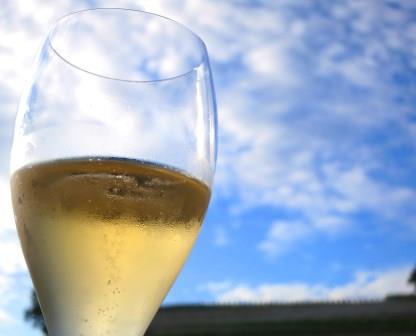 The Wine Cellar Insider has been online 3 years. Happy Third Birthday!
OK, this is a slightly belated birthday for The Wine Cellar Insider and an up-date on what we have been doing and plan to do over the next several months. But a lot has been going on behind the scenes, keeping us busy, starting with the new look and layout of the website. Hopefully, this new design will be easier to use. It should be more intuitive, faster and cleaner. The searches offer better relevancy as well.
It was close to the end of June, 2010 when The Wine Cellar Insider made its online debut. This was only a few days short of my return to Bordeaux to taste the 2009 Bordeaux vintage. I still remember the first time I pushed the blue, Publish icon allowing the first post to go online. Those of you that also use WordPress to publish know that blue key quite well. It was Fathers Day. To celebrate, my dad and I shared 1982 Chateau L'Evangile together. I flew to Bordeaux in the morning.
The last 160 weeks, give or take a few have been fun. Keeping it up for 3 years in a row is a lot more work than I originally anticipated. I go through periods of time when I am prolific, publishing a lot of new content on posts and pages, updating the site and conducting interviews. At other times, I sit, staring, or is that glaring at the screen with my fingers hovering over the keyboard and for the life of me, I cannot think of a thing write. At that point, I take a break. I like writing wine tasting notes. It leaves a good track record for the history of a wine and the taster. Frankly, there are times when I prefer not writing about wine, taking notes or capturing images. I'd rather simply enjoy the experience of being present in the moment with friends. Another change to the sites direction is the ocean of images on every page. The Wine Cellar Insider is a graphic website. It's easy for you to see, photography has become more of a passion for me. I add as many new images to the site as possible. I have friends that say, "Take more pictures, write less." It's good to have friends.
Trying to keep The Wine Cellar Insider fresh, interesting and fun to read, can be an arduous task. But looking at the ever increasing number of people reading The Wine Cellar Insider makes it worthwhile. We've made a lot of progress since we first went online. Technologically, the website is much more advanced. The amount of material to read, research or simply enjoy has dramatically increased.
The day we first went online, only a portion of my wine tasting notes had been added. We started out with about 1,400 wine tasting notes on the site. 52 weeks later, we had close to 3,000 wine tasting notes online. Today, we are about to cross 7,000 wine tasting notes! Even better than that is the amount of merchants, chateaux, wholesalers, negociants and other websites that use and publish our wine tasting notes, ratings and reviews on their website as well. That is quite an honor that I truly appreciate.
This website is a lot more than wine tasting notes. We are continually adding more pages on Bordeaux chateaux, Rhone Valley estates and wineries in the Napa Valley. It's important to remember, we have articles on more than wineries. We cover news, information, history and more. When we first went live, we had 300 pages for you to read. We also focus on value wines as well as cover all the big names. Our coverage on Bordeaux has increased close to 400% since we first went online! Bordeaux Value Wine Guide
Today, we have close to 750 pages for you to peruse. We also have over 600 original posts that we have published in our first 3 years online. All of this pales in comparison when you consider the thousands of original photographs we have added to the various pages and posts in The Wine Cellar Insider. Another area of improvement we continue working on is publishing more guest articles on the wine regions we do not cover. We will continue to add more content from guest writers on a myriad of different appellations and regions from all over the world.
Our Bordeaux coverage continues expanding. For everything you ever wanted to read about Bordeaux and more, we have out new All About Bordeaux Wine Guide While we are a Bordeaux-centric website, we write a lot about the wines and wineries from The Rhone Valley and California. In fact, it is our goal to double the amount of coverage for California and Rhone over the next several months. I have been traveling to Bordeaux once or twice a year for a decade now. I will be traveling to the Rhone once a year from this point as well. By the end of the year, I should have been in the Napa Valley at least three times.
Today, thousands of sites link to The Wine Cellar Insider, citing us as a quality, dependable source of information. Especially for our Bordeaux wine coverage. Over the past 52 weeks, we have become one of the most widely read and trusted web sites for Bordeaux wine. If you have a site, we hope you will also free to link to specific pages on our site as well. The more information that is available to everyone on the Internet, the better it is for all of us.
Thank you to everyone on the technical team for all your help and to all the people reading us, it means a lot.
If you have questions, comments or suggestions, please post them and when you see something on The Wine Cellar Insider you like, "Link To It!"