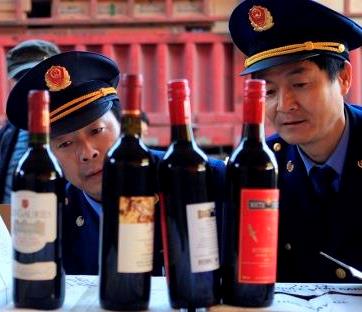 Suspects were arrested in China holding more than 32 Million Dollars of fake wine by the Yanti police. In dollar value, this could be the largest bust of its kind in China. Some of the wines being counterfeited were Chateau Lafite Rothschild, Chateau Latour, Chateau Mouton Rothschild, Chateau Beychevelle, Chateau Pichon Baron, Penfolds and other famous brands. A small French brand, Rafi was also being counterfeited by the same team of suspects as well. This investigation and arrest follows a July, 2013 meeting in Beijing with representatives from the EU where an agreement was produced to increase efforts to bring down the rampant amount of wine counterfeiters operating in China.
In the raid, police found the supplies needed to make counterfeit wines, rolls of labels, bottles, corks etc. At least 10 suspects were arrested. More than 40,000 bottles of fake wine were seized in the raid. The suspects were reportedly buying inexpensive wine and placing it into bottles of the famous and expensive, counterfeit brands they were selling The suspects are thought to have been selling the wines in various popular Chinese cities like; Shanghai, Beijing, Tianjin, Shanghai, Guangzhou, Qinhuangdao, Dongguan, Shenzhen, Suzhou and Nanchang.
This is not the first time wine counterfeiting rings have been busted in China. Last year, in 2012, a large operation in Shanghai was discovered holding over 350 cases of fake, Chateau Lafite Rothschild and 60 cases of fake Chateau Margaux, along with other counterfeit wines. The total amount of wines confiscated in that raid was valued at close to $1.6 Million Dollars. Another earlier raid in China netted 833 cases of Chateau Lafite Rothschild, when Lafite was priced at the top of the market. However, it's not just the First Growth wine of Bordeaux that are being forged in China, local Chinese wines are also being knocked off. This has happened to brands like The Great Wall and Dynasty. This is a problem because locally produced Chinese wine is seen as a growth industry. The recent construction of a 70 Million Euro winery in the Ningxia province, Chateau Changyu Moser, along with significant investments by LVMH, the owners of Lafite Rothschild and others to produce wine in China clearly demonstrate the potential for Chinese wines to sell to the local population.
China is a massive country, with relatively new, found wealth. It's natural that the wealthy Chinese want to own, enjoy, gift and brag about having the best of the best. The best of the best refers to wine in this instance. China, due to its huge population remains one of the largest importers of French wine. In 2012, China imported almost 68 million gallons of wine with over $1 Billion Dollars! That amount of wine makes China the fifth largest importer of wine in the world, placing them ahead of England! It is expected that the Chinese market for wine will continue expanding. Even with the current crackdown on conspicuous consumption, there is still a lot of wine being bought, sold, gifted and drunk. It's just not out in the open as much as it used to be.
It's not only simple, counterfeit wines of famous labels and wine bottles in China that remains an ongoing issue. Counterfeiting takes place all over the world. However, due to the relative newness of some brands into China, consumers do not always know what to look for on the labels. In China, bottles have been seen using the original label, artwork and trademarked name, but the name and logo were altered slightly, so as to look like the original, yet it's different enough not to be a counterfeit and yet, still fool consumers. The bottles are passed off as originals, because the purchasers were not familiar with the real label, and did not know what to look for. The inability to read French or English makes it even more difficult for some new, unsuspecting buyers.
Another method used to produce counterfeit wines takes place all over the world. The counterfeiters purchase empty wine bottles of wine and simply refill them with cheap wine. They re-cork the bottles, replace the capsule and sell the bottles as new. Making this type of crime easier is the creation of the new Coravin system, allowing consumers to remove some, or all of the wine from a bottle and refill the bottle with cheap wine, using a syringe. Of course there will be a minor puncture in the cork and capsule. But if the buyer does not see the puncture, it will be very easy to pass these bottles off as the original wine. These types of fakes are much easier to pass off as the original than bottles produced using for example, photo copied labels.
To help reduce the sales of counterfeit wines, many of the world's most expensive wine brands have started using the proof tag system, which uses a variety of stickers containing information encoded on the stickers that cannot be removed without breaking the sticker. Today, high end restaurants, hotels, collectors and auction houses regularly smash empty bottles after consuming them, to avoid their reentry into the market place.
The most famous, accused wine counterfeiter, Rudy Kurniawan remains in jail, awaiting trail in New York state. His case, which appears to show his overwhelming guilt was supposed to come to trail September, 2013. The most recent delay was caused by Rudy Kurniawan hiring a new defense team to act as his attorney. To read about Rudy Kurniawan, the most notorious forger brought up on changes yet for counterfeiting wine: Arrest of Rudy Kurniawan Or Additional Charges filed against Rudy Kurniawan
The photograph in this article is used courtesy of Reuters news service.
.