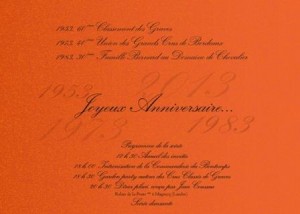 After attending countless dinners as a guest of Anne and Olivier Bernard at Domaine de Chevalier, along with the bi annual event they graciously host at their chateau during VinExpo, if anyone wants to state that Anne and Olivier Bernard have raised hosting an evening or special event to art, who am I to argue?
Sadly, being bogged down with work and life, coupled with the fact that Bordeaux is more than 7,000 miles away, I can only report on this stupendous event based on Emails, texts and calls from friends that were able to attend the 2013 Ban de Vendages at Domaine de Chevalier. The event was organized in conjunction with the Commanderie du Bontemps and the UGCB.
It's important to note that this evening was more than the celebration of a new vintage with the 2013 Ban de Vendages. It was actually three celebrations rolled into one magnificent night 30 years ago, in 1983, Olivier Bernard took over as the director of Domaine de Chevalier. Olivier Bernard was only 23 years old at the time he accepted his new responsibilities. Since Olivier Bernard began taking charge of the Graves estate, (It was still in Graves until 1987) the wines have gone from strength to strength for both the red and white wines at Domaine de Chevalier.
The next important anniversary being celebrated was the creation of the UGCB, Union of Grand Crus Bordeaux in 1973. Today, with 134 different chateau as participating members of the UGC, the group has become the most powerful marketing force for any wine region in the world. In December, 2012, Olivier Bernard was voted in as President of the UGC.
The only thing better than enjoying two celebrations in one night is three anniversaries to celebrate! 2013 marked the 60th anniversary of the creation of the classification of the wines of the Graves appellation. To read about the history and the chateaux of the 1953 event Classification of the wines from Graves
More than 1,000 tuxedo clad guests along with their dates in evening gowns came to Domaine de Chevalier to celebrate all three anniversaries Saturday, September 14 and the 2013 Ban de Vendages. In typical Bordeaux fashion, there is never too much of a good thing in Bordeaux. Under a gleaming, white tent, the cuisine was prepared by Chef Jean Coussau, who is best known for his two-star Michelin restaurant, Relais de la Poste in Magescq, Landes. Accompanying a seemingly endless parade of appetizers was as expected, a plethora of stunning wines were poured. Attendees were treated to a tasting of the entire array of 2010 Pessac Leognan Classified Growths: Haut-Brion, Bouscaut, Carbonnieux, Domaine de Chevalier, Couhins, Couhins-Lurton, de Fieuzal, Haut Bailly, La Mission Haut Brion, Latour Martillac, Malartic Lagraviere, Olivier, Pape Clement and Smith Haut Lafitte. If that wasn't enough, and as I mentioned in Bordeaux, it seldom is, the guests were also invited to taste the 2010 wines from Sauternes and Barsac.
The 2013 Ban de Vendages event was by all accounts perfectly organized. Except for one minor transgression that is. For some reason the organizers forgot to talk to the Weather Gods. Similar to what took place during the Fete de la Fleur earlier this year, they could not stop the rain, which delivered a torrential downpour. Bordeaux cannot catch a break this year from the rain. Even with the rainstorm, most guests were not going to let that spoil the night thanks to a non stop parade of appetizers, a stunning dinner menu and unlimited wine that included 1983 Domaine de Chevalier, 1998 La Mission Haut Brion and ended with 2001 Chateau Guiraud from an Imperial!
John Lennon and Paul McCartney said it right in 1967; "A splendid time is guaranteed to all." The only thing missing was Henry the Horse. Perhaps Henry and I will be able to attend next year.