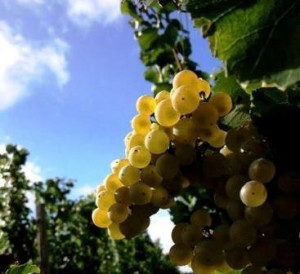 2013 marks the debut vintage for a 100% Chardonnay from Bordeaux. Benoit Trocard of Clos Dubreuil in St. Emilion is behind the project. Chardonnay in Bordeaux? Isn't that blasphemy? There are going to be a lot of traditionalists thinking that way. My personal view is, I want to taste the wine before making a judgment, one way, or the other. But I'm old school in thinking it's best to actually taste a wine before deciding if I like them, or not.
The new 100% Chardonnay from Bordeaux comes from vines planted in the Lussac appellation. Lussac is one of the St. Emilion Satellite appellations. The terroir is clay and limestone soils with vineyards that enjoy a southern exposure. The wine will be labeled as a Vin de France and sold under the name of Dubreuil Chardonnay. Currently, it is expected that only 100 cases will be produced from less than a one hectare parcel of vines. The vines were planted in 2010.
The first Chardonnay harvest for the owner of Clos Dubreuil took place September, 17, 2013. The picking was completed in one day. Following the initial sorting, the berries were delivered to a cooling room where they remained at 2 degrees Celsius for about 8 hours before being sorted a second time. The grapes were then pressed in whole bunches and barrel fermented. The wine will be aged in 50% new, French oak barrels from Freres and Berthomieu for about 10 months. The wine should reach 14% alcohol.
Clos Dubreuil is of course best known for producing one of the better, modern styled, St. Emilion wines. According to Trocard, they are expecting to start their Merlot harvest by October 20, if they can get a break in the weather. The family owns other Right Bank estates including property in Pomerol, which they hope to pick between October 5 and October 7. When asked about how the crop was developing for the 2013 Bordeaux vintage for Clos Dubreuil, Benoit Trocard replied:
"Things are still very difficult. I have decided to green harvest the vines that were carrying more than 8 bunches. I think this will be the only way for the grapes to ripen this year. Our yields will be very very very low at approximately 25 hectoliters per hectare. Of course, we will know much better as the harvest approaches."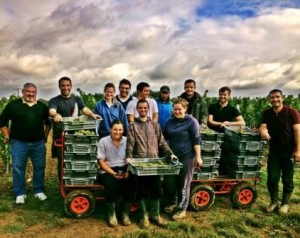 We asked Benoit Trocard why he planted Chardonnay instead of the more popular, allowed white wine grapes in Bordeaux.
Benoit Trocard "Why not? How do we know if it works unless we try it? For me, this is not a question of which grapes will perform better or not. It's a question of passion, pleasure and taking on new, exciting challenges! As for the style of the wine, we are seeking the same levels of complexity in the fruit that you find in new world wines, coupled with low acidity and a great freshness."
Benoit Trocard has said he plans to increase the production of Dubreuil Chardonnay over the next few years with the goal of reaching up to 325 cases per year. Clos Dubreuil is the first grower to plant and produce a 100% Chardonnay in the Bordeaux region that I know of. The wine is expected to retail for between $55 and $60 per bottle.
When asked to name some of his favorite Chardonnay based wines, Benoit Trocard said there were several he enjoyed including; Montrachet from Jacques Prieurs and Bouchard. He is also quite fond of Domaine Leflaive. When not drinking white Burgundy, Trocard spoke highly of Peter Michael and Aubert, both of which are from California.
AOC laws do not allow the planting of Chardonnay in Bordeaux. Previously, the Bordeaux Wines Union, better known as the Syndicat des Vins de Bordeaux requested permission from the INAO to conduct experiments with grapes that are not currently included in the various grape varietals allowed for use in the production of Bordeaux wine. The request was made hoping that at some point in the future, white wine producers in Bordeaux might be allowed to use Chardonnay for up to 10% of their blend.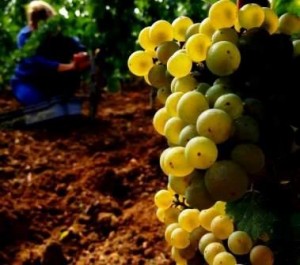 Currently, the most popular grapes for making white wine in Bordeaux are; Sauvignon Blanc, Semillon, Sauvignon Gris and Muscadelle. However, a very, small amount of odd white wine grapes are also planted in less prestigious areas in the Bordeaux region including; Colombard, Folle Blanche and Ugni Blanc. Those grapes are most often used in the production of inexpensive, white Bordeaux table wine.
Dubreuil Chardonnay seems like a fun experiment. I look forward to tasting the wine the next time I am in Bordeaux.