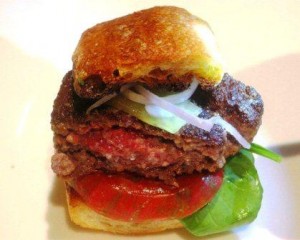 To get an early jump start on the celebration of National Cheeseburger Day, we did a little grilling over the weekend, trying to create the perfect cheeseburger. The humble cheeseburger is the perfect and potential, quintessential, American, summer dish. They are easy to make and there are an endless amount of combinations you can put together to create what you consider the ultimate cheeseburger.
While the origins of the meat portion for the hamburger patty came from Hamburg, Germany, the history of the hamburger is somewhat murky.  It seems to have started to gain notice in 1890.  Numerous people lay claim to have given birth to the ingenious idea of placing a hamburger patty in the middles of two slices of bread to create the hamburger sandwich.  However, it did not begin to become a national treasure until the world's fair held in St. Louis, in 1904.
The cheeseburger, which we're celebrating today seems to have been born in Pasadena, (a suburb of Los Angeles) in 1926, when Lionel Sternberger, (It's interesting to note that there is a burger, OK, make that berger in his name) who was only 16 years old, came up with the idea in his families restaurant, "The Rite Spot".
What makes the perfect burger? First and foremost, we start with the beef. Use turkey, chicken, salmon or tuna if you like. For a backyard barbecue, for us, nothing is going to answer the call better than beef. In this case, we used a blend of 25% Waygu Chuck, 25% Prime Chuck, 25% Waygu Short Ribs and 25% Prime Brisket. And don't forget the cheese!.
There are not that many tricks or secrets to bringing the lowly cheeseburger up to greatness. There are a few things you can do. Don't over pack the meat. You need some air inside the ground meat. Don't over cook it. There is nothing worse than a hamburger without the juices dripping from each bite. And if you like wine, don't forget to open something nice. I prefer a burger with a crusty texture on the outside, and juicy on the inside.  The differences in textures create a more interesting set of flavors and sensations when you bite into it.
The great thing about the hamburger, is the seemingly endless way you can adorn it.  Anything goes!  Cheese, lettuce, onions, tomato all work for most people.  Foie gras, truffle, bacon, prosciutto, avocado, hot peppers,  onion rings, potato wedges or chili work, just as good or better.  With the burger, there is no right, or wrong. It's all good, as long as its good.  Don't forget the all important bun.  Regardless of the type of bread, or bun you choose, it needs to be fresh.  A bit of toasting on the grill does not hurt either.
Because the hamburger is so closely identified with America, it was the perfect opportunity to pop a Caberent Sauvignon from Napa. Actually, in this case, we popped two bottles, which allowed us to compare and contrast two unique styles of Napa Cabernet Sauvignon.  We tasted a more traditional, Bordeaux styled, lower alcohol wine against a richer, riper and more alcoholic styling.
2002 Opus One is a perfect ringer to insert into a blind tasting of Bordeaux, or a flight of Bordeaux and California wine.  It offers licorice, black cherry, smoke, coffee bean and earthy scents, with round, plush textures and a ripe, dark berry and cocoa finish. 93 Pts.
2002 Araujo is such a beautiful style of wine.  Sadly, it's moved well past my budget.  But it's hard to find something not to like about this wine.  It's packed with black licorice, ripe blackberry, plum, chocolate, vanilla, spice and wet forest aromas.  The silky textures and ample layers of concentrated ripe, sweet, fresh fruit coat your mouth and palate for close to 50 seconds.  This is drinking perfectly today. 97 Pts.