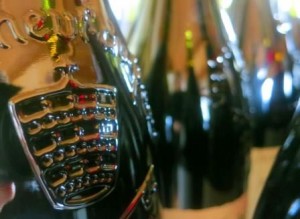 As Friday September 20, 2013 is International Grenache Day, it's time to pop a cork on on a Grenache based wine you have been saving for something special. Not that any wine lover needs a reason to open a bottle of Grenache. The wines are just too good. Most drink well at all points in their life too, which is perfect for today's world. The ability for Grenache based wines to express themselves in their precocious youth, as well as with bottle age is part of their charm. That quality is not shared with most other grape varietals, not even Pinot Noir, according to Manfred Krankl of Sine Qua Non.
Manfred Krankl – Sine Qua Non "The line I have used a thousand times, somewhat sarcastically of course is, 'Grenache delivers what Pinot Noir promises'. To me, a great Grenache, maybe particularly so from California, has these gorgeous, fruit forward, perfume(y) aromatics – somewhat reminiscent of a great Pinot Noir. It has a feminine, silky texture – also somewhat akin to a top flight Pinot. But unlike many Pinot Noirs, Grenache also has this full, mouth-coating, all enveloping and long palate presence. In other words the nose and the palate are in synch delivering a cascade of pleasure. That is, or perhaps SHOULD be, the character of California Grenache. It doesn't just wink at you, but then NO DICE. It delivers the goods."
Grenache produces complex wines. Depending on the terroir the grape is planted in, coupled with the vision of the winemaker, the fruit is going to offer a different, unique expression. That is where the difference between styles, and quality come into play. From there, it is up to each taster as to what they find in the glass. Jeb Dunnuck, who writes about all things Grenache as the new reviewer for Robert Parker's Wine Advocate seeks hedonistic and intellectual gratification, two imperative qualities I look for in wine as well.
Jeb Dunnuck – The Wine Advocate "I look for wines that have fantastic aromatic complexity as well as rich, voluptuous textures that never come across as heavy or cumbersome. To me, Grenache has the rare ability to deliver both hedonistic and intellectual gratification. The fact that it can be relatively approachable in its youth and has a broad drink window is just icing on the cake.
Grenache enjoys tremendous, worldwide popularity in numerous growing areas. In fact, Grenache is the world's second most widely planted grape varietal used to produce wine. Grenache grows well in Spain, Australia, Languedoc-Roussillon and California. While all taste is personal, for my personal taste, Grenache reaches its best expression in Chateauneuf du Pape. Grenache, with its think skin and tight clusters is perfect for the hot, dry, sand and stone soils of the Southern Rhone Valley appellation of Chateauneuf du Pape. In the Southern Rhone Valley, there are numerous wines and winemakers to chose from making outstanding Grenache based wines in a myriad of styles:  Chateauneuf du Pape Wine Producer Profiles
Philippe Cambie, one of the most important and influential figures working in Chateauneuf du Pape today knows a thing or two about Grenache and what he seeks in a great bottle of Chateauneuf du Pape.
Philippe Cambie – "At its best, Grenaches must express the black fruit, cherry, licorice and especially a beautiful oiliness. The wines
can be kept for 20 years, and always keep these notes of spice and white pepper."
Domaine Giraud in Chateauneuf du Pape has been on fire since 2007. The wines keep getting better and better. 2010 Giraud Les Gallimardes is one of the best 2010 Southern Rhone wines I tasted. Marie Giraud knows something about working with Grenache vines, which is why she feels the grape can be difficult to work with.
Marie Giraud – Domaine Giraud "Grenache is a demanding grape. It can be quite difficult to control. When the berries are ripe, the wines are powerful, fine and complex with a lot of fruit."
Marie Giraud is of course partial to Chateauneuf du Pape for Grenache, but according to Marie, that is no the only area where Grenache shines.
Marie Giraud "I really like the Grenache based from Priorat in Spain and Paso Robles in California as well."
Baptiste Grangeon from Domaine de Cristia, another well-known, popular producer in Chateauneuf du Pape agrees with Marie on the quality of Grenache from Spain and California as well. Although, Baptiste brings up a concern with the level of alcohol in some wines made in the Golden State.
Baptiste Grangeon – Domaine de Cristia "The signature of Grenache is the sweetness, elegance and finesse in the wines. Even with high level of alcohol, we always get the balance in the mouth, especially in Chateauneuf du Pape. As for Grenache wines from other areas, I also like the wines from Spain, Roussillon and maybe California, some are unbalanced."
Personally, I love all things Grenache. After Bordeaux, I own more wines from Chateauneuf du Pape than any other wine region. I am also a fan of Grenache from California. Any taster can easily see the differences between the wines produced from each country. I could endeavour to explain the differences with my fingers perched precariously about the keyboard at the moment. But with Manfred Krankl available, why not ask him? He should know as he not only makes what many consider the best Grenache wine from California, he is also involved in producing perhaps the most in-demand new wine from Chateauneuf du Pape, "Chimere" in a partnership with Philippe Cambie plus Vincent and Pascal Maurel from Clos Saint Jean.
According to Manfred Krankl, it all starts in the vineyard with the soils, climate and farming techniques.
Manfred Krankl "The soils tend to be very different. There are the famous gallets (large stones) in Chateauneuf that are nowhere to be found in California that I know of. Although there are also many areas in the Chateauneuf appellations that do not have the famous rocks. Some soils have quite a bit of clay and others have a lot of sand. Then we have of course relatively different climates, albeit people tend to think they are fairly similar."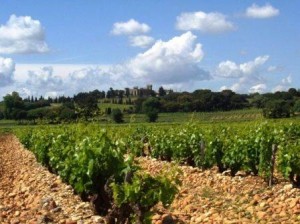 How does the climate differ from California versus Chateauneuf du Pape?
Manfred Krankl "Both areas are warm and sunny, but Chateauneuf has much longer daylight and thus more sun accumulation on a daily basis accompanied by warmer evenings and nights. This means that typically that Grenache in Chateauneuf is harvested earlier than in many places in California. On the other hand Chateauneuf seldom gets the potentially extreme heat spikes we experience in California, with 2003 being a notable exception of course. Put all this together and the grower has to work quite differently with his vines. Virtually all Grenache in Chateauneuf is head trained bush vines, whereas in California most Grenache is still trained via a cordon. Grenache in California tends to be harvested very late, often at the end of October and not too infrequently even into November. This means we have to have sufficient leaves to get us through that long hang time. In California, we need to irrigate quite unlike what takes place in Chateauneuf. In most growing seasons, we don't get a single drop of rain. In California, we are often concerned with the potential of extreme heat as well as eventually getting poor weather at the end of the growing, ripening season."
With all that in mind, how does that manifest itself in the fruit between what is harvested in Chateauneuf du Pape versus California?
Manfred Krankl "How this all manifests itself in the fruit and eventually in the wine is difficult to say. Each producer has his/her own style or system. But let me just say this, I am not and have never been concerned about how much our Grenache might be like a Chateauneuf du Pape. I think of it as California Grenache and I hope that it expresses itself that way. I am a huge fan of Chateauneuf du Pape and think many of the greatest wines are made there. But I also love what California Grenache can be. It's just cloaked in a different robe."
In Chateauneuf du Pape, many growers are getting ready to send pickers into the vineyards. As you probably know, 2013 is a difficult year for most regions in France. In the Southern Rhone Valley, growers fear that crops could be reduced by as much as 50%. Philippe Cambie says this is a late vintage for Chateauneuf du Pape.
Philippe Cambie "At present, 2013 in Chateauneuf du Pape has potential. But the vintage is very late and the crop will be small. Some growers will not begin to pick until the end of the month."
Veraison has been slow in 2013, due in part to the wide temperature swings from the mornings and nights. Christophe and Isabelle Sabon of Domaine de la Janasse discuss the upcoming 2013 vintage in Chateauneuf du Pape.
Christophe and Isabelle Sabon – Domaine de la Janasse "2013 is a late vintage of us, but a great one so far. There is a small quantity of Grenache due to spring coulure and fruit drop. But we have good acidities for the moment. Today the Mistral, sun and coolness is an ideal weather combination for a great vintage. Although we'll be able to tell you much more about it in about one month."
Michel Blanc who heads the Federation des Producteurs de Chateauneuf du Pape concurs with the current outlook for the 2013 vintage in Chateauneuf du Pape.
Michel Blanc – "2013 will certainly be one of the latest harvest of the 30 last years. We will also have very low yields due to the coulure which took place with the Grenache. But the fruit that is ripe has very good quality potential. This is due to the nice summer with cool nights. The cool evening temperatures will have a positive effect on the phenolic compounds. Right now in Chateauneuf, it's been sunny every day. The Mistral is blowing. We have been reaching temperatures between 27 degrees and 28 degrees Celsius in the afternoons. This is perfect for us to produce a nice vintage!"
How does this measure against what is taking place for Grenache in California? For a good luck at Grenache in California, we asked Manfred Krankl.
Manfred Krankl – "So far, we need to knock on wood, because we still have a long way to go. But 2013 is about as good a growing season as one could hope for relative to Grenache. We have had a lot of sunshine for a long time. It is an early season. All that sun and warmth started early in the growing season. That benefits the late ripening, warmth loving Grenache."
Can you explain what happens in a year when Grenache does not achieve the necessary amount of ripeness?
Manfred Krankl "If Grenache doesn't get FULLY ripe, it holds no interest. One can make some skinny-ass Syrah, which is en vogue among some. Syrah under those conditions might still hold some odd interest. But that is not the case with Grenache. So 2013, if the weather holds for the next month or so, should be grand for Grenache. I know I am getting pretty excited at the prospects!"