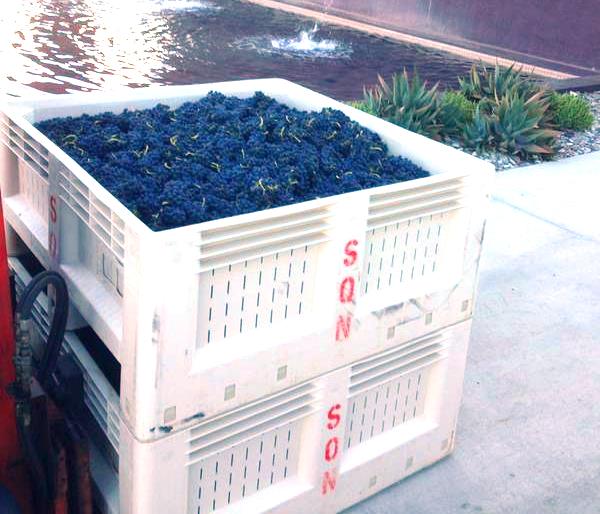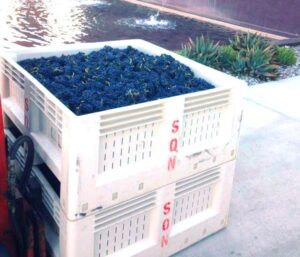 Everything about Sine Qua Non Santa Barbara, Central Coast California, Rhone, Grape varietal, wine producer profile, wine tasting notes, wine and food pairing tips, best vintages, history of the property, information on their wine making techniques, terroir and soil. You can also read about the Grapes used for California wine and learn about the extensive History of Napa Valley, California Wines
Sine Qua Non History, Overview
Manfred Krankl was born in Austria. Following an education capped by a degree from the Hotel School in Gmunden, Austria, in 1980, Manfred Krankl moved and settled in Los Angeles, California where he met his future wife and partner Elaine.
In Los Angeles, Manfred Krankl worked a myriad of jobs before starting his tenure as the director of wines at Campanile in 1989. At the same time, Manfred Krankl began conducting his first experiments as a wine maker. His initial efforts were produced in partnership with other, younger, but already established efforts. The first two releases were from the 1990 vintage.
There was a Chardonnay produced with the help of Bryan Babcock of Babcock vineyards called The Thief and a wine made exclusively for Campanile from Italian grape varieties called "Terzetto, " which translated into the trio, for the three varietals, due to the blend of 40% Cabernet Sauvignon, 40% Barbera and 20% Freisa. This was followed by a release in partnership with Havens Cellars.
"Black and Blue," a wine produced from a blend of 55% Syrah and 45% Cabernet Sauvignon. From that point forward, Manfred Krankl became devoted to Rhone varietals. His next two releases were in partnership with John Alban of Alban Vineyards, "Roussanne is Coming" made from 100% Roussanne and finally the 1995 "Tant Pis!" also made in conjunction with John Alban from 60% Grenache and 40% Syrah.
Sine Qua Non was officially founded in 1994, by Manfred and Elaine Krankl, within a few years, Sine Qua Non began making the benchmark wines for Rhone wine varietals produced in California. 
The first official release from Sine Qua Non, "1994 Queen of Spades" is one of the most collectible and expensive wines made in the history of California. Produced from 100% Syrah, a whopping 100 cases were produced. However, a small amount of bottles and even a few magnums were hand painted and distributed randomly by Manfred Krankl and Sine Qua Non. According to Manfred Krankl, the name Queen of Spades came from the wine, he saw as majestic and feminine, thus, The Queen of Spades was born. From that day forward, there was no looking back for Sine Qua Non or Manfred Krankl and Elaine Krankl. At the time, in their formative years, they made their wine in the cellars of Alban vineyards. By 1997, they had expanded their output, necessitating their own winery. They built the original Sine Qua Non winery in Ventura, California, just a bit south, of where they had been making wine,
In some years, other wineries might produce a better Syrah or Grenache than Sine Qua Non, but there is no competition when it comes to consistency. Once past consistency, there is no winery on earth that competes with what Manfred and Elaine Krankl have done at Sine Qua Non for creativity. Since 1990, Manfred Krankl has produced unique wines in every vintage he has produced before and after creating Sine Qua Non.
Not only do all of the wines have different blends year after year, but each wine has a unique name, label and bottle shape. The wine and the bottles are hand crafted works of art. Like Rod Stewart said, "Every Picture Tells s Story." With that in mind, it's easy to understand why Manfred Krankl and the wines of Sine Qua Non are known for more than just the quality of the wine in the bottle. Each label was created and designed by Manfred Krankl. All the wines made before he started Sine Qua Non were also designed and created by Manfred Krankl. Manfred Krankl has stated as each wine has a unique personality, so should its label. This wonderful tradition of never repeating a label, bottle shape or blend has continued to this day, making Sine Qua Non a truly unique wine and winery every year.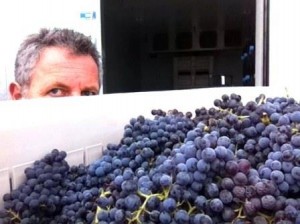 When Manfred and Elaine Krankl first started Sine Qua Non, the wines were produced from a variety of sources, including the famed Alban vineyards. Today, with almost 30 acres under vine, they are slowly moving to producing wine from their own vineyards. Much of their plantings are located in Santa Rita as well as in Ventura county.
Sine Qua Non is a wine many Rhone wine fans claim is an essential element in their cellar. Some collectors say the wines are indispensable. This makes sense when you consider that Sine Qua Non is an archaic, Latin legal term which is loosely translated into an essential action, condition, or ingredient, that without which, something cannot be. This is clearly the case because Sine Qua Non holds the record for the highest price paid for a single bottle of a contemporary wine as well as for the most expensive bottle of California wine.
In May, 2014, one bottle of the 1995 "Queen of Hearts," a rose' wine sold at an auction for the astronomical sum of $37,200! That price is even more incredible when you consider the buyer also paid a buyers commission bring the total to almost $45,000 for one bottle of wine! That amazing record was soon broke when a second bottle was sold a few short weeks later for 58,075, smashing the previous record! Not much of this was produced. In fact only one barrel of wine was made, which yielded a whopping 25 cases. The wine was sold directly to some very lucky customers on the Sine Qua Non mailing list.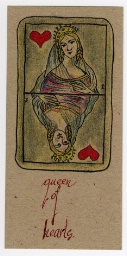 Following the record setting price for both bottles in Sine Qua Non rose' wine, as only Manfred Krankl can and would do, as a bonus to his mailing list customers, in the next release for Sine Qua Non, Krankl offered the 2013 rose' "And an Eight Track' for the grand sum of one cent! That's right. You read it correctly. Customers taking their full order were offered the rose' for just one penny. That is only one example of why Elaine and Manfred Krankl are such class acts.
Sine Quq Non Vineyards, Wines, Winemaking
Sine Qua Non produces wines from white and red Rhone wine varietals that are typically grown in Chateauneuf du Pape and Cote Rotie. Krankl discontinued their Pinot Noir program with the aptly named "Over and Out." While most Sine Qua Non Syrah Syrah and Grenache bottling's see 18-24 months in oak, Krankl began a program of making some wines that see extended aging in new oak. This is similar to what Guigal does with their legendary Cote Rotie wines, La Mouline, La Landonne and La Turque. Those see between 36 and over 40 months in 100% new oak barrels. The majority of the Sine Qua Non production is sold through a mailing list with a wait list of several thousand thirsty fans.
Sine Qua Non has used a variety of vineyard sources over the years, mostly from the Santa Maria Valley, Santa Ynez Valley and Santa Rita Hills. In their formative years, Sine Qua Non entered into farming contracts and purchased grapes. Today, much of their fruit comes from their own vines planted in the Santa Rita Hills Appellation. In 2001, they planted their 22 acre vineyard, named Eleven Confessions Vineyard to 10 acres of Syrah, 8 acres of Grenache, 3 acres of Roussanne and 1 acre of Viognier. The Eleven Confessions vineyard is well situated in the Santa Rita Hills, just north of Santa Barbara, not too far from Buellton.
Manfred Krankl introduced a new wine with the 2007 vintage, Next of Kyn. In fact, according to Manfred Krankl, the name was picked because they feel it shares a close relationship to Sine Qua Non, and thus, it is the Next of Kyn to Sine Qua Non. Most of the fruit used for Next of Kyn is sourced from their Cumulus vineyard in Santa Rita, Eleven Confessions. Some of the fruit might also come from vines planted in Bien Nacido and the White Hawk vineyard where Sine Qua Non sill has contracts with various growers.
The vines used for Next of Kyn were originally planted in 2004. The vineyard is planted to Syrah, Grenache and Roussanne. The vineyard has clay, loam and limestone soils. The planting is a dense, 3,960 vines per acre or 9,785 vines per hectare. The wine is aged in French, oak barrels that vary in age. The wine is sold in a massive, custom, amazing wood box that contains 3 bottles and a magnum. Not much Next of Kyn is made. The wines are severely allocated and are sold to a small list of customers. Only 300 sets were sold for the first few vintages. From that point forward, production was increased, but Next of Kyn remains quite difficult to find.
Hold on to your hats for this one. Starting with the 2012 vintage, Sine Qua Non entered the Petite Sirah sweepstakes when they released a Petite Sirah and Viognier blend called "The Writing on The Wall!" Surely, this instant collectible will be the most expensive Petite Sirah wine ever produced. More importantly, it's a wine I cannot wait to taste! The Petite Sirah from Sine Qua Non, "The Writing on the Wall" is only available in magnum. The bottles come in a stunning, bamboo wood, boxed set with a signed and numbered copy of "The Art of Sine Qua Non." 350 signed and numbered copies were offered to long time customers of the Sine Qua Non mailing list program. The 250 page book is a stunner featuring a complete history of Sine Qua Non and images of every Sine Qua Non label and news letter.
After Manfred Krankl decided to produce Petite Sirah, their next move came in 2009 with the purchase of a 2 acre vineyard in Tepusquet Canyon called Molly Aida. In 2010 Manfred and Elaine Krankl bought a vineyard with 15 acres of vines close to Los Alamos called The Third Twin, which is located in the northern part of Santa Barbara. Since their initial purchase of the Third Twin, they have added at least another 11 acres of vines. With the 2012 vintage, Sine Qua Non began producing their first 100% Chardonnay white wine. However, while this is the first Chardonnay for Sine Qua Non, it was not the debut for Manfred Krankl, as far as producing Chardonnay. In 1990, Manfred Krankl produced a small amount of Chardonnay, (About 225 cases) with Bryan Babcock called "Thief." The label was designed by Manfred as well.
The debut Chardonnay from Sine Qua Non is labeled "Pearl Clutcher." The fruit for Pearl Clutcher comes the Bien Nacido vineyard. The wine is aged in 92%, new French oak barrels for 19 months before bottling. Not much Pearl Clutcher was produced, in total only 50 cases were made. Pearl Clutcher is in so much demand, single bottles are already being sold for more than $2,000 per bottle!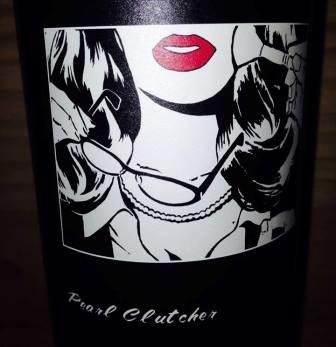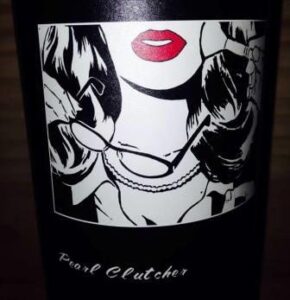 For an overview of the vineyards owned and used by Manfred and Elaine Krankl for Sine Qua Non and Next of Kyn…
Eleven Confessions is located in Santa Rita Hills. Eleven Confessions was the first vineyard purchased by Manfred Krankl and in the beginning, the fruit was placed into different bottlings. Today, the Eleven Confessions vineyard is the source for fruit used for the extended aging bottles.
Cumulus Vineyards, which is considered their home vineyard is situated in Oak View in Ojai California. Cumulus is the source of fruit used to produce the Next of Kyn wines. Although fruit from Cumulus is also used for the production of other Sine Qua Non wines as well. Cumulus Vineyards is a special place, because it is where Manfred Krankl and Elaine Krankl call home. This is also where the winery is located.
Starting with the 2014 vintage, Sine Qua Non added a new, and unusual wine to their lineup, "The Third Twin Graciano." The wine is produced from a blend of 90% Graciano and 10% Mourvedre. The fruit is from vines planted in the Third Twin Vineyard located in Los Alamos. The vines for this seldom seen grape variety were planted in mostly sandy soils in 2011. The grapes are completely destemmed. The wine is aged in neutral, used, French oak barrels for between 26-28 months before bottling. Very little Graciano is produced. The debut vintage yielded close to a whopping 65 cases of wine. Sine Qua Non, "The Third Twin Graciano" will be sold exclusively to mailing list customers.
The Third Twin vineyards are well placed in Los Alamos on Alisis Canyon Road.
Molly Aida vineyard is located in Tepusquet Canyon in the Santa Maria area.
According to Manfred Krankl, "Fruit from each of these vineyards is used in varying combinations from year to year to make the Sine Qua Non wines. I just use any sort of fruit combination, vineyard source to make the best wine I think we can make. I got myself a certain fool's freedom I guess."
Their vineyards are more than a place for growing grapes. It is also quite the pet menagerie. Depending on where you are, you can easily find horses, cows, turkeys, donkeys, cats and dogs.
Manfred Krankl is also producing wine in The Rhone Valley in the Chateauneuf du Pape appellation called Chimere with Philippe Cambie, the most famous consultant in the Southern Rhone. The wine is produced at Clos Saint Jean. Chimere made its debut vintage in 2010. The majority of Chimere will be sold via a mailing list, similar to the practice of Sine Qua Non. So far, this very small production wine is only available in magnum. So far, Chimere has only been produced in 3 vintages, 2010, 2012 and 2015.
In incredibly sad, and scary news, Manfred Krankl was involved in a severe motorcycle accident, Septemeber 2014. He is expected to slowly make a full recovery.
Serving and Decanting Sine Qua Non with Wine, Food, Pairing Tips
Sine Qua Non wines are best served at 15.5 degrees Celsius, 60 degrees Fahrenheit. The cool, almost cellar temperature gives the wine more freshness and lift. Young vintages of their red wine can be decanted for 1-4 hours, depending on the character of the vintage. This allows the wine to soften and open its perfume. Older vintages might need very little decanting, just enough to remove the sediment. Sine Qua Non wines can be enjoyed in their youth, due the lusciously, textured fruits, ripe tannins and forward style. But don't let that fool you, as the wines can age for years as well.
The red wine of Sine Qua Non is best served with all types of classic meat dishes, veal, pork, beef, lamb, duck, game, roast chicken, ribs, hamburgers, barbecue, roasted, braised, grilled dishes and stews. Aubert is also good with Asian dishes, hearty fish courses like tuna, salmon, mushrooms and pasta.
The white wine of Sine Qua Non is best served with all types of seafood and shellfish, sushi, sashimi, chicken, veal, pork and cheese.
The style of Sine Qua Non wine at its best is, rich, full bodied, ripe, concentrated, mouth filling, decadent and opulent. The texture can be akin to liquid silk with the density of motor oil. The wine is stunning young and with bottle age. There is nothing out there like it. The wine, due to its style has its detractors. But I love it!!!
Sine Qua Non Wine Tasting Notes
68 Vintages 448,391 Views Sort by Vintage-Rating
2014
Sine Qua Non Syrah Piranha Waterdance (Central Coast)

Inky in color, the wine is equally deep on the palate with layers of dark berries, plum, blackberries, smoke, menthol and cassis. Full-bodied, powerful, yet balanced and polished. The 15.8% ABV is there, but there is so much fruit, the heat is quite subtle. This is gorgeous today and will be even better with age. The wine was made from blending 81% Syrah, 8% Petite Sirah, 6% Mourvedre, 4% Touriga Nacional and 1% Graciano.

5,633 Views

Tasted

Dec 4, 2019

2014
Sine Qua Non Grenache Shakti (Central Coast)

Rich, round, fat, juicy, dark and deep, the use of mostly neutral French oak barrels allows the ripe, luscious fruit, flowers and herbs to shine. Made from a blend of 88% Grenache, 6% Mourvedre, 4% Petite Sirah and 2% Touriga Nacional, this is already beautiful in your glass. And it will be even better with 3-5 years of age.

5,407 Views

Tasted

Dec 4, 2019

2013
Next of Kyn Syrah No~7 Cumulus Vineyard (Central Coast)

Absolutely stunning, this standout combines intensity massive concentration and power with elegance on the palate. There is freshness to the layers of silky dark red fruits you can taste and feel. The finish keeps on going! The wine is a blend of 45% Syrah, 29% Grenache, 15% Petite Sirah, 5% Mourvedre, 4.5% Touriga Nacional and 1.5% Roussanne.

4,586 Views

Tasted

Dec 4, 2019

2013
Sine Qua Non Syrah ♂ (Central Coast)

Rich, luscious, opulent boatloads of fruit hit the spot. Delicate? Perhaps not. But pleasing to the palate, absolutely! The fruit is perfectly ripe, black, juicy and with smoke, licorice, jam, vanilla, and black cherries. Mouth-fill and teeth staining, but also not hot, over-done or out of proportion. This is drinking really well today.

5,413 Views

Tasted

Feb 25, 2019

2013
Sine Qua Non Grenache ♀ (Central Coast)

The obvious deep, dark color lets you know this is a powerful, concentrated wine loaded with layers of sweet, dark red fruits, spice, licorice, black cherry liqueur, jam and vanilla. Rich, fat, polished, sweet juicy fruits line your palate in the lengthy finish. The wine was made from a blend that would be right at home in Chateauneuf du Pape using 78% Grenache, 19% Syrah and 3% Mourvedre.

5,293 Views

Tasted

Aug 9, 2016

2013
Sine Qua Non Syrah ♂ (Central Coast)

Inky, dark in color, with layers of sweet, ripe, juicy, dense, opulent, black and blue fruits, smoke, licorice, vanilla and espresso notes. Silky lush, tannins that feel great, and a long, luscious, mouth filling finish are the hallmarks of this wine. The wine was made from a blend of Rhone and Portuguese grapes; 80% Syrah, 7% Petite Sirah, 6% Mourvèdre, 3.5% Touriga National and 3.5% Viognier.

7,047 Views

Tasted

Jan 23, 2017

2013
Sine Qua Non Résisté (Central Coast)

Already fun to drink, deep yellow in color, with a nose of white peach, flowers, honeysuckle, spice, lemon peel and candied grapefruit, with a touch of vanilla bean to round things out, the wine is rich, lush and concentrated, but not over the top. Lively, sweet, unctuous citrus fruits create the finish. The wine was made from a blend of 45% Roussanne, 26% Chardonnay, 14% Petite Manseng, 10% Viognier and 5% Marsanne and was aged in a combination of 46% new, French oak barrels, concrete egg shaped vats and used French oak barrels for 19 months before bottling.

4,353 Views

Tasted

Aug 9, 2016

2012
Sine Qua Non Syrah Stock (Central Coast)

Big, ripe, full bodied, intense and loaded from start to finish with fat, thick, lush, black and blue fruits, oak, smoke, vanilla and licorice. This is pure power, but there is an elegance to its intensity that meshes perfectly with its volume and length.

5,865 Views

Tasted

Nov 27, 2016

Dense, rich, fleshy, sweet, powerful, voluminous, and did I mention mouthfullingly intense? The wine is thick, fat and deeply concentrated, the textures are pure lushness, the fruit is perfectly ripe, sweet and mouth coating.

6,152 Views

Tasted

Dec 3, 2015

Looking over the new book from Manfred Krankl inspired me to pop one of these bad boys. And I'm glad I did! Inky in color, as you would expect, the wine is concentrated, rich and intense, with a mouth filling, palate coating, yet luxurious, silky texture. Ripe, sweet and voluptuous, the licorice, espresso bean, black cherry, jam and smoke fueled sensations hit the spot.

5,462 Views

Tasted

Apr 27, 2015

2012
Sine Qua Non Chardonnay Pearl Clutcher (Central Coast)

What a thrill to taste this beauty! The nose delivers honey, fresh citrus rind and floral characteristics with a hint of vanilla. Intensely concentrated, yet perfectly balanced. Unctuous, with that unique oily texture, the wine is fresh, vibrant and packed with layers of sweet, perfectly ripe citrus fruits and the right amount of lift. There is no sensation of heat in the 15.3% lingering finish.

4,020 Views

Tasted

Nov 29, 2014

2012
Sine Qua Non Grenache Stein (Central Coast)

Inky in color, with luscious, opulent, rich, fat, dense textures, waves, or is that layers of sweet, ripe, black and blue fruits? This is accompanied by a whiff of toasty oak, licorice, flowers, and just a hint of dark chocolate and jam in the finish. Yes, the wine is quite ripe and 15.7%, but there is such a wealth of fruit, unless you're into wine by the numbers, you never notice it. The wine was made from a blend of 76% Grenache, 16% Syrah and 8% Mourvedre.

3,664 Views

Tasted

Dec 29, 2016

2012
Sine Qua Non In the Abstract (Central Coast)

Rich, concentrated and opulently textured, the grapes are so ripe, you get a sensation of sweetness, but this is from the perfectly ripe fruits, and not from fruit sugars. The character combines white peaches, citrus, hints of honeydew melon, green apple and pear, with just a hint of vanilla bean. This interesting blend combines the best of the northern Rhone, Southern Rhone and California grapes with its interesting blend of 37% Chardonnay, 31% Roussanne, 16% Petite Manseng and 16% Viognier.

3,260 Views

Tasted

Dec 29, 2016

2011
Sine Qua Non Syrah Dark Blossom (Central Coast)

Young and tight at the moment, time, or a few hours of air is going to kick this wine into high gear. Clearly the abundance of fruit is high class, the wine is dense, concentrated and powerful, but in balance. The wine was produced from a blend 84% Syrah, 8% Grenache, 4% Petite Sirah, 2% Roussanne and 2% Petite Manseng.

5,205 Views

Tasted

Nov 28, 2015

Inky, dark with purple accents in color, the wine is intense, rich, concentrated and showing a beautiful purity of sweet, velvet textured fruit. The wine leaves an impression on your palate that stays put for at least 40 seconds or more. Another great wine from Manfred Krankl!

5,803 Views

Tasted

May 26, 2014

2011
Sine Qua Non Grenache Dark Blossom (Central Coast)

Liquified black cherries, licorice, spice, espresso bean and chocoalte covered plum notes lead you down the path to a fat, juicy mouthful of pleasure. This is no shy sister and made a perfect match for rare, grilled burgers. The wine was produced from a blend of 75% Grenache, 12.5% Syrah, 11.5% Mourvedre and 1% Roussanne.

4,851 Views

Tasted

Aug 10, 2014

2010
Sine Qua Non Syrah Stockholm Syndrome Eleven Confessions Vineyard (Sta. Rita Hills)

Inky black with purple in color, the wine is equally as rich in fruit, flavor and concentration. Pure, polished velvet in texture, there is so much ripe, juicy, sweet, black and blue fruit, espresso, chocolate, licorice and jam, you can almost eat it. What makes this all work is, everything is in balance. The wine was made from a blend of 96% Syrah, 3% Roussanne and 1% Viognier.

8,208 Views

Tasted

Jan 4, 2015

2010
Sine Qua Non Grenache Stockholm Syndrome Eleven Confessions Vineyard (Sta. Rita Hills)

This wine is intense, massive, rich and powerful. The color of pitch black ink with purple accents, the nose is on the oaky side, but the fruit has a beautiful sense of purity that really stains your palate. Sweet, ripe and juicy, the wine is as seamless as it is powerful. The finish must last close to 60 seconds. This is not for the timid taster.

4,929 Views

Tasted

Jun 17, 2016

2010
Sine Qua Non Syrah Five Shooter (Central Coast)

Inky in color, with layer after layer of fat, ripe, lush, luscious, sweet, dark berries, jam, earth, licorice and fresh ground esperesso beans. This is no shy sister of a wine. It's a big, bold, bad ass bottle of Syrah that is about as hedonistic as it gets.

5,274 Views

Tasted

Feb 3, 2014

2010
Next of Kyn Syrah No~4 Cumulus Vineyard (Central Coast)

Inky, almost black purple in color, this is all about the balance of power between waves of fruit, walls of tannin, round, opulent textures and palate staining, in your face, dark, incredibly ripe, sweet, juicy, smoky berries that just don't quit. The wine was made from a blend of Made from 44% Syrah, 32% Grenache, 12% Petite Sirah, 8% Mourvedre and 4% Touriga Nacional.

3,908 Views

Tasted

May 28, 2017

2010
Sine Qua Non Grenache Five Shooter (Central Coast)

Displaying a serious depth of color, the wine pops with the perfect mix of ripe, very, and over ripe dark and red fruits, spice, pepper, blueberry, licorice, coffee, earth, jam, peach and black cherry notes. Rich, deep, round and lush, the finish holds your attention and focus. While mostly Grenache, the blend consists of 75% Grenache, 16% Syrah, 2.5 % Mourvedre, 4.5% Roussanne and 2% Viognier.

4,317 Views

Tasted

Feb 3, 2014

2009
Sine Qua Non Syrah This is Not An Exit Eleven Confessions Vineyard (Sta. Rita Hills)

Lacking the concentration found in the best vintages, the wine exploded with a coffee bean, chocolate, ripe boysenberry, black cherry liqueur and mocha perfume. Voluptuous, rich and forward, the texture felt like deep rich silk, finishing with dark chocolate, spice and boysenberry. Elegance and power were perfectly combined, making this easy for the two of us to finish the bottle with a couple of rare, grilled steaks.

3,336 Views

Tasted

Aug 17, 2014

2009
Sine Qua Non Syrah The Thrill of... (Central Coast)

Inky purple ruby colored with tears that stain the glass. Blackberry, blueberry, smoke, chocolate malt, black cherry smoke aromas get you going. Massive, concentrated, powerful and rich, but lacking the density of the best vintages, this thick, plush, California Syrah wine ends with a big, juicy, sweet mouthful of smoky blueberry, coffee bean, iron and black cherry.

6,115 Views

Tasted

May 14, 2012

2009
Next of Kyn Syrah No~3 Cumulus Vineyard (Central Coast)

Darkly colored, this is loaded with sweet, smoky, black and blue fruits, licorice, spice and hints of flowers in the aromatics. Plush, lush, fat and juicy, while not as packed and stacked as Sine Qua Non, if you're an SQN fan, you should be digging this.

2,309 Views

Tasted

May 7, 2016

2009
Sine Qua Non Grenache Upside Down (Central Coast)

With a blast of fresh brewed espresso, licorice, blackberry, blueberry, fudge, cherries and jam, the wine is sweet, plush, voluptuous and showy. If you like your wines on the young side, and I often do, especially when it comes to fruit forward styles of wine, this blend of 84% Grenache, 11% Syrah and 5 % Mourvedre is drinking great today.

4,226 Views

Tasted

Mar 15, 2013

Licorice, black cherry, earth, spice, vanilla and smoke scents open to a rich, soft, polished, full bodied, plush wine that can be enjoyed today. Produced from a blend of 84% Grenache, 11% Syrah and 5% Mourvedre, drink this now or age it for a few years.

4,103 Views

Tasted

Nov 25, 2012

2009
Sine Qua Non On The Lam (Santa Barbara County)

From a unique blend of 48% Roussanne, 34% Chardonnay and 18% Viognier, the wine offers scents of smoke, flowers, white peach and stone. Medium bodied, soft in texture and already showing well, the wine finishes with sweet peaches and honey.

6,105 Views

Tasted

Dec 30, 2011

2008
Sine Qua Non Grenache The Duel (Central Coast)

There is so much going on with this wine, it's stunning in every way. The luxurious texture to the massive wall of ripe, sweet, delicious, pure fruit is impossible to miss. The finish goes on and on. The wine really delivers hedonism in every sip. This is the perfect wine for pleasure seekers.

3,256 Views

Tasted

Nov 28, 2015

2008
Sine Qua Non Grenache THE Line (Central Coast)

Licorice, black cherry preserves, black raspberry and spicy scents open to rich, plush, forward, fruit filled wine that is powerful, sweet, lush and ready to drink now.

3,676 Views

Tasted

Nov 24, 2012

The person bringing the wine must have mugged the UPS driver in front of his house to get it in time for dinner as the wine was opened the day it arrived. Smoke, coffee, blueberry, blackberry and slate aromatics made up the perfume. This ripe, fat, sexy, plush wine floated across your palate. There was not a hard edge to be found. No heat was detected in the wine, even though it was 15.7% percent ABV by volume. The wine finished with layers of Maraschino cherry liqueur.

7,775 Views

Tasted

Mar 17, 2011

2008
Next of Kyn Syrah No~2 Cumulus Vineyard (Central Coast)

Deep in color, with strong aromas of licorice, espresso bean, black and blue fruits, smoke and vanilla bean. The wine is big, yet not over the top. Everything feels in balance, even with everything that is going on. The wine is plush, rich, sweet, long and silky. Produced from a blend of 82% Syrah, 13.5% Grenache and 4.5% Roussanne, the wine enjoys extended barrel aging, as it spend close to 32 months in French, oak barrels. This was perfect with a rare slab of grilled, Flannery beef.

3,664 Views

Tasted

May 31, 2013

2008
Sine Qua Non Syrah B 20 (Central Coast)

Powerful, intense aromatics meshing blueberry, coffee, almond joy, blackberry liqueuer and 5 spice explode in your face. While concentrated, for Sine Qua Non, the wine lacks the weight and richness found in most vintages. In density, think of the 2001 or older Sine Qua Non Syrah wines, but with less ripeness. The wine ends with a rich, vanilla, blueberry pie sensation.

7,974 Views

Tasted

Oct 26, 2011

Midnight black with a purple sheen in the color. The perfume displays jammy blackberries, coffee, blueberries, spice, smoke, black cherry liqueur and earthy scents. Plush in texture, this dense wine fills your mouth with waves of lush, ripe, sweet fruit. From a blend of 91% Syrah, 6% Grenache and a pinch of Viognier, this pleasure machine of a wine ends with a rich, espresso and black with blue fruit profile. A few more years are needed before the oak is fully integrated.

6,894 Views

Tasted

Jul 23, 2011

2008
Sine Qua Non Kolibri (Santa Barbara County)

With a deep gold hue, the honeysuckle, floral, peach, vanilla and petrol nose opens to a full bodied, robust, sweet, spicy, cantaloupe and petrol flavored wine. This is a blend of 69% Roussanne and 31% Viognier. This wine is not for everyone, but if you like a full throttle style of white Rhone, it could be up your alley.

5,236 Views

Tasted

Feb 1, 2011

2007
Sine Qua Non Syrah Dangerous Birds (Central Coast)

Another stunning wine from Manfred Krankl and Sine Qua Non! This is close to the level of many of Krankl's best efforts including Inaugural, Pokerface and Just for the Love of it. Black with ink in color, the intense perfume is stuffed with blueberry, coffee, smoke, liqueur, blackberry jam, truffle, cocoa, chocolate, grenadine and spice. Thick, packed and stacked, the wine coats your mouth, palate, teeth and gums with flavor that must last well over a minute. What I find amazing is, with so much of everything, it's all in perfect balance. Drink it young, age it, or enjoy it after a few years. From a blend of 93% Syrah, 4.5% Grenache and 2.5% Viognier from Krankl's Eleven Confessions vineyards, this decadent experience is as good as it gets for Rhone varietals in California. Keep in mind, these are young vines. When these vines get older, as good as this wine is, imagine what Manfred will produce in the coming years!

6,256 Views

Tasted

Jan 31, 2012

2007
Sine Qua Non Syrah Labels (Central Coast)

Big, intense, fleshy and packed with dark berries, blueberry, jam, smoke and espresso bean, the powerful wine ends with a mouth coating finish of ripe, fleshy, sweet, jammy berries.

5,231 Views

Tasted

Mar 29, 2013

A pungent perfume of black and blue fruit, earth, cappuccino, spice and caramel greet your nose. Full bodied, dense and rich, this powerful, fat, intense wine requires a few years before it fully opens.

7,764 Views

Tasted

Feb 1, 2011

2007
Next of Kyn Syrah No~1 Cumulus Vineyard (Central Coast)

From Manfred Krankl, the wine wins the most impressive packaging of the year award. The box, which houses 3 bottles and a magnum is as big as a small coffin. Once the box is open, it's time to open a bottle. Deep in color, oak, licorice, blackberry jam, fresh herbs, boysenberry and stone aromas create the perfume. Soft, supple and elegant in texture, the wine does not have the weight and density found in most vintages of Sine Qua Non. That will please some tasters and upset others. Think of it as a better, cleaner, riper and more pure expression of fruit with softer textures than Krankl's pre 2000 Sine Qua Non Syrah's. From a blend of 92% Syrah and 6% Grenache with the remainder coming from 2% Roussanne, coupled with a miniscule production of 125 cases, good luck finding any.

6,440 Views

Tasted

Dec 31, 2011

2007
Sine Qua Non Body & Soul (California)

Still youthful, the wine remains rich, concentrated, lush, powerful, sweet and juicy. Notes of white peach, honeysuckle, tropical fruits, vanilla bean and orange rind are all over the place. The wine was a perfect foil for the spicy pork dish.

2,652 Views

Tasted

Mar 9, 2018

Body and Soul offers a boat load of spice, honey, bees wax, cinnamon and citrus aromas and flavors in this big, fat, juicy, concentrated wine.

6,202 Views

Tasted

Feb 1, 2011

2006
Sine Qua Non Syrah A Shot in the Dark (California)

Big, bold, rich, massively concentrated and intense, yet elegant in its own way. The ocean of flawlessly ripe fruit is in balance, leaving you with a plush, opulent finish that does not quit.

7,071 Views

Tasted

Oct 31, 2014

2006
Sine Qua Non Syrah Raven Series (California)

06 Sine Qua Non Raven pops from the glass like a jack in the box! Espresso, blackberry, blueberry, black raspberry, spice, jam and vanilla aromatics are all over the place. Thick, rich, dense and packed with layers of juicy ripe and over ripe fruit, this powerful Syrah ends with ripe jammy berries, chocolate, plums and oak. With so much fruit, I believe the oak will fully integrate. This wine is showing much better than it did a year ago.

7,144 Views

Tasted

Sep 2, 2010

2006
Sine Qua Non Grenache Raven Series (California)

A blend of 90% Grenache and 10% Syrah produced a wine packed with licorice, vanilla, ripe cherries, black raspberry, earth, spice, coffee bean and blueberries. Round, plush, open and packed with layers of sweet, ripe, jammy berries, spice and earth, the wine is already showing well. Popped and poured, the wine improved in the glass. This is already drinking well. If you have a bottle, there is no reason to wait.

5,293 Views

Tasted

Mar 7, 2012

2005
Sine Qua Non Syrah The 17th Nail in My Cranium (California)

Is this the best wine ever produced from Sine Qua Non? Perhaps. At the minimum, it's certainly a candidate for consideration, and for good reason. There is so much intensity and concentration here, yet the wine is balanced, fresh and in harmony. Thick, dense, polished, packed and stacked with layers of black and blue fruit, jam, black cherry liqueur, campfire smoke, licorice and dark chocolate, made from 100% pure cocoa, the wine coats your palate, teeth and gums. The finish breaks the 60 second mark!

6,560 Views

Tasted

Sep 30, 2017

2005
Sine Qua Non Syrah Atlantis Fe2O3~1a, b & c (California)

Still young, fresh, intense, vibrant and packed to the rim with black and blue fruit, flowers, incense and espresso, rich, fleshy, flashy textures and a long, intense, powerful, sweet fruit filled finish.

3,969 Views

Tasted

May 5, 2016

Popped into the decanter and poured, this Syrah offered pungent blueberry, blackberry jam, fennel, coffee, spice box and liqueur aromas. Thick, rich, dense and mouth filling, this full bodied wine is a tactile experience. Gobs of soft, ripe, polished berries coat your palate. The wine with a blast of espresso, dark berries and jammy flavors. This is a wine for pleasure seekers. I was happy to share this with friends from Bordeaux and my special co-hostess.

8,372 Views

Tasted

Mar 9, 2011

2005
Sine Qua Non The Petition (California)

Produced from a blend of Viognier, Roussanne, and 30% Chardonnay from two vineyard sources, Alban and Eleven Confessions, the full bodied wine offers a powerful melange of fresh peach, hot stones, spice, earth and petrol flavors.

6,030 Views

Tasted

Feb 1, 2011

2005
Sine Qua Non Pinot Noir Over & Out (California)

The aptly named wine earned its moniker because it represented the final vintage of Pinot Noir produced by Manfred and Elaine Krankl. The perfume is filled with ripe black raspberries, cola, strawberry jam and earthy scents. The wine feels a little hot in the mouth before finishing with jammy berries and cola flavors.

4,576 Views

Tasted

Feb 1, 2011

2005
Sine Qua Non Grenache Atlantis Fe2O3~2d Vin de Paille (California)

Fat, sweet, dense, spicy and rich, just a dab will do you. The wine is incredibly sweet, as well as unctuous, the fruit has a high sugar level, almost too high for my taste. But if you have a sweet tooth, this could be for you.

2,721 Views

Tasted

Feb 25, 2019

My first time tasting a red Vin de Paille, and it was an interesting wine. Sweet, ripe, dark red fruits, with a delicious, pure cherry center of fruit, but it felt low in acidity and while tasty, not overly complex. On the other hand, it's going to spark a lot of pro and con talk, so it is a fun wine to bring to a tasting, especially blind.

2,562 Views

Tasted

Feb 11, 2017

2005
Sine Qua Non Chardonnay Mr. K The Noble Man (Edna Valley)

This incredibly dense, rich, sweet wine offers sweet, apples, pears, honey, pineapple, apricot and vanilla. The wine is too sweet and cloying and needs more acidity.

4,190 Views

Tasted

Jun 30, 2009

2004
Sine Qua Non Syrah Poker Face (Central Coast)

Boom! That's what happens with the perfume the moment the wine leaps from the bottle. Espresso, blackberry, caramel, jam, chocolate, spice and blueberries fill the air. This thick, luxurious, full bodied, opulent wine coats your mouth and palate with velvety textured fruit. This wine is huge, but everything is in balance. The wine finishes with a pallet full of palate staining black and blue fruit. This is a true benchmark wine for Syrah in California!

9,958 Views

Tasted

Feb 1, 2011

This is almost black in color. Very rich, ripe aromas of oak, pepper, blackberry liquor continue gaining strength in the glass. This very dense, concentrated wine has enough lift to keep it exciting and fresh in the mouth. The massive wine finishes with a tidal wave of ripe, black cherry, vanilla, blue fruit and blackberries. This wine truly coats your palate.

5,792 Views

Tasted

Jun 13, 2009

Almost opaque in color. The aromatics are intense. Black and blue fruit as well as plums, vanilla and spice explode from the glass. Incredible levels of concentration. This has a bit more structure than JFTLOI, but, it lacks the same plush texture. The finish must last close to a minute. Give it a few years to add more complexity. This is a monumental California Syrah.

3,658 Views

Tasted

Jun 21, 2007

2004
Sine Qua Non Into the Dark (Central Coast)

The current benchmark for Grenache in California. The nose explodes with massive layers of fruit and sweet spice aromas. The palate enjoys the soft, ripe fruit that gently flows over it. Already showing well…. this is a wine for hedonists

3,499 Views

Tasted

Jun 21, 2007

2003
Sine Qua Non Syrah Papa (Central Coast)

This has really calmed down and morphed into a beauty. The wine reminds me of a very, ripe vintage of Cote Rotie, with its silky tannins, soft, sweet, ripe, red and boysenberry fruits, concentration and crushed rock character. Powerful, but refined, concentrated and balanced, this has a lot to offer today.

4,422 Views

Tasted

Oct 16, 2017

"Papa" wants to know, "Who's your daddy now?" The only answer possible is, "You are!" Intense layers of fat, ripe, juicy dark berries, smoke, espresso bean, blueberry, truffles and spice, what's not to like? With so much weight, it's amazing to experience equal amounts of finesse and precision. The mouth feel combines hedonism with polish. The label like all of Manfred Krankl's is a work of art dedicated to his father. The chocolate covered blue and black fruit finish remains on your palate for close to sixty seconds! This is drinking at perfection today. The only reason this does not hit triple digits is, as hard as it is to believe, Inaugural and a few other vintages of Sine Qua Non are even better!

8,564 Views

Tasted

Aug 23, 2011

2003
Sine Qua Non Pinot Noir Omega (Yamhill County)

Still going strong at close to 14 years of age, the wine is full bodied, rich, plushly textured and loaded with smoke, espresso, wild strawberry, spice and cherry liqueur notes.

3,613 Views

Tasted

Nov 26, 2016

2003
Sine Qua Non Li'l E (Central Coast)

Lil E, Named after Elaine Krankl opens with fresh coffee, blueberry pie, oak, and jammy black raspberries. Fat, rich and round, this mature, plump, Grenache wine ends with a melange of ripe, black and red fruits.

3,288 Views

Tasted

Feb 1, 2011

2003
Sine Qua Non Sublime Isolation (California)

It reminded me of a white Chateauneuf with its exotic taste and opulent texture. Notes of honey, flowers and citrus oil beckoned. The plush, mouth feel was rich and semi oily.

1,556 Views

Tasted

Feb 23, 2006

2002
Sine Qua Non Syrah Just For the Love of It (California)

A clear reference wine for California Syrah, this is a stud. Big, balanced, bold and loaded with juicy, rich fruit and flavor. The wine coats your mouth and palate in all the right ways. There is probably no reason to age this, but I'm not sure you need to hurry to drink it. Still, I want to finish my remaining bottles by the time the wine hits its 20 birthday.

5,432 Views

Tasted

May 12, 2015

Decanting is not needed to experience the powerful, blackberry, blueberry, smoke, coffee, cinnamon and clove drenched aromas. Thick, rich and voluptuous in texture, this Syrah based wine is intense. The long, viscous finish ends with black cherries and espresso bean. Except for feeling slightly lighter than it did a few years ago, the wine has not changed much over the past several years.

7,584 Views

Tasted

Sep 7, 2011

2002 Sine Qua Non Just For The Love of It offers an insane nose of fresh picked blueberries, jammy blackberries, cappuccino, spice and smoke. Dense, thick and juicy, this palate drenching wine coats your mouth with layers of plush, ripe berries, chocolate and jam. The wine has not evolved over the past few years. I am not sure it will change much with more aging. I expect it to remain at this level for the next several years. This is such a hedonistic tasting experience, there is no reason not to pop a bottle and see for yourself. 100 Pts

11,461 Views

Tasted

Dec 14, 2010

Blue fruit, jammy blackberry, licorice, vanilla and chocolate screamed form the glass. Thick, rich, dense and intense. The opulent mouth filling texture fills your senses with ripe, juicy fruit that gushes all over your palate! To me, this wine does not seem to improve in the bottle. It has been drinking at this level since it was released. The only reason I did not give it a triple digit score is, Inaugural and On your Toes were both better wines.

9,499 Views

Tasted

Jun 29, 2009

This wine is special. It coats your mouth, palate and senses with so many layers of concentrated, decadent, ripe fruit, you could easily get lost in it. For me, this remains the bottling of Calif Syrah that all other wine makers should strive to produce.

4,563 Views

Tasted

Sep 20, 2005

The color had this striking, bright, shiny, purple hue. The aromatics were off the charts! Complex and very concentrated. After experiencing the perfume, your palate is awash in thick, concentrated, opulent, endless layers of ripe fruit. This has a palate presence that must be experienced to be believed!

6,446 Views

Tasted

Apr 21, 2005

2002
Sine Qua Non Chardonnay Mr. K The Noble Man (Edna Valley)

Thick, unctuous, rich and incredibly sweet, the complex array of spicy orange, tangerines, apricot and tropical fruits slathered with honey was almost too much of a good thing. A little goes a long way with this sweet, treat. Blind, I would have guessed it was a TBA.

3,470 Views

Tasted

Apr 28, 2016

2002
Sine Qua Non Pinot Noir Hollerin' M (Yamhill County)

This is filled with ripe black cherry, spice, jammy berries and smoke aromas. Powerful, concentratedl and packed with ripe fruit, the wine finishes with a long sensation of jammy, red berries. This is not Burgundy, and it's not trying to be Burgundy. But it's a tasty Pinot Noir in the prime of its life.

4,414 Views

Tasted

Feb 1, 2011

Deep colored with scents of blackberry liqueur, anise and herbs. The big, concentrated lush wine offered a juicy mouthful of sweet, ripe, black and red fruits.

3,578 Views

Tasted

Oct 15, 2006

2002
Sine Qua Non Grenache More Than a Number (California)

Deep color. Fat, plush, ripe and sexy. Blue tinged fruit, blackberry, cherry and licorice notes are easy to find. The opulent wine coats over your palate. This is drinking at a great place. I wish I had a few more bottles to see how it ages.

3,462 Views

Tasted

Oct 21, 2007

2002
Sine Qua Non Sémillon Mr. K The Straw Man (Edna Valley)

This opens with an intense, sweet perfume filled with fresh picked apricots, brown sugar, honey, roasted peanuts and orangesicle Thick, dense and stuffed with as much sweet fruit as possible, it was too much of a good thing for me. With the texture of syrup feels fat and lazy on your palate. More acidity would have given it better lift. Fans of Essencia from Tokaji will love this wine more than I did.

3,312 Views

Tasted

Feb 1, 2011

2001
Sine Qua Non Sémillon Mr. K The Straw Man (Edna Valley)

Just a super wine, but clearly not for everyone. Intense, fat and incredibly sweet, this is about as unctuous as it gets. Yet there was a clear line of acidity running right down the middle. Not quite enough lift for me to want a second glass, but it was perfect for a small pour at the end of the night.

2,728 Views

Tasted

Oct 12, 2018

2001
Sine Qua Non Midnight Oil (Central Coast)

Combining black and blue fruit, with caramel, coffee and vanilla, the wine is rich, concentrated, full bodied and deep. There is a touch of heat in the otherwise outstanding finish.

4,507 Views

Tasted

Mar 29, 2013

Blueberry, blackberry, coffee, smoke, licorice and black cherry scents pop from the glass. This huge, mouth filling, powerful, plush textured wine is concentrated with layers of fat, juicy, ripe, jammy blackberries, blueberry and chocolate flavors.

6,392 Views

Tasted

Feb 1, 2011

2001
Sine Qua Non Chardonnay Mr. K The Noble Man (Edna Valley)

Deep orange in color, the wine is packed with scents of vanilla, orange, honey, lemon, pineapple, apricot and tropical fruit drenched in macadamia nut honey. Thick, intense and with the texture of syrup, the wine coats your glass and palate. It's pure intensity. I would have liked a bit more acidity.

3,675 Views

Tasted

Mar 29, 2012

The color of honey, which is perfect for this wine. Scents of honey coated, apricots, mango, orange, mango, flowers, spice, roasted nuts and pineapple are easy to find. Thick, rich and intense, this immense, sweet wine is about power and sweetness and not finesse or freshness. I get the quality, but its a wine for sugar addicts.

3,128 Views

Tasted

Oct 6, 2011

2001
Sine Qua Non Albino (Central Coast)

Huge, concentrated wine with lemon, crushed rock, floral and citrus oil scents.

1,717 Views

Tasted

Jul 12, 2005

2000
Sine Qua Non Syrah In Flagrante (California)

Dark black, purple. Jammy blackberries, coffee, herbs, blueberry and kirsch. Full bodied, rich, opulent fruit. Very sensuous mouth feel. Extremely ripe cherries, strawberries, raspberries and plums take over you palate. Beautiful :50 finish slightly marred by a tinge of heat from the 14.9% ABV. This may gain additional complexity with age, but I prefer it in its youth.

2,977 Views

Tasted

Sep 5, 2004

2000
Sine Qua Non Viognier Mr. K The Noble Man (Edna Valley)

This thick, extremely concentrated and full bodied wine has a nice perfume with notes of apricot, papaya, mango, vanilla custard and fresh cut grass. The palate enjoys honeyed tropical fruits with a clean 30 second finish. But the wine lacked acidity and was slightly flabby. Others who enjoy levels of concentration will like it more.

3,121 Views

Tasted

May 10, 2004

2000
Sine Qua Non Syrah Heels Over Head (California)

Heels over Head is the rarest Sine Qua Non wine after the Queen of Spades. The wine was a semi joint venture between Manfred Krankl and Dan Phillips of the Grateful Palate. Phillips purchased a barrel and raised it in 100% new American oak without the assistance of Krankl. Under 300 bottles were produced. The wine was sold to customers of The Grateful Palate. If you're a pickle fan, this wine is for you. It smells like an oak barrel of fresh, chocolate covered pickles. The wine is drying out and ends with a sour finish. There are wines to drink, wines to buy and wines to sell. At a value of over $1,000, this is a wine to sell! This is funny! The last time I tasted this wine about 6 years ago. I was positive I would never have the chance to taste it again. After posting this note, I just saw my score from 6 years ago. It was exactly the same! Great minds think alike...

4,677 Views

Tasted

Feb 1, 2011

25 cases were produced. The wine was raised and sold through the Grateful Palate. Unlike any Sine Qua Non I've tasted previously. I think it spent too much time in American Oak. The nose was filled with dill pickle, pepper and bizarre herbs. Completely out of balance. Sour and unpleasant finish.

4,602 Views

Tasted

Feb 22, 2005

1999
Sine Qua Non Sémillon Mr. K Vin De Paille (California)

This is so concentrated, a half bottle was enough for all 9 of us. Very thick, tropical, exotic and concentrated. Immense concentration and sugar levels. A little goes a long way, but it was the perfect end to a perfect evening.

1,993 Views

Tasted

Jul 1, 2006

Thick, juicy apricots with accents of guava, orange and toasted bread. Amazingly concentrated. This wine can be eaten or drank! Needs more acidity.

2,153 Views

Tasted

Jul 11, 2005

1999
Sine Qua Non Gewürztraminer Mr. K. Eiswein (California)

Beautiful aromas of honeysuckle, apricots, oranges, flowers and crème brulee' blended into a great perfume. The palate was very thick, dense and concentrated, but it could have used a more acidity as the wine was flabby in the mouth.

2,292 Views

Tasted

Feb 12, 2005

1999
Sine Qua Non Icarus (Central Coast)

Big, bold and beautiful style of Grenache. It has nothing in common with Chateauneuf Du Pape. But, who cares? That's what I own Chateauneuf for. Ripe, black fruit, blueberries, boysenberries, chocolate, spices and herbs are easily found in this voluptuous wine. Probably mature, definitely ready to drink.

4,445 Views

Tasted

May 12, 2005

Spicy, ripe, rich blue and black fruits. Yes, it's lush, plush and in your face, but that's the beauty of it. I doubt this will be a long lived wine, but it delivers ample pleasure today

2,045 Views

Tasted

May 3, 2005

1999
Sine Qua Non Pinot Noir Ox (Yamhill County)

Earth, spice, dark cherry, truffle scents make up the perfume. Medium bodied with some heat, the wine ends with a spicy, black cherry and cola sensation. The wine is slightly past full maturity and needs to be drunk up sooner than later.

3,971 Views

Tasted

Feb 1, 2011

1998
Sine Qua Non E-Raised (Central Coast)

At close to 10 years, time has been good to this wine. Mountains of jammy black fruit and spices jump from the glass. Very concentrated. The sexy juice coats your palate with layers of dark berries. There is no reason to hold this wine any longer. This is probably fully developed.

3,674 Views

Tasted

Oct 21, 2007

1998
Sine Qua Non Viognier Mr. K. TBA (Edna Valley)

Still incredibly concentrated, with multiple layers of apricot, honey and assorted tropical fruit aromas, the passage of time has made this a much better wine. Served double blind, no one confused this with Sauternes, but everyone asked for seconds

4,388 Views

Tasted

Jul 20, 2007

1998
Sine Qua Non Backward & Forward (Napa Valley)

High pitched aromatics with notes of lemon, lime, petrol and apples. Dense, full bodied. On the palate, sweet, lemony, lime flavors with a spicy quality. Slightly hot finish. This was not a wine I enjoyed. For me, it was too over the top. It had too much of everything. It reminded me a bit of Turley's White Coat. As a reference point, I liked the Albino much more.

2,861 Views

Tasted

Jul 10, 2004

1997
Sine Qua Non Impostor McCoy (Central Coast)

Refined in personality, lacking the depth of flavor and concentration displayed in current vintages, the wine is expressive, with its earthy, smoky black cherry, herbs, fennel and coffee. Soft and inviting, this is at peak.

3,633 Views

Tasted

Sep 7, 2013

1996
Sine Qua Non Against the Wall (Central Coast)

Fully mature, this requires consumption to capture the remaining ripe back raspberries, earth, smoke, espresso, pepper and wild strawberry jam notes. Lacking the body and depth of current vintages, this was a fun look back at the early years of Sine Qua Non. I'd drink this sooner than later if I had any remaining bottles.

5,489 Views

Tasted

Sep 7, 2013