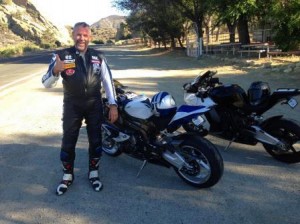 World famous winemaker, Austrian born, Manfred Krankl of Sine Qua Non was severly injured in a motorcyle accident. The accident took place September 18, 2014 in the Rose Valley area of Ojai California. No other vehicles were involved in the accident. Manfred Krankl was rushed by helicopter to the closest hospital suffering from severe, traumatic, head injuries. Manfred Krankl remains in critical condition. He is in a coma. According to comments from his wife Elaine Krankl, Manfred Krankl is stable and fortunately, he is expected to make a full, albeit slow and steady recovery.
In a post written September 24 on the website of Robert Parker, Elaine Krankl stated; "Manfred and I are deeply grateful for the outpouring of support and well wishes from our friends and loyal patrons across the globe. Manfred has been involved in a serious motorcycle accident, he is currently stable and improving. We are looking forward to Manfred making a full recovery."
That good news brought smiles to many well wishers across the globe.
Manfred Krankl is one of the most talented, interesting winemakers there is. This is such sad news. I am more than certain, that thousands of his friends, supporters, customers and wine lovers all wish him, and his family the best.
Manfred Krankl is quite well-known as a long-time, serious and passionate motorcycle enthusiast. His love for motorcycles dates back years. In the Oak View, California area, where he and Elaine Krankl call home, Manfred can often be found on one of his Ducati bikes, featuring the number 62. He is also fond of racing bikes on the Laguna Seca race tracks.
Manfred Krankl, for the few of you that are not familar with him, is the best winemaker of Rhone grape varietals in America. He is also producing a stunning Chateauneuf du Pape with Philippe Cambie, "Chimere".
What Manfred Krankl and Elaine are doing with Syrah, Grenache, Mourvedre and other Rhone varieties at Sine Qua Non is nothing short of amazing. To keep things interesting, Sine Qua Non is about to release their first Petit Sirah! If that is not enough, Manfred Krankl is putting the finishing touches on a book, featuring all the artwork he has created for the dozens of unique bottles he has produced at Sine Qua Non since their debut release in 1994.
Their wine, Sine Qua Non is now so popular, the wait list to buy their wine takes years to get a spot. For those not fortunate enough to be a customer yet, their friendly brown postcards letting people know they care is a step beyond what other wineries do. The letters that accompany the twice a year offerings are some of the best wine writing out there.
I find reporting this news to be incredibly sad and honestly, I'm truly sorry to report this. However, Elaine and Manfred Krankl touch so many people with their wine and kindness, I am sure a lot of their friends and fans will want to know.