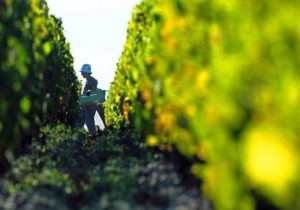 The 2014 Bordeaux harvest for the red wine grapes has officially kicked off. Growers in the Medoc and Pomerol are starting to harvest. I'm headed to Bordeaux. I'll be in Bordeaux from Sunday, September 28, through Saturday, October 5. That is after a short stop in Barcelona to dine at one my bucket list restaurants, Celler con Roca! I am already counting the days.
OK… Back to our 2014 Bordeaux harvest report.
2014 Bordeaux could be another vintage that was saved by the belle of September, also known as an Indian Summer. July was wet and cool. August was not much better. But September 1 brought smiles to grower's faces as they thrilled to see 10 straight days of unabated, warm, sunny weather. The warm weather helped dry the vineyards to some extent as rain once again dampened the region. By the middle of September, another week of warm, sunny dry weather came just in the nick of time. However, September 17 brought more rain. In Pomerol, more than 50mm of rain fell, (which is 2 inches for us Americans) over a 48 hour period.
In Pomerol, growers are harvesting their young Merlot vines. Some rain fell today. More rain is possible to fall tomorrow. From that point forward, for the rest of the week, conditions are better. Growers are looing forward to moderate temperatures and conditions at close to 70 degrees Fahrenheit, 21 Celsius, during the day. They are excited about the nice cool nights that drop to 49 degrees Fahrenheit, 9.5 Celsius. Grapes develop more acidity with the cool night temperatures. Although, with 2014 Bordeaux, growers are hoping for more sugars to develop, as the acidities are still a bit too high at the moment.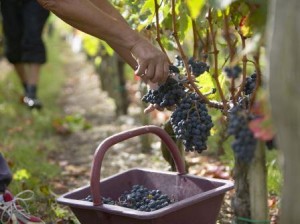 Perhaps, the old "ask and you will receive" axiom is in play with 2014 Bordeaux vintage? Right now, growers in the Pomerol appellation are looking forward to the weekend when temperatures are forecast to deliver warm, sunny conditions with highs in the low 80's Fahrenheit, 26 degrees Celsius. Most chateaux in St. Emilion are waiting for more ripeness to develop. Pomerol almost always harvests before St. Emilion, especially those growers with the cooler clay St. Emilion terroirs.
In the Left Bank, pickers are busy everywhere with their young vines. To the south, harvesting is taking place in Margaux, through St. Julien, Pauillac and even Montrose in St. Estephe is working on their young vines. Conditions are slightly better in the Medoc than in the Right Bank for the moment. There is no rain falling this week. Temperatures and conditions forecast for later in the week show that starting Saturday, several days of warm, sunny weather with highs in the low 80's, 26 Celsius and nights in the range of 55 degrees Fahrenheit, 12.7 Celsius are predicted.
Most of the white wine harvest in Pessac Leognan is completed as estates are bringing in the last of their Semillon vines. Every wine maker we have spoken with is quite happy with their 2014 White Wine Grapes. But time will tell. Pessac Leognan chateaux are also busy bringing in their young Merlot vines as well.
It's far too early to say how the 2014 Bordeaux vintage is going to turn out. The next week of warm sunny weather could really help add ripeness and increase sugar levels. Is it enough to overcome the moderate conditions experienced during the summer?
Besides, if we knew the quality and style of the 2014 Bordeaux wines now, what fun would the April tastings be?