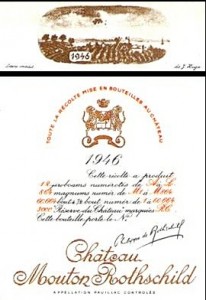 1946 Bordeaux Vintage Summary with harvest information, vintage characteristics, buying tips and links for 1946 Bordeaux. If you are seeking more in-depth information on anything and everything related to the Bordeaux wine region please see the: All About Bordeaux Wine Guide
1946 Bordeaux wine has the reputation of being an average vintage. There is a good reason for that. The vintage was saved by the summer weather with a warm, dry, July, August and September. This was a big improvement to what had taken place earlier in the growing season, which was cold, dreary and rainy. Those conditions caused issues with rot and mildew in some vineyards. 1946 Bordeaux has the unique distinction of being the only Bordeaux wine vintage where the grapes and vines were attacked by locusts!  As you can see from the summer weather conditions, if the 1946 Bordeaux vintage had enjoyed a reasonable start to the growing season, the wines could have turned out better. Today, with modern vineyard management techniques and vinification abilities, the 1946 Bordeaux vintage could have turned out quite differently.
The 1946 Bordeaux growing season was warm and dry, with an average temperature of a warm, 68 degrees. In July, there was days of scorching temperatures that reached all the way up to 100 degrees July 3. August was warm with a high of 100 degrees August 8. September was warm and dry, but cooler than August. Temperatures averaged 63 degrees, due to the cooler nights that dropped down to 40 degrees. September 27 was the warmest day of the month, reaching, 87 degrees, September 27. It did not cool down until October, which remained a dry month. The 1946 Bordeaux harvest commenced and finished in September.
To read about other Bordeaux vintages from 1945 to today: Bordeaux Year to Year Detailed Vintage Reports & Guide 1945 to Today