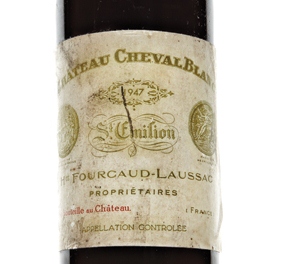 1947 Bordeaux Wine Vintage Summary with harvest information, vintage characteristics, buying tips and links. If you are seeking more in-depth information on anything and everything related to the Bordeaux wine region please see the: All About Bordeaux Wine Guide
1947 Bordeaux wine occupies a legendary status that few other Bordeaux vintages will equal. Of course part of this is due to the amazing wines produced in the Right Bank. The majority of great 1947 Bordeaux wines come from Pomerol. Chateau Lafleur, Petrus,  Chateau Latour A' Pomerol  and others are spoken about in revered voices. But, let's not forget the Bordeaux wine many people consider the wine of the 1947 Bordeaux vintage, as well as a candidate for one of the wines of the century, 1947 Cheval Blanc from St. Emilion! 1947 Cheval Blanc is an important wine to look back on, even if it's just for the sake of history. As wines in the 21st century continue to be produced in a riper, more exotic style, 1947 Cheval Blanc is often mentioned to show how well extremely ripe, high alcohol wines will develop.
1947 Bordeaux wine is the product of a hot, bone dry summer. The 1947 Bordeaux growing season was hot and dry from start to finish. In July, fortunately the nights were cool. In fact, July was a perfect month. On average, temperatures were a balmy 70 degrees, with nights dropping down to 49 degrees. Several scorching days hit over 100 degrees during the day with July 26 and July 27 both hitting a blistering 101 degrees! August was similar with no rain, average temperatures of 71 degrees were common with temperatures reaching all the way up to 104 degrees August 1 in Saint Emilion40 degrees Celsius!
September in some appellations suffered from intense, tropical conditions. The lack of water stressed many of the regions vines. The entire month of September, including the harvest was hot, sunny and dry, with maximum temperatures reaching up to 88 degrees on multiple days, September 10, September 13 and again September 18.
The 1947 Bordeaux harvest officially September 15 under hot, sunny conditions.  To further cement the 1947 Bordeaux vintage into the history books; the Bordeaux region experienced a sudden blast of heat that accompanied the already hot, tropical weather patterns. It did not cool down until later October, when Bordeaux enjoyed a much needed cold spell at the end of the month. BY that point in time, 1947 Bordeaux wine was already being vinified.
The high alcohol levels coupled with the hot weather during the fermentation period proved to be an issue for the chateaux. In an effort to cool down the wine, many chateaux resorted to using large blocks of ice! 1947 Bordeaux was a large crop, much bigger than what Bordeaux achieved during 1945. In part, the larger crop was due to improvements in the vineyards that took place after the conclusion of World War 2.
The 1947 Bordeaux growing season's conditions led to the production of wines with never before seen alcohol levels, sugar and richness. In their youth, many 1947 Bordeaux wines were described by some tasters at the time as resembling dry vintage Port. Due to the very, warm and often hot temperatures the Bordeaux region experienced during fermentation, 1947 Bordeaux wine was difficult to vinify. Many chateaux experienced high levels of volatility acidity in their 1947 Bordeaux wines. The producers that were able to keep things in check produced spellbinding Bordeaux wines that are still delivering amazing tasting experiences at close to 70 years of age!
1947 Bordeaux wine is something modern wine buyers are being told to look back on, because of the recent 2009 Bordeaux vintage. Some consumers have questioned the ability of the 2009 vintage to age, due to its high alcohol levels and sensuous, exotic, forward style. 1947 was very high in alcohol. It's possible the wine of the vintage, 1947 Cheval Blanc was close to 15% alcohol! While few wine lovers will have the chance to taste wines from the legendary, 1947 Bordeaux vintage, the people that have, contnue giving high praise for the best wines at close to 75 years of age. 1947 Bordeaux is not 2009 Bordeaux. Yet, it's an interesting point worth considering.
To read about other Bordeaux vintages from 1945 to today: Bordeaux Year to Year Detailed Vintage Reports & Guide 1945 to Today