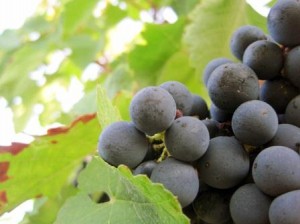 November 7 is International Merlot Day. International Merlot Day is the perfect time to pop one of those special bottles to celebrate the occasion. That does not mean Merlot lovers need a reason to open a bottle wine. But as it is International Merlot Day, why not celebrate all things Merlot?
Of course everyone is not in agreement on where the best Merlot grapes and wines are produced. And why should they? Merlot comes in a wide, diverse array of styles. In some regions, for example, Pomerol and St. Emilion, in the Right Bank of Bordeaux, you can find chateaux making 100% Merlot based wines. In other Bordeaux appellations, Merlot is used as a blending grape, due to its opulent textures and soft tannins.
However, while at least to me the best expression of Merlot comes from grapes planted in the deep clay soils found in Bordeaux, Read about the terroir and soil of Bordeaux Merlot is also successfully planted in California, Italy, Switzerland, Australia, Argentina and numerous other countries as well. Jean Michel Laporte of Chateau La Conseillante recalls tasting some very good Merlot wines from California and Italy.
Jean Michel Laporte "I remember wines from Shafer and Palhmeyer. But I miss a little bit of freshness on Merlot out of Bordeaux. Its high need for maturity has to be balanced by the climate. California is often a bit too warm for it. I have really liked some of the Super Tuscans from Italy like
Ornellaia."
Jean Christophe Meyrou of Tour St. Christophe and Haut Brisson in Saint Emilion seems to share a similar view of Merlot wines from around the world. But he differs on his thoughts about Super Tuscan wines.
Jean Christophe Meyrou "I wish you had asked me the same question about Cabernet Sauvignon. Then I would have mentioned Napa Valley for example. In the new world most of Merlot wines I tasted were technically well made. But sometimes they became a bit boring after the first glass. I am not convinced by Merlot I tasted from Italy or Spain. I am a very open minded person. But with Merlot I have to say, I never fall in love with the wines in the same way I do a top wine from Pomerol or St. Emilion."
What makes Merlot so seductive? Christian Moueix knows a thing or two about Merlot as the owner of Trotanoy and La Fleur Petrus in Pomerol. Christian Moueix finds Merlot perfectly combines feminine and opulent qualities.
Christian Moueix "Merlot is a friendly and delicate varietal which, on the proper terroirs and harvested at its peak, produces wines characterized by voluptuous, generosity and distinction."
Xavier Pariente of Chateau Troplong Mondot says great wine, produced from Merlot as well as other grape varietals comes from a combination of 4 things. But all that starts with the terroir!
Xavier Pariente "Great Merlot consists of 4 important elements; the adapted terroir, the adapted terroir and then a great terroir and finally, a little of a man's or woman's hand!"
A few estates in Pomerol make wine from 100% Merlot wine, most notably Petrus. Some estates in St. Emilion also make wine using only Merlot. However, most Bordeaux wines are a blend of two or more varietals. Vieux Chateau Certan is one of the most famous chateau in Pomerol for their unique blend of Merlot with Cabernet Franc. According to the owner, Alexandre Thienpont, it is the blending that adds the extra special dimension to Vieux Chateau Certan.
Alexandre Thienpont "A wine made from 100% Merlot is for me a simple wine, but in a in a positive way. As my retired oenologist used to say, everybody likes barbecue, but a blend wine is haute cuisine! A blended wine is multidimensional, instead of a monovarietal wine which is mono dimensional as it is the case even for Burgundian Pinot Noir."
Jean Michel Laporte of Chateau La Conseillante agrees with Alexandre Thienpont, regarding wines with Merlot as part of the blend.
Jean Michel Laporte "In Europe and in Bordeaux in particular, we almost always blend our wines. Another variety brings more complexity to the wine. It is also a perfect fit with the mosaic of soils we can have. At La Conseillante for example, we have clays on one side and gravels on the other side. Merlot is perfect on clays, and great on gravels. However, Cabernet Franc is just marvellous, but only on the gravel soil. This duo of terroirs is the essence of La Conseillante. We couldn't get that without a blend. For me, 100% Merlot wines miss something. But if the terroir only demands Merlot, like at Petrus, which is the best Merlot wine I have ever tasted, go for it!"
Jean Luc Thunevin of Valandraud in Saint Emilion as another proponent of blending. In fact, Thunevin claims Merlot is the perfect blending grape.
Jean Luc Thunevin "Wines made from 100% Merlot are quite rare. In the Right Bank, Merlot blends perfectly with Cabernet Franc. Cabernet Franc brings more structure and aromas to the Merlot."
The level of ripenes when harvested is the key to the style of wine. Alexandre Thienpont of Vieux Chateau Certan explains what they seek when deciding the date of their harvest.
Alexandre Thienpont "At Vieux Chateau Certan we look for optimum ripeness. The alcohol degree is not the target. We are more interested in the ripeness of the tannins, the internal part of the skin and extractibility. We need small berries with ripe skins and concentrated aromas of ripe fruit."
Jean Michel Laporte of Chateau La Conseillante in Pomerol looks at a myriad of factors when deciding on the right moment to harvest.
Jean Michel Laporte "As with any other grape variety, we are concerned by the phenolic maturity: color and tannin potential, their extractability and the ripeness of the seeds in our Merlot. At La Conseillante, we don't really care about the sugar contents, as we don't look after high alcohols. We prefer when acidity levels remain quite high. This helps to preserve the balance in the wine and the freshness of the aromas. It's also important to remember, Merlot is more fragile than other grapes regarding the botrytis. This point can become a major concern in Bordeaux. Fortunately, because Merlot is an early ripening grape, it does not often become a problem."
For a different point of view, the owner of Chateau Fleur Cardinale, Florence Decoster is almost always the last major estate to finish harvesting in the Right Bank. She explains that they strive to maintain freshness along with plush textures in the Merlot grapes used in their wine.
Florence Decoster "Merlot is a grape variety that gives round and delicious wines, with aromas of black fruits such as black cherry, blackberry and cassis. You also get aromas of truffle, violet, plum, chocolate. For Merlot, our aim is to maintain the freshness of the fruit, before it becomes too soft and loses its freshness."
In character, Merlot offers flavors of chocolate, plums, licorice, black cherries, blueberries, black raspberries and blackberries as well as jam, which depends on the levels of ripeness the fruit was allowed to achieve. It is round, fleshy and can be opulent in texture. These qualities are found most often in Pomerol and St. Emilion. But Bordeaux is not the only region where Merlot is planted. While they are of course different expressions of Merlot, the grape can be quite successful in other appellations around the world as well.
Personally, I have experienced a few Super Tuscan Merlot wines that blew me away, most notably, Massetto and Messorio. I've also enjoyed several Merlot based wines from the Napa Valley. At the end of the day, there are a plethora of different Merlot based wines to choose from to celebrate International Merlot day with. All these different regions and producers offer wines with their own style and character. Regardless of the Merlot wine you prefer, why not grab a bottle of something special and for International Merlot Day November 7? I know I will!