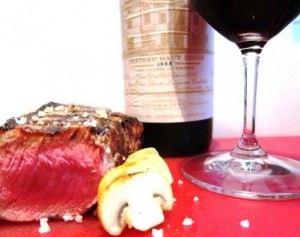 Coming up with great, wine and food pairings is easy. It's not scientific. It's not difficult. And the best part of this is, it's fun coming up with great wine and food pairing ideas!
First things first. Start with this simple, but important tip. Get a wine you like, prepare something you enjoy eating, or pick a restaurant you're fond of, and most importantly, find a good friend or lover to share the wine, meal and the night with. The truth is, too many people and professionals from sommeliers to chefs make food and wine pairing look like a science project. What fun is that? Wine is fun! So is pairing Bordeaux wine and food or Rhone Wine, California wine, Italian Wine or any type or style of wine you prefer in your glass. There are a few, easy suggestions that help. But generally speaking, if you like it, it works.
People are often surprised how often meals with fish as the main course are paired with red Bordeaux wine. I cannot tell you how often I've been to private homes and chateau where fish is the main course in Bordeaux. Fish is healthy, light, can be prepared in a myriad of styles and and makes good match. So why not?
The key to great wine and food parings is, it's all about what you like to drink and eat. Pick the wine, the dish and go for it with this consideration in mind, you need to decide if the wine, or the food is the star of the night.
Once you've picked the wine you want to share, make sure it's not too warm. For example, most red wines served at at room temperature are not as interesting as when the wine has a slight chill. Especially with higher alcohol wines. The wine will feel fresher and offer a more refreshing experience, especially when paired with food with a slight chill. If you're going to decant your wine, do your best to time it correctly so the wine ready to be poured when you're ready to serve. That might sound elementary, and it is. But it's also forgotten more often than not. Timing is everything, on occasion, at least that's what I've been told.
Now that you have selected the wine for the night, what is the right wine and food pairing for you? I cannot tell you how many wine dinners I've attended where the aromas and flavors of the food completely overwhelmed the wine experience. For example, I love truffles. That being said, they can overwhelm the aromatics of the room, let alone the wine. That is part of their appeal. But that does not help many, refined, delicate wines offer their full expression or aromatics. The natural tendency is to bring your best bottle, or on occasion, purchase the best wine when dining at a top restaurant. At the end of the night, I'm not sure that truly accomplishes what most people are seeking because either the food, or the wine is going to win.
Of course you can if you wish complicate and improve wine and food pairings. Earthy foods can compliment earthy wines. Opposites attract as well. Sweet and salt is a perfect example as is sweet and spicy. My point is not that some wine and food pairings are not better than others, they. That being said, it does not do any good to drink for example to drink a wine filled with licorice because it might pair well with fennel, if the taster or dinner does not like wines with licorice. If you do not like goat cheese, regardless of how well it might match with a Sauvignon Blanc dominated wine from Pessac Leognan, that pairing is not going to work if the tasters do not like wines with assertive lemon or citrus flavors.
The problem with too many wine dinners is that chefs truly desire to create stunning menus with perfect pairings. However, what really happens far too often is, they do not understand there are times when the wine should be the star of the show. That is difficult to say to a chef, especially because you are in their house. They might prepare overly complicated, rich, spicy or exotic creations that can be stunning works of art. While that can be an amazing tasting experience. that ends up detracting from the wine. Honest, I have for example opened great older First Growths at the equivalent of a Three Star restaurant and the delicate, complexities of the wine were overwhelmed by the food. Simple in that case is not a bad thing, it's the right way to go. Remember, there is only room for one star at the table. Is it the wine, or the food? Once you have that figured out, you are on your way for the night.
The top ten easy Great Wine and Food Pairing Tips.
Rule #1 – Pour wines you like with food you like. It does no good to order a dish you have only moderate interest in, and pair it against a wine you do not like, simply because someone said it was a perfect wine and food match.
Rule #2 – When in doubt, refer to rule #1.
Rule #3 – Decide which is the most important part of the experience for the night, the wine, or the food. Serve complicated dishes with simple wines. Open simple wines with complicated food. Both you, the wine and dish will be happier and so will your guests.
Rule #4 – Serve simple dishes with your best wines. Aged Left Bank Bordeaux, with its Cabernet Sauvignon based blend takes on beautiful aromatics with truffle, tobacco, smoke, earth, cherries and spice. That aromatic display will be lost in an overly complicated menu.
Rule #5 – If you prefer Right Bank, Merlot dominated Bordeaux wines, they pair with the same foods as those from the Medoc. It all goes back to serving what you like. The subtle differences in the character of each bank add some complex nuances. For instance you will find more chocolate, licorice and floral notes in Pomerol than Pauillac, but for all intents and purposes, they are interchangeable at the dinner table.
Rule #6 – Younger red wines are more tannic. They are richer in flavor. They can stand up to heavier dishes and more powerful flavors than older wines, which can be stepped on with more aggressive cooking. This is where lamb, beef, fattier cuts of meat and stews are really going to shine.
Rule #7 – While red wine with red meats is an easy way to look at things, it's all about the preparation. Fish with lemon for example might not be my choice for red wine, but use mushrooms, tomato, veal stock or red wine reductions for example, and you have a perfect pairing.
#Rule #8 – White wine works great with almost any white food, veal, chicken, pork fish etc. White wine, regardless of the grape varietal, it could be Chardonnay, Sauvignon Blanc, Riesling, dry or sweet white wine, the wine needs to be chilled to show its best. Chilled, it will show more aromatics, feel fleshier and more offer more of a refreshing experience. White wine is similar to red wine at the dinner table meaning, complex white wines with simple dishes or simple white wines with complex dishes seem to work best.
Rule #9 – Sauternes and other sweet, white wines pair well with several dishes and different styles of cuisine. Oysters and Sauternes is a great summer pairing. Salty cheese, lobster, chicken and of course spicy, Asian inspired dishes are perfect matches. The classic paring is of course, Foies Gras with Sauternes. With most of those pairings, personally, I prefer lighter styles of Sauternes, perhaps a vintage with a more moderate amount of sweetness or botrytis. White wines are often perfect wide a diverse array of cheese. But if you do not drink white wine, or if you prefer red wine, the wine you like, with the cheese you enjoy makes the best pairing.
Rule #10 – Texture and density is worth paying attention to. Thick foods and rich wines work well together. Delicate foods make a better wine and food pairing with lighter, elegant wines.
Rule #11,- The extra, unwritten rule. I know, I said there were only 10 easy to remember rules. In case you forget everything on this page, do not worry. Just return to rule #1 and you will be fine. With the Top Ten Easy Tips to Make Great Wine and Food Pairings forever etched in your memory, what are you opening tonight to make your Bordeaux Wine and Food Pairing for the evening?