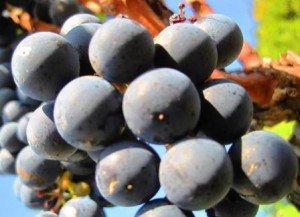 Finally!  That is the most often repeated phrase growers all over Bordeaux, especially in Pomerol are repeating these days.  Who could blame them?  For the vintners located in the Pomerol appellation, 2012 has been an excruciatingly long, growing season that has had its share of problems.  Pomerol is usually the first to pick, due to their terroir and the preponderance of Merlot in their vineyards. Merlot is the first of the major Bordeaux grape varieties to mature.
Reaching maturity is not coming easy in the 2012 Bordeaux vintage. Pomerol growers have the distinct the possibility of this being the latest harvest start in history. Many Pomerol vintners have already worked on their young vines, or are starting to their Merlot today.  Conditions for harvesting this week are good. Scattered showers are a possibility in the middle of the week.  Temperatures are about average for this time of year at 20 degrees Celsius, which is a pleasant 68 degrees Fahrenheit.
While several Pomerol chateaux began to harvest their young vines and plants from hot terroirs last week, most of the Bordeaux wine makers we spoke with said, the 2012 Bordeaux harvest was best described as a lot of waiting for things to develop.
The 2012 Bordeaux growing season has not been kind to the growers.  Like many Bordeaux appellations, due to a lack of water and heat, some vines were clearly stressed, due to drought.  Last week brought some much needed rain to region. Was it enough at the right time? Or was it too little, too late? That depends on the estate and the terroir.  There are vines that are experiencing hydric stress, due to the lack of water.  That problem is especially prevalent in the young vines.  However, the rains came after a portion of those young vines were already picked.
Early reports from some producers say the seeds are getting there, the pulp is ripe, but the skins are not getting ripe.  Clearly, this is going to be a vintage where intensive selection and sorting is mandatory for producers hoping to make the best wines.
The majority of the growers we spoke with expected quantities to be lower than last year.  What does this mean for consumers?  For wine makers that exercise stringent sorting techniques, they should be able to produce some nice wine.  However, small quantities often correspond to high prices. High prices are not be accepted by the market.  It is important to remember, most prices for 2011 Bordeaux wine were rejected.  It will be interesting to see how everything unfolds.
Petrus marked today as the official start of the 2012 harvest in Pomerol. This is late for Petrus, which can be one of the earlier vineyards to harvest. Petrus began harvesting their young, Merlot vines early last week.
Chateau Vieux Chateau Certan is ready to harvest, according to Alexandre Thienpont.
Chateau L'Eglise Clinet Denis Durantou began picking his young vines last week, as well as those of Les Cruzelles.  He's planning on harvesting L'Eglise Clinet this week.
Chateau La Conseillante Director, Jean Michel Laporte began working on their youngest vines last week.  Picking took place for a scant, few hours. The rains forced them to stop. The best fruit from their early harvesting will be placed in Duo, their second wine. According to Laporte, the yields are better than expected.
Chateau La Violette, Chateau Le Gay, Chateau Montviel owner Catherine Pere Verge said she was not ready to start picking just yet. She's holding off until tomorrow, October 2.
Chateau Le Bon Pasteur owner, Dany Rolland is looking forward to starting their harvest any day now. Chateau Le Bon Pasteur is often one of the last Pomerol estates to harvest.  They have a few days to go before setting a record, which could be as late as October 7, or even a few days later!
Chateau L'Enclos Director Jean Christophe Meyrou is waiting for one or two more days.
Chateau Gazin Owner Ines Baillencourt  says they started harvesting last week, but stopped due to the rains. They will continue this week. According to Ines, they were picking small berries with good density.
Chateau Feytit Clinet owner Jeremy Chasseuil stated he was not in a hurry to start their harvest.  Chasseuil said they could wait a few more days. In fact, they have to wait. The fruit is not fully ripe. But with no fears of botrytis, coupled with good acidity and a decent weather forecast, he does not worry about waiting.
Chateau Clinet,  Chateau L'Evangile, Le Pin and Chateau Gombaude-Guillot were also seen working with their young vines last week. La Fleur de Bouard in Lalande de Pomerol starts harvesting tomorrow, October 2.