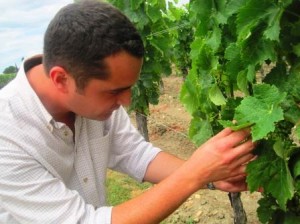 The 2012 Bordeaux harvest is in full bloom at the legendary Pomerol estate of Petrus.
The 2012 Petrus  harvest  season started last week, when they began light picking of their young, Merlot vines early last week.  However today marks the official start of the 2012 Petrus harvest as they are now working on some of their older Merlot  parcels that are ripe enough for picking.
This is late for Petrus. Often, Petrus can be one of the earlier Pomerol vineyards to harvest, due to their unique terroir. In fact, the 2012 Bordeaux vintage is so late, this probably sets a new record for the latest harvest start date for any vintage of this legendary Pomerol wine.
To give you an idea on how late the 2012 Bordeaux harvest is running at Petrus, two years ago, in 2010, Petrus began to pick September 27 and finished October 2. Last year, for the 2011 Bordeaux vintage, at Petrus it was even earlier. Petrus started their 2011 harvest September 12 and finished by September 22. Although that does not set the record for the earliest harvest start for Petrus. That record belongs to the 2003 Bordeaux vintage when Petrus started to harvest Merlot , September 3 and were finished with the Merlot by September 5!  They were forced to wait for the small amount of Cabernet Franc to ripen, so the official end of the harvest did not take place until September 17.
Petrus has 14 parcels of vines in Pomerol to harvest. But picking does not take place on a plot by plot basis.  The harvesters work on each vine, one at a time, looking for bunches that have achieved the desired level of phenolic  maturity, when possible.  The length of time needed to harvest will of course depend on the levels of ripeness found in the vineyards.
We managed to have a quick conversation with the always charming, Christian Moueix.
Jeff Leve: When did you start picking at Petrus?
Christian Moueix "We began working with the young vines on a few small parcels. That started September 24. The older parcels were able to take advantage of the inch of rain we received, September 25 and September 26."
Jeff Leve: Did you work on any of your other Pomerol properties that date?
Christian Moueix "We did some picking of the young vines of Chateau La Fleur Petrus and Latour A' Pomerol September 24 as well."
Jeff Leve: How are things looking so far?
Christian Moueix "The crop looks healthy and it's probably slightly bigger than expected."
Jeff Leve: With some of the berries already in the process of being vinified, what are your early thoughts on the vintage?
Christian Moueix "The must from the young vines  shows a lot of fruit and already a beautiful color."