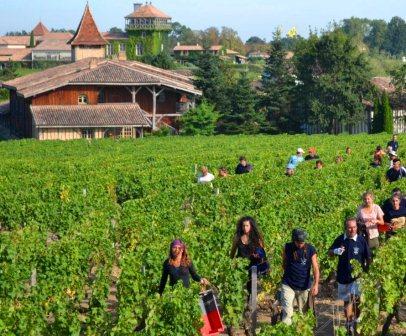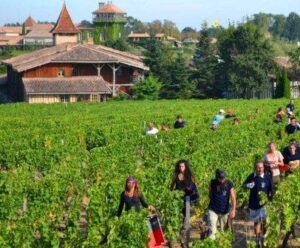 The 2012 Bordeaux harvest is on the way to setting a record for the latest harvest on record for the red wines.  But the harvest for the grapes used to produce dry, white Bordeaux wine is over. In fact, most of those grape are being vinified at this very moment.
The 2012 Bordeaux harvest of the grapes used to produce dry, white Bordeaux wine drew to a close for the vast majority of estates September 24.  This was good timing. It rained the following day and more rain rain fell the next day as well.  It rained September 25 and continued to rain September 26 as well.   That much needed precipitation helped many dry vineyards. But from the growers we spoke with, they were happy with the conditions experienced for the harvest of Sauvignon Blanc, Semillon, Sauvignon Gris used to produce dry, white Bordeaux wine.
2012 white Bordeaux is the product of a cold winter and wet spring. Flowering was uneven. The summer months did not always cooperate.  June and July were cool months.  In August, conditions improved with warm weather and occasional heat spikes, most notably, August 17, 18 and 19,  when temperatures reached up to 104 degrees!  This was made even better with low, cooler temperatures at night. That combination of high and low helps add freshness and acidity levels to the fruit. However, the soils were dry, which adds to the vintages characteristics.
While some estates are going to produce good white 2012 Bordeaux wine, the crop was as expected, much smaller than usual.  Across the board, it has been reported that yields were lower for many estates. Some chateaux claimed they would have between 10% to 20% less wine than usual in the 2012 Bordeaux vintage.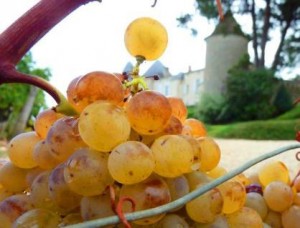 The first notable estate to begin picking for the white wine was Chateau Haut Brion and Chateau La Mission Haut Brion. They began harvesting, September 4, 2012. This was followed one day later by Chateau d'Yquem which started picking Sauvignon Blanc, September 5. Those early pickings are destined to be used in their dry white, Bordeaux wine "Y."  The real news for lovers of Chateau d'Yquem is the rain that fell in late September. That is exactly what is needed to help with the development of noble rot, or botrytis. 2012 marks the first vintage that the dry white wine of Chateau d'Yquem will be vinified in their new, gleaming vats.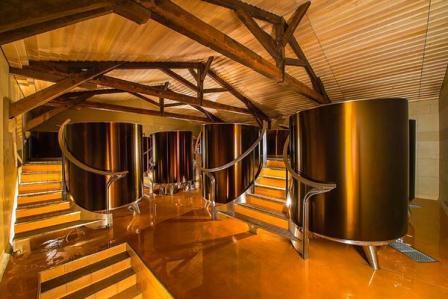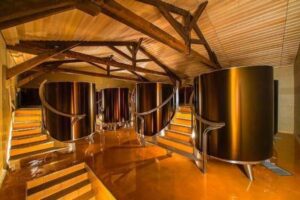 Chateau Haut Brion picked in the early morning hours as usual, with the goal being to preserve the grapes freshness and aromatic complexities.  Jean Philippe Delmas described the fruit by saying it reminded him of fresh, sweet, peaches, pears, and even citrus.  Chateau Haut Brion completed their harvest for the white wine grapes at Haut Brion September 14. We managed to speak with Jean Philippe Delmas about the 2012 Bordeaux harvest for the white wine grapes at Haut Brion.
Jeff Leve: What dates did you start and finish your white wine harvest for the Sauvignon Blanc, Semillon and Sauvignon Gris?
Jean Philippe Delmas "For the Sauvignon Blanc, at Château Haut-Brion the harvest started September 5 and took two days, ending September 7. The Sauvignon Gris was picked in one day, September 6. We finished with the Semillon on September 14, after 4 days of picking."
Jeff Leve: Was it the same dates for Chateau La Mission Haut Brion?
Jean Philippe Delmas It was almost the same, except it was one day earlier. We started picking the Sauvignon Blanc at Chateau La Mission Haut-Brion, September 4, ending September 6. The Sauvignon Gris was started and finished September 4. The Semillon was harvested between September 6 and September 14."
Jeff Leve What are the potential alcohol levels and pH?
Jean Philippe Delmas "For Chateau Haut Brion, the alcohol is 14% and the pH is 3.37. For Chateau La Mission Haut Brion, the alcohol is slightly higher and there is a bit more freshness as the pH is 3.32."
While it's far too early, can you please let me know from an analytic point of view, what previous year does the 2012 Bordeaux vintage remind you of for the white wines?
Jean Philippe Delmas "At this stage of the winemaking process, from an analytic point of view, the 2009 vintage would be the closest."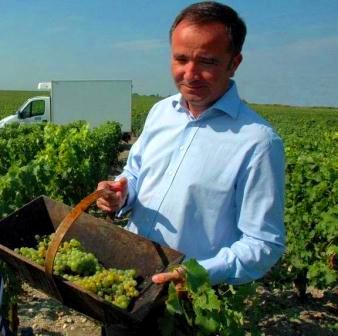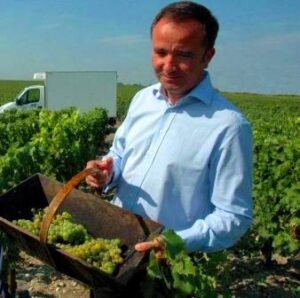 Chateau Smith Haut Lafitte finished harvesting their white wine grapes, September 4 with the young vines. They did not finish until September 27!  The majority of their work took place starting September 13. At Chateau Smith Haut Lafitte, the Sauvignon Blanc was the first variety picked. That took from September 4, until September 21. The Semillon took a long time to come around. They did not start until September 24 and finished, September 27. The Sauvignon Gris was picked in one day. September 19.
From a technical point of view, things look good. Alcohol levels range from 11.9% up to 14.8%. The pH range from 3.05 to 3.35.
We spoke with Chateau Smith Haut Lafitte director, Fabien Teitgen about the 2012 white Bordeaux harvest. We asked about the style of the vintage.
Fabien Teitgen: "Splendid maturity, unctuous, rich, concentrated, with a nice acidity, there is a beautiful balance on the body of the wine."
Jeff Leve: Does this remind of what you produced last year?
Fabien Teitgen: "It is way different from the 2011 vintage. There is much more on the tension and the acidity."
Jeff Leve: Even though it's quite early, does your early results remind of any previous vintage?
Fabien Teitgen "This vintage, with this characteristic of maturity, tends to be close to the 2010 or 2006."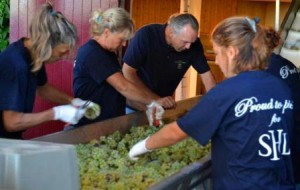 Domaine de Chevalier in Pessac Leognan started their white wine harvest September 12 with their Sauvignon Blanc. The final Sauvignon Blanc was brought in September 20.  Semillon was harvested from September 20, through September 24.   We spoke with Olivier Bernard about the harvest.
Jeff Leve: Now that the fruit from your 2012 white wine harvest has been brought in, what are your technical analysis showing?
Olivier Bernard "For the Sauvignon Blanc, the potential average alcohol levels are quite good. We are at an average of 14.1% with the pH coming in at 3.2."
Jeff Leve: What about for the Semillon?
Olivier Bernard "We are quite pleased with our Semillon. It shows 13% alcohol."
Jeff Leve: I know it's early, as the fruit is just starting its vinification, but does the Domaine de Chevalier 2012 white wine remind of any previous year?
Olivier Bernard "It looks like a combination of 2000 and 2009, based on the weather conditions and balance."
Jeff Leve: What do you like about the fruit that you have been bringing in?
Olivier Bernard "We achieved great power and freshness. The fruit is clean, pure  and offers fantastic ripeness with  balance, due to very good acidities. This will help bring a nice tension to the wine."
Jeff Leve: When do you expect to start your 2012 red wine harvest at Domaine de Chevalier?
Olivier Bernard "We should start picking our Merlot October 8."  
Jeff Leve: Isn't that quite late?
Olivier Bernard "Yes.  Historically, this is very late for Domaine de Chevalier."
Chateau Malartic Lagraviere started picking a few days after Haut Brion and they are not done yet!  Their harvest began with Sauvignon Blanc September 7. They are still working on the Semillon. According to the owner, Jean Jacquen Bonnie, "The potential alcohol levels in the wine are 14%, with a pH of 3.2." While it's still quite early, keep in mind the Semillon is not yet fully harvested, the 2012 Bordeaux harvest for the white grapes reminds him of a combination of 2009 and 2006. Both were good vintages for the white wine of Chateau Malartic Lagraviere.
Chateau Brown was one of the last Pessac Leognan estates to complete their white wine harvest.  They started picking Sauvignon Blanc and Semillon September 11 and did not finish until September 25.  This is almost one month later than normal!
While the 2012 Bordeaux white wine harvest is over for most producers, there are a few chateaux that are still harvesting.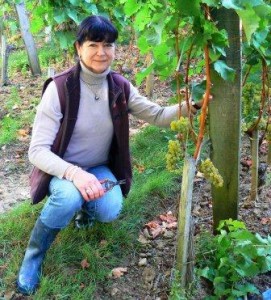 In the Right Bank, at Valandraud, Jean Luc Thunevin, Murielle Andraud and the rest of the team are still busy jumping for joy over their recent success in the 2012 St. Emilion Classification. They are now a First Growth and will soon be adding the title of Premier Grand Cru Classe on their labels!
Valandraud began to harvest Sauvignon Gris September 18. They are now picking the Semillon and interestingly, they will not harvest Sauvignon Blanc until next week at Valandraud. They are not expected to finish bringing in their white grapes until early October! In most vintages for Valandraud, that is not what takes place. Sauvignon Gris is always picked first, which is followed by the Sauvignon Blanc and then Semillon. The unusual weather patterns for the 2012 Bordeaux harvest clearly effected what is taking place here.
The fruit that is being brought in shows good ripeness. Potential alcohol ranges from 15% with the Sauvignon Gris to 14% for the Semillon. It's too early to know about the Sauvignon Blanc yet. Acidities should be lower than last year.
Chateau Cos d'Estournel is in the midst of harvesting their Sauvignon Blanc. They expect to complete the picking early next week. They are slowly harvesting their young Merlot at the moment as well.
At this point, many producers of white Bordeaux wine are in the midst fermenting their harvest and getting ready to jump full force into starting to pick the fruit for their red wines.  While things are moving, they are moving slowly for the 2012 Bordeaux harvest for the red wine.  Not only is the 2012 Bordeaux harvest for the red wine not yet in full bloom, it's barely started! Several estates have been slowly picking their younger vines, most of which will used in their second wines, or sold off as declassified, bulk wine.
With all this news about the 2012 white wine harvest, what's going on with the red wine harvest?
Pomerol is almost always the first major Bordeaux appellation to harvest. But things continue in a holding pattern for the moment. Some estates will do some picking Friday, or over the weekend, but most will not start until sometime next week.