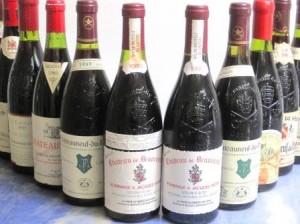 With International Grenache Day arriving Friday, September 21, it's obvious that there is a day for almost everything. Or so it seems.  This has been a busy week for food and wine lovers all over the world looking for reason to call in sick or manage to sneak in another much needed day of vacation.  We had National Cheeseburger Day Tuesday, and on Friday, another celebration requiring wine lovers participation hits, as we celebrate National Grenache Day.  With a bit of planning, perhaps the the two holidays should have been joined, as cheeseburgers and Grenache seem like a winning food and wine pairing to me!
Even though Grenache is one of the world's most popular grapes, this holiday celebration does not have a long history. But is should. After all, Grenache is the world's second most widely planted grape varietal used to produce wine.
International Grenache day was first celebrated September, 24, 2010. The idea came out of the First International Grenache Symposium. At that event, over 250 participants ranging from growers to winemakers, merchants and most importantly, wine lovers gathered to declare an international celebration of everything Grenache!
Grenache enjoys tremendous, worldwide popularity in numerous growing areas. It grows well in Spain, Australia,  Languedoc-Roussillon and America.  Several wine makers use it as a stand alone variety.  While all taste is personal, for my personal taste, Grenache reaches its best expression in Chateauneuf du Pape.  Grenache, with its think skin and tight clusters is perfect for the hot,  dry, sand and stone soils of the Southern Rhone Valley appellation of Chateauneuf du Pape.  However, it is often blended with other  grapes, most notably, Syrah, Mourvedre, Carignan and Cinsault. While most Chateauneuf du Pape wines are produced from blends, there are some wineries that use 100% Grenache, while others feature as much as 90% or more Grenache in the blend.  Grenache as a stand alone variety does not just take place in Chateauneuf du Pape, it's used all over the world. In Chateauneuf du Pape, there are numerous wines and winemakers to chose from making outstanding Grenache based wines in a myriad of styles.
It's thought that Grenache may have come to Chateauneuf du Pape from the fertile soils of Spain, where the variety is known as  Grenacha. Grenache has been popular in the Southern Rhone since the 17th century. But it has been grown and used a blending grape in other areas of France.  At one point, Grenache was even used in Burgundy, as the grape offered additional body and  of course alcohol and sweetness.
Grenache, due to its thin skin and pale color is the most popular grape used in the production of Rose' wines.  White versions of the fruit have been developed called Grenache Blanc. Grenache blanc is a popular blending grape in France that is also used in a myriad of wine producing regions in France and all over the world. There is also Grenache Gris, which is used for white wines as well.  Some vintners produce sweet  fortified wines using the grape varietal, due to its natural high alcohol and sugar levels.
As we mentioned earlier,  even though most wines from Chateauneuf du Pape are blends, Grenache remains the dominant varietal. With many Grenache based wines, tasters often experience flavors of kirsch, fresh black or white cherries, jammy strawberries, black raspberries, spice, black pepper, cherry griotte,  plums and fresh herbs. The texture ranges from elegant and silky to a more rustic expression depending on the soil, levels of ripeness and other choices made by the wine maker.
Grenache based wines are food friendly. They pair well with a myriad of food choices ranging from heavier winter, stews or braised dishes to chicken and fish.
Knowing we needed to celebrate our love of all things Grenache, we opened a bottle of Chateau
Beaucastel
to celebrate!  The question was, which bottle should we open?  Should it be young, old or in between?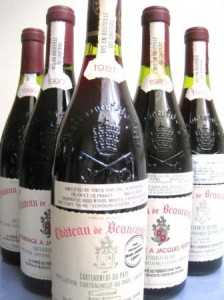 We decided to split the difference and pop a cork on a wine that was closer to young than old, especially when you consider how well Chateau Beaucastel ages. One of the many reasons to love wine produced from Grenache is, most Grenache based wines can be enjoyed young, old or midterm. If you like wine, love pleasure, in a glass and have an urge that needs scratching, seek out a Chateauneuf du Pape. They are readily available and unless you're needed to buy one of the famous, high end, luxury cuvees, they are affordable. Back to the Beaucastel…
2007 Beaucastel – With just 20 minutes in the decanter, the nose sprung from the glass with its aromas of kirsch liqueur, fresh market herbs, earth, plum jam and fennel. Supple in texture, with a long, rich, lush, ripe, red and black fruit filled, peppery finish, this was the perfect wine to get an early jump on our pre International Grenache day celebration.  96 Pts
Fortunately, as we're inveterate Grenache lovers, we can continue our celebration with another Chateauneuf du Pape over the weekend!
What are you opening to celebrate International Grenache Day?